Today we're talking about one of the most intriguing, curious, does-it-work, should-I-try-it, skincare devices on the market.
We are doing a review of the UFO by Foreo!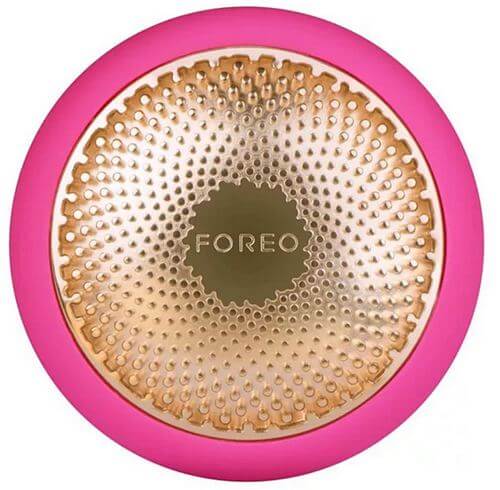 This is a smart masking device that works in 90 seconds. This is also a photo therapy. It has blue light, green light and red light. UV-free, photo facial, also in 90 seconds.
I've been using my UFO for almost three months at this point so I have got a lot to tell you.
I'm gonna tell you exactly how to use it, I'm gonna let you know all the differences between all of the activated face masks (I have them all) because I know it can be a little bit confusing. There are so many different sheet masks out there to pick one that will work for your skin.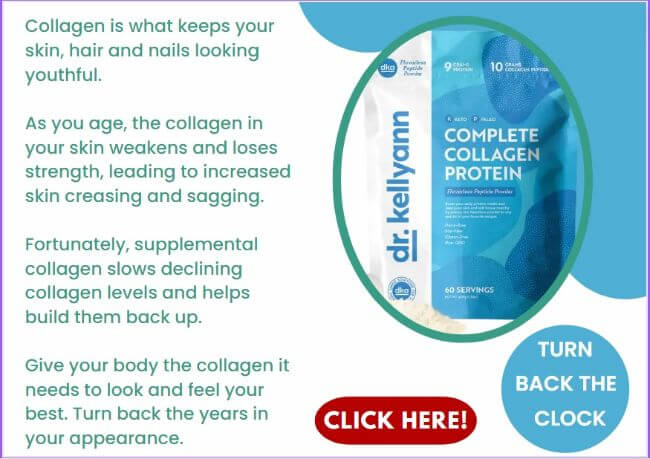 We're gonna break that all down. We're gonna take a look at the device itself, I'm going to talk about the app. This is everything that you need to know about the UFO.
Trust me, you are not gonna be disappointed!
FOREO UFO - Welcome To A Whole New Way To Mask
Buy here:

Let's dive into our full review of the UFO smart masking device by Foreo.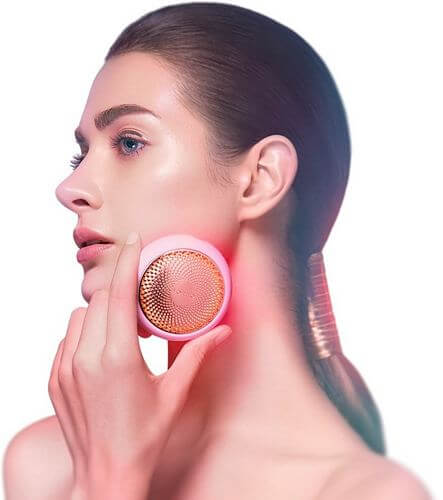 Foreo Facial Rejuvenation Device
The UFO by Foreo is a 90 second smart mask device that uses heating and cooling technologies along with t-sonic pulsations to deeply infuse their activated formulas into your skin in 90 seconds.
This has three targeted photo facials that are UV-free photo therapy treatments that consists of a red, green and blue LED light wavelengths that rejuvenate your skin.
You have to be a complete nut not to think that this skincare device is just so beautiful it almost looks like a piece of art, but
it also so intriguing. When you look at it, you want to know what it is, what does it do.
The front side has like this gold detailing, you can feel it, it's textured. The outer side is silicone, it's so easy to clean, it's waterproof. Even the charging port is waterproof, you don't need to be worried.
If you don't want the pearl pink, this does come in fuchsia and mint as well. Honestly it's always such a hard decision picking which color. I don't know if I have commitment issues, but when it comes to skincare I just want everything.
What you do to use the UFO is you lift up a little plastic ring. Take the activated face mask, which we're about to look at,
you apply it right to the ring, put the ring back on top and then you go ahead and turn the device on with the app.
And then take the device all over your skin.
This has cryotherapy. This is cooling as well as heating.
Cryotherapy or the cooling function is gonna help to constrict pores, reduce puffiness, while the heating function is going to allow those actives to penetrate deeper into the skin.
It also has those t-sonic pulsations to help infuse the face mask even deeper.
The photo therapy along the edges of the device actually changes color. It has a red light, green light and blue light, which are really gonna help to control acne, reduce oil as well as treat fine lines, wrinkles, help to boost collagen and elastin. Photo therapy is amazing!

Foreo Sheet Masks
Let's quickly take a look at some of activated sheet masks that you can choose from that will pair with your UFO by Foreo.
The Youth Junkie mask is a collagen infused mask. It contains vitamin E and a triple oil complex of shea butter, jojoba oil and olive oil.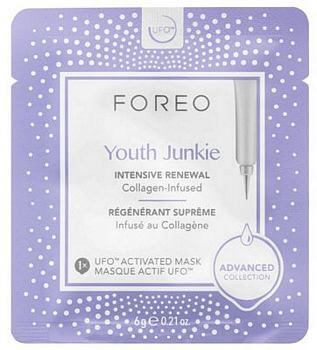 Another one is the H2Overdose activated mask for dryness. The active ingredient is hyaluronic acid, which helps to replenish the skin's natural moisture barrier.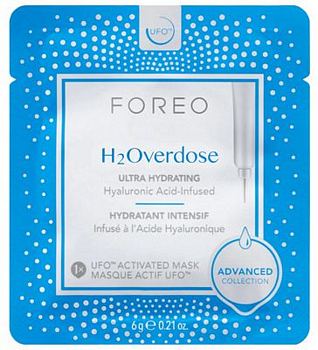 Another is Matte Maniac. This is for oily skin and this can help to clear up your skin, help to control oil and sebum.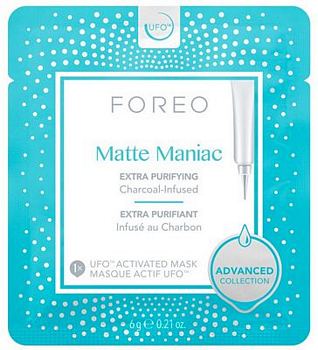 This is the Glow Addict for enhanced brightening, pearl extract and vitamin E. It really aids in boosting dull, lackluster skin.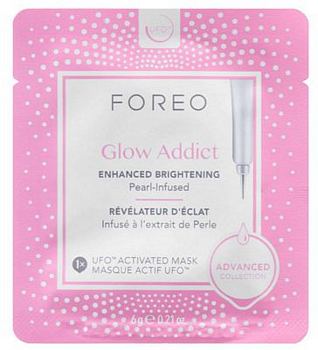 The Make My Day Mask contains hyaluronic acid and red algae extract.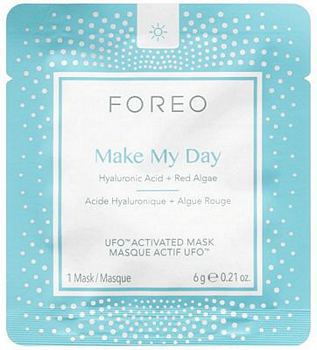 The Call It a Night activated mask contains the Ginseng and olive oil. It will help nourish the skin while you sleep.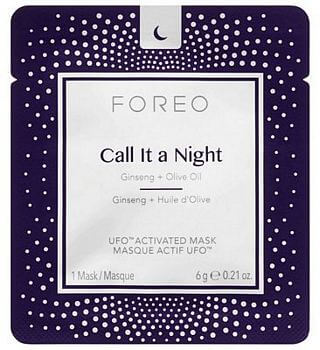 If you're someone who loves eye masks, this is the Shimmer Freak mask for the eye area.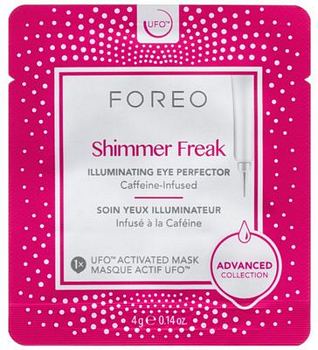 There are also these masks: Acai Berry, Green Tea, Bulgarian Rose, Manuka Honey and Coconut Oil.
Inside each box you do get six sheet masks, all individually packed.
What you do is you take this little sheet mask and you apply it to the UFO device and then glide it over your skin.
All you do is press the power button on the back of the device and you can actually do this before you put the face mask on. You just want to hold the button on the back for five seconds and what that's going to do is synchronize the device with the app.
It's super simple!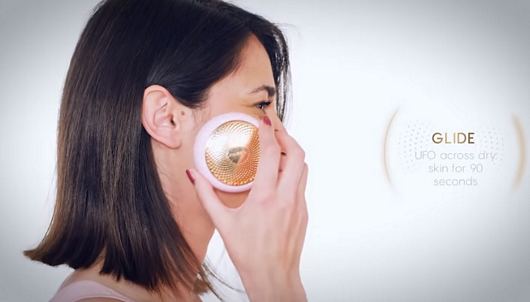 You just gonna take the ring off the device, open the face mask, which is gonna cover your whole face, compared to those traditional face masks which are gigantic.
You just lay it, take the ring and press it right on top and your face mask is secure into your UFO device and you are ready to pamper yourself on a whole new level.
To activate every mask so that the UFO knows which one you're using, you have to actually scan the back barcode of your face mask.
What you're gonna do is just gently glide it right over the skin of your face and neck in circular motion.
I wish that I could explain the sensation, the feeling of using the UFO to you. I feel like that's the real power, the real magic, the real treatment, the way that it feels between the vibrations as well as the heating and the cooling aspect as well as it's just gliding over the skin.
I've been loving my UFO so much that I've been using it three times a week, two treatments at a time on my face and my neck. Three times a week, there are not many products that I use that often.
Honestly, I feel like at this point, I don't know if I'll ever go back to a traditional sheet mask. Not only is it effective, but it's also fun.
I don't know if I could love a skin care device any more than I love UFO. I feel like Foreo has hit the nail right on the head!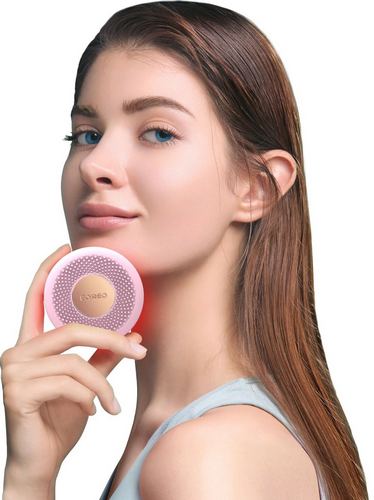 Who doesn't have 90 seconds? That is so much better than that old sheet mask, 25 minutes versus 90 seconds!
Also that photo therapy. Whether you suffer from acne, you can really benefit from the blue light. Or if you suffer from dullness or uneven texture, then use green light. Or red light for anti-aging.
Honestly after three months I can say that the UFO is going to be a staple in my skincare routine. I feel like it's worth every penny, even though you have to buy those activated sheet masks. They're so unique, they're so powerful.
Sometimes you pay for ease and convenience, and in this instance, you're paying for that, but not only for that. You're also getting a clinically proven very powerful spa facial.
I also find these treatments so relaxing. When you're alone at night, you're in the bathroom, the app is speaking to you, she's so relaxing, it has that calming music. The heating, the cooling, the vibrations, the whole sensation, the whole experience is an A+.
I can't recommend it enough and only good positive things!
If you guys love skincare, this is worth every penny of the investment.

#1 Microcurrent Facial Tool For Toning Face
Best Skin Care Tools & Devices
Best Facial Rejuvenation Device For Home Use