There is a myth that creams can completely erase wrinkles.
Anti-aging products cannot completely remove wrinkles.
All they can do is make the skin appear smoother. The wrinkles and lines are still there; they are just smoothed out temporarily.
However, there is one trusted product that has been proven to reverse fine lines and wrinkles.
That is topical retinoid, such as Retinol or Tretinoin.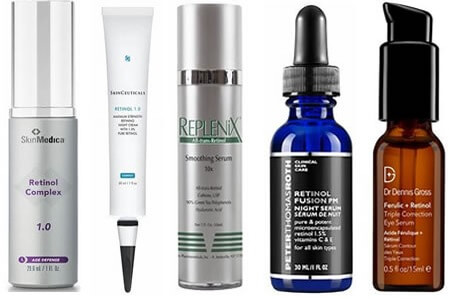 They penetrate the skin and increase skin cell turnover.
Many studies have shown that retinoids are super effective in treating wrinkles and fine lines.
Top Rated Face Creams Containing Retinol
SkinMedica Retinol Complex 1.0

It contains an ultra-gentle, yet effective form of stabilized retinol. The formula features three forms of vitamin A, in a microparticle delivery system.
It increases cell turnover, reducing fine lines, wrinkles and hyperpigmentation. It enhances skin texture through exfoliation and skin regeneration.
Other key ingredients: herbal extracts, peptides, niacinamide, ceramides, squalane oil, vitamin A, essential oils, vitamin E, antioxidants.
Because the product contains antioxidants and soothing ingredients, there is less flaking, redness and irritation caused by this formula than other retinol creams.
SkinMedica Retinol Complex won an InStyle Best Beauty Buy 2014 award.
Click Here to Buy + Free Delivery!
SkinCeuticals Retinol 1.0

This night cream is formulated with the highest concentration of 1.0% pure retinol. It is enhanced with the latest stabilization and delivery technologies to provide a steady and even release of the maximum available concentration.
It promotes cell turnover and improves the appearance of fine lines, wrinkles, discoloration, pores, and blemishes.
Other key ingredients: ceramides, shea butter, herbal extracts, essential oils, dimethicone, antioxidants, alpha hydroxy acids.
Click Here to Buy + Free Delivery!
Replenix Retinol Smoothing Serum 10x

This serum boosts radiance and neutralizes free radicals. Lifts sagging skin, reduces hyperpigmentation, makes rough areas soft and smooth, and restores luminosity.
Helps in the formation of collagen to plump the skin and reduce the appearance of fine lines and wrinkles.
Other key ingredients: hyaluronic acid, dimethicone, green tea, caffeine.
Click Here to Buy + Free Delivery!
Peter Thomas Roth Retinol Fusion PM

This advanced formula contains 1.5% microencapsulated retinol. It is released over 8 hours, improving skin smoothness, reducing fine lines and wrinkles, and enhancing skin tone and texture.
Other key ingredients that encourage skin's renewal process are vitamins C and E.
Click Here to Buy + Free Delivery!
Dr Dennis Gross Ferulic and Retinol Triple Correction Eye Serum

It revitalizes the delicate skin around the eye and eyelid to improve the tone and texture for younger-looking eyes. Retinol smooths out fine lines, wrinkles and crow's feet while ferulic acid brightens.
Other key ingredient: coenzyme Q10, glycolic acid, mandelic acid, panthenol, alpha hydroxy acids, peptides, hyaluronic acid, antioxidants, vitamin E, salicylic acid.
Click Here to Buy + Free Delivery!
Why You're Not Using Retinol?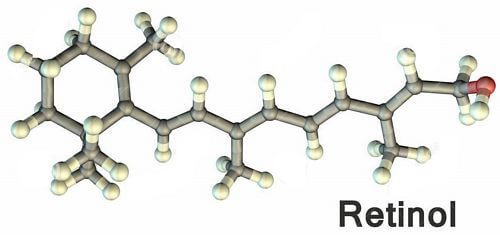 Somebody told me something very interesting the other day and I just couldn't get my head round it.
They said there are some people out there who are not using a retinol!
Can you believe that? I couldn't believe it!
Why would you not use a retinol when it's got so many documented benefits, benefits in the scientific literature.
Benefits such as improving the rate of skin turnover, so all the lovely new cells at the bottom come to the surface more quickly, making your skin look more plump and lovely.
Increasing the amount of collagen that you produce in the skin and organizing that collagen into a better pattern.
Decreasing the amount of melanin produced in certain areas so that you get a much more even skin tone.
Decreasing the amount of an enzyme called matrix metalloproteinase, which you produce when you're in the sun, which breaks down your own collagen.
So even though it's got all these benefits, which people talk about, it's not like it's a secret anymore, they're still not using a retinol!
I think that's a bit weird.
If you're not using a retinol, my question would be why.
Why you're not using the retinol, especially because now there's a whole range of different products out there, from 0.25 up to 1.5% .
There's different types of retinol out there too, so if one doesn't suit you, you can maybe use something that needs to be converted in the skin.
Meladerm Before & After Photos
Let's just accept the fact that it's a good thing to use the retinol.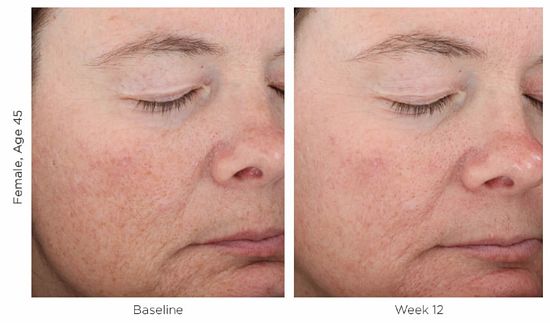 The question is which one should you pick.
So people ask me which retinol should I go for? Should I go for this particular brand or that brand and why should I pick this one over that one?
Why get this particular retinol, that costs, say $70 or $90, over one which is a lot cheaper?
It's a great question and one which I'm going to answer right now.
First of all let me just say if you are extremely budget focused, go and grab a retinol but just bear in mind that with these products you do get what you pay for.
For example, if you get one which is on the cheaper end of the spectrum, it might not be encapsulated and it might not have other stuff that goes along with that retinol to help make your skin look even more amazing and super lovely than it could be.
Let's talk about some things that you can find alongside of retinol.
First of all, niacinamide,
It is trendy ingredient right now and a lot of different brands are sticking it into stuff and it's good because it increases the ceramide levels in the skin and the free fatty acids. It's also really good if you've got rosacea or otherwise irritated skin.
Matrixyl is also trendy and helps to increase the amount of collagen that you have in your skin. It's a peptide.
Glutathione is an antioxidant and great thing to have on the skin. It helps to prevent further damage.
A lot of the cheaper formulas won't be encapsulated, meaning that the retinol isn't released to the skin over time. This makes it more irritating and also you don't have as much metabolic uptake if the retinol is not encapsulated.
You'll often find with most of the cheaper formulations that they won't contain an encapsulated retinol which is bad because it will increase the amount of inflammation that you get from that formulation and also decrease the amount that's available for the body to use.
It's like drinking all your day's water just in one go. You're never gonna be off the toilet in the morning and you'll be parched by the afternoon.
There are lots of different types of percentage of retinol available on the market and you can get products which are anywhere from 0.1% up to 1% even 2% for some things.
It's just important that you pick the right percentage for you.
I'd recommend you start low, and see how you get on with that.
You're more likely to get side effects, like a lot of shedding, which it's a normal thing to happen but some people don't like it.
Personally I love it when I get shedding but not everybody's as weird as me.
Anyway, get one of the above face creams containing retinol (OK, some are serums) and enjoy new you.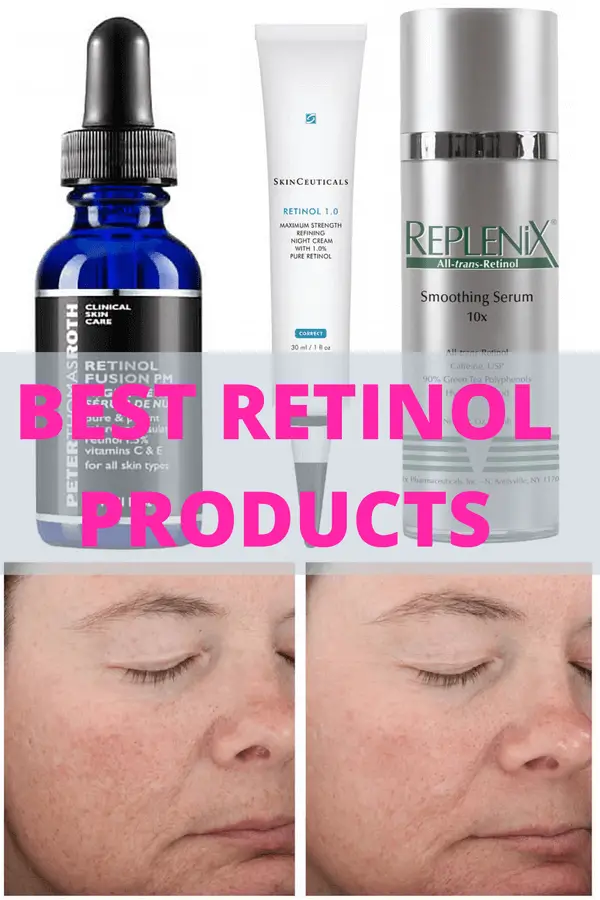 Best Face Serum For Mature Skin
Best Exfoliating Creams for Face
Best Face Creams Containing Retinol