Today I'm going to be doing a review of the best cleansing tool for face – FOREO Luna 3. When I first saw it I couldn't resist purchasing it, although I have FOREO Luna 2 facial cleansing device..
This article makes the perfect opportunity for me to introduce you to my number one hack for glowing skin – FOREO Luna 3.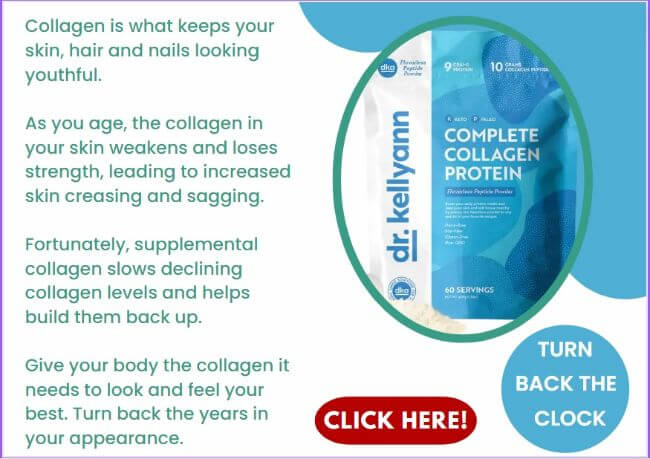 FOREO Luna 3 Review
It is the first device that connects to your app via Bluetooth and it's the first skin tool on the market that combines ultra gentle, smooth, hygienic silicon brushes with a variety of targeted, firming massage.
T-sonic pulsations massage your face as you clean and it works with your existing cleanser but gets deeper into the skin and you can control the different massage techniques using your app.
This cleansing device comes in 3 options: Combination Skin, Normal Skin and Sensitive Skin.

The tool connects to an app, which allows you to truly personalize your cleansing and anti-aging experience.
It also comes with the largest brush head of any FOREO device meaning you can get a real, deep cleanse.
Key Features
I'm gonna go over some of its key features.
It comes in a beautifully clear and hard plastic case.
Compared to the FOREO Luna 2, this device has 30% longer touch points, meaning that the bristles on the device are 30% longer, 30% more touch points and amazingly 25% softer than the FOREO Luna 2.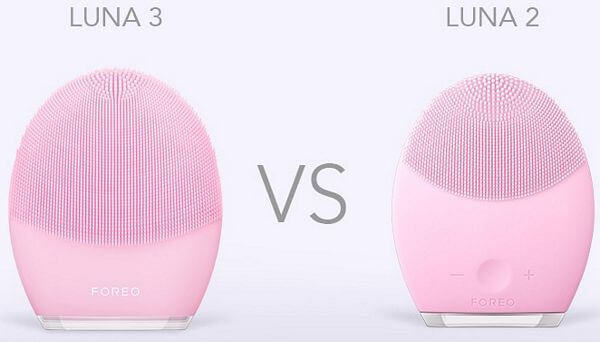 This tool has 16 power levels compared to the FOREO 2, which had 14.
Another thing that's amazing is that off of only one charge you can use this device up to 650 times. If that's not impressive I don't know what is.
This device is T-sonic with 8000 pulses per minute.
This tool washes away dirt, oil, sebum, makeup residue, dead skin and more.
It comes with beautifully soft and stretchy travel pouch and inside you'll find a Quick Start Guide, a little card mentioning that it's Bluetooth compatible and its USB compatible charging cord.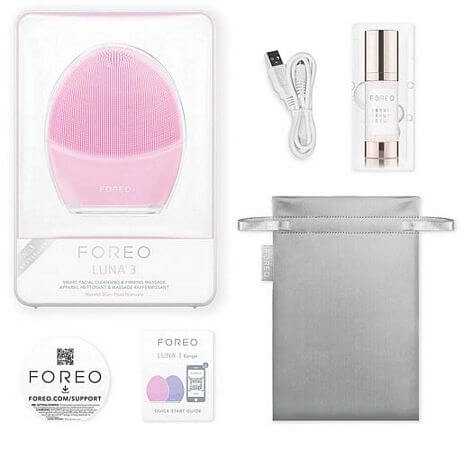 I'd like to mention that since this device is Bluetooth compatible, it comes with its own proprietary app. You can find it in the App Store when you search FOREO and it comes up as FOREO For You.
Once you download the app, you can unlock tons of cool features, such as massage settings and their cleansing option.
NuBODY Review (Before and After Photos)
What I Like About The Best Cleansing Tool For Face
I've been using FOREO Luna 2 for very long time and I'm absolutely obsessed with it. I feel it totally transformed the texture of my skin and my breakouts were drastically reduced. I always get compliments of people saying your skin is so soft. I 100% attributed to the FOREO unit.
I'm just so excited to move on to the Luna 3.
You can easily tell that it has a lot longer bristles and softer bristles, which I am very excited about because that means a more area to cleanse the face.
It is longer so it does have a larger surface area, which means more action and more T-sonic vibrations on the face.
I was always a little bit skeptical about how much smaller they made the area that treats your skin in the Luna 2, so it's nice that they added quite a substantial amount to the FOREO Luna 3.
The Luna 3, unlike the 2, has only a single button because it's fully app up controlled. The Luna 2 had the on/off button and the plus/minus for the settings of the vibration.
I had to get used to the fact that it wasn't just manual. I had to use my phone to unlock the device for the first time and after that moment I could use the device by just clicking twice on the back and it turns on.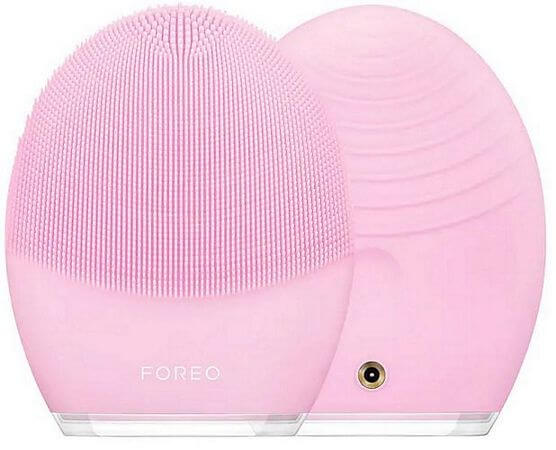 My first experience when I used it was truly incredible. I couldn't imagine how much different it would feel.
I really felt how much thinner it was, it's lighter, silicone feels more grippy. It was a lot more gentle and it also felt a lot softer.
So I completely agree with every single thing that they're saying about the device.
I also like the fact that it auto shuts off after one minute.
The only thing with this that makes it very different is the fact that the massage mode can only be activated via the app.
Rather than the Luna 2's simple lower frequency massage mode, which is incredible for the absorption of your skin care, this one is tailored. Instead of one constant buzz, it would go like a wave type of pulsation. Each mode is unique. There's one for contour, there's one for your neck, there's one for eyes.
I do hand it to them that you wouldn't be able to manually select that on the device itself without being super confusing. I understand exactly why they're using the app connectivity and I think that's incredible.
I also like the fact that they've kept that salon vibe and very professional feel with the device, which I really appreciate because as simple as it can be, the better.
They're saying it's 30% longer touch points, but I feel it's like a hundred percent longer.
In terms of the usage, all FOREO devices are epic. I constantly get asked which one's better for me. If you're rolling with the Lunar range, it doesn't matter what generation you get, you're gonna get the best kind of thing.
They all use the same technology, they all use the same quality of silicon. To be honest, I really think it's more up to you and what you want.
How Do You Use FOREO Luna 3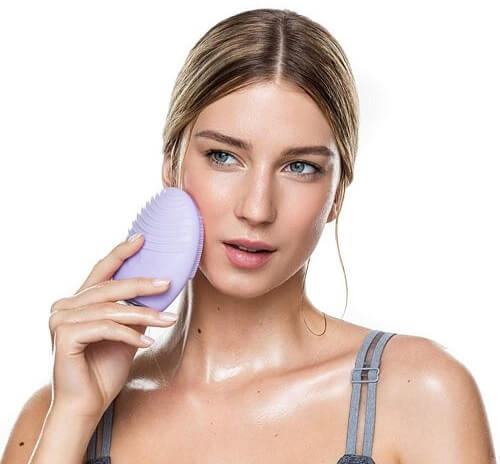 To get started, you just need to download the free app from whichever App Store you use and it's compatible with both Android and Apple devices.
Once you've downloaded the app, you just need to register your brand new Luna 3.
Set up a profile and then you're good to go.
When you first get the device, you need to head to the app and select which tool you have.
So if that's the Luna 3, you need to select Luna 3 and then you would just hold down a button on the back and it would connect by Bluetooth after five seconds.
When you're ready to start your first cleanse, you can go to settings and select your own intensity level, which will stick with the device whenever you want to use it, with or without the app.
You can go up to 16, which is more than the Luna 2. The Luna 2 only has 14 settings. Or you can bring it down to whatever you like. I personally prefer 10.
And then you can either save and go back in case you want to start a massage treatment or you can save and start your cleanse.
The device automatically comes on.
If you're using the Luna 3 with the app, you can start and stop the cleansing as and when you wish. However if you're using it without the app, you simply just press the button on the back and it will turn it on at the last intensity setting that you selected.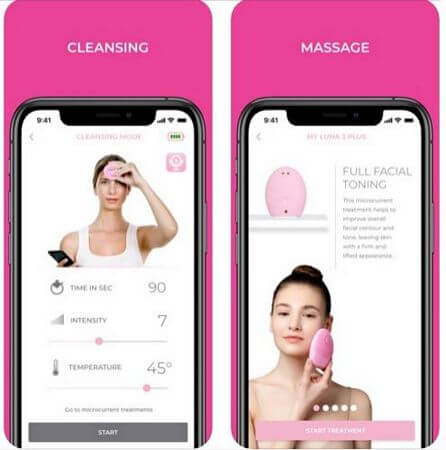 The tool will automatically turn itself off once your treatment is complete.
As well as 16 cleansing intensities, there are also four brand new massage treatments that you can do with the Luna 3.
The massage treatments can only be used with the app, but you can use the cleansing mode without the app.
To get started with the massage treatments, all you need to do is go to start treatment and then go to massage treatments and then you can select from the four which you would prefer.
There are Eyes On The Prize, which targets fine lines and crows feet around the eye area.
There's Nothing But Neck, which targets those saggy jowls and turkey neck.
There's Contour Crazy, which targets these cheekbones and lifts and contours.
And then there's Magic Mouth, which targets these nasolabial lines and just gives you a general lift.
For the anti-aging massage treatments, you need to use the back of the device which has these ridges and it uses T-sonic vibration and varying intensities to target anti-aging concerns.
If you I love when your skin is clean and smooth, when your skin looks amazing, get this incredible cleansing tool for face. I can't recommend it enough.
You can buy it here with free delivery: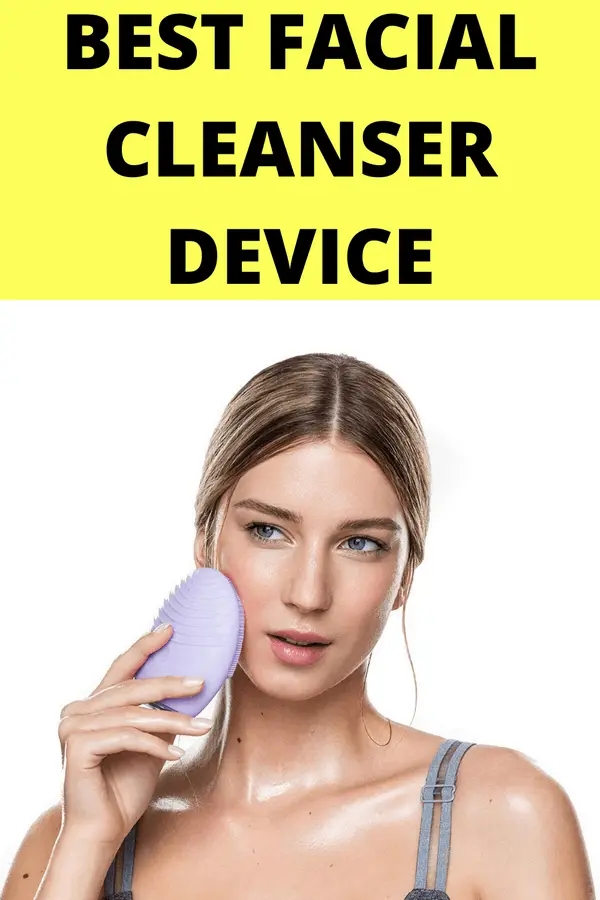 Oxygen Facial at Home – Geneo Review
Best Cleansing Tool For Face (FOREO Luna 3 Review)