In this article you will find out how to use your new favorite microcurrent facial tool the Foreo Bear.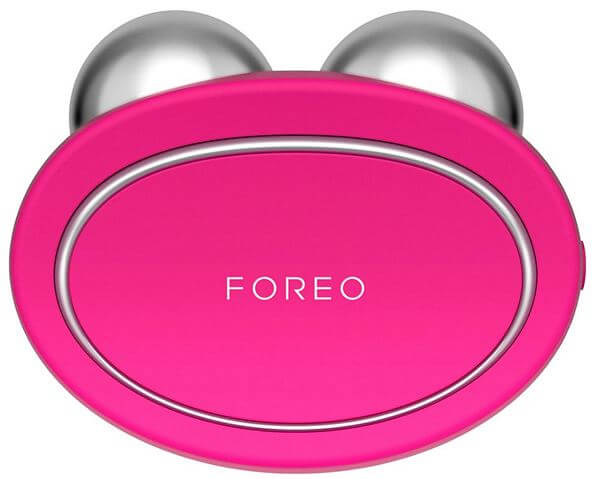 This is Foreo's first venture into microcurrent technology and it has some really unique features. My favorite being that it's paired with t-sonic pulsations, which is something that we know and love with the Lunar range.
What you're going to need for this facial is either your phone or your iPad or your computer, which has your Foreo app. You can get this from the apple store. You can also get this from the play store.
Wherever you get your app from, have your device ready.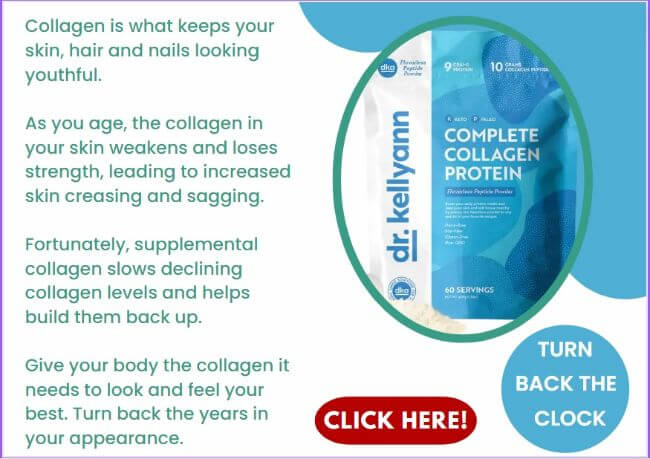 Make sure to have cleansed your skin entirely, removing all oils. You want to use a gel cleanser but with no oils within it whatsoever.
You're also going to need a way for that power and energy from the microcurrent to get deep into the skin where we really want it – the muscles.
You will need a water-based serum. This can be anything, which is not usually what many brands say. However, we would suggest that you use the Serum Serum Serum which is by Foreo.
This is a personal favorite due to the fact that it's so high in hyaluronic acid. There's actually three forms within it, so this is great to use with the microcurrent facial tool.
What you want to do is to go on your Foreo app. You don't even need to hold the device for five seconds to put it in pairing mode. The device will already know it's there.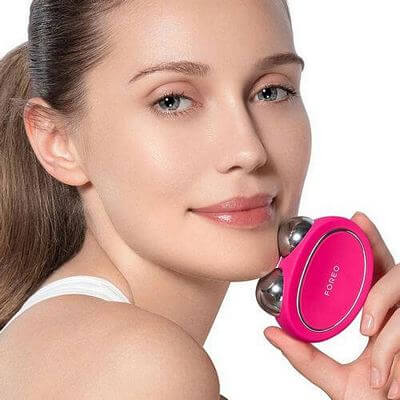 Click start.
What this is going to do is it's activating the little flashing indicator light, which is based on your Bear device. This is saying that it's ready.
You click start treatment.
You can decide if you would like the t-sonic pulsations either on or off. Trust me, you want it on. There are five microcurrent choices with a Bear. That's what makes this so powerful.
Each level is signified as five in the Foreo language, 25 being the most powerful.
The benefit with this microcurrent facial tool is that it has the anti-shock system. This scans the skin and makes sure that you're getting the optimum level of microcurrent technology as deep into the skin but without that shocking feel.
What the app is also going to help you with is registering the device, to communicate to customer service and also to find out any new protocols that will be released in the future.
You can use the Bear without even needing the app at all, after pairing it for the first time. Remember that.
For this guide, what we're going to focus on are just the key elements to a facial lifting massage. Obviously with the treatment using t-sonic pulsations and microcurrent, your skin will always look more sculpted. However, it can sometimes swell.
But with this toner, this isn't an issue at all. Just make sure that every single motion is outwards and up.
The most important thing is that you use this on fully cleansed skin.
Coat your skin in a layer of the Serum Serum Serum or it can be any other water-based gel. But this one works best for the device.
The reason why you need to coat a layer in the skin and let it sink in is because this microcurrent facial tool works best when your skin is as moisturized as possible.
Also the more moisture through the skin, it allows the channeling of the microcurrent to be even better and make it even more effective.
So have the full layer everywhere, soaking in for several minutes.
FOREO BEAR™ as a facial workout
Buy with free shipping:

You're then going to section off your face in certain areas.
Press on the universal power button once.
By clicking the indicator light just once, you can activate different intensity settings. Double-clicking it, you can actually turn the t-sonic pulsations off.
This protocol is going to be the much more simplistic but really effective facial.
Start from the bottom to the top. All this is doing is it's basically hugging the contours of the jawline. Do five sweeps.
Then you notch it a level up, just under the nasal fold, all the way up to the ear. It's gonna feel like you're going slightly under the cheekbone and you're just pushing everything up. This is also a great way of expelling any excess water retention and puffiness.
Then you notch it up one more level. This is going to be completely hugging the contours of the cheekbone and you go right from the laughter line, nasal fold, all the way up to the temple. Also do five motions.
Best Skin Tightening Machine For Home Use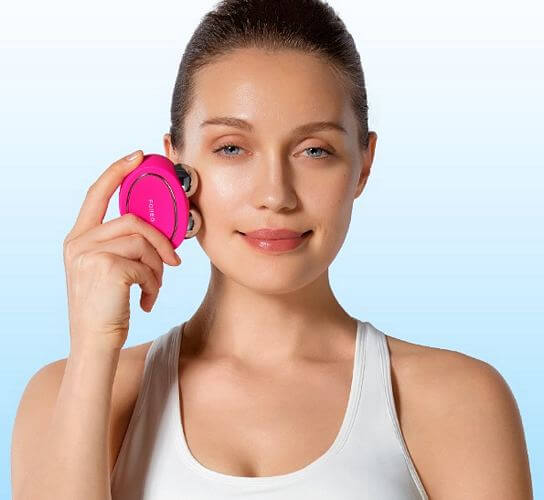 Why to zone the skin off?
It is actually to make sure that the serum is going to be as prominent on the skin as possible. I don't want it to absorb too much.
Go to the other side of your face and repeat the steps.
With the forehead is where it gets really flexible.
What I would do is apply the serum all over the forehead region up to the hairline. Really push the gel as far into the hairline as possible. This will allow you comfortably to make sure you can lift as high as possible.
You then basically just do upward motions around the whole area.
You can section each brow into three upward motions and the middle, inner brow as one together. And then go the same back. Motions can also be as slow or as fast as you want.
You don't actually leave a specific time that you need to hold it or anything indicating that you have to take this long.
The main benefit is the actual technology itself and the motion that you use it is really just depending on how long you want to spend doing your protocol.
Next is to include the neck and bring it up into your jawline, which is my top tip in terms of connecting this whole area with a microcurrent facial.
You will just do slow passes up to the jawline. You don't ever go above the throat. You really want to focus on two side areas of the neck, going up and lifting up to the cheek muscle.
You will do five on one side. You can take your time if you want. And then doing the same motion on the other side, lifting all the way to just under the cheekbone.
It's really going to help assist and lift those muscles to give you that contoured chiseled look.
Buy with free shipping:

Silk'n Titan Skin Tightening and Lifting Review
Best Facial Rejuvenation Device For Home Use
#1 Microcurrent Facial Tool For Toning Face