In this article I'm going to be reviewing the Brooklyn Bedding Plank mattress.
The Plank mattress is flippable with an extra firm side and a firm side. They market it as the firmest, flattest, healthiest way to sleep. But is that going to be true for everyone?
In this article I'm going to give you my opinion on what the Plank feels like, put it through some tests and talk about the pros and cons, go over the materials and answer some frequently asked questions.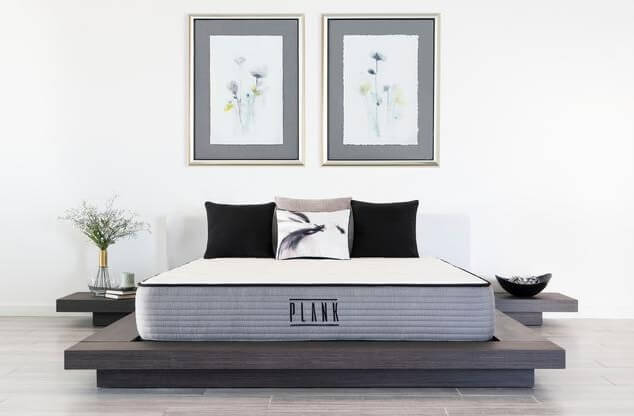 Feel
Let's get into what the Plank is all about.
As I said before, the Brooklyn Bedding Plank is a flippable mattress. There is the ultra firm side and then there is a firm side.
Overall I give the firm side about a 7.5 out of 10 on the firmness scale, with one being the softest and 10 being the firmest. The ultra firm side I would give about an 8 out of 10 on the firmness scale.
Honestly I think this is the firmest mattress I've ever tested and I've tested quite a few.
I think this is one of the best mattresses for stomach sleepers, because stomach sleepers need something really firm that's going to keep their hips propped up with their shoulders and you're definitely going to get that with the ultra firm side.
I'll go into materials a little more a bit later, but you have about 0.75 inches of cushioning before you get to the firm polyfoam layer, which is 7 inches. So basically you feel a lot like you're sleeping on this poly foam layer on the extra firm side.
I think it could maybe work for back slippers like a really firm feel, but I definitely recommend the back sleepers go with the softer side of the mattress.
I think both sides are probably a bit too firm for side sleepers. I would recommend they go to with something a bit softer overall.
Back to the extra firm side of this, it has a super firm on top of the bed feel, so you're not going to get any cushioning. If you're looking for that memory foam hug, this is definitely not the mattress for you.
But it is for anyone who wants an on top of the bed feel. It also has a kind of a bouncy feel, which is great for combo sleepers.
If you like to switch positions, maybe to your back and stomach, on this extra firm side I think that would work.
If you're doing side sleeping throughout the night, again not my pick for side sleepers, although it is great for stomach sleepers.
Tests
Now that I've gone over my opinion of the Plank mattress, I'm going to tell you about how it went through some tests.
Before I tell you about these tests, they were done on the extra firm side of the mattress. So all these results are going to be based off of that.

Pressure
The first test I did was the pressure map test.
The pressure map test is where I lay a pressure map n top of the bed, I lay on it and then it measures in real time how much pressure is exerted in different positions.
I tried on my side, on my back and on my stomach.
I also like to highlight that I'm a lighter sleeper, so if you're heavier than me, there's probably going to be some more pressure.
On my side, there was a bit of green. This is not a comfortable position. I was seeing a bit of pressure.
Same thing with my back on the ultra firm. I was seeing some green, which we don't typically see on the pressure map, it's usually all blue on the back. This was showing me that you are going to get a bit of pressure and it was right at the lower back, which is right where you don't want it.
However, as I said before, no surprise on my stomach. It was all blue, my hips are propped up in line with my shoulder and it's going to prevent bowing, which can lead to back pain. That's something you definitely want to avoid.
But on this mattress your hips are propped up with your shoulders and you are not going to get any of that bowing, which is great.
Bounce
Next up, the bounce test.
This mattress has pretty good bounce. I would say that combo sleepers will be pretty happy on this. They need a bit of bounce to be able to freely move positions, they don't want to feel stuck in bed because that makes it hard to switch positions. That's just not what they want.
Motion Transfer
Motion transfer measures how much movement goes from one side of the bed to the other. If you sleep with a partner or pet, you might want a mattress with a low motion transfer, especially if you're easily disturbed, because with high motion transfer, you're going to feel their movements on your side of the bed.
The way that I measure this is I drop a 10-pound steel ball from three different heights meant to mimic different movements in bed and then I use a seismometer on the other side of the bed to detect the movement.
Overall I saw pretty high motion transfer with this, which doesn't come as a surprise. There's a bit of bounce. Bounce and high motion transfer tend to go together, although there are some that manage to have both – low motion transfer and good bounce, but typically high bounce, high motion transfer.
So I wasn't surprised that I saw this here. You might feel your partner or pet moving on the side of the bed, but if you're not easily disturbed and you and your partner both love a firm mattress, this could be for you.
Edge Support
Unfortunately I wasn't super impressed with the edge support on this mattress. I did feel when I was laying all the way on the side that I was gonna roll off. I think that if you're worried about taking advantage of the full mattress or you really like to sleep on the side, you might want to consider a different mattress.
Materials
Now I want to tell you a bit about the materials.
Let's start with the cover. The Brooklyn Bedding does come with an optional cooling cover. I did get the version with the cooling cover. Be warned it does add about $100 extra to mattress, but I would say if you're worried about overheating, this could be worth it.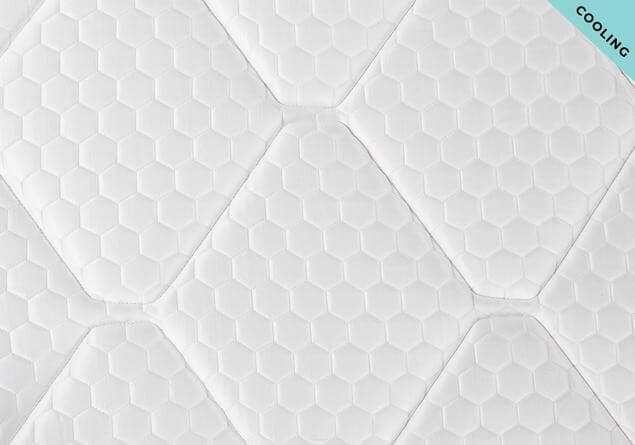 It's a really high quality material, phase change material, which is cool to the touch and stays cool throughout the night. It's the gold standard for cooling covers with phase change material.
Right below the cover you have about .75 inches, which again on the ultra firm side you're only having a little bit of comfort before you get into the ultra firm poly foam layer. This is seven inches of high density base foam and when you're sleeping on the extra firm side of this mattress, that's pretty much what you're going to feel.
You're going to be feeling like you are right on top of this because essentially you only have .75 inches of comfort.
Next up is what you're going to feel if you flip the mattress onto the firm side. It is called Brooklyn Bedding's TitanFlex foam. Sleeps cooler than traditional memory foam and it has a responsive feel, adds some extra comfort when you are sleeping on the softer side of the mattress and that's what makes it about a 7.5 on the firmness scale, whereas the ultra firm is 8.
Below this you get that phase change cover.
Best Double Sided Mattress Review
Pros and Cons
Now that we've talked a bit about the Plank, I just want to recap some of the pros and cons.
Let's start with the pros.
Super firm. If you're a firm mattress lover, this is the mattress for you. Great for stomach sleepers. I always recommend stomach sleepers go with the firm mattress.
You have two firm sides here to choose from – the extra firm and the firm.
It is flippable. Who doesn't love a flippable mattress. it's like you're getting two beds in one. I love that about this mattress.
It is bouncy for an all foam mattress. It's really good for combo sleepers.
Next up the cons.
For me this is too firm for side sleepers. If you're a side sleeper, you're gonna want something with quite a bit more sinkage. Even on the side that's less firm, I still wasn't feeling it was good for side sleepers.
Also it has pretty high motion transfer. Not the best choice for couples or anyone who sleeps with a pet, unless you sleep like a rock and are not easily disturbed, then it could be fine.
This mattress just didn't have great edge support. I did feel like it was collapsing a bit on the edges. Something to look out for.
Policies
I want to tell you about some policies.
It has a 10 year warranty, a 120 night sleep trial and it offers free shipping.
It comes compressed in a box, so you will have to wait a bit for it to decompress after you open it.

FAQs
Can I flip it?
Yes. If you missed it somehow earlier in this review, this is a flippable mattress, though there are different firmnesses on each side. One side is the extra firm and the other side is firm.
Do I need a box spring?
No, Brooklyn Bedding says that any type of support system that provides minimal to no flex works.
Is there an off-gassing period?
Yes. Since it is an all foam mattress that comes compressed in a box, you will need to wait a few days for the mattress to fully decompress and release any odors that may have been trapped in the foam.
That's it for my review of the Brooklyn Bedding Plank.
Best Mattress With Two Different Firmness (Flippable Mattress)
Memory Foam Mattress With Celliant Cover (With Graphite Gel)
Best Extra Firm Flippable Mattress (For Stomach Sleepers)