If you are looking for a mattress with two different firmness, Layla Hybrid is the best option for you.
Layla brand has been around for several years now and this company is known for their signature cover that almost has a 3D look to it.
Double Sided Mattress – 2 in 1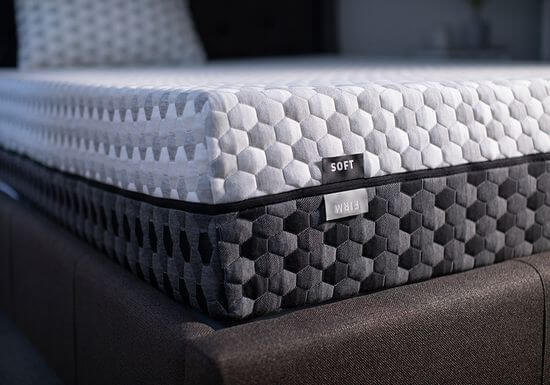 They're also very well known because it is a mattress that you can flip. That means you get two mattresses in one. You get a firm side and then a soft side.
Layla added on the new model a label so you know which is which and then it's also distinguished by color – gray is soft and then the black is firm.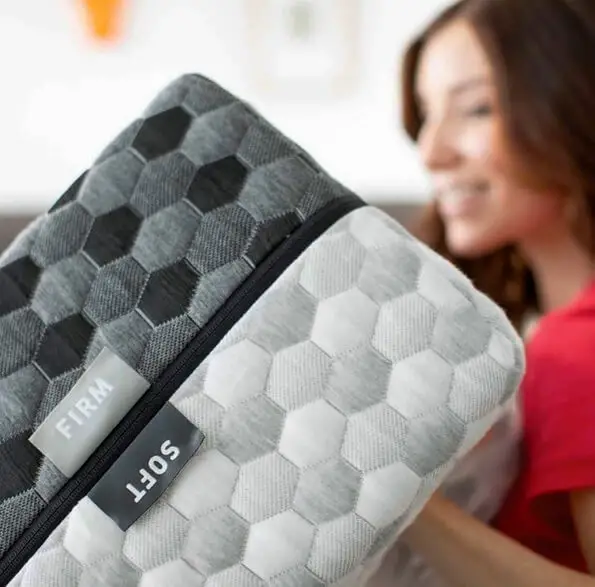 I will start out with soft side.
You get quite a bit of sink with this mattress and that's because they're using a generous amount of pressure relieving foam.
It's three inches of comfort foam. This foam is unique in that it's copper infused.
There are a couple benefits to copper. It has antimicrobial benefits. (That's why you see old houses have copper door handles to prevent the spread of germs.) So it helps keep your mattress fresh.
Second benefit is there's also a cooling effect with copper. As you lay on this mattress, it'll draw some heat away. That's going to get you into a sleep state much faster just because it's going to help regulate your body temperature. That's why sleep-deprived people love this product.
Three inches of that foam and then you have a transition layer of foam, which is a convoluted foam. For convoluted I mean sort of that egg-crate wave shape. So the top layer is smooth and then you get the egg crate underneath. That creates room for airflow.
So they're adding more breathability and cooling to the mattress.
Unlike other traditional mattresses where you have a base layer of foam, Layla uses a solid core layer of foam in the middle, because they're building it from the middle out.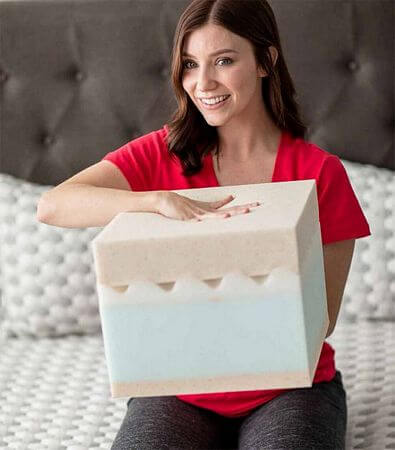 And then as you go deeper down, you go back to the convolute and then one inch of your comfort foam, which makes it sink in just a little less than the top layer, making it more optimal for back and stomach sleepers on the other side.
The other nice thing about this mattress is it comes with a 120 night trial so you could have it for basically almost four months and if you're not happy with it, it's a free return. It's free shipping to you as well.
Queen size retails for about eight hundred dollars but that's before any discounts. It makes it a pretty competitively priced mattress but even more so because at the end of the day you're actually getting two mattresses in one.
First of all, your chances that you'll probably return this are pretty slim because you have two to play with.
The other nice benefit of this mattress is that in my opinion it's a great guestroom mattress. So despite just being a great all-around mattress that I would sleep on every night, if you have guests with different sleep preferences in terms of firmness, adjusting it is simply just flipping the mattress over for a softer or firmer side.
Testing Mattress With Two Different Firmness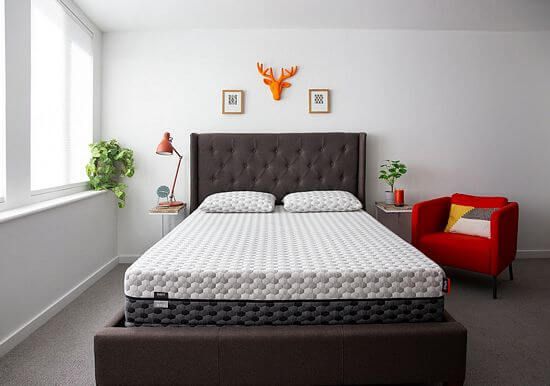 Today, we're taking a closer look at the all-new Layla mattress.
It's a flippable, copper-infused memory foam bed. It's new as of 2019.
The original performed really well in our test. Let's see if the new Layla holds up.
The Layla mattress is a 10-inch flippable memory foam bed. The cover is made from a polyester blend. There are two comfort layers, depending upon which side is up.
For the soft side, there are three inches of 3.5 PCF copper-infused memory foam, above two inches of 1.8 PCF convoluted polyfoam.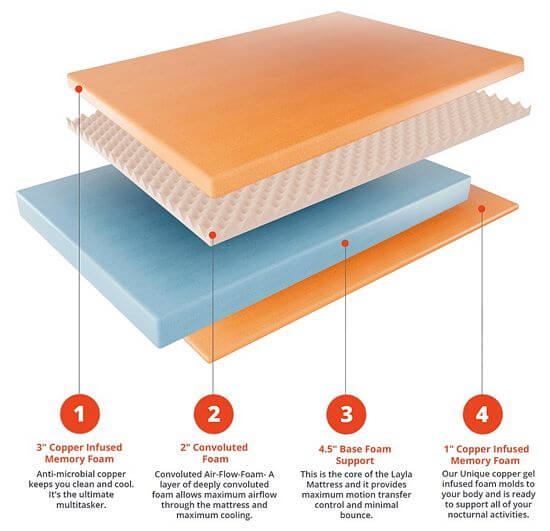 On the firm side, there is just one inch of 3.5 PCF copper-infused memory foam.
The support core sits between the soft and the firm side. And is made up of four and a half inches of 2 PCF polyfoam.
A nice feature in the new Layla mattress is that you can flip the bed easily, without removing the cover like you had to with the old Layla mattress.
The Layla mattress has a traditional memory foam feel and comes in two firmnesses. The soft side is a four, which puts it at about a medium soft mattress. And the firm side is a seven, making it a firmer mattress.
The Layla is a conforming mattress and you will feel like you're sinking into the mattress, versus sleeping on top of the mattress.
Copper-infused foam does help with circulation and with breathability.
We tested support of the Layla mattress on both the soft and the firm sides.
For light and average sleepers, it was actually fairly similar across both soft and firm and performed very well.
For heavier sleepers, hips sink deeper on the softer side, compared to the firm side.
So we would suggest using the firm side for optimal support.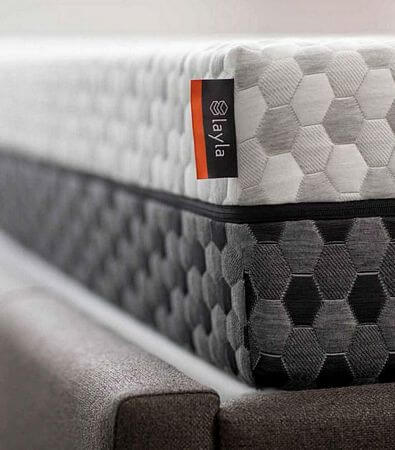 Our motion isolation tests performed on the Layla mattress showed it to perform very well in this category. This is thanks to pocketed coils.
We used a glass of water, which is going to show any motion transfer across the surface of the bed. It actually performed slightly better on the softer side compared to the firm side.
Our edge support testing of the Layla mattress showed it to perform fair, which is on par with other all-foam mattresses. It performed slightly better on the firm side.
None of our testers felt that they had a fear of roll off when sleeping near the edge of the bed, but did experience sinkage when sitting on the edge of the bed.
Sleepers should take note as it can be a little harder to get in and out of bed with this sinkage.
Our pressure-relief testing of the Layla mattress showed it performed very well, actually on both sides. A light sleeper may notice a little bit of pressure on the shoulders on the firm side of the mattress.
This is to be expected as we recommend lighter sleepers sleep on the soft side.
An average weight sleeper may experience the same pressure on the shoulder and hips on the firmer side but looked great on the soft side.
A heavyweight sleeper looks great on both the soft and the firm side, although like we've said before, we recommend heavier sleepers consider the firm side as it's going to be better for support.
Our temperature neutrality test done of the Layla mattress showed that it can trap heat, due to its memory foam composition.
That said, given the materials used and especially the copper-infused memory foam, it does perform a bit above average.
Best Double Sided Mattress Review
Layla Mattress Test Results

Now let's take a look at how the Layla stacked up in our mattress testing.
The Layla mattress is a closely-conforming traditional memory foam mattress.
It's slower to respond on the softer side and a little faster on the firm side.
For support, the mattress received very good ratings for light and average weight sleepers. And a good rating for heavy sleepers.
Motion isolation was very good.
Edge support was fair.
Pressure relief was very good across the board for all sleeper weights.
And lastly temperature neutrality was good.
The copper-infused memory foam used in the bed makes it a bit better than your average memory-foam mattress in this category.
Takeaways From Layla Mattress Testing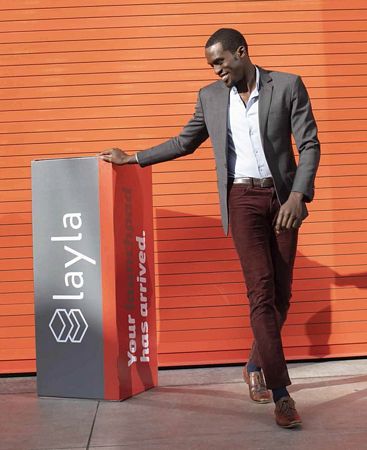 A few takeaways from our Layla mattress testing.
If you're heavier weight sleeper, you might not find the support you need on either the soft or the firm side of the Layla mattress.
If you prefer an innerspring feel, a more bouncy responsive mattress, the Layla mattress might not be the right choice for you.
If you already know exactly what firmness you like in a mattress, you might not need the flippable aspect of the mattress, so you could look elsewhere.
We recommend the Layla mattress for light to average weight sleepers.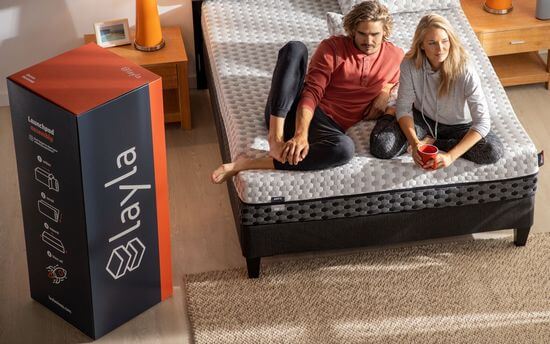 We recommend the Layla mattress for those sleepers that know that they like a memory foam feel.
So really the feel of sleeping in versus sleeping on the mattress.
We recommend the Layla mattress for those couples that aren't quite sure what firmness they like in a bed.
It's really nice to have two options.
And if your preferences change over time, all you need to do is flip the mattress over.
I like the Layla mattress, I think it's a good combination of soft and firm. I definitely prefer the soft as opposed to the firm side though. It gives you the cushion and it's just a comfortability factor to it.
How did it feel sleeping close to the edge?
The edge still has a nice bit of support to it. It's still really comfortable. It doesn't start to contort completely and you feel you're just in a wobble. I don't feel like I would roll off the bed if I were to move.
Some additional information to consider about the Layla mattress before purchasing.
The Layla comes with a 120-nights sleep trial, free shipping, and a 10-year warranty.
Click Here to Visit Online Shopping Store and Buy!
Layla also sells other bedding items: pillows, sheets, mattress protector, mattress topper, weighted blanket.
Best Extra Firm Flippable Mattress (For Stomach Sleepers)
Best Mattress With Two Different Firmness (Flippable Mattress)