Here is another mattress review. We're gonna talk about the Bear Pro mattress, which is the best copper infused memory foam mattress.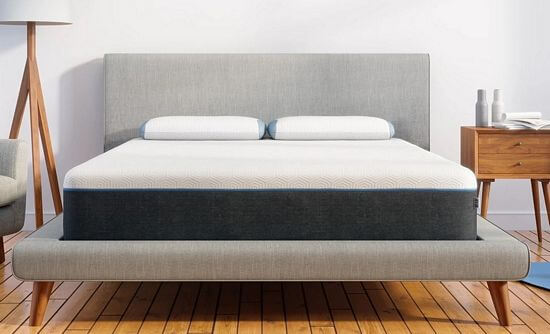 If you look at bear's lineup of beds, they have a super affordable gel memory foam mattress, that's just called Bear Mattress and then they have Bear Hybrid, which is an upgraded coil bed.
Bear Pro is gonna sit right in between the two. It's an upgraded foam bed but it's still really affordable.
We're gonna talk about the stuff that we like and don't like and we'll also cover things like feel and firmness and temperature, who it's best for and all of that.
Let's get to it.
Copper Infused Memory Foam Mattress Review
Before we talk about the bed itself, if you happen to buy Bear Pro, what are some of the policies that come with it?
The first thing is free shipping. It is a bed in a box mattress, so you can pretty much treat it like a lot of the other beds that you would buy online. It's gonna take three to seven business days to show up.
Once it shows up in your house, you have 100 nights to test out the bed. It's totally risk-free. They ask you to try it for a minimum of 30 nights, but after that 31st night, you can get all your money back.
Whether it's too soft or too firm or you just changed your mind, it's totally free return. I think that's pretty great. That's why so so many people are buying beds online because it's risk free.
And if you do keep it, it comes with a 10 year warranty!
Now let's talk about pricing.
For a queen size Bear Pro is in that $1000 to $1,200 range, depending on whether they offer a discount or not. Bear does offer discounts frequently.
You'll be able to get a queen size Bear Pro for something like a thousand dollars, which I think is really affordable. It's obviously not as cheap as the original Bear mattress, but this is their mid-range, a little bit upgraded foam bed.
Speaking of it, being a foam bed, let's cover the construction of it.
Construction
Breathable Celliant Cover
Copper-infused Foam
Gel Memory Foam
Responsive Transition Foam
High-Density Support Foam
It is 12 inches thick, it starts with a dense layer of foam, then it has a transitional layer of a poly foam that is a little bit softer, so you don't feel the dense support core underneath.
And then what it has is a really airy, fluffy, light version of a gel memory foam. In fact, if you just tap that foam, you'll notice that it does have quite a bit of pressure relief, like it gives and it remembers your shape for a second, but then it snaps right back into its shape.
It's a really soft, fluffy gel memory foam that's actually quite responsive for being a memory foam.
But the main comfort layer for the bed is a very thin strip of copper infused foam and this is a very fluffy, kind of neutral type foam.
I think the vast majority of people will find it comfortable. If you pulled a hundred people, eighty to ninety percent of people would say the overall feel of the bed is really nice and very comfortable.
Again, it has four layers of foam and it has those really fluffy, airy, more responsive layers on top.
It wouldn't be a Bear mattress without the celliant cover. Bear doesn't actually own the celliant technology but they do use it in their mattresses.
Celliant has been proven to help with restful sleep, recovery times, circulation and a whole host of other things. I personally am a big fan of the celliant cover and I count it as an advantage for the bed.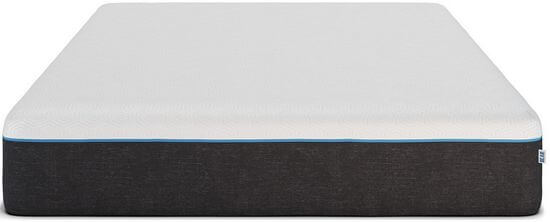 The cover is removable, it's got the zipper on the top, so if you do need to clean it, you can take it off and really get in there to kind of clean it with your hands. All in all I think the cover is quite nice.
I think the construction of the bed is really nice. Personally I do prefer it over the original Bear mattress – more of a neutral overall feel. You'll get plenty of pressure relief, so you do sink into it, but it's so responsive. It just feels like a fluffy mattress. It's really comfortable.
I'd place it somewhere between a medium and a medium firm. It's not quite as firm as the standard Bear mattress, but somewhere in that zone.
It should work for all sleeping positions. I think side sleepers will be just fine. In fact, most of these firmer beds, I'm not huge fan of them for side sleepers. This would be the exception. I think side sleepers, myself included, are just fine on this bed.
Back, stomach and combination sleepers are fine as well. So in terms of sleeper type, I think it covers all the bases. It doesn't matter which position you prefer. You should be good on to bed.
As for temperature regulation, I think it's about squarely neutral. I don't anticipate it heating up, but it's also not an active cooling bed.
Given its firmness level, it'll actually be a pretty good option if you sleep cold, or sleep neutral or even if you sleep a little bit warmer. I've been pretty happy with it from that standpoint.
What if you're married or if you don't sleep alone?

All this stuff is clearly important, feel and firmness. You want to make sure that you're on board with those two things and the pricing and all of that.
There are two other factors that I think couples should pay attention to. Again, feel, firmness, price, all that stuff is important but edge support and motion isolation are primarily applied to couples.
Edge support is how strong the perimeter of the bed is and that's only important if you sleep on a smaller bed like a queen or a full. I personally think edge support is a little bit overblown in the whole mattress industry.
This is as good, if not better than most foam beds. It's not as strong as something like a five thousand dollar Beautyrest Black mattress, but if you sleep on a queen, I don't anticipate you'll be feeling a lot of that roll-off sensation. I think it's actually pretty strong along the edges.
In terms of motion isolation, if you have one partner moving, you don't really want disturbing the other one, I think it's really good. It's as good as the original and it's as good as any other foam bed. It does a pretty good job of reducing overall motion transfer.
What do I think of Bear Pro?
I think it's a really nice bed. If you can't afford Bear Hybrid, it is a great solution. It's a really comfy foam bed. If you're under 230 pounds, you'll be just fine on it.
It's a nice match of comfort and support. It's definitely very comfortable with fast-responding memory foam on top. Memory foam is known for that slow, quicksand feel. This snaps back into place more quickly.
You're not going to get the feeling of getting stuck. You're going to sink into the mattress, but not too much.
Pros
If you are looking for a medium-firm mattress, the Bear Pro is a good option
It has a good balance of comfort and support
The mattress should also be good option for all sleepers
You will not feel stuck or sleep hot
Cons
If you prefer a firmer or softer -than-average mattress, you should look other models
It may not be the best option if you like to sleep on top of your mattress
Available in six sizes: Twin, Twin XL, Full, Queen, King, Cal King.

Benefits of Copper Infused Mattress
There are two big reasons why some mattress manufacturers use copper-infused textiles or foams:
Copper is a great conductor of heat.
It's both antimicrobial and antibacterial.
Some even claim that sleeping on a copper mattress has anti-inflammatory, collagen-building and antiosteo-arthritis properties. However, there is not enough evidence to support these claims.
But thermal and antimicrobial benefits are confirmed.
Copper has amazing high thermal conductivity, but that does not mean that copper retains heat. Quite the opposite, heat goes through the metal quickly, dissipating heat away from your body.
You're going to see a big difference in your sleeping temperature.
In the Bear Pro, the copper-infused layer of foam is the closest one to your body. This means that the copper in this foam will absorb your body heat and whisk it away – so you can have a cooler, more comfortable sleep all night long.
What about copper's antimicrobial properties?
Most mattresses are a breeding ground for dust mites, bacteria, etc. You can fight them using a mattress protector. But copper is a much better solution because it naturally eliminates or repels microbes and bacteria. It will also inhibit the growth of these beings.
To sum up, mattresses with copper create a cooler and cleaner sleeping environment. Do you want that?
Best Copper Infused Memory Foam Mattress!