In this article I'm going to be reviewing the Aurora mattress from Brooklyn Bedding.
The Aurora is a hybrid mattress that's designed to be ultra cooling. It comes in a soft, medium and firm version, but here I'm going to be testing the medium version.
I put this mattress to the test, assessing its feel, quality, performance and materials. After running a few tests, I determine which sleepers I think this mattress is best for and who should steer clear.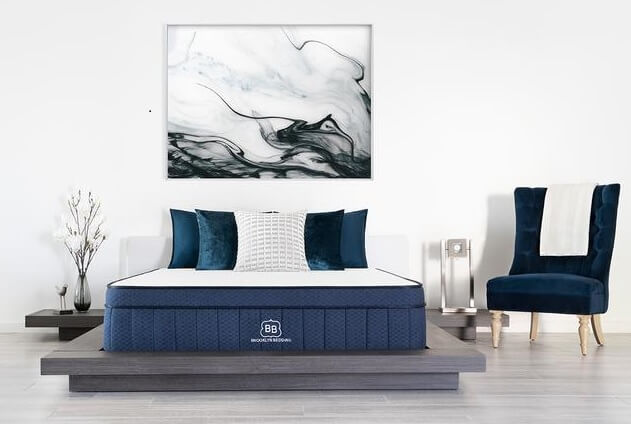 Quality
When we review mattresses, we generally like to start with talking about its quality and I think the best way to dive into quality is to talk about the mattress materials.
This mattress has what Brooklyn Bedding calls a TitanCool cover, which means it's made from phase change material.
Phase change is a fancy mattress term and it means that it's made with these cooling fibers that actually respond to your body temperature and help cool you in real time.
Phase change material is the gold standard for cooling!
They do describe this as a super cooling mattress.
Below that cover, you have 1.5 inches of CopperFlex foam. It has a similar feel to memory foam but it is a bit more responsive and it's infused with copper, which is both cooling and anti-microbial, which are two huge perks.
Right below that is where the mattresses differ between the soft, medium and firm version. You're gonna have a two inch layer of TitanFlex foam. This offers some added pressure relief, some more contouring and it's gonna give you that nice medium feel.
And then right below that, which is kind of your transition layer, you have one inch of gel swirl memory foam, which ensures even more added pressure relief, softness and contouring.
It's also going to act as a buffer between the eight inches of pocketed coils that you're going to find in every Brooklyn Aurora mattress, no matter whether it's the soft, medium or firm. They are all going to have this eight inch layer of pocketed coils.
These pocketed coils are what give the bed its balance, what give it support and what give it all the great properties of a hybrid bed.
We really like hybrid beds because you get all of the support of an inner spring mattress, but then a lot of the added pressure relief of a foam mattress. It's the best of both worlds.
Durability
Now that we've told you a little bit about the materials, a lot of things that people ask us is how long is this bed gonna last me.
Most hybrid mattresses last about seven to ten years, really good ones gonna last you ten or eleven, but typically something around seven years. We would say this one's going to be seven or eight years.

Edge Support
The reason that we say that is because we actually wasn't super impressed with this mattress's edge support. We thought it had not super strong edges. When we were sitting on the edge, we felt a little bit like we were going to fall off and we felt a little bit unsteady when we were laying on the edge.
And that can affect mattresses durability, especially if you're in a couple, because it can lead to you and your partner going to the middle of the mattress and that can lead to a premature sagging, which means you're going to need to replace your mattress sooner. That reduces its durability level.
However other than the edge support, we do think that this is made with a ton of really high quality materials and at least when we were on the edges, when we wese in the center, we did feel super supported.
There is a lot of cooling materials and that's actually going to add a little more durability, you're not going to be sweating so much through the mattress, because it's gonna sleep super cool.
Feel
Now that you know what this mattress is made of, you're probably wondering what it feels like.
When we talk about feel, we typically like to start with firmness, because that's basically the standard of what everyone thinks when they're talking about feel and it is super important, it's not for nothing.
Overall we like to rate mattresses on the firmness scale, which goes from one to ten, with one being super soft, like cloud level soft, and 10 being as hard as a brick.
We would give this mattress a 5.5 out of 10 on the firmness scale. That's going to mean that this is actually a soft mattress.
We know we said this is the medium model, so we are saying that it feels soft, so if you love something that is ultra soft, you should go for the soft version. But if you want a soft bed, we think you're going to do just fine on the medium model, especially because the industry standard for medium firmness is 6.5. So at a 5.5 this definitely has a true soft feel.
Sleeping Positions
We think that this type of feel is going to be best for side sleepers. We are side sleepers and we definitely felt really nice and cozy on this bed. We didn't feel our shoulders getting all jammed up or there was too much pressure on our hips.
Because as a side sleeper, you do need a softer bed because you need something that's going to cushion your shoulders and your hips when you're laying into it.
Conversely this isn't going to work for stomach sleepers. This is going to be way too soft for stomach sleepers. They need something quite a bit harder, because they need something that's going to keep their hips in line with their shoulders.
We did find when we were laying on this that our hips were going out of line with our shoulders and that can lead to back pain over time.
The last group that we want to mention here is back sleepers. We think it depends. This mattress can work for back and side combination sleepers or the lighter back sleepers out there.
But we generally steer back sleepers to something with a bit more support, because you do want something that's going to help support your spine and keep it in a straight line and typically that's going to be something in the more medium range rather than the soft range.
However if you're a back and side combination sleeper, this could be a great choice, especially if you suffer from shoulder pain or hip pain, because you definitely need a soft mattress, if those are two of your concerns.
The one group that we wouldn't recommend this mattress to though is heavy people. We really don't think that this bed has enough support for heavy people.
Brooklyn Bedding actually does make a mattress specifically for heavy people, called the Brooklyn Titan. It has much stronger support than this bed, so if you're over 250 pounds, definitely check out the Titan rather than this mattress.
Also the poor edge support is definitely something to look out for heavier sleepers or just larger people in general, because you're taking up more room on your mattress and you don't want to feel like you're going to fall off the edges.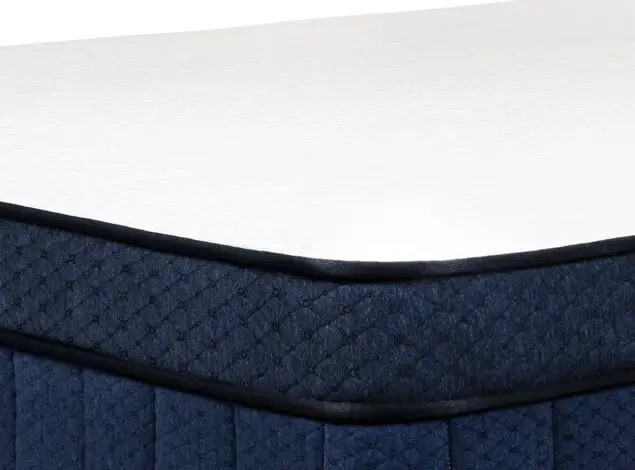 Motion Transfer
Next up we want to talk about how the Brooklyn Aurora performed on some of our tests.
The first test we are going to go over is the motion transfer test.
What the motion transfer test is measuring is how much movement travels from one side of the mattress to the other.
The way that we measure that is we take a 10 pound steel ball and we drop it from three different heights and then we measure that disturbance on the other side of the bed.
The way that this mattress performed on our motion transfer test we would give it a pretty average rating.
We thought it was pretty good, the foam layers did do a good job of absorbing a lot of the movement from the springs, because typically springs are what are going to transfer movement.
That's kind of the catch-22 with springs, as they provide really great bounce, but also at the same time they can make a bed with really high motion transfer.
Overall we think that this bed has pretty decent motion transfer results. We wouldn't be too worried about, especially if your partner's just tossing and turning, you probably won't be awoken by that. But if someone is full on jumping on the bed, you're probably going to be woken up by that.
Best Double Sided Mattress Review
Pressure Test
The next test we want to talk about is the pressure map test.
The way that we measure this test is we lay a pressure mat, which is a mat like device that goes on top of the mattress and then we lay on top of it on our side, back and my stomach and it measures how much pressure is exerted in different positions.
The map turns blue for the lowest pressure, then green and then yellow and then up to red for the highest pressure.
This test is going to be especially important for side sleepers, because you really want to make sure that you're not exerting undue pressure on your shoulders or hips because that is going to lead to pain in the long run, because you are putting so much pressure on those areas already by side sleeping.
We actually think this mattress does a really great job of that. There were a little green but that's totally fine and overall we would say that it is a good mattress for side sleepers.
We would even go ahead and recommend it to side sleepers with pain concerns, which means it is a true soft mattress.

Pros
Now that we've talked about pretty much everything there is to talk about about this mattress, we want to round this out with a quick list of the pros and cons. It's going to help give you an idea of whether or not this is the right bed for you.
So we are going to start with the pros.
First of all, we think this mattress is awesome for side sleepers. As side sleepers, we felt super comfortable, supported and cushioned. It does everything we are looking for in a mattress for side sleepers.
We also think that this bed does sleep super cool. It's made with so much cooling technology.
You have that phase change material cover, which is the gold standard for cooling covers.
You have a CopperFlex foam that helps you dissipate body heat. Their TitanFlex foam is also meant to sleep cool. You have that gel memory foam layer and then you got these pocketed coils, which add for tons of airflow.
So if you're a hot sleeper this might be the perfect bed for you.

Cons
A couple cons that we want to mention.
We do not think that this bed had the greatest edge support. We didn't feel super supported over there. Something to look out for if you're a larger person or sleep with a partner.
The firmness level was not firm enough for stomach sleepers. So if you are stomach sleeper you're going to want to steer clear of this mattress or check out the firm version. The firm version might work for you.
Typically we tell stomach sleepers definitely go for a firm bed. I you're a back sleeper the firm version is probably going to be great for you.
Last up, we don't think this is a mattress for heavy sleepers. Brooklyn Bedding does make a mattress specifically for heavy sleepers called the Titan. It's really great.
Policies
Last up we want to give you a quick rundown on the Brooklyn Aurora's policies.
Brooklyn Bedding offers free shipping.
It is a bed in a box mattress, which means it's going to come compressed in a box. You will have to unbox it at home. We would definitely recommend unboxing it the room you're going to use it in.
They offer a 120 night sleep trial, so that's quite a bit of time that you get to test this mattress to see if it's the right one for you.
You can return it before the end of that trial for a refund.
It comes with a 10 year warranty, which is pretty standard solid warranty.
That's it for our review of the Brooklyn Bedding Aurora mattress.

Best Pillow Top Hybrid Mattress
Best Mattress With Phase Change Material