What's one of the best cooling mattresses to stay cool at night?
Brooklyn Bedding Aurora hybrid!
It just got a bit of an update, so it's time to cover all the things that you might want to know if you happen to want this mattress.
The Brooklyn Bedding Aurora mattress is a great cooling mattress that will actively cool you down.
So in this article I'm going to try to cover everything that you need to know, starting with the policies, then we're going to get into construction, feel, firmness, all of the nitty-gritty details about the bed.
We'll talk about a couple things that couples might want to consider, we'll touch on price and at the very end of the article we'll try to have a final verdict and answer the main questions that you might have, such as who is this bed best for and should you get this bed.
Without further ado let's get into the review.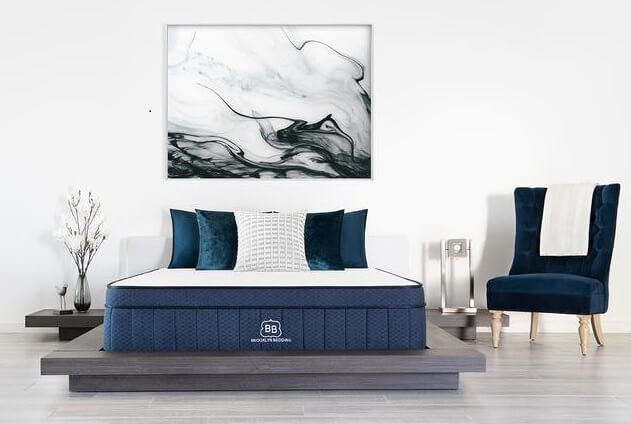 Policies
If you order online you're gonna receive the following policies.
Completely free shipping. The bed will show up in about a four foot tall box, shipped right to your house and you can easily set up the bed alone, but you might want to have a friend to help you out because it just makes the whole process a little bit more fun.
Once the mattress is in your possession, you get a 120 night sleep trial to test the bed out in your own home.
That's basically your chance to decide if you want to keep the bed and if this is going to be the mattress for your foreseeable future. If not you get completely free returns.
If you decide to keep it, it's backed by a 10-year warranty.
Construction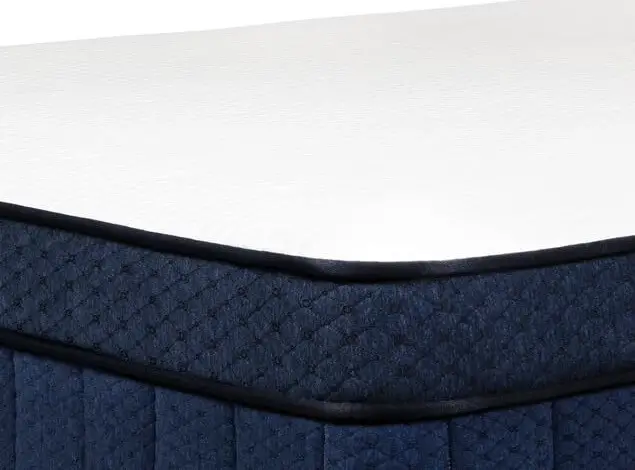 Let's get into the construction. What is the Brooklyn Bedding Aurora mattress made of?
This is a hybrid bed and it's even made in the United States.
There is a small layer of support foam at the bottom. Then you'll find the main support layer, which is pocketed coils.
The company recently updated these coils and added a zone support design within. This means that the middle third of the bed will feel a bit firmer than the head and foot.
It'll just provide more support for the mass of your body.
It's a pretty nominal thing that we don't think you'll really notice, but we have seen many mattress companies starting to implement this design.
This new zone support design makes the bed a little firmer overall, but we'll get into that in a little.
Above that support you have a transition layer of memory foam, then two layers of comfort foam and then the bed is wrapped up in a cooling cover.
A lot of other mattresses claim to have great cooling technology, but we often write them off as marketing noise or mumbo jumbo, but Aurora is different.
This cover is cool to the touch, it's definitely going to help you in terms of temperature regulation, if you happen to be a hot sleeper.
Feel & Firmness
In terms of feel the Brooklyn Bedding Aurora just has a soft neutral foam feel.
You aren't going to feel stuck in the bed and though it does have some memory foam in there as a transition layer, you're definitely not gonna feel it as the overwhelming feel of the bed. It's just gonna feel soft and neutral.
Overall the Aurora is just a neutral hybrid bed that has a firmness that will change depending on which option you decide to go with.
The bed is offered in three different firmness options. There's a soft, medium and firm.
The soft is around a medium soft on the firmness scale. Meaning it'll work best for side sleepers who really like a soft bed.
The medium sits right around a medium, meaning that'll work for all sleeper types.
And the firm option is around a medium firm on the firmness scale, meaning it'll work best for back and stomach sleepers of the three. But all sleepers who like a more solid firmness level will enjoy this firmness as well.
These firmness options have gotten a bit firmer.
In the past, their firm was around a medium, but now it's around a medium firm, which makes everything a little bit more easy to understand. With the medium being right at a medium.
Something to consider is that the firmness scale is subjective. If you're a smaller person, you might find beds to be firmer. And if you're a larger person, you might find beds to be softer.
It's just something to keep in mind.
Let's touch on a couple things that couples might want to consider if they happen to be sharing the bed.
Edge Support
The first one has to do with edge support and this has to do with how sturdy the mattress is when you get close to that edge.
For Aurora, we would say it's okay when compared to other beds that we've tested.
You won't get an overwhelming roll-off sensation if you happen to get very close to the edge. If you do happen to go with a firmer mattress option, the edge support will be just a bit better.
It's the nature of the edge support.
Best Copper Infused Memory Foam Mattress
Motion Isolation
This is basically how well the bed handles cross mattress movement. If your partner likes to get up in the middle of the night, how does this bed perform.
In terms of the Brooklyn Bedding Aurora mattress, it performs decently in this category.
We don't foresee you having any problems if your partner likes to get up or you like to get up and you don't want to wake them.
Temperature Regulation
When it comes to the final thing that couples might want to consider, which is temperature regulation, we think this bed will sleep pretty cold compared to the other beds we've tested.
Of course the temperature of your bed is determined by a plethora of other different factors, like your room temperature, sheets, etc., but in terms of mattress temperature, we think this one should keep you cool at night.

Pricing
Let's talk about price. How much is the Brooklyn Bedding Aurora gonna cost you for a queen size.
Before we get into that, we just want to say that mattress brands change their prices all the time.
Sometimes it's different than what you read here and sometimes it's the exact same.
But if you want to check the current prices and current discounts, click here.
As of when we are writing this article, the Brooklyn Bedding Aurora goes for around $1750 for that queen size before any discounts.
With discounts, the price is closer to around $1400 range. Maybe even a little less.
Those are basically all the major things to consider if the Brooklyn Bedding Aurora has caught your eye.
Verdict
You probably want our final verdict who should get this bed and who is this bed best for.
We never have met you, but you probably can't go wrong with this bed if you're looking for an active cooling hybrid mattress, with some options at firmness that has a soft neutral feel.

Best Edge Support Mattress (With Celliant Cover)
Best Mattress For Couples With Different Preferences
Best Cooling Hybrid Mattress to Stay Cool at Night