Are you looking for a memory foam mattress with Celliant cover or graphite gel?
You've come to the right article.
Here we're going to be reviewing the Bear Original mattress. We'll look at its construction, firmness and feel, and then we'll dive into who this mattress is a good fit for and who it might not be as good of a fit for.
Let's get started.
Bear is a company that's known for comfort and great value. The Bear Original was the mattress that started it all.
The Bear was originally designed for athletes and to provide a cool night's sleep. It facilitates muscle recovery and pressure relief through its Celliant cover
Want to find out what it's all about? Let's dive into the construction.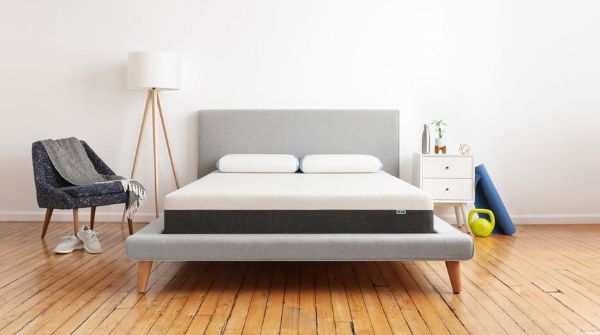 Construction (Celliant Cover)
First up, the Bear mattress is going to be about 10 inches tall. When we look at the layers of the mattress, the first layer is going to be the cover. The cover is a soft material that has Celliant in it to help with muscle recovery and pressure relief.
The Bear mattress has two comfort layers.
The first is going to be a soft thick memory foam layer that is graphite gel infused. This graphite gel infusion is going to help the mattress sleep cooler than your average memory foam mattress.
Next we have a transition layer, which is going to be a slightly firmer layer that adds extra support.
This layer is going to make sure that you don't feel like you're stuck in the mattress and can move around easily.
Finally we have the final layer, which is a layer of high density poly foam. This layer adds extra support and makes you feel secure as you sleep.
So what does this all mean?
Starting off with cooling, the Bear Original mattress is going to be an extremely cool mattress, because of that graphite gel infusion. This mattress is going to allow for a lot of airflow and is going to be super breathable.
When it comes to durability, you're going to find that this mattress is extremely durable.
It's made of high quality materials so it's going to last longer than your normal all foam mattress.
It's also made of environmentally friendly materials, so it's an eco-friendly option as well.
Firmness and Feel
Let's look at the firmness and feel of the Bear mattress.
We like to rank firmness on a scale of 1 to 10, with 6.5 being the industry average or medium firm.
The Bear comes in right at that 6.5, so it's going to be about average when it comes to firmness.
The Bear mattress is going to feel like a soft memory foam, but it does have that transition layer to stop you from getting stuck in the mattress.
To test the responsiveness of this mattress, I used a ball and I dropped it from shoulder height. The ball did bounce a little bit, showing that it is more responsive than your average memory foam mattress.
Sleeping Positions
How does the Bear mattress feel when you're sleeping on your stomach, back or side.
It's a great choice for back sleepers. They're going to feel amazing support and spinal alignment as they sleep.
Side sleepers will also feel excellent pressure relief on their hips and shoulders.
Stomach sleepers might find this mattress to be okay, but they could develop lower back pain over time because their hips are going to bow out on this mattress and they might want to look elsewhere.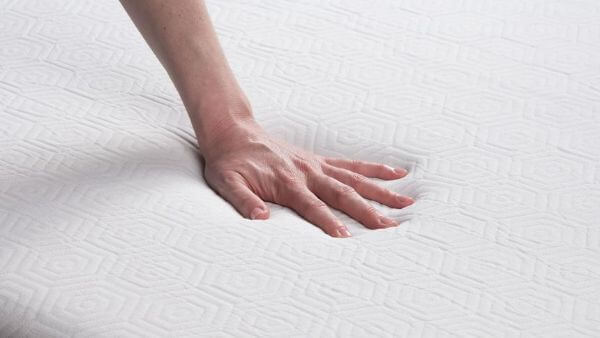 Motion Transfer
Now let's talk about motion transfer.
When we're talking about motion transfer, what we're talking about is if you're sleeping on one side of the bed and your partner's sleeping on the other side of the bed, will you feel them tossing and turning during the night.
We like to do a glass of water on the mattress and press around it to test the motion transfer. We found that there's not a lot of disturbance in the water when we pressed around it.
The Bear mattress does a great job at motion isolation, making it a great all-foam memory mattress for couples.
Edge Support
Another thing that's important to keep in mind if you're buying a mattress of a partner is edge support.
The Bear mattress has excellent edge support especially for an all-foam mattress.
When you're lying down on the Bear, you're going to feel extremely well supported on the edge. You're also going to feel supported if you're sitting on the edge of the mattress.
If I bend down to tie my shoe, I also feel extremely supported on this mattress.
Best Double Sided Mattress Review
Who Should Get The Bear Mattress?
So who's the Bear mattress good for?
It's a fantastic fit for back sleepers. Back sleepers are going to find excellent spinal alignment on this mattress.
It's also a great fit for medium to lightweight side sleepers who will find great pressure relief on the Bear.
Finally those who like a memory foam feel will really enjoy this mattress especially if you want that memory foam feel but you want to sleep cool.
And of course athletes are going to love the Bear mattress because it facilitates muscle recovery thanks to Celliant cover.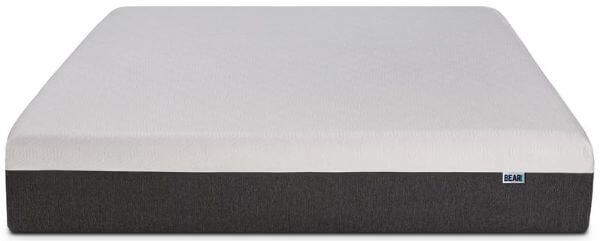 Who Shouldn't Get The Bear Mattress?
Now let's move into who shouldn't get this mattress.
Stomach sleepers should look elsewhere for their mattress.
Heavier side sleepers might not feel the pressure relief they need on this mattress as well.
Finally those who want a bouncy inner spring feel or firm mattress should look elsewhere.
Unboxing
The Bear mattress is a bed in the box mattress. That means it'll come shipped directly to your door in a cardboard box.
When you want to unbox this mattress, the first thing you should do is grab a friend for help. It can be heavy and difficult to do on your own.
Bring the mattress inside your room, open up the box and take out your Bear mattress. Lay it gently on your foundation or bed frame and carefully cut through the layers. Be careful not to cut your new mattress.
After that let it lay there for 24 to 48 hours so it can expand and off gas. Then you're ready to go.
Polices
Let's go over some of the additional info for the Bear mattress.
First it has free shipping and free returns. You also have 100 night sleep trial, so you have plenty of time to try the Bear mattress within the comfort of your own home.
Finally bear mattress has a 10 year warranty.

FAQs
Before we wrap up we wanted to answer some of the most frequently asked questions about the Bear mattress.
Is the Bear Original mattress a good mattress?
It is a great mattress, but it's not going to be for everyone. Back sleepers, medium to lightweight side sleepers and those who sleep hot will really enjoy the Bear mattress. It also has Celliant cover. However if you're a stomach sleeper, a heavier side sleeper or you prefer a firmer mattress, you might want to look elsewhere.
Is the Bear mattress good for back pain?
The Bear mattress is great for people with back pain because it provides spinal alignment as well as support and comfort while you sleep.
How long will the Bear Original mattress last?
It is an extremely durable mattress, however because it is all foam, it might not last as long as innerspring or hybrid counterparts.
Best Extra Firm Flippable Mattress (For Stomach Sleepers)
Best Pillow Top Hybrid Mattress
Memory Foam Mattress With Celliant Cover (With Graphite Gel)