In this article we have something a bit different for you. Instead of talking about a specific mattress or comparing two beds or going over a list of beds, we're going to go over a step-by-step guide on how you can choose your next mattress online.
Online beds have taken over the industry and while you can still definitely go to a store to find a mattress, it's becoming more and more popular to buy one online.
But how can you choose the online mattress that's right for you?
There are so many different options out there, so many different brands and you can't really try out the mattress before you buy it. So how can you choose? That's exactly what we're going to be covering in this article.
Online Mattress Policies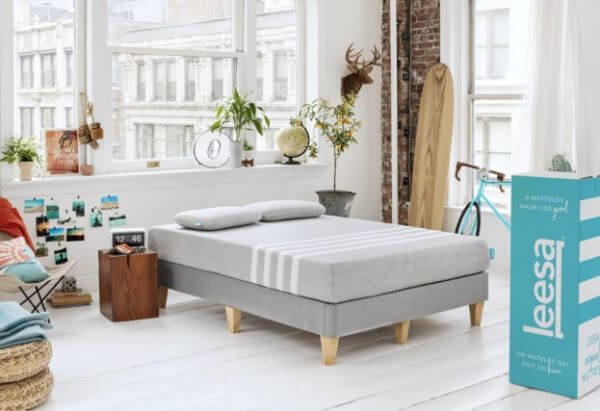 Let's start this off by just going over probably the biggest reason why people are buying beds online so much these days and that is the policy information. This is stuff like shipping, returns, trial periods and warranties.
The vast majority of online beds are going to ship to you at no extra cost in a box. It's pretty remarkable that they managed to fit entire king size beds in about a four foot tall box and the convenience of this is one of the big reasons people buy beds online.
The bed is just going to show up right to your door and the unboxing process is really quick and easy to do. You just drag it inside, open it up and rip off all the plastic and watch it inflate onto your foundation or wherever else you're gonna put the mattress.
It might take a day or two for the bed to fully inflate and reach its proper firmness level and right out of the box it might even look a little bit misshapen but this is totally normal, you shouldn't worry about it.
Especially because all these online beds do come with a trial period. This means that you actually get to try out the bed risk free in your own home to decide if you really like the mattress. The duration of these trial periods are going to vary.
Usually if you buy a bed on Amazon it might be as low as 30 nights, it might be as high as an entire year or even a year and a half. But more often than not it's going to be roughly 100 nights. This means that you'll get roughly three months to try out the bed at home, in your own bedroom, with your own bedding to really decide if you like it.
If within the mattress brand's trial period you decide you don't like the mattress for whatever reason, you can usually get totally free returns. How it normally works is you just call the company up and they'll set up a removal time and a local team will come and take the mattress away. They'll usually get donated to a local charity.
Some brands will charge a small removal fee, but that's a very small number of brands. Usually it's free.
Being able to try out the mattress at home risk-free is probably the biggest reason people are buying beds online so much these days.
Instead of going to a store and laying on it for a few minutes and then taking it home, you actually get to sleep on these beds for quite a while. That's pretty important because no matter how nice your new mattress is, it'll usually take a couple weeks for your body to get used to it.
What Firmness Should I Get?

Let's move over to the subject of firmness, which is going to be one of the most important factors when deciding on a new mattress.
You're going to want to find out what your primary sleeping position is and most people primarily sleep on their back, stomach or side. A lot of people out there are a combination of all three, but most everyone has a preference.
In general, side sleepers want a softer mattress because a softer bed provides pressure relief for the parts of your body that stick out, namely the hips and shoulders.
If you've ever been camping before and you've slept on the ground or a thin sleeping pad, you'll normally wake up with hip and shoulder pain if you try and sleep on your side. Side sleepers generally want a softer mattress.
Conversely strict back and stomach sleepers generally want a firmer mattress with a little less give. If you have a soft mattress and sleep on your back, usually the heavier parts of your body will sink below your torso and your spine won't be in a straight line anymore. This can cause lower back pain over time.
If you're not entirely sure what sleeping position you prefer or you sleep in all three equally, you're probably going to find a mattress around a medium. Most people can get by on a medium in any sleeping position, although it might not be ideal for strict side sleepers or back and stomach sleepers.
This isn't necessarily a rule. Everyone has different preferences when it comes to sleep, but it is a good thing to keep in mind.
Another thing to keep in mind is that firmness is pretty subjective based on your weight. If you're a little heavier, you might find beds to be a bit softer overall. If you're much lighter, you might find beds to be a bit firmer.
Hybrid Mattress or Foam Mattress?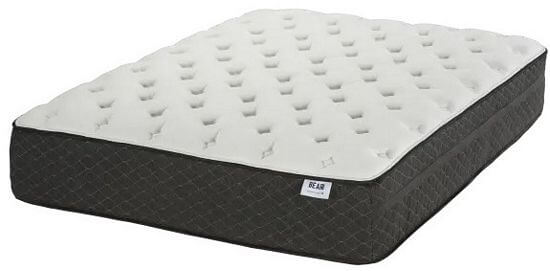 Another thing you're going to want to consider is do you want a hybrid mattress or not. Beds are usually split into two categories either all foam beds or hybrid beds.
Hybrid beds feature coils for support and this will make your mattress a bit bouncier, which some people really like. But more importantly, they're going to provide a bit more support and long-term durability, especially if you're heavier.
We pretty much always recommend people in the 250 pound range get a mattress with coils.
All foam beds are totally fine for medium to petite sized people. They're going to have a bit less bounce and they're typically going to be a bit better at isolating motion, which is important for couples.
Having good motion isolation means that if your partner tosses and turns regularly or they get up in the middle of the night, that motion isn't going to transfer through the mattress and it will be less likely to disturb your sleep.
Modern coil beds do pretty well in terms of motion isolation in comparison to their older inner spring counterparts. But all foam beds are just generally better. Hybrid beds are also generally a bit more expensive than all foam beds.
Online Mattress Pricing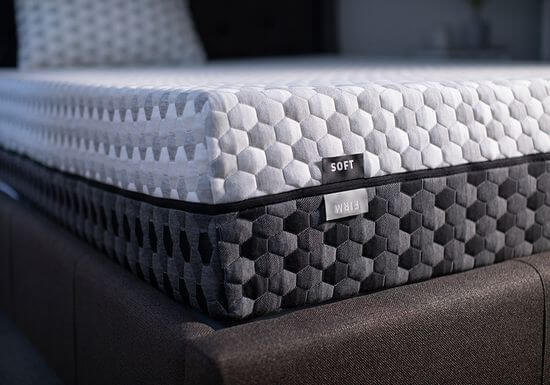 This is a good time to talk about pricing for online beds. This is another reason why beds online are pretty popular. They're generally a bit more affordable.
We put beds in about four different pricing categories.
We have the ultra budget tier, which is anything around $500 or less for a queen size, which are normally beds you find on Amazon. These are beds like Lucid, Linenspa and other brands you can buy directly from.
Then you have the budget bed in a box tier. These are going to be beds like the original Tuft & Needle mattress, the Casper Element and the Leesa studio.
These beds are usually priced somewhere between $500 and $800 for queen.
Then you have more of the average cost bed in a box, which are anywhere from $800 to $1200 and this is where the majority of online beds are priced. You have brands like Casper, Purple, Leesa, Brooklyn Bedding, Layla and Nectar. If you have a budget around a thousand dollars, you're gonna find a lot of really good options.
And then you have the more premium mattress tier, which is anything above $1200. You have some great beds in there like Winkbed, Saatva, Purple hybrid premier, Avocado, Tempur-Pedic and even Beautyrest.
As you can probably tell, pricing for online beds can vary pretty greatly, although we think no matter what your budget is, you'll be able to find a pretty good mattress option for you and your sleeping preferences.
Feel Options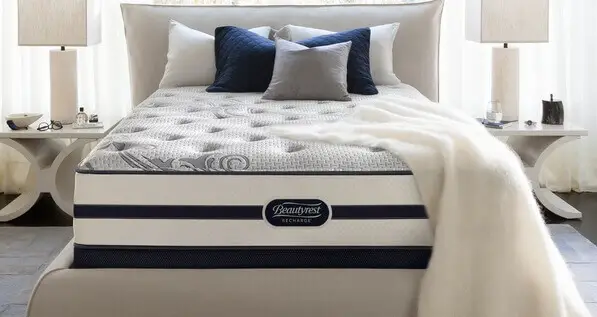 Once you've done all that stuff, you've figured out your budget, you've figured out your primary sleeping position and what kind of firmness you want, and whether you're looking for an all foam or a hybrid mattress, now you're going to want to figure out your preference on how the mattress actually feels.
There's a pretty big variety here. One of the most popular types of feel is a memory foam feel and you're going to have a lot of different options to choose from.
Memory foam beds have a pretty distinctive feel, they'll usually feel pretty firm at first when you lay down on it, but then the foams will start to soften up underneath you and you'll sink into it a bit and it will conform to your body's shape.
There are a lot of sleepers out there who are specifically looking for a memory foam feel. People like it because it can feel safe and secure and it can help deter you from tossing and turning, which might lead to more restful sleep. Others don't really like memory foam because you can feel almost stuck in the mattress.
Some popular memory foam beds out there are Nectar, Tempur-Pedic, Layla and Bear. Just a lot of great options,
Another type of feel you can find in an online mattress is a very responsive feeling bed which is almost the opposite of memory foam. These sort of beds are really bouncy and you don't really sink into them at all, although you will still get plenty of cushioning and comfort.
We think these beds are great for combination sleepers because you don't really sink into it and you won't encounter any resistance if you try and switch sleepy positions.
A lot of latex foam beds have these responsive feels as well as all the Purple beds, although Purple beds are especially unique.
Then we have the last big bucket when it comes to mattress feels and this is probably the biggest one and these are just beds that have soft neutral feels. When we say soft and neutral it basically means that it doesn't have a distinctive feel like a memory foam or responsive foam.
These beds just aim to be generally comfortable to most people.
Beds like Leesa, Casper, Brooklyn Bedding Signature and Tuft & Needle fall into this category. Most of these beds just feel soft comfy foam and they might not feel exactly like what you're looking for, but they're just designed to appeal to the vast majority of sleepers out there.
There's going to be a lot of nuance with how these beds feel. No two beds feel the exact same and there's going to be a lot of differences even within those big categories. But if you can narrow down what sort of general feel you're looking for, memory foam, responsive or just neutral, it can really help narrow down that mattress search.
Best Double Sided Mattress Review
Mattress X-Factors

Those are the biggest factors you're going to want to be considering when you're shopping for a mattress online. Although we do want to mention a few X-Factors that might be pretty important to you.
You're going to hear a lot about when shopping for an online mattress is temperature regulation. Honestly we think this issue is a bit overblown. Pretty much every mattress brand talks about their cooling technology and it usually doesn't amount to a whole lot.
Usually if you are sleeping hot, it doesn't have that much to do with your mattress. It has to do with other factors.
But with all that being said, if you are an especially hot sleeper, there are plenty of options out there that will help cool you down. Beds like Brooklyn Bedding Aurora and the Purple mattress are great for hot sleepers.
Some beds out there are gonna have washable covers, others are gonna have some smart tech built in.
But the main things you need to be focused on are your budget, your body type, your preferred sleeping position and your preference on feel.
Conclusion
That's gonna pretty much wrap up this article. We know we covered a lot of stuff, but shopping for a mattress online can be a pretty difficult process. There are so many different factors to consider and so many options to choose from. But we hope this article shed some light on the process and helped you begin your mattress search.
Tips For Buying a Mattress (Ultimate Guide)
When Should You Get a New Mattress?
How to Buy a Mattress Online