Earl talks about MyPurMist and his allergies
Click here to buy with lifetime guarantee!

If you're suffering from sinus congestion, allergies or a nasty cold or flu and you're tired of taking pills and using sprays, then here is an innovative, natural and doctor recommended solution you should know about. It's called the MyPurMist handheld electric steam inhaler.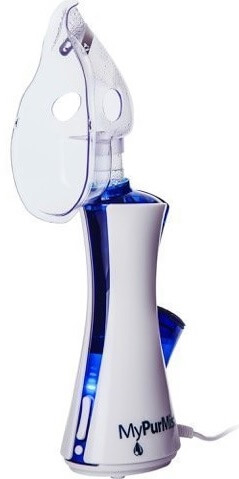 Here I will tell you about how you can regain the freedom to breathe by using this natural approach that provides proven, fast relief from your allergy and sinus problems. It's drug-free allergy and sinus relief that's fast and easy.
It is exactly what I was looking for. Within seconds you have relief. MyPurMist does all the work for you. All you need to do is breathe in.
Climate change is causing more severe cold and flu seasons with more sinus infections and pollen counts are higher than ever resulting in a longer, more intense allergy season.
Our environment today is the daily battle. My allergies used to be maybe a couple weeks, a month, now I feel like they're all year long. I have taken antibiotics, cold medicines, nasal sprays in the past with horrible side effects.
Humidification including steam inhalation can help with sinus congestion, colds and allergies. However, traditional methods such as steam showers and humidifiers do not provide one hundred percent humidity where you need it most and if not regularly cleaned they can be a breeding ground for mold that may affect your health.
As a child, one of the old mother's remedies was to take a big bowl of hot water, put a towel over your head and sort of sit there and inhale this hot steam coming out from the pot.
Now almost instantly, at the touch of a button, I'm able to get the same impact and probably much better impact just by using my MyPurMist. Humidifiers humidify the air in the entire room. What MyPurMist does is it humidifies your air that goes in your passageway, your nose, your throat.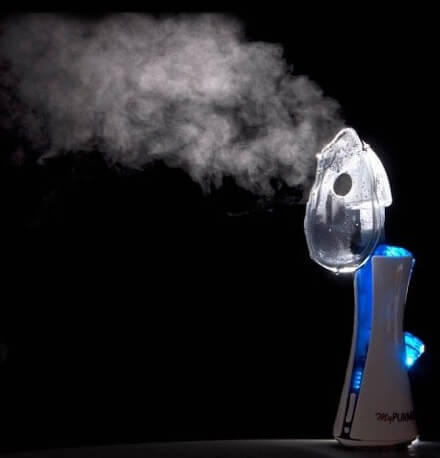 What if you could find a simple natural solution to sinus congestion, colds and allergies, something that could reduce inflammation and relieve congestion quickly and easily?
MyPurMist is a natural solution to all these problems! It provides direct humidity right where you need it. As you breathe in you can feel the microscopic steam particles penetrating your nasal passages and sinuses relieving that pressure. It also soothes the back of your throat, humidifying the vocal cords which is great for public speakers or professional voice users, as well as those suffering from allergies, colds, coughs and congestion.
MyPurMist is the only way to give direct one hundred percent humidification that is completely germ-free and super easy to use. You can use it anywhere, anytime. It has been a real lifesaver for me. It gives me great relief and with zero side effects.
I recommend it to every family, every mother, I use it on my kids for their colds and their flu symptoms and it's very helpful.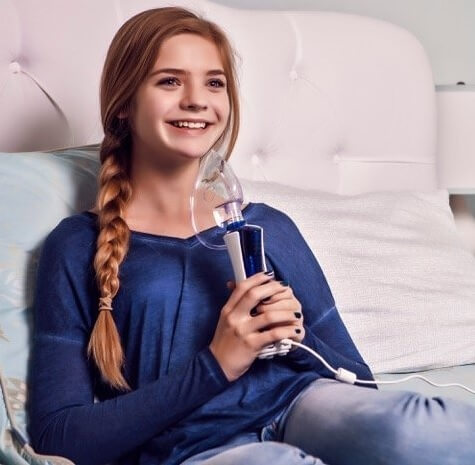 Steam is a natural decongestant used by millions and is so effective that doctors and leading medical institutions recommend it.
Norman Tiffin Respiratory Therapist Recommends MyPurMist
Instant fine mist penetrates deep into your sinuses, nose and throat, effectively washing away irritants and allergens.
You simply push the on button to get instant, germ-free steam. It's cool to the touch and great for the whole family. With MyPurMist there's no preparation, no waiting, no cleanup and you can conveniently use it anywhere, anytime.
No wonder it has amazing reviews at major retailers and receive rave reviews on leading doctor shows.
See Sinus Heat Face Mask For Sinus Pressure
MyPurMist has changed my life. I can be outdoors following my passion of gardening, I can breathe and I can finally sleep well.
Research shows 92% of MyPurMist users could breathe better and sleep better with fewer symptoms. Avoid drug or nasal spray side effects and uncomfortable neti pots.
This is the most effective form of humidification that I've ever experienced. I was addicted to nasal sprays for years. I'm loving the natural approach of this personal inhaler.
I have seen many my own friends get really good natural relief through humidification provided by MyPurMist. In fact many of my friends have told me that this is the most effective form of humidification that they have ever experienced.
While treating patients with respiratory conditions, doctors noticed that the most effective therapy is that which is directed and targeted to the actual area that you're trying to treat. With humidification, if you put it into the air, you're hoping that some of it will actually get into the respiratory tract.
MyPurMist is the exact opposite. It is directed therapy, directly into the upper respiratory tract. Within seconds you're feeling relief, warm, soothing air. It's relaxing and it works.
According to the American Academy of Allergy, Asthma and Immunology, in addition to medications, inhaling steam can lessen the discomfort associated with sinusitis and allergies. Humidified air can relieve some of the discomfort from cold and flu, that congestion and that stuffy nose. Using steam therapy may help you temporarily breathe better which in turn will help you sleep better.
Here is how easy it is to use MyPurMist handheld electric steam inhaler.
What you do is you take about an ounce or so of distilled water. Must be distilled water, not tap water and not even filtered water. You can buy distilled water at any supermarket or drugstore, it's very inexpensive. A gallon of distilled water at my grocery store is 84 cents, it's nothing. The money that I have saved on over-the-counter sinusitis, an allergy and pollen medicine has more than paid for this.
You want to pour that into the reservoir here and then put the cap to prevent any spillage or leakage.
There's a simple on/off power button. Once you press that, the proprietary, patented technology provides this fine mist instantly and there's no waiting for water to boil, no mess, no fuss. The steam is there in one second.
You place the mask over your nose and mouth and breathe and you get one hundred percent humidity that you need right where you need it in, nowhere else.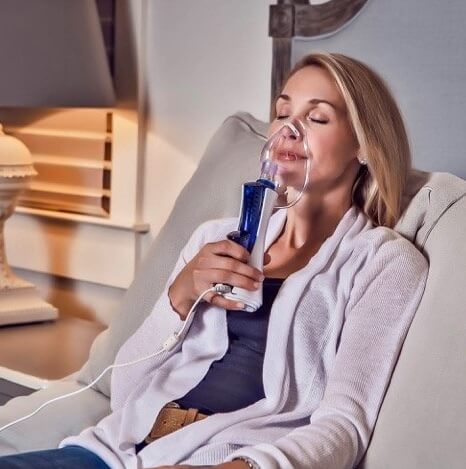 When you turn the device on, you will see a little condensation inside the mask. You will not see big burst of steam. But when you put it on and breathe in, you can feel it. It's not liquid but this micro steam is so small that it penetrates down into places that just a regular humidifier couldn't do.
It makes sense! When you turn your air conditioner on, part of your house gets cool, but when you turn a fan on and sit right in front of it, you're putting the air where you want it. This is putting that life-giving, humidified air exactly where you need it.
You can also use the rocker button to rock it up or down to adjust the temperature and it stays within a very comfortable range of 105 to 115 degrees Fahrenheit, so it ensures that it's always at a very comfortable and safe temperature. By increasing the temperature, there is no boiling water. You're not waiting for steam, this is instant steam therapy, it's like holding a spa in your hands.
Even when you turn the device upside down not a drop of water escapes, so you can use this lying down in bed, relaxing on a couch or even at your dressing table. One session is 25 minutes long but you have full control.
MyPurMist uses a proprietary Capillary Force Vaporizer steam technology patented worldwide and first used in hospitals. Pure water is transported by capillary force and instantly converted to germ-free steam. The steam is mixed with cooling air providing one hundred percent warm humidity to the upper respiratory tract.
This amazing technology has unique benefits. It provides instant fine mist that is completely germ-free and with no risk of scalding. It works at any angle and it dries and cleans itself after every use.
MyPurMist is the world's best personal, handheld, electric steam inhaler. Period!
Click here to buy with lifetime guarantee!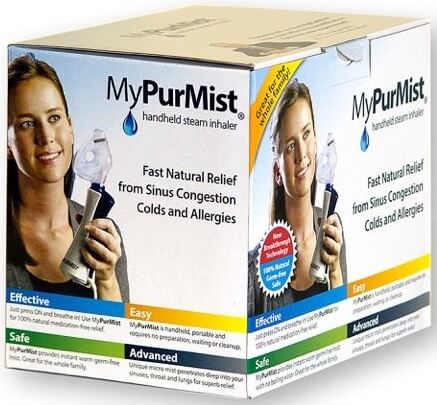 Please share on Pinterest: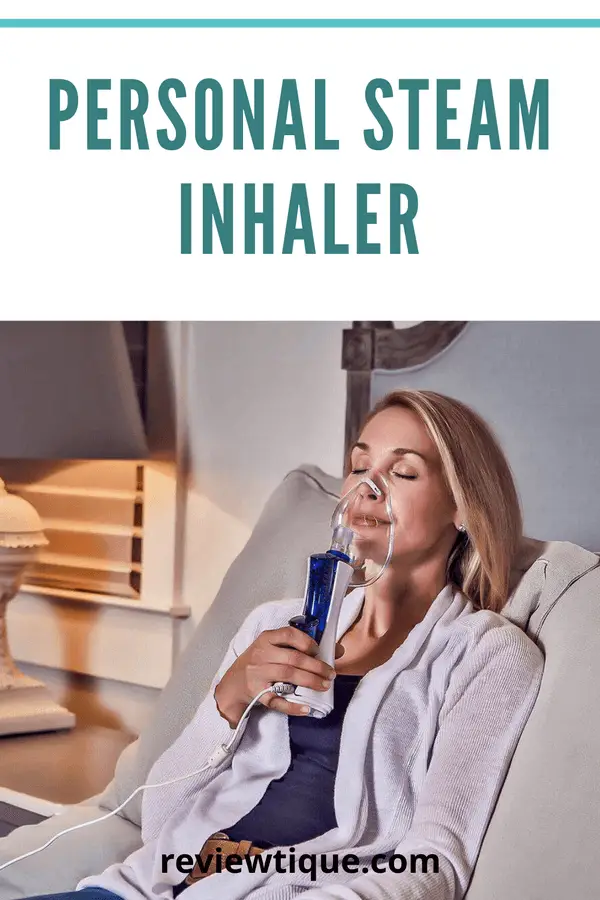 See other health products:
BEST Personal Steam Inhaler Review (RELIEF Within Seconds)