Out new top pick:
The Easy On Compression Socks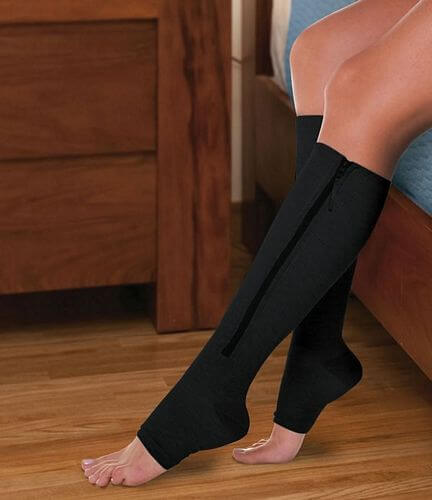 These amazing open-toe zipper compression socks feature convenient side zippers that make them very easy to put on and remove, even if you have limited grip strength.
Why these circulation-enhancing, compression socks are your best option for travel?
Because a testing laboratory specializing in textiles evaluated them and found that they provide much better compression and moisture wicking when compared to other models!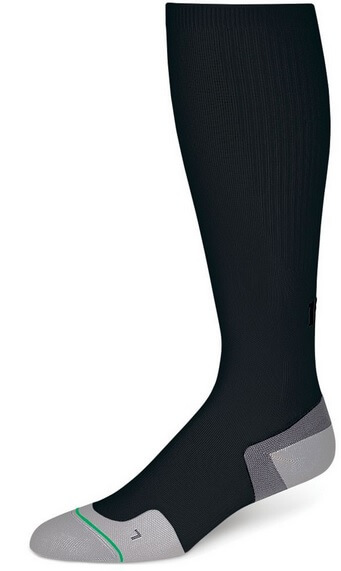 These travel socks demonstrated the best compression difference of 30% tighter around the ankle than the calf – far better than other socks with only 1% and 5% compression difference.
Their 10-20 mmHg compression will enhance your blood circulation, decrease lactic acid accumulation and help muscle recovery.
In addition this model wicks moisture 68% better than other socks!
They provide great comfort because they have woven support in the ankles and arches. There is also added padding in the heels, toes, and balls of the feet. There is plenty of room for the toes which you can't find in other brands.
They are so comfortable you can wear them all day. They are not tight….they are just right!
They are really supportive without being too tight and restrictive. You can use them for traveling, but also when you will be standing for long periods.
See also: Custom Made Corsets For Women
Another great thing is that they are very easy to put on and to get off at the end of the day. They are even marked left and right, making them very easy to pull on correctly.
If your feet and legs are prone to swelling when flying, these will really help you. You will be able to take long flights with restricted movement and not worry about swelling or poor circulation.
Unlike other travel compression socks that are thin and cold in winter, these are thicker and warmer, but they do not sweat in boots.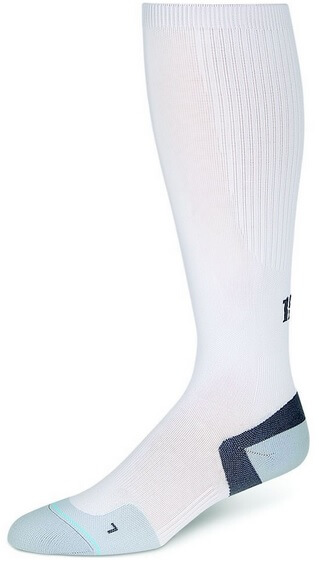 Made from a blend of nylon and spandex, they are available in white or black colors.
Shoe sizes:
Small – men's 3-5 1/2; women's 5-7
Medium – men's 6-8 1/2; women's 8-10 ½
Large – men's 9-11 1/2; women's 11-12 ½
X-large – men's 12-14
Click here to buy + lifetime guarantee + read over one hundred positive reviews!

Travel compression socks are really indispensable on long international flights, and once you start using them, you'll never go back.
I recommend you have three pairs: one for traveling, another for altitudes over 3000 meters, and a third pair for exhausting activities that may cause leg soreness such as hiking, biking or running.
Some people think these types of stockings are ugly-looking. Don't worry, that is not the case. These stockings look like ordinary dress socks for men or women. Nobody will know you're wearing them.
Warning!
Maybe you should speak with your doctor about which size compression socks are best for you. This is because there are different levels of compression. You should know the right level of compression because too high can do you more harm than good.
See also: Best Copper-Infused, Antibacterial Socks
What Are Compression Socks and Why Do You Need Them When Traveling?
If you are told to wear compression socks, you might want to know what is the purpose of wearing this particular garment. The reason is actually very simple.
They are designed to provide support and increase blood circulation for men and women who wear them. They apply progressive pressure to the lower legs and feet.
Your heart is pumping blood constantly to all of your extremities. It does this as evenly as possible. However, from time to time gravity can stimulate the blood to collect in the feet and lower legs, leading to different circulatory problems.
For example, edema, thrombosis or phlebitis can appear. Even if these conditions do not take place, blood pooling can trigger leg cramps and tiredness. You can try to deal with this by elevating your legs but as soon as you stand or walk again your will continue to experience these problems.
This is where compression socks can help!
They have a stronger elastic than standard socks and can produce pressure on the legs, feet and ankles. Because they are compressing the surface of the muscles and blood vessels, the blood is being forced through more narrow veins and arteries.
As a result, the arterial pressure is increased, making the blood to go back to the heart instead of collecting in the feet. Usually, travel compression stockings are the tightest around the ankles and looser at the knee area.
This is why people traveling long distances should be wearing them. As a matter of fact, everyone could benefit from them when flying or sitting in a car for many hours.
These socks can prevent life-threatening conditions such as deep vein thrombosis. They can also stop leg cramps and edema.
Leg Exercises for Long Flights
Besides wearing travel compression socks, what else you can do on long flights? You can do few exercises:
Leg Exercises for Long Flights : Fitness Exercises
We want to talk a little bit about some leg exercises for long flights. So many times we're stuck on a long flight going from the east coast to the west coast or wherever our travels take us and we feel the circulation in our legs starting to fall off.
Our legs are starting to fall asleep and we know that that's a sign that we need to get some blood circulating. But sometimes the plane is really packed or they've got a sign up and you can't get out of your seat. What do you do?
Well we're going to show you a few exercises right quick that you can do in the comfort of your own chair on the airplane.
First thing we want to do is we want to get the toes activated by lifting the toes off the ground. Just lift those toes up.
The next move you want to push your heels up. Now we're working the calf muscles a bit and we want to do each move twenty to thirty times.
Once we've got the legs going a bit, our final move is we want to pull our thighs off the seat so the feet are off the ground. Very similar to marching up some stairs and we're gonna march up these stairs, trying to get the knee as high as we can to the chest and working those hip flexors and getting that blood circulating.
Please share on Pinterest: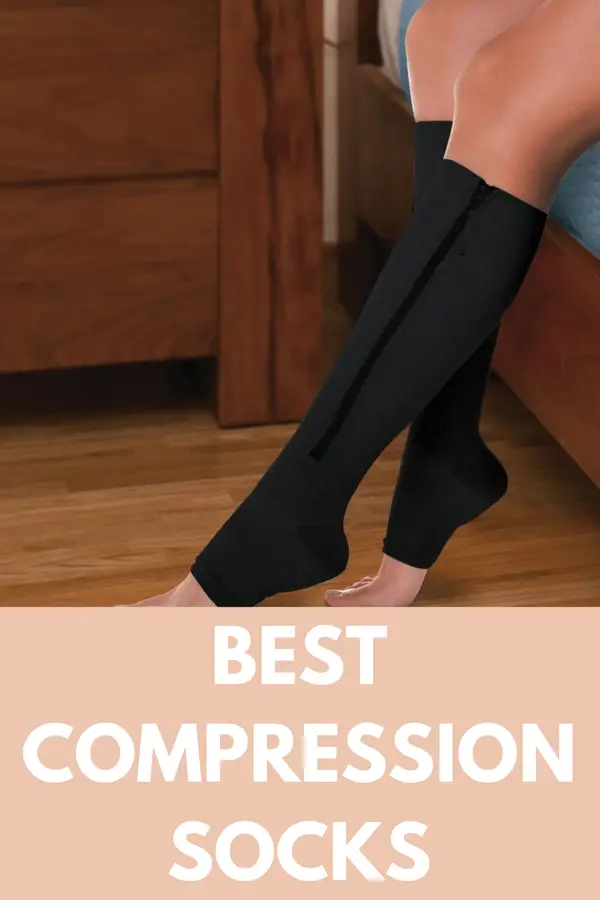 See also:
BEST Compression Socks For Travel Review (Laboratory Tested)