Our top pick:
Cuisinart CBK-200 2-pound Automatic Convection Bread Maker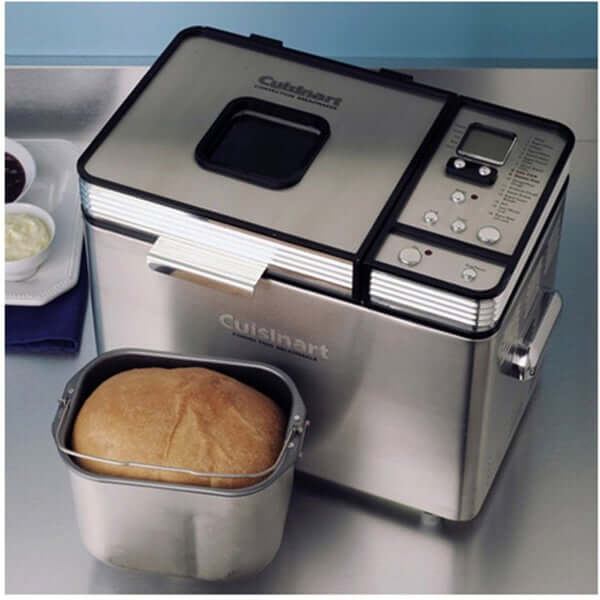 Choose between three crust colors and three loaf sizes to get just the type of bread you love, and program your baking with the delayed-start timer to have bread waiting for you when you wake up.
We know finding the time to make homemade bread is difficult, so let these best bread making machines for home use do the work for you.
I have always wanted to be a baker. I am an excellent cook but when it comes to baking I struggle.
Maybe that is you too. Maybe you want to be that one making all these really gorgeous breads when people come over. Now you can.
Best Bread Making Machines For Home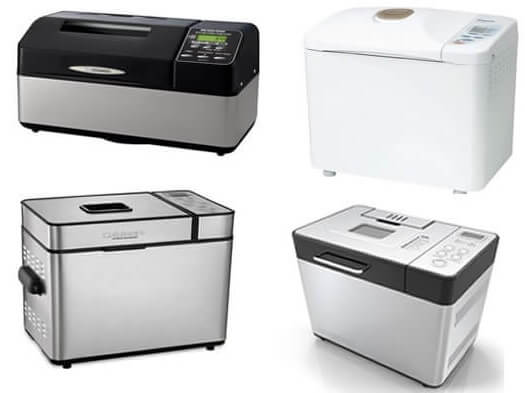 Cuisinart CBK-100 Programmable Breadmaker
Cuisinart CBK-100 2 LB Bread Maker TEST
Click here to buy + free shipping!

You know what the good smell of homemade bread is like! Baking is a science and unless you have precise ingredients and levels, it can all go south real fast. My grandmother was a master bread maker but I will never be able to duplicate her. Cuisinart may!
This bread making machine for home is a customer pick! Cuisinart has done all the hard work, giving us the ability to throw the ingredients, walk away, come back a few hours later and your bread is perfect.
This is a two-pound bread maker and it has a lot of great features and functions so let me take you through them.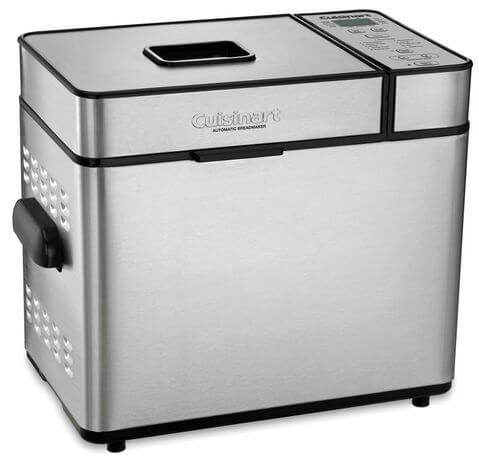 But first the one thing I want to mention to you is one of the hardest things for cooks to make in the kitchen is bread. Bread can be very complicated and complex to make but when you have a bread maker you can make your own fresh bread at home without having to worry about the complications of making it.
So first and foremost the great thing about this bread maker is it has three sizes so it makes one, one and a half and two-pound loaves. It also has three crust types that you can program it for: light, medium and dark.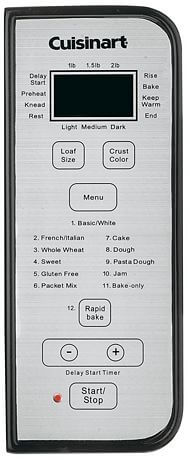 Some of the breads that you can make are basic/white, French/Italian, whole wheat, sweet, you can make gluten-free bread which is really important as a lot of people are following a gluten-free diet right now.
You can also do packet mix so if you're not going to put all the fresh ingredients together yourself, you're going to use a packet mix.
It has cake and quick bread so you're going to do any type of like banana bread or cake bread, regular dough, pasta dough, believe it or not jam, and you can also use a bake only function.
It also has a rapid bake feature, has a 13 hour delay start so if you want to set it up the night before, program it so that you come home to beautiful, fresh homemade bread, you can do that too. That awesome aroma of fresh baked bread will greet you as you walk in the door!
The automatic machine has a nice silver finish. The lid is removable and it also has a little window on the top so you can actually watch the progress of your bread.
It has a removable non-stick bread pan that bakes a tall loaf, not a long one. You just twist and lift it.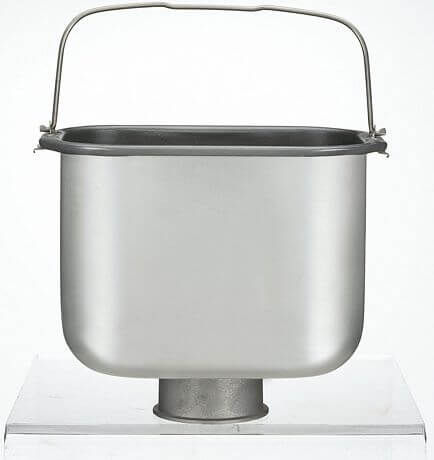 The other nice thing is the dough blade, which actually mixes your dough, is removable and the nice thing about that is that when your bread gets to the stage where you have the ability to remove this paddle, it will make for a really beautifully finished loaf because you won't have the hole of the paddle inside. So that's a really great added feature.
On the right hand side of the LCD screen, it will tell you exactly what the machine is doing. It tells you while it's rising, it tells you while it's baking, whether it will keep warm. It will keep warm for approximately an hour after it's baked. You should get it out of there because sitting in there does cause heat and wetness, nothing will happen, but it won't be as crusty as you would have hoped.
There will be at some point a series of six beeps and it will do that three times. That lets you know if you want to add, for example, raisins or nuts or anything that you want to add to it. It'll tell you when to do it and all you need to do is lift the lid and throw it in. That's all. Make sure you close your lid again.
It will also signal when the bread is baked and it will also signal when it is finished with the last rise.
If you are bothered by the hole at the bottom of your bread (where the kneading paddle is), when it beeps, you take the bread out, take the paddle off of it, just reshape it into a ball and put it back in.
This machine comes with a recipe book that is going to give you 58 recipes, one measuring spoon and one measuring cup for liquids!
Did you know that there is a difference when you measure liquids or when you measure raw ingredients? There is, it doesn't weigh the same, it doesn't measure the same and when you're doing a bread dough, you want exact proportions.
The cost of the Cuisinart CBK-100 is about half the price of some more expensive bread machines. A number of fully featured models cost over $200 or more.
This means that Cuisinart provides great features for the money. For example, Gluten Free and Whole Wheat settings on the Cuisinart CBK-100 are options usually found on the higher priced machines.
The only problem I can say about this product is that some people consider the beeps very loud. So don't buy it if you have a small apartment and want to make overnight breads.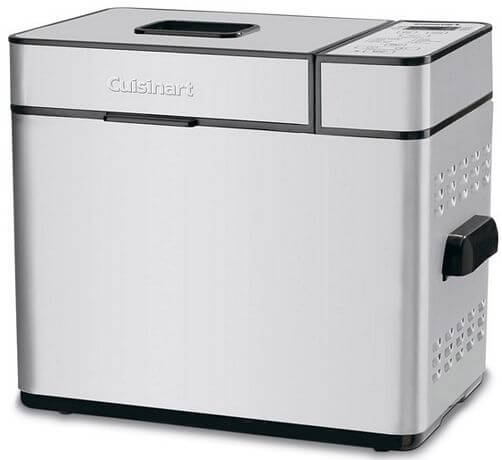 How to Use
Here's how to make 2lb white bread. I want to show you how easy it is.
You're going to add your ingredients in the exact order:
– Water first. Add one and a half cups of water. Just pour the water inside.
– Three tablespoons unsalted butter. Temperature is important so make sure nothing is too cold or too hot. It affects bread.
– Tablespoon of granulated sugar or honey. Do you know why you always have sugar in a recipe? Yeast is actually alive organism and if it doesn't have sugar, it doesn't always activate.
– One and a half teaspoon salt.
– Four cups bread flour. They suggest that you use the bread flour as opposed to all purpose flour. It gets a better rise.
– A quarter cup, nonfat, dry milk.
– One-and-a-half teaspoons of yeast. You do not want the yeast activated prior to the machine kneading, so you don't want the water to touch the yeast.
When you do your yeast, make a little crater in the top and put your yeast right there.
Then all you are going to do is close the lid. Go to menu and choose 1, it's basic white bread. Then you want to pick your loaf size. In this case 2 pounds. And then you can pick your crust color, in this case it will be medium.
That's it. Press start and it automatically goes to work. It does all of the work for you automatically.
Here is how to make sun-dried tomato and mozzarella bread. It's really tasty.
First thing we do is open the lid and it's important to put the ingredients in this order (make sure you follow the instructions because it's very important to get the perfect finished loaf of bread):
Add the water right in the bottom, then sugar and then the salt. Next you're going to add the flour. Add a herb mixture on top of the flour and the last ingredient that you're going to add is yeast. Put that right on the top. You will add mozzarella and sun-dried tomatoes later in mid-cycle.
Close the lid and program the bread maker. First pick your loaf size, next pick your crust color and then pick the menu. There are 12 menu options. It automatically will default to one. If you want to change it, just press the menu button until you get to the numbered menu you want to use. And then all you need to do is press start.
Final Thoughts
When you receive the Cuisinart CBK-100 you will immediately feel it is a sophisticated machine despite costing less than $100.
It's very easy to use and the bread comes out outstandingly well and yummy. Not just the usual breads but the specialty ones as well.
There are some really useful functions built into this machine. Great for small and large families alike.
Click here to buy + free shipping!

Zojirushi BB-CEC20 2-pound Home Bakery Supreme Breadmaker
Zojirushi BB CEC20 Review
Click here to buy + free shipping!

This automatic bread making machine makes it easy to bake fresh bread at home. There is no need to knead the dough until your hands hurt or to try to maintain the right room temperature for the yeast to rise or to even turn on the oven and heat up the kitchen on a hot day.
This machine will fill your house with the warmth and aroma of freshly baked bread. This bread maker makes a traditional shape two pound loaf along with cake, pizza dough, sourdough starter, jam or even your own custom creation.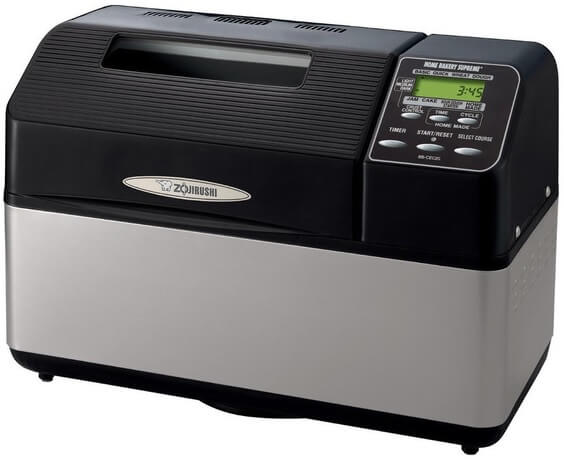 So many people are surprised that the resulting loaf is even better than hand-mixed loaf.
To begin, remove the non-stick baking pan from inside the machine and attach the dual kneading blades securely to the rotating shaft. Two blades ensure thorough mixing and kneading of ingredients for improved baking results.
To make bread pour liquid ingredients, such as water or milk, into the baking pan, then the flour. Next add the sugar, dry milk, salt and butter. To add the yeast, make a small depression in the flour and pour the pre measured amount into it. Insert the baking pan into the bread maker and use the easy-to-read LCD control panel to make your course selection.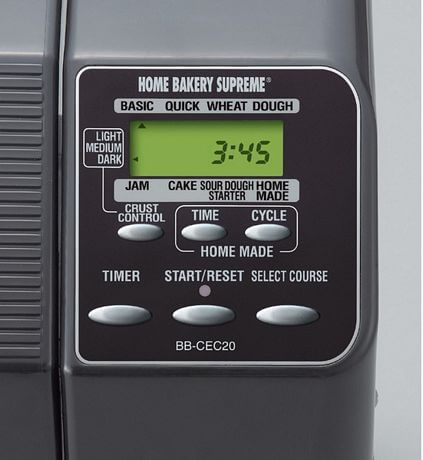 The homemade course has three programmable memory settings which allow you to set the knead, rise and bake times.
Select your desired level of crust darkness using the crust control button. An optional 13 hour delay timer lets you prepare bread at night and wake up to it freshly baked in the morning.
Then press start to begin. The viewing window allows you to watch the process while it's kneading, rising and baking. The two paddles in the pan make a world of difference!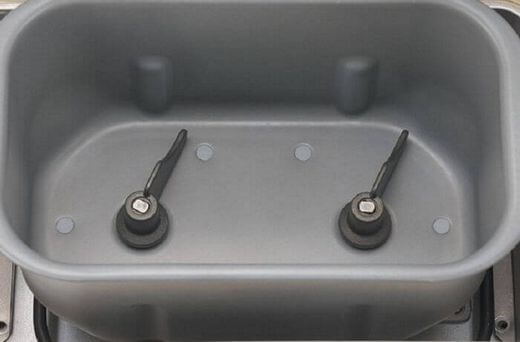 Basic bread is ready in about 3 hours and 45 minutes, while the quick course completes in just a little over two hours. There is also auto shut-off system for added safety.
Cleanup is a breeze. The removable, non-stick baking pan and kneading blades can be washed gently with dish detergent and warm water.
People love BB-CEC20 because of its horizontal loaf, which looks like "real" bread and is a better fit for sandwiches than the vertical loaf.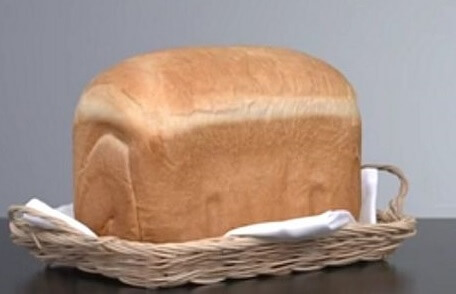 Accessories include a full-color recipe booklet, measuring cup and spoon.
Final Thoughts
Even if you are an amateur baker and you follow instructions correctly (the directions are well written), you will be able to bake great tasting, fluffy bread easily with Zojirushi Home Bakery Supreme bread machine.
Zojirushi is famous as maker of high quality bread machines. So if you decide to buy this unit, you'll appreciate the technology found in this product.
The only bad thing about it is the price tag. It is an expensive device, but serious bread lovers claim that it's worth every cent! One thing is guaranteed: you won't be sorry if you go with this one!
Click here to buy + free shipping!

Panasonic SD-YD250 Automatic Bread Maker with Yeast Dispenser
Unboxing: Panasonic SD-YD250 Automatic Bread Maker with Yeast Dispenser
Click here to buy + free shipping!

This bread machine doesn't have all the complex functions that other machines have. This is good for individuals who don't like to bother with too many settings. Still, it has everything you need to bake basic bread.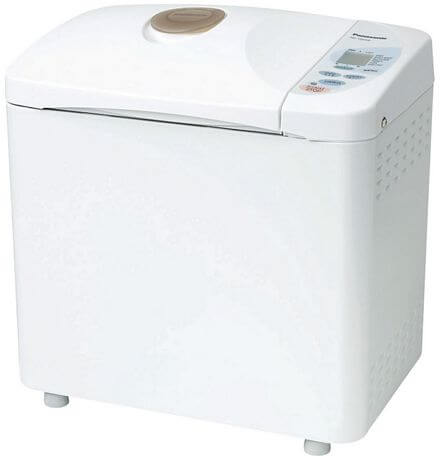 There are a couple things I like about this machine. First of all it has lots of different bread or dough options: basic, whole wheat, multi-grain, French, pizza (who doesn't love pizza?), and cake.
You can choose the size of loaf that you want to make. You can have extra large, large and medium. This unit creates up to 2.5lbs. of bread which is enough for about five persons.

Another great thing about this machine is that the yeast dispenser is on top. In the older models you just have to put all your ingredients in and then put the yeast right on top so that it won't touch any of the liquid ingredients on the bottom.
With this machine it's completely separate and timed perfectly to release the yeast when it needs to go in. This will make sure that you do not have any problems with oversized or undersized breads. In other words, you'll always pull out the perfect loaf.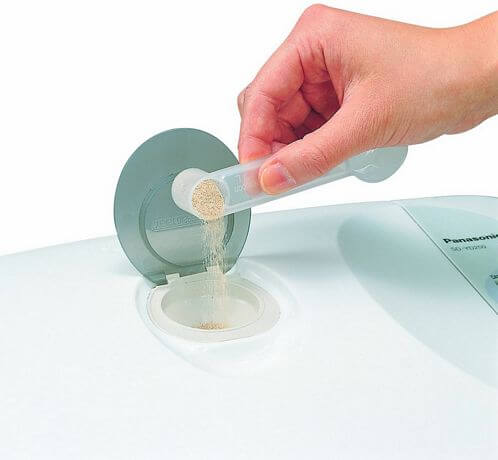 Many people do not understand that yeast is very important ingredient that can turn bread from good to great when added at the right moment.
There is a built-in digital timer, which can be set for up to 13 hours ahead. The machine uses a unique microprocessor program that automatically optimizes the temperatures and times for every stage of the baking process. The program makes slight adjustments if necessary to make perfectly baked bread regardless of room temperature and other factors.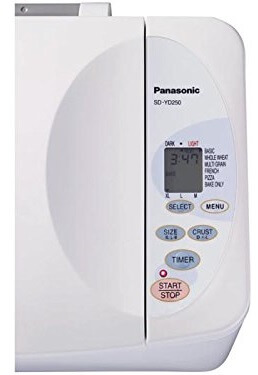 The Panasonic SD-YD250 carries the Good Housekeeping Seal of Approval.
The only downside is that it does not have a viewing window, so you cannot monitor baking progress. However, this fact has an explanation. The absence of a viewing window allows the heat to be more evenly reflected inside the unit. As a result, you will have first-class crust, good rising, and even color.
Final Thoughts
The Panasonic SD-YD250 is an amazing machine that can feed lots of people in one cycle. Since it has a larger capacity, it means that you will save time and ingredients.
More importantly, it delivers an excellent loaf every time – it's evenly baked, risen and textured.
It's not the most full-featured bread maker on the market, but that's exactly the reason why it is particularly popular with men and women who are new to bread making and are nervous about buying something that seems too complicated to operate.
Click here to buy + free shipping!

Breadman BK1050S 2-pound Bread Maker
Bread Maker Machine- Breadman 2lb Professional Stainless Steel BK1050S
Click here to buy + free shipping!

When you bake, you need to bake to perfection. The Breadman ensures you do that. One of the very cool features of this machine is the smartly designed kneading paddle – it collapses so you don't get a hole in the bottom of your bread!
It is one of the most well-programmed machines I've ever worked with.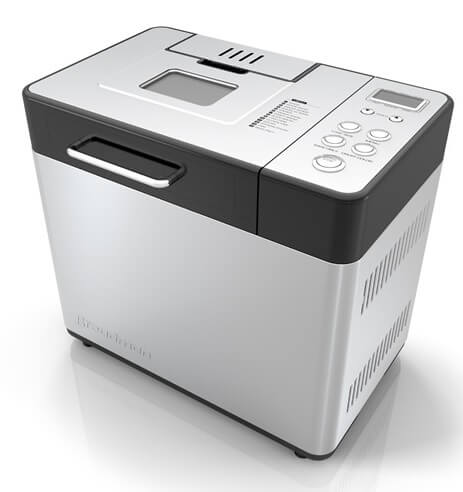 Another awesome feature is the food dispenser, so it knows when to insert the fruits and the nuts in the mix at the best time during the baking cycle. A really nice invention that they put it on.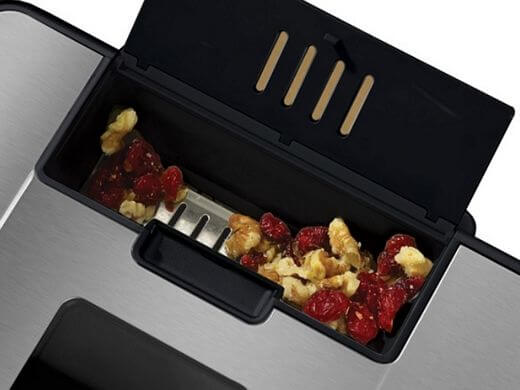 You get variable sizes of bread: one, one and a half and two pound. You get different temperatures on the crust, so you can have a dark crust, medium or light crust.
The stainless-steel finish looks great in any kitchen.
The panel includes controls for everything from loaf size and crust color, to programming the 15-hour delay timer and 14 different baking functions: white, white rapid, whole wheat, whole white rapid, French, French rapid, sweet, quick, low carb, gluten free, dough, artisan dough, jam and bake only.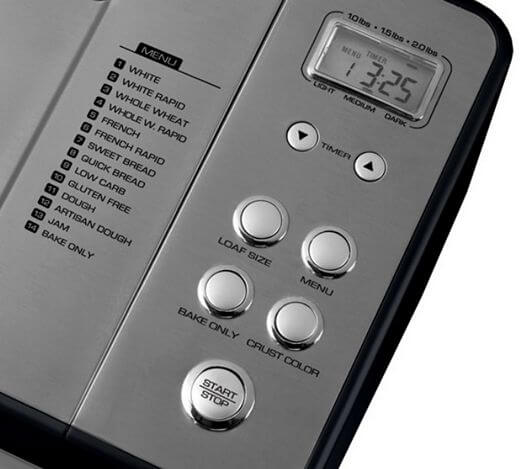 The pan is horizontal and you are going to get bread that is a little less tall, but a little more long.
There is also one hour keep warm function. The included accessories, measuring cup and spoon, are essential for adding accurate ingredients. You also get a recipe book with 88 recipes.
Final Thoughts
For its price, the Breadman 1050s comes preloaded with more options than most other bread makers. It makes you feel as if you are baking with a top of the line machine.
The artisan dough mode is one which I have not seen offered on any other bread machine.
The only downside is that the beeping is very loud and you can't turn it off.
Click here to buy + free shipping!
So…
Do your self a favor and get one of these great machines! Your family will enjoy a freshly made bread and so will you. Waking up to the smell of fresh bread is awesome!
You will bake like a professional, even if you have never touched flour before!
Really Important!
Many people will give negative reviews about these and other bread making machines for home. They say that the loaf came out so-so and that it was quite dense and that the middle of it was sunken instead of puffed up.
These people do not know one crucial fact – it's all about the flour used!
Never use all purpose flour!
Always use bread flour! It is significantly different from all purpose flour.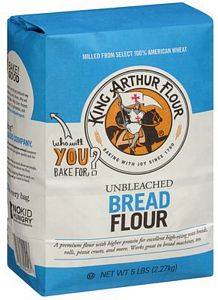 It has more gluten and protein content. The loaf produced is stretchier and chewier. In addition, it traps more of the carbon dioxide from the yeast so that the dough rises the right way.
What a difference! It as a 1000% improvement. Every loaf comes out perfect!
Also be very exact with your measurements! Always weigh out ingredients! And always add ingredients in the order told to.
If your dough didn't rise or you found flour crumbs, the cause can be old yeast. Even if kept in the refrigerator eventually it will die.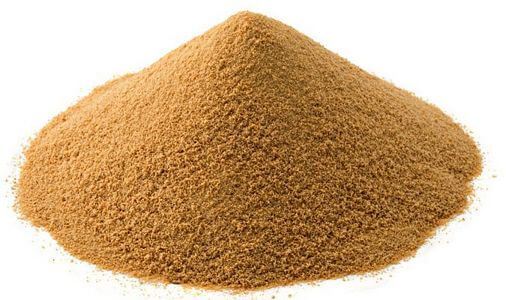 Please share on Pinterest: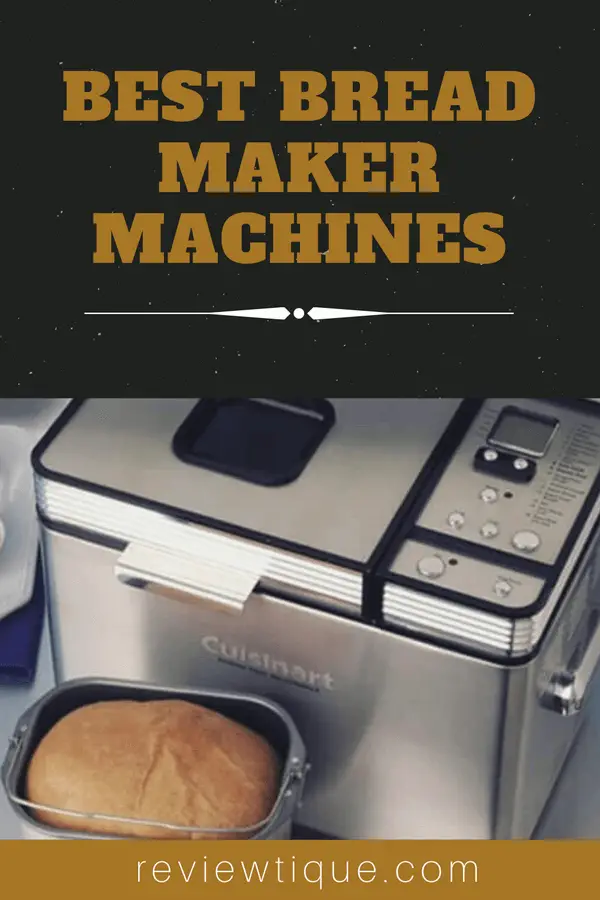 See other kitchen appliances:
4 Best Bread Making Machines For Home (Yummy Breads)