This is an amazingly well thought through, designed and constructed hanging travel toiletry bag for women.
This cosmetic and makeup organizer is so practical, efficient, and durable!
Most other toiletry bags are too small and don't have compartments to keep your things organized. But with this model, you can fit everything that you could ever need when you travel.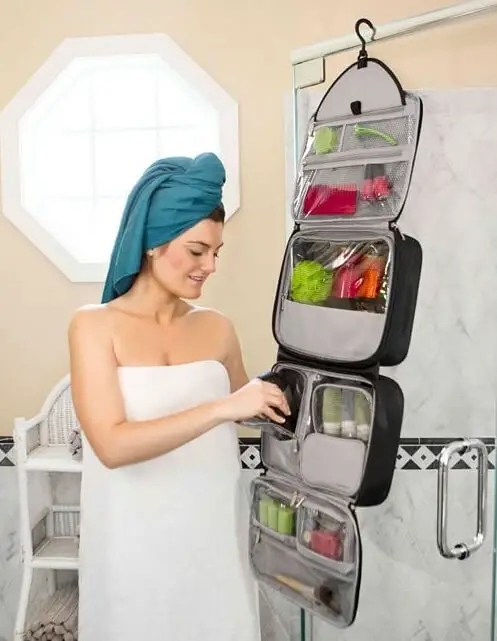 If you have a very small bathroom in your home, with extremely limited counter space, you can keep pretty much everything in it and hanging it on a door.
Travelon Total Toiletry Kit
>>> Click Here to Buy + Lifetime Guarantee! <<<
Review of Travelon Total Hanging Toiletry Bag
It's in the color black and it has some texturing on the front, while the back of the bag is smooth, no pockets, no texturing. The exterior is water repellent and easy to clean.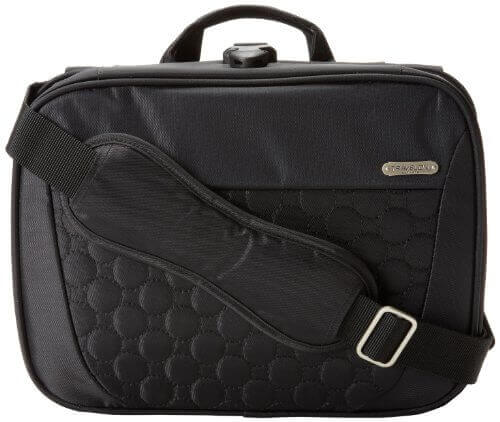 There are no feet on the bottom of the bag and it has two small handles for carrying. It also has a place to clip on a shoulder strap. It has a pinch lock closure.
Let's take a look at the inside of this great hanging toiletry bag for women.
It has an inner flat pocket on both sides. This will allow you to put things like your makeup palettes that you travel with. They lay flat and nicely in these compartments and that way when the bag is closed they will stay flat and not move around, which will help to preserve the life of your pallets a little bit longer and maybe not experience so many broken shadows.
There is a zipper around each one of the outer pockets. The inside of the bag opens up pretty wide. It's very large.
Let's start at the top of this kit.

The top of the organizer has a little black flap and on this flap is a 360° rotating hook which stays secure in a little elastic pull. When you're ready to use it, you just unhook it and you can hang it over a shower rod, a closet rod if you're in a hotel or even if you're using it at home and it will lay flat against the wall.
There is one long zipper for two separate PVC compartments that are separated by a divider in between. There you can slide a fingernail polish, some business cards and maybe even a necklace or some jewelry.
The next section is also a PVC pocket with one solid zipper. In this place you can keep your makeup brushes.
The middle section of the organizer is what really sold my wife on this bag because often times she ends up carrying full size, like a body spray or body wash. This section is PVC lined at the top and the bottom so it's an easy wipe down should anything spill or explode in this section, it's not going to destroy your bag.
It has a full zip and a clear window so that you can actually see the contents of that pocket. This section has a few little elastic straps, very similar to the one at the top to hold the hook for hanging, so you can actually slide your full-size items underneath and they'll sit in upright and they won't move around, preventing the squeeze and the potential opening. It's also a good place to keep other items such as your loofah or your bath sponges because with that damp moisture you won't have to worry about that with the PVC lining.
The third section of this bag has three separate compartments, two of which are detachable. You can remove the case and pop into a purse.
The first detachable compartment is a little, clear PVC pocket and you can put your little travel-sized toiletries in there. It's also clear on the back and has the velcro so that it can be secured and not move around in the bottom of the bag. In the event that you decide that you don't want to use that pocket, you can easily cover the velcro with a flap and put other things in there without having to worry about the velcro.
The next pocket is also velcro on the back and has the same little flap that can fold over so that you don't have to worry about the velcro being disturbed. It's another little travel-size pocket but this one is not clear but easy wipe down on the inside with the PVC coating.
The third compartment is identified as a travel holder for a blow dryer. It needs to be a small, fold-over blow dryer.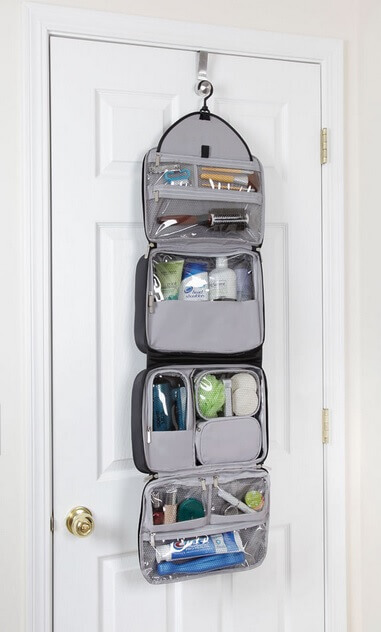 The very last section is the bottom and it is another set of pockets. Two zippered pockets at the top with separate zippers. You can use them for your little nail sets or other cosmetic items.
Finally, there is one large pocket where you can include things like your shave gel, razor, toothbrush and toothpaste and other cosmetic products.
Click Here to Buy + Lifetime Guarantee!
Another feature of this hanging toiletry bag is that if you are traveling and not going to carry it cross body, then you can put everything in, zip it and then actually lay it flat in your luggage and then be able to pack on top of it or around it so that you have all of your toiletries in your bag or putting everything in and then letting this be the topper in your bag.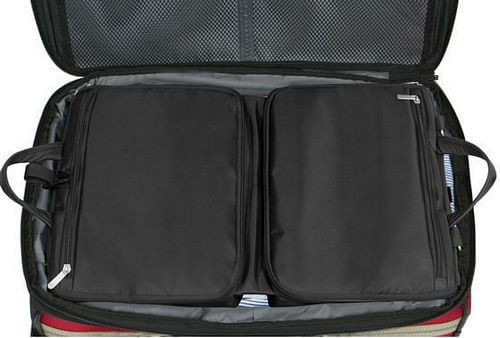 You will be so amazed at what this bag can store! I like that there are several separate compartments and that you can see everything. Even when it's jam-packed, there are no bulges or pulling at the zipper.
It is a really nice and compact way to keep your toiletry items together and to decongest your bathroom cabinets. Just hang it on the back of the door. You will no longer need counter area to get ready.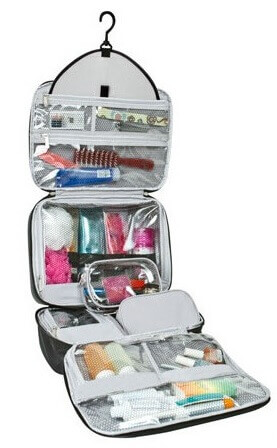 If you carry a ton of stuff when you travel, this will handle it all! It will save you tons of time on packing because everything is in one spot.
If you are a person who likes to be totally prepared, you need this bag in your life. This thing has the potential to be your last toiletry bag you ever buy!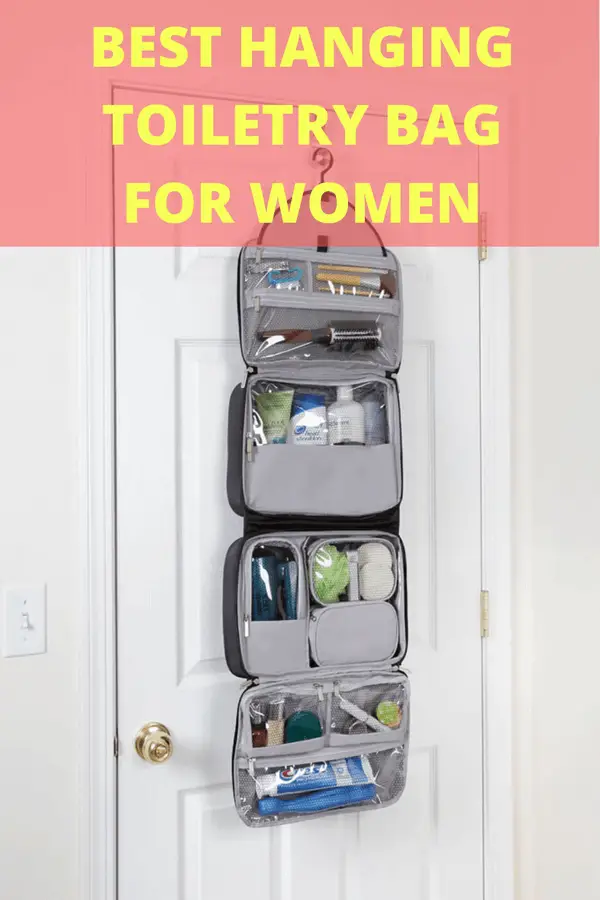 Best Hanging Travel Toiletry Bag For Women (So Practical)