T3 SinglePass Luxe is an awesome styling tool, really professional quality from T3. They do it so well. This is such an incredible tool and everyone falls in love with it.
This is the single pass one-inch ceramic tourmaline styling iron.

What this does is allow you to style your hair faster, more efficiently and with less damage.
This is the perfect size. So whether you have short hair or if you have a little bit longer hair, it's a good 1 inch size. It's all about versatility, because sometimes you want to wear a little bit sleeker flat style, the other times you want to get some lift and make that very glamorous look.
T3 SinglePass Luxe allows you to do all of these styles and many more.
You're giving yourself the gift of time – beautiful hair, healthier styling, more shine, more body and it actually lasts.
This is the styling iron not a flat iron. You don't just create sleek straight flat hair.
This is one button technology with five heat settings. It's important to know that you want to make sure you have your heat settings set to your hair type. The finer the hair, the lower the heat setting.
These are ceramic and tourmaline plates. It's T3's own blend, it's not a factory made, it's their own blend, the most effective blend of ceramic and tourmaline.
The single pass heater inside means that the heat stays really nice and even on the inside, it doesn't lose the temperature.
That is why it's called single pass because one single pass down your hair and you're not gonna have to go over and over again.
You want to make sure when you have curly hair, you don't need to have it to the highest heat setting. You can have it down to a four or actually switch it down to a three.
See: Silver Bath Towels
To get it really sleek, really straight, you do not need to rely on any special product or techniques. It's really just one single pass straight down.
The shine that comes out of the hair is truly great. You will see how straight and how smooth it gets and that's what this technology is about. It's about getting it really nice and smooth with incredible shine. That's that ceramic sealing in moisture.
There is a little micro chip, it's like a brain that works inside of the flatiron and what that does is keeps the temperature really nice and even, no hot spots. Your traditional flat irons and styling irons are going to have little hot spots and lose heat as you work, causing you to go over and over each section, which creates the damage and the split ends.
In a consumer survey:
97% agreed that their hair looks healthier and felt softer.
96% agreed that their hair looks shiny (who doesn't want shiny hair).
90% said that their hair texture is smoother while volume and bounce are preserved.
Here's the thing!
You can probably go to your drugstore and get $20 or $30 flat iron. Raise your hand though if you have one and your hair is dry, it's breaking, you have to go over and over each section, it takes you so much time. Chances are that is happening.
That is why you invest in something so luxury. This is such a beautiful tool that so many professionals love and so many people get into.
Click here to buy it with free shipping!
Other features:
StyleEdge design for versatile styling with no tugging or pulling
5 adjustable heat settings (260°F – 410°F)
Elegant ergonomic design for lightweight styling
Auto world voltage (100-240V)
1 hour auto-off
9ft. 360° swivel cord
Heat-resistant mat
2 strong professional sectioning clips
2-year warranty
I'm obsessed with T3 SinglePass Luxe, I can't stop taking pictures with it and it's just such a pretty hair straightener.
I love that I can use it to do everyday waves, it straightens beautifully and perfectly straight, but it also makes gorgeous curls.
The straightener is enhanced with intelligent digital technology designed to work in just one pass and it does. As long as I'm using one of the higher heat settings, 4 out of 5, it works perfectly for me. I go through and it just takes one single pass. You simply move slower if you have thicker hair.
It does glide through very well, it clamps perfectly and I find it does work on a pretty good amount of hair although they recommend a really small piece so it's not too much thicker within the plates.
An internal microchip controls temperature fluctuations and maintains even heat for optimal styling. I will say that the heat does maintain itself pretty well and like I said, there are five heat settings.
It does get pretty hot and I do find on setting 4 I can grab it for a couple of seconds at the top but I definitely can't get anywhere near the heated plates because it does get very hot.
You're not going to find a hair straightener better-looking than this one. I was reading reviews and someone said it looks cheap. When I got it, I was like, is that person on crack. It looks so high-end, I don't know what that person was thinking. There's nothing about it that looks cheap.
It is a little bit pricier but it just works so well. It's worth the investment. I love being able to invest in higher end heating tools just because they last so long.
The only feature I would change is the on-off switch. I would place it somewhere other than the front of the straightener where you can easily turn it off accidentally. Even with this minor issue, it is a great product.
If you're going on a trip and you can only take one hair tool, this would be it. If you let your hair air-dry, you can
basically turn your hair into any style, whether it's curling or straight, adding volume to the roots, beveling the ends.
Really, the possibilities are absolutely endless with this flat iron.

See also:
T3 Whirl Trio Interchangeable Styling Wand Review
T3 Cura Luxe Hair Dryer Review
BEST 2 in 1 Hair Straightener and Curler Combo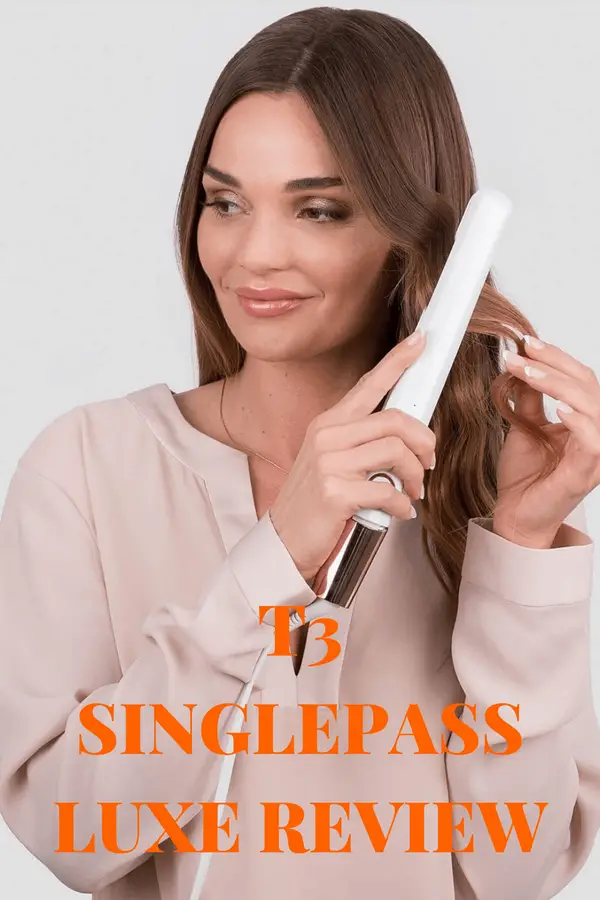 T3 SinglePass Luxe Review (Is It Really That Good?)