Today I share with you something that is so awesome and so extraordinary.
This is St. Tropez Pro Light spray tanning system.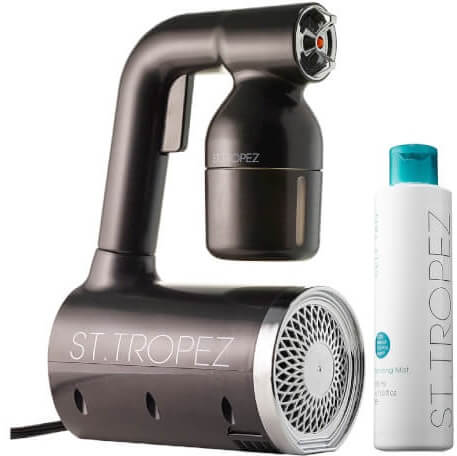 It is the best at home self spray tan machine! You will achieve salon-quality results whenever you want.
You will achieve streak-free natural looking golden tan without going to the salon.
This is like if you went to the spa or the salon and you paid $50, $75 or even $100 for a spray tan.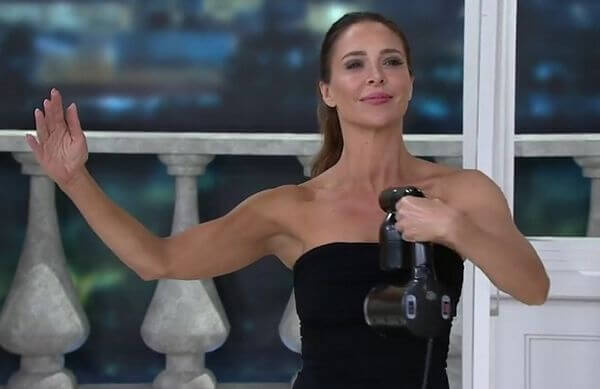 This is your equipment to own at home and to do on yourself with a micro fine mist that never gets on your walls and applies the sunless tanner as if you've had a professional.
This is the greatest thing when it comes to home tanning systems. It's the future, everyone is going crazy for this self spray tan machine that you can use in the comfort of your own home.
You do not need to be an expert to use it. Anybody can do this! The reviews for this product are great.
Just imagine that- being able to achieve that salon perfect sunless tan every time!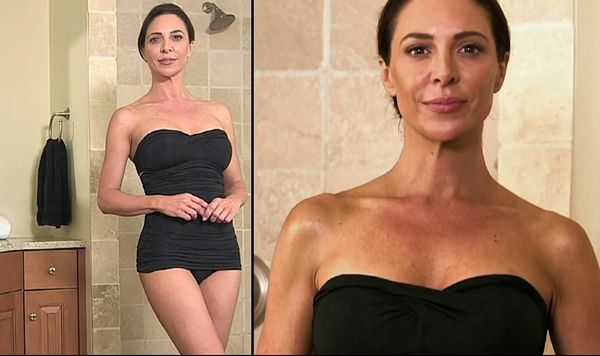 It comes with the solution. However, not only does it come with almost seven ounce bottle of liquid solution that goes in the machine and then the technology creates the micro-fine mist that you're spraying on yourself, but you also can unscrew the top of other St. Tropez formulas and use the tanning gun to apply it.
This is the most economical, the cheapest and the quickest way to do it. It's going to use about one ounce per body.
All you do, you go up and down, you spray four to six inches away.
There is zero over spray! What that means is you could be in a 5-star luxury hotel, you could be in a millionaire's mansion, and get NO mess. This machine does not make a mess. All the product goes directly onto your skin.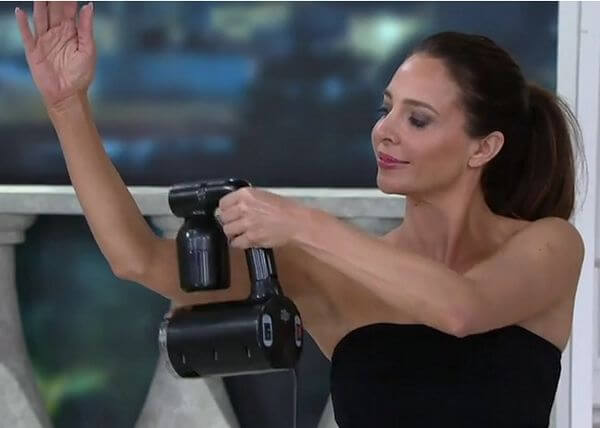 If you use the one that they use in the salon, it would go everywhere. That's why they use a tent.
Normally, if you go to a salon to have a spray tan, they have to put a tent, someone is going to see you naked, they're going to see your fat, it's all very embarrassing.
This way your husband could do it for you, you can have a little spray tan party.
All you do is put moisturizer on your hands, legs, ankles, elbows before you get start. You do vertical strokes, not horizontal. Hold it four inches away and just keep the distance steady and even.
The first step before you even pick this guy up is you should exfoliate. A tan is only as good as the skin you're working on.
This is really the best at home self spray tan machine! It got 157 awards! Can you believe it?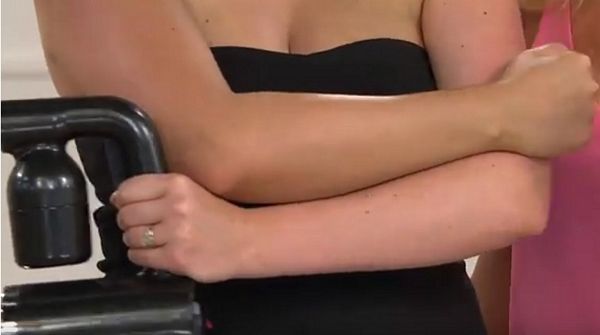 The tanning solution dries in 60 seconds and lasts about 10 days, so you're not gonna use the system every day. You can do it fully dressed before you go out. You will not breathe the solution in, it will not make a mess whatsoever.
It's so fun, it's so easy. If it looks intimidating, please don't think that for one second.
Just so you know, if you did get St. Tropez on your clothing, it's just a vegetable dye and it will rinse with water easily. Even those with sensitive skin can use it.
The beauty of St. Tropez is that not only does it dry super fast and it smells super good but it's such a believable shade of beautiful bronzy brown.
The spas hate St. Tropez tan gun because it is putting them out of business.
This is the Rolls Royce, this is the creme de la creme of tanning.
People have asked for a spray gun for years and it took St. Tropez about three years to make it. All the celebrities, all the a-listers, they're using this machine.
You can go from no tan to bronzing in two minutes flat.
The nice thing is you don't have to clean up the bathroom or wherever you are doing it when you are done.
You are not wasting and blowing through all of the tanning product. It doesn't become a project for the day. This is something you can do at the last minute and then you just do it for two minutes.
How to Use the Best at Home Self Spray Tan Machine
You fill the cup with the mist, you got plenty of solution for eight bodies.
Just spray four to six inches away, you just keep the gun straight and level. You got a little blow dryer on it as well, so it immediately blow dries it.
You can put it everywhere, including your face.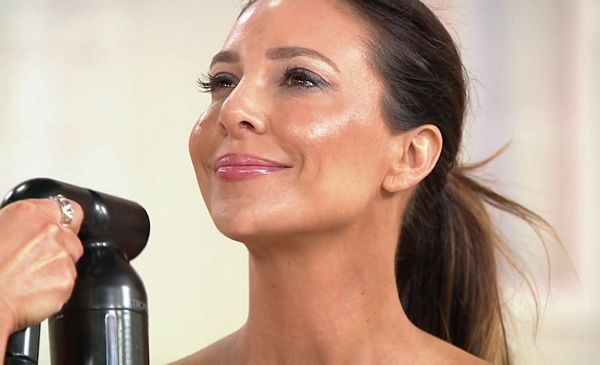 It's not heavy, it's about the size of a hair dryer so it really is very easy to maneuver. You do need to plug it in.
I would sleep with it on, let the color really develop, and you wake up looking like you've got a lovely vacation.
The Self Tan Bronzing Mist is Infused with Vitamin E and a special fragrance technology eliminates the tell-tale self tan smell by up to 70%, creating a beautifully subtle, yet refreshing fragrance. After taking a shower, the smell is gone completely.
RELATED: Best Skin Care Devices
My Experience With the Best at Home Self Spray Tan Machine
I'm obsessed with it. If you are a tanner who is paying salons to get tans done, you simply must buy this system! This is expensive product, but, in the long run, you will save lots of money compared to visiting salons.
My top three benefits of using this tan gun are:
lightweight
very easy to use
doesn't make a mess
The first time I used it I was very nervous because I thought the results will be unsatisfied. Fortunately, I was wrong. I was completely streak free after the first use! While spraying myself, it looked like I was going to end up with streaks, but after the tan dried, it looked perfect.
You simply can't screw this up. The machine is spraying an even amount of solution that is not intense and most importantly, it spreads evenly. The color is so beautiful. I would describe the color as sun-kissed but not too dark. For me, each tan lasted about a week.
If you want a darker tan, you can do a few coats by layering.
It is a fantastic thing that there is no over spray and that you can use this system anywhere without making a huge mess.
Another great thing is that you can use any type of spray tan solution in the machine.
Click here to buy + free shipping!
Warning!
Some people say that this tan gun does not work. They say that after adding the bronzing mist, nothing would come out! There is a simple solution for this 'problem'.
Remove the bronzing mist fluid cup. There is a small vent tube with an orange rubber cap on it.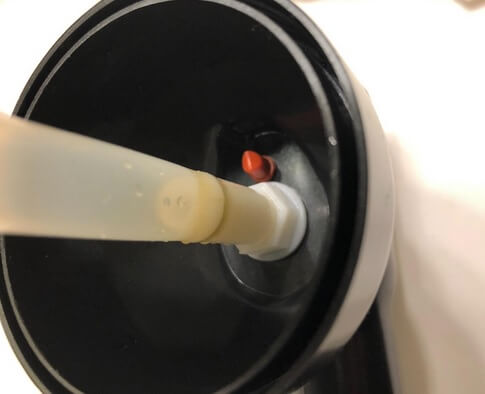 Remove the cap and your machine will work like a charm!
This handheld machine can reach everywhere it needs to reach, can be stored anywhere, and can go anywhere.
You will not regret purchasing it! It is much better than sunless tanning lotions.
Think about it; paying a salon for a tan will cost hundreds of dollars by the end of the summer. By buying this equipment, you can have a fresh summer glow all year round with just one investment!
Happy tanning!!!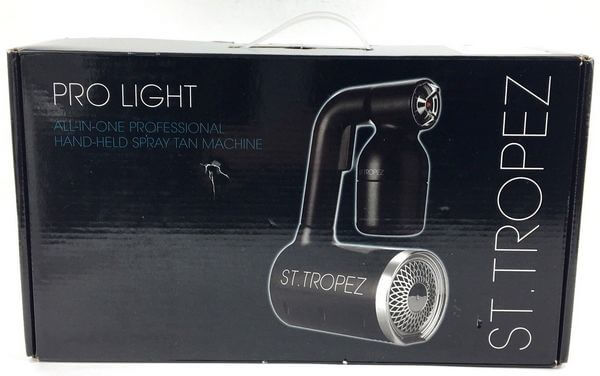 Tips For Achieving the Best Tanning Results
Do not shave or wax on the day you use the best at home self spray tan machine. Your pores will be opened, causing a patchy look. With shaving, wait 24 hours. With waxing, wait 48 hours before you spray tan.
Exfoliate your skin several hours before applying the tan. If you do not do this, the dead skin cells will rub away, creating a patchy look.
Moisturize your skin so it absorbs the color evenly.
Your skin must be completely dry. No sweat or water. They can prevent the solution from penetrating the skin evenly.
Apply petroleum jelly to areas with creases, such as the elbows, knees, palms of your hands, lips. If you do not do this, the product will saturate the creases, creating darker lines.
Always start applying the product at your feet and work your way up. Why? Because you will create lines in the color if you bend over after applying the solution.
Face skin is thin so it absorbs the color quickly. Apply it very lightly to prevent your face from looking darker than the rest of your body.
Do not take a shower or sweat for at least 8 hours to give the product time to set in and darken. That's why evening application is the best.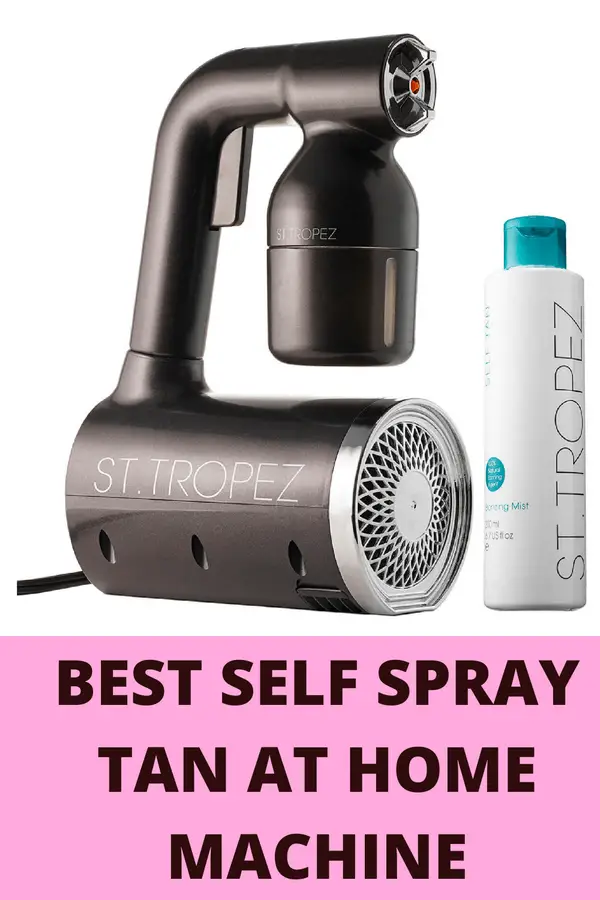 You May Like: Best Women's Hats For Sun Protection
Best at Home Self Spray Tan Machine (Salon-quality Results)