Today we're gonna be doing an in-depth review of the Brooklyn Signature mattress. It is the best mattress for couples with different preferences.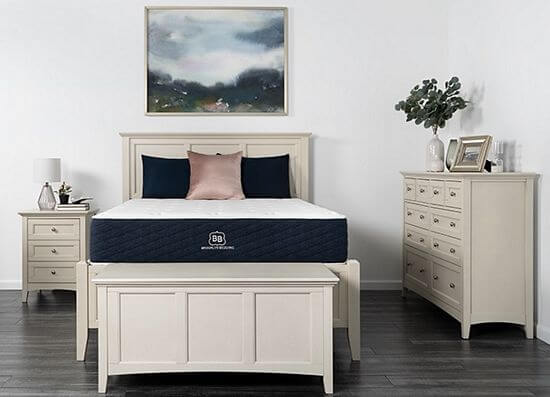 One of the first things you need to know about a mattress is just how soft it is. In the case of the Brooklyn Signature Hybrid mattress, it comes in three softness levels.
Firmness
They offer a firm, a medium and a soft. I'm using the medium, which is by far the best-selling of the three. I would actually characterize their medium as a medium firm on my softness spectrum.
Layers
Let's get into the details of what's actually in the Brooklyn Signature Hybrid mattress.
In total, it's a mattress that's twelve and a half inches with about five layers to it.
It starts on top with quilting layer, which really gives the mattress a little bit more of a traditional look as well as a little bit more of a traditional feel too.
An inch and a half of foam in the quilting layer is definitely the softest foam in the mattress. It doesn't really have too much bounce and certainly doesn't have any memory feel either. It's just kind of like a soft comfort foam.
Below that you have the top layer of Titanflex. It's a two inch layer of their Titanflex material and a three and a half pound density and this is the softer of the two Titanflex layers.
It also has what they call titanium gel in it, which adds some cooling properties we'll talk about later in the article, as well as it adds some antibacterial properties.
Below that top two inch layer of Titanflex, you have another two inch layer of Titanflex foam that is a little firmer. It acts as a little bit more of a transition between this comfort layers on top and these firmer coils down below.
Then you have this six inch pocketed coils of which there are eight hundred or so in a queen size. That's where your support is coming from in the mattress.
Those just need something to rest on, so there's an inch of foam below those at the very bottom of the mattress and that gives you the full 12 and a half inches.
All that is wrapped in a cover, which has a nice touch but the top surface is very consistent with what we've seen in the previous two versions. Similar feel and stitching and fabric, which is a nice soft cover fabric. They've also added some nice cording, which gives some durability properties as well as a nice look.
A side panel is almost like a shirt like material in a way of the fabric, but it also has some thickness to it. It feels substantial, which is good but also also looks nice.
I really like the fact that they added four functional handles to the sides of the mattress. When I say functional, I mean that you really can use these to move the mattress around, unlike handles you might find on some other mattresses, which may be more decorative.

Premium quilted top
2″ Titanflex comfort
2″ Energex suport
6″ Ascension encased coils
1″ base support foam
That's the construction of Brooklyn Signature mattress.
Back Support and Pressure Relief
Now we're gonna get into the two things that absolutely everybody must get from their mattress, which are back support and pressure relief.
I'm about six feet tall, not quite 200 pounds and I predominantly sleep on my back, so I'm gonna start out in that position.
I definitely found that for me this medium version delivered really good spinal alignment from a back support standpoint. I felt my hips were able to sink into the mattress just enough but my lumbar was still well
I definitely felt really well supported in this back position at my weight. I do think that significantly lighter back sleeper is gonna be okay on the soft version of this. For most back sleepers, the medium version is gonna be great.
If you're significantly heavier then maybe the firm version would probably be a good choice for you as a back sleeper.
When I switch over to my stomach, this is a position where for me the medium version did really well. Because it's a little firmer than medium and because the mattress has floating sensation, it definitely keeps your heaviest part of your body, which for everyone is gonna be your hips, from sinking too deeply into the mattress.
I didn't get that overarching sensation, which can be the real red flag for a stomach sleeper. Overall I felt the medium was a great fit for me for stomach sleeping.
It is also nice because stomach sleepers sometimes have a hard time finding a balance between something that's firm enough to be supportive in that hips region but soft enough to feel nice when you've got your elbows and your knees and the whole front of your body pressed against the surface of the mattress.
When I switch over to my side now, this is the position where I really focus most on pressure relief in addition to proper spinal alignment, which in this case on your side is going to be keeping it in that horizontal shape.
In terms of the spinal alignment on my side, I did feel, for my body shape and size, the medium was a really good match.
My shoulder is able to sink into the mattress enough that overall the top of my spine is pretty well aligned. I do think though that if I were a curvier or lighter side sleeper, I might think about the soft version and likewise, if I was a heavier or less curvy, then you might think about the firm.
In terms of the pressure relief, I felt the pressure relief was very good. The way they achieved the pressure relief in this mattress was through a really nice progressive layering system. They've got this quilting layer on top, which is the softest layer of the mattress, then below that you've got the first layer of Titanflex and then below that you've got that next layer, which is slightly firmer.
All this gives the mattress a natural pressure relief property that I think it's very effective.
Overall pressure relief was very good and I definitely didn't have any issues with pressure points on this mattress.
Personal Preference

Now we're going into some of the mattress characteristics that we call more preference based, meaning things that can be one way or another, but neither of those is better or worse, it's just a matter of your personal preference.
The first of these we call cushioning depth, which refers to the difference between sleeping more on your mattress, getting more of a floating sensation, versus sleeping in your mattress and getting more of a hug or cradled sensation.
In the case of the Brooklyn Signature Hybrid, at least the medium version, we would classify this as having slightly shallower than average cushioning depth. It definitely delivers more of that floating sensation than it does a hug or cradled sensation.
Part of that is due to the nature of the top layers of foam, which accentuate that floating type of sensation. The other way that we determine this is with a bowling ball, which does sink slightly less into the mattress than other mattresses we've tested. That further supports our classification of slightly shallower than average cushioning.
The next preference based characteristic is what we call responsiveness, which is the difference between slow responding memory feel versus a quick responding bounce.
In the case of the Brooklyn Signature you can quickly rule out the memory feel because there's no memory foam in this mattress for one thing and everything generally responds pretty quickly, with the one possible exception of that top quilting foam, which is average but certainly not delayed memory type of effect.
In terms of bounce, we look at the bounce in different levels of a mattress. We start with the surface to assess the amount of bounce you get from the very top of the mattress. I would say that this quilting layer has very little bounce to it, it's not a quick springy type of quilting material. It's more of a soft comfort foam and as a result
dampens any bounce.
The next level we look into is the mid level bounce, which we test with the 16 pound bowling ball. There is definitely some bounce in this mattress. That being said, not really more than a typical spring mattress that we test.
It doesn't feel like the combination of this quilting foam and the Titanflex is really adding to the bounce beyond what you would find in a normal inner spring mattress.
I do think that this quilting layer is having a little bit of a dampening effect on the bounce when you drop the bowling ball but still certainly have some bounce.
Next we test the deep bounce by putting my full 200 pounds on the mattress and there's definitely some bounce. I am activating those coils and those coils are pushing me right back up. Certainly some deep bounce in this mattress.
Overall we would say that this mattress is on the quick response side of the spectrum.
Now we're going to get into what we call priority based characteristics, which are things that a mattress can be better or worse at but that may or may not be a priority for you personally.
Click Here to Buy With Free Shipping!
Motion Isolation
The first of these is motion isolation, which refers to what degree is the person on one side of the mattress gonna be aware of or disturbed by what's happening on the other side.
By dropping the 16 pound bowling ball, we can see that the bowling pin really barely moves. That's a nice amount of motion isolation.
When I drop my full 200 pounds down on the mattress, we can see that again the bowling pin just barely moves. Overall we would definitely say that this mattress has excellent motion isolation.
One thing that's important to some people is the ease of repositioning on a mattress. We found that this is not gonna be an issue on this mattress. It is very easy to move around on this mattress and you're definitely not gonna get any of that stuck in the mud type of feeling.
Edge Support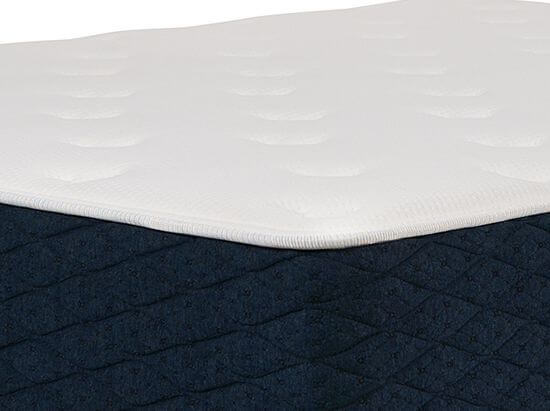 Another thing that's important to some people is edge support. In the case of the Brooklyn Signature Hybrid, this is definitely an area where there's been some improvement relative to either of the two predecessor versions of this mattress.
Sitting on this mattress we can see that there is some dip but it's definitely less than what we experienced with the two all foam versions that preceded this. I would say that in general this this edge support exceeds that of most mattresses that are all foam.
However it's probably not quite as good as a lot of the mattresses that we've tested, especially those that have specific features designed to give the mattresses firmer edge, like a foam perimeter or a couple rows of firmer coils going around the edge.
I can tell you that this mattress definitely doesn't use a foam perimeter because I can feel the coils on the edge. So there's a little bit more dip than a lot of the other inner spring mattresses that we've tested, but I also want to point out that I feel completely stable, I do not have the sensation of sliding off the bed.
I also want to point out that the edge support that this mattress offers is more than adequate to support my entire 200 pounds very well when laying on the edge of the mattress, which is for some people going to be the more important way of thinking about edge support.
Overall I would characterize the edge support of this mattress as at least good, if not very good, just maybe not the best one.

Temperature
One concern for some people is temperature or sleeping hot and in the case of the Brooklyn Signature Hybrid, I do think that this is another area where there has been some improvement in this latest model.
Specifically the big improvement is the replacement of the foam core with springs, which allows for significantly more airflow.
We did talk about how there is no a foam perimeter on this mattress and as a result, the airflow is allowed to go in and out of this mattress right in the sides, all the way across. Hot air can escape, cool air can get in.
It's also worth noting that like the previous version the top layer of Titanflex foam also contains some gel, which is a conductor and therefore it does allow heat to travel a little bit more efficiently away from your body through that material. That also has somewhat of a cooling effect.
But the really big change here is the replacement of the foam support with the coils, which adds a lot more airflow. That's something that can definitely give you a little added comfort with regards to this particular area of concern.
Materials

One area of concern for some people is the degree of natural materials in the mattress or maybe more just the lack of harmful chemicals.
In the case of the Brookyln Signature, the company makes no claims about this being a natural mattress in any way. However there are a few things that we do think you can take some reassurance from on this front.
For starters, like its predecessor model, all the foams in this mattress are certified to the Serta Pure standard, which looks for the presence of an off gassing of various harmful materials and certifies that neither are present beyond some minimally acceptable threshold.
But beyond, that we would also add that relative to its predecessor, they've also replaced a lot of the foam that was used in the support core with springs which is a material that really can't off-gas at all. That certainly is another net positive in this area.
Adjustable Base Compatibility
One thing we get asked about more and more these days is adjustable base compatibilities. In terms of
adjustable based compatibility, we think about that in terms of three things.
Number one is does it damage the mattress in any way to use it on an adjustable base and in this case the answer is definitely no. This is a mattress that's made to be used in exactly this way.
Number two is how well does the mattress conform to the curves of the base and in this case, not only does it conform very well, it also holds its shape.
The last thing would just be does anything weird happens when you elevate it and bend it and in this case I would also say no.
Overall I would say that this mattress is is very adjustable base compatible.
Three things that are always going to be important when you're buying a mattress, particularly when you're buying one online are delivery, return policy and warranty.
Best Copper Infused Memory Foam Mattress
Delivery
In terms of delivery the Brooklyn Sgnature is delivered free to your doorstep. From that point forward, you are responsible for getting it to your bedroom on your own and unboxing it. But the delivery itself is completely free.
Return Policy
In terms of the return policy, Brooklyn offers a generous return policy, much like many of their online peers, although maybe even a little bit more generous.
They offer 120 nights, during which time, you can return the mattress for any reason for a full refund. The one thing they ask is that you do keep the mattress for at least 30 nights just to give your body time to adjust to the new mattress.
Warranty
They offer a 10 year warranty, which is pretty standard but the most important number to look at when you're evaluating a mattress warranty is not the length of time, it's what do they consider to be an allowable dip for purposes of a sagging warranty claim or a body impressions claim.
In the case of most inner spring mattresses, the standard in the industry is about an inch and a half. In the case of the Brooklyn warranty, they define it as no more than an inch. That difference is meaningful enough to mention it.
Overall I do think that that along with the delivery and return policy, that can give you some extra reassurance or confidence in giving the Brooklyn mattress a try.
Value
One thing that's important just about every mattress shopper is value and when we think about value we always think about how much does it cost, what's in it and how long do we think it's going to last.
In terms of the cost the current price of the new Brooklyn Singniture Hybrid mattress is $949 in a queen-size.
What you're getting for that is a twelve and a half inch mattress that we would describe as having a latex-like foam over pocketed coil support unit.
In terms of how long we think this mattress is going to last, I'm confident that its materials will hold up over time. The fact that they have better than industry standard warranty gives me an additional confidence in these materials.
In terms of the overall value, I would say that this is certainly a product that looks well built, well constructed and well stocked in terms of materials relative to anything you're likely to find in a local store at a similar price point.
In terms of relative to other online options, I also think it stacks up pretty well. I think it's, at a minimum comparable, if not a better value, than most of the its online peers.
I do think that if all of the criteria and considerations that we've described in this article seemed like a good match for you, then the Brooklyn Signature Hybrid mattress is one that couples with different preferences should consider.
Click Here to Buy With Free Shipping!
Best Cooling Hybrid Mattress to Stay Cool at Night
Best Hybrid Mattress For Couples & Combo Sleepers
Best Mattress For Couples With Different Preferences