In this article I'll be reviewing the Brooklyn Titan Luxe mattress, the best mattress for heavy combo sleepers. The Titan Luxe is a hybrid mattress from Brooklyn Bedding that was designed specifically for heavy people.
It can support up to 1000 pounds and Brooklyn Bedding also offers a model of this bed called the Titan Firm hybrid that offers an even firmer feel.
I would not be the most trustworthy tester of this bed so I've brought in my friend Paulie to help me out. He tested out the Titan Luxe right along with me and I will give you his impressions of its feel, pressure relief, edge support and more.
Paulie's weight range fluctuates between 275 and 285. He believed that firmer mattresses were better and he found that that's not the case. What has had discovered is that the mattress has to have a balance of give and firmness.
One of his biggest mattress peeves is feeling like he is being eaten by the mattress, not being able to easily get out of bed, When trying to roll over, he felt like the mattress is tugging him down.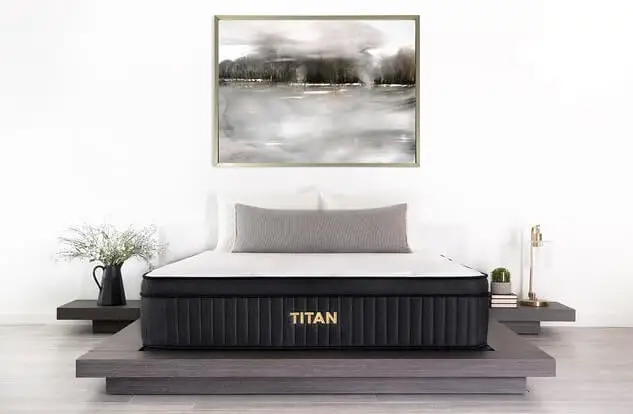 Feel
I'm gonna start out by telling you how the Titan feels. Keep in mind that feel is subjective, so different bodies are gonna experience this mattress differently.
If you're a member of a couple in which both parties have really different weights, this mattress will feel much firmer to
the lighter partner.
I personally found this mattress pretty firm, about a 7 out of 10, because I'm on the lighter side. So with that, here is what Paulie had to say about how it felt to him.
"I like the firmness on the mattress. It fells six and a half to seven. It had good support across my body. I felt like I could move around on it if i needed to, but when I was in one position, it actually felt comfortable. Back position felt good. Side position felt good as well. It was very neutral, which is a good thing, because I didn't notice there was too much pressure, there were no pressure points or less pressure points than I felt on other mattresses. Same thing for stomach. I didn't feel like I was sinking in. When sitting on the edge, he definitely felt supported. Sleeping wise, he can get closer to the edge of the bed and use more of the bed because it has the support going all the way out.
Pressure
We also ran a few tests together to give you a more objective view of what this mattress might feel like to you. I had Paulie ran these tests himself and I'm going to explain his results to you.
First up was the pressure map test. I put a pressure map down on the mattress and Paulie laid down in a few different positions and I saw that map range from blue and green in low pressure areas, to yellow and red in high pressure areas.
On his back that pressure map was mostly blue. This mattress should be pretty comfortable to any back sleepers out there. You're gonna get a really nice balance of pressure relief and support on this bed.
Moving on to the side, I saw mostly blue with a little bit of light green. I don't think that light green is anything to worry about. I would say this mattress looks like it's really good for side sleepers. I think you get plenty of pressure relief on this bed.
Finally moving on to his stomach, I saw a lot more green, which could indicate Paulie's hips sinking into the mattress a little bit, which could over time lead to a bit of a bow in his back that might lead to some back pain.
So I would say if you're a heavier sleeper and you prefer to sleep on your stomach, I would look for a bit of a firmer mattress.
Again the Titan does offer a firmer model, so that might be better for you.
Bounce
Next up is the bounce test. This is where we check to see how much mobility a mattress provides. Are you going to feel stuck in the mattress when you're starting to roll around and change positions at night.
Based on the steel ball bounce on the bed, this mattress does not have a ton of bounce. But that said, I personally found it really easy to move around, change positions on the bed and Paulie is a combo sleeper himself and he said that he felt it was really easy to move around and change positions.
So if you're a combination sleeper, I would say no need to worry about the lack of bounce. You should be pretty comfortable on this Titan.
Motion Transfer
Next up is the motion transfer test. We used a seismometer to measure motion transfer on this bed.
If you sleep with a partner, this is a measure of whether or not you're going to be disturbed when they roll around and change positions at night or maybe get up to get a glass of water.
I was really impressed with the motion transfer results on this bed. Four inch ball drop showed the least motion I've actually ever seen in testing. So if you are someone who sleeps with a restless partner, I would definitely think about this bed. I don't
think you're going to feel disturbed by your partner tossing and turning at all.
I would also say if you are a member of a couple with pretty different sleep preferences, maybe pretty different weights, I did not find this mattress super uncomfortable. It wasn't so firm that I was uncomfortable on it. So if you do sleep with a lighter partner who tends to sleep on their back or their stomach, this mattress could be a really good choice for both of you.
Edge Support
Last up we have the edge support test. This is a measure of whether or not you're going to be able to sleep all the way on the
edge of a bed and still feel supported.
A mattress with great edge support feels a little bit bigger because you have that much more service area to sleep on. Paulie said he felt about as supported as possible while he was sitting on the edge of this bed.
It may look like the edge is collapsing a lot underneath you, but like a lot of Brooklyn Bedding mattresses, this mattress has a really nice big cover to make it easy to move. So what is really happening is a lot of the cover is puffing out under you and less of the edge collapsing out.
Construction
To give you an even better idea of how this mattress might feel, I'm going to take you through layer by layer and explain what it's made of.
I'm going to start out with the cover.
I will say you can add an optional cooling panel to this cover that's made of phase change material that will really prevent the bed from trapping body heat. I did not test the bed out with the phase change panel but I will say most phase change materials
that I've tested out in the past have been really cooling. So if you sleep hot that's something you might want to consider.
The standard cover feels really nice and soft to the touch and it's quilted with a little bit of memory foam, so you're going to get some nice initial pressure relief when you lie on this bed.
Next up we're gonna have a comfort layer made of TitanFlex comfort foam. It's in there for pressure point relief, so if you're a side sleeper on the heavier side, that's really gonna feel quite comfortable to you.
Below that is a transition layer of Energex foam. It has a bit of a quicker response to pressure and in general it adds some deeper compression support to this mattress. If you're a heavier sleeper, that means you're going to be able to sink through the top foams and land on more foam to still stay comfortable, as opposed to landing right on the pocketed coil layer of this bed.
The bulk of this mattress is going to be made out of TitanCaliber coils these are pocketed coils that are going to be individually wrapped to help increase some airflow throughout the mattress. They're going to generally provide some nice bounce, some nice support to the bed.
I will say too that individual wrapping will help isolate motion really well, which is probably why we saw such a great motion isolation score from this bed earlier in the review.
Below those coils is going to be a thin layer of high density poly foam. That's just to give the coil something to bounce off of, really won't have much overall effect on the feel of this bed.
Pros & Cons

Before we wrap up, I want to give you my personal pros and cons of the Titan Luxe mattress.
First up are three sleepers that Paulie would recommend try out this bed.
First off, I'll say combination sleepers on the heavier side I would really recommend this bed for you. You're going to have plenty of easy mobility and should feel pretty supported in most sleeping positions.
Similarly heavy side or heavy back sleepers should feel really comfortable on this bed, get a great blend of pressure relief and support.
Finally if you're a member of a couple who has very different weights or very different sleep preferences, I might recommend checking this bed out. I think it can feel comfortable to people of varying weights and it has great edge support, low motion transfer, so you're not going to feel too disturbed by a restless partner and you can really use the whole surface area of your mattress.
That said, I don't think just anyone will be happy on this bed, so here are some people Paulie does not recommend the bed for.
If you're a stomach sleeper on the heavier side, he thinks your hips are probably going to sink into the bed a little bit too far.
Might create some pain around your back, so I wouldn't recommend it to you.
And then finally if you're someone looking for a lot of deep sinkage, kind of a hug like feeling from your mattress, you're not going to get this on the Titan. I might look for a softer bed or a bed that features a little more memory foam than this one does.
Policies
If you are interested in purchasing a Titan Luxe, I want to give you some info on Brooklyn Bedding's company policies.
This mattress comes with a 120 night sleep trial. Brooklyn Bedding does ask that you test out the bed for about 30 days before beginning a return.
This bed is gonna ship for free and it will arrive compressed in a box. It's a little bit heavy, so maybe make sure you have a friend with you to unbox it.
Finally this mattress comes with a 10 year warranty.

FAQs

Before I wrap up I want to answer some of the most frequently asked questions about this bed.
Does the Titan Luxe need a box spring?
No, it does not. Brooklyn Bedding says any type of system that provides minimal to no flex will work with this bed. That means you can use a solid foundation, a platform bed frame, a slotted bed frame or a box spring if that's what you prefer.
Can you flip the Titan Luxe?
No, you can't flip this bed. It's built with comfort foams on top and will not be comfortable if you flip it over to sleep on the firm base foams.
Where are Brooklyn Bedding mattresses made?
All Brooklyn Bedding mattresses are made in the USA and a lot of them are manufactured in Phoenix, Arizona, where they do have their own factory.
That's it for my review of the Brooklyn Bedding Titan Luxe mattress, the best mattress for heavy combo sleepers.

Best Mattress For All Sleeping Positions (All Foam)
Best Mattress For Heavy Combo Sleepers (Hybrid)