Are you looking for a comfy and supportive mattress, one that will help you recover from your active lifestyle?
If so you've come to the right place.
Here we are reviewing the Bear Hybrid mattress, the best pillow top hybrid mattress. This bed was designed specifically for athletes in mind, but it works for a wide variety of people.
Is it the right bed for you? To help you find out, we'll go over its firmness, feel and unique features.
Let's get started.
Bear sells three different types of mattresses and they're all designed to help you get the rest and relaxation that you need.
Here we're looking specifically at the Bear Hybrid, their most luxurious model. Unlike the Bear Pro and the Original Bear, this bed contains both coils and memory foam.
You want to see how it all comes together? Let's take a look at its construction.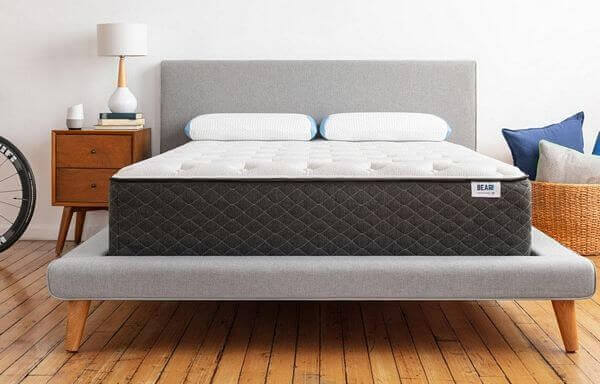 Construction of Pillow Top Hybrid Mattress
The Bear Hybrid mattress is 14 inches tall and in the cover you'll find Celliant fiber. This material helps dissipate heat so you should sleep cool all night long.
It's also tufted for a nice pillow top look and feel.
In the first comfort layer you'll find their cooling gel foam. Gel helps pull heat away from the body. Plus the foam adds nice pressure relief.
Below that you'll find a layer of their premium comfort foam. This works well for a variety of different body types and sleeping positions.
Underneath that you'll get to a layer of their responsive foam. This provides great air flow and it gives that bed a little bit of a bounce.
Then you'll get to their edge coil system. This does a few things. It helps with edge support, so you'll stay secure if you're lying or sitting on the side of the bed. And it provides great lumbar support whenever you're back and side sleeping.
At the very bottom you'll find a layer of their high density foam. This gives the bed a long lifespan, keeps it super durable.
So what does this all mean?
First let's talk about its cooling features because this bed has a lot.
In the cover, you'll find celliant fabric which helps wick away moisture and keep you cool. Plus the gel infusion in the foam won't trap body heat as easily as traditional memory foam does.
And because it has coils at the bottom that provides plenty of airflow.
Also let's talk about durability. This mattress is super well made. It features high quality materials like the coils at the bottom and the foams at the top, so it should last you at least 10 years.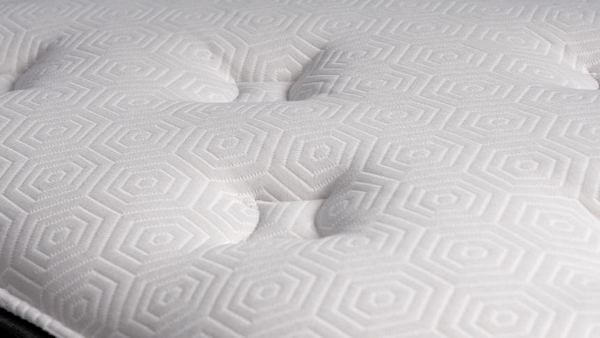 Firmness and Feel
When we review mattresses we always pay close attention to firmness and feel. So let's see what the Bear Hybrid is all about.
On the firmness scale, this bed comes in at a six and a half out of ten and this is actually the industry standard for mattresses.
It has a solid medium firm feel, very versatile. Works for a wide variety of people.
Whenever I press into it, the pillow top layers immediately snap back into place. You're not going to totally sink into it, like you might with an all foam bed. Plus it has coils at the bottom. so it's still a little bit bouncy. You're not going to feel stuck inside the layers.
Another great way to demonstrate this is with a squash ball. If you throw it onto the bed, you'll see it has a good amount of bounce. That's thanks to the coils and the tufted pillow top.
Sleeping Positions
Another thing to take in consideration is your sleeping position.
So let's see who the Bear Hybrid pillow top mattress will work for depending on how you sleep.
If you're a back sleeper, whether you're a lightweight or a heavy weight sleeper, this bed will work well for you. It provides a great balance of comfort and support thanks to its strong coils and soft foam.
Side sleepers, it's a little bit of a different story. Lightweight to average weight people should get plenty of pressure relief on this bed. But if you're a heavier person, you might start to notice some pressure along your shoulders and your hips.
Stomach sleepers, it's the opposite, Lightweight people will feel plenty of support, especially if they weigh under 130 pounds. But heavier people will likely feel their hips sink into the comfort layers quite a bit, which can cause some strain on the lower back and lead to pain.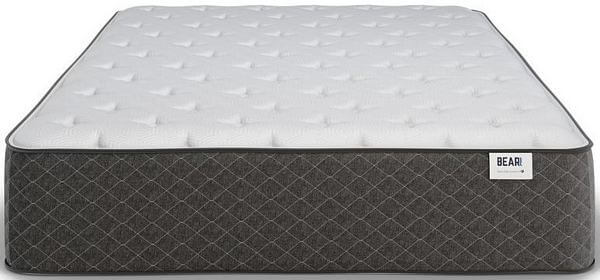 Motion Transfer
If you share a bed with a partner you want to pay close attention to a bed's motion transfer.
What this means is if you're resting on one side of the bed and your partner gets in on the other, and they're switching sleeping positions in the night, will you feel that movement come over to your side of the bed.
One way we test this is with a glass of water. We gently press into the layers around it and there's a little bit of a disturbance in the glass. This is pretty common with hybrid beds. But I will say this isn't as bad as some others. It's pretty good at isolating motion.
Another way to test this is I'm going to get in on one side of the bed and my wife is going to get on the other. As she moves around, I feel a little bit of that motion come over to my side of the bed, but really it does a pretty decent job of isolating it.
Edge Support
Another thing you'll want to think about when shopping for a new mattress is its edge support.
What this means is if you're sitting on the side of the bed, will you feel secure or will you feel like you might roll off.
The Bear Hybrid has strong coils at the bottom so its edge support is actually very good.
As I'm sitting, there's a little bit of a collapse but if I were to bend down and tie my shoe, I would still feel very secure.
And when I lie down on this mattress, it's a similar story. I feel a little bit of collapse near this very edge, but again I'm not going to feel like I'm going to roll off of this bed.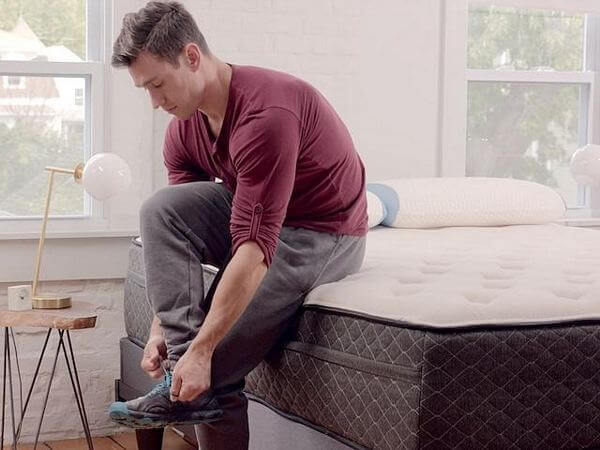 Pros
I'll move into some of the pros and cons of the Bear Hybrid pillow top mattress, starting with the good stuff.
First of all, the Bear Hybrid is a fantastic choice if you're a hot sleeper. It has Celliant in the cover, which helps wick away body heat and the coils promote airflow.
Also this is a great choice for back sleepers. The plush pillow top really provides the comfort and support that you need.
And finally the Bear Hybrid works really well for athletes who need to recover after a long day of being active.
Cons
Moving on to who shouldn't get the Bear Hybrid mattress.
This bed isn't a great pick if you're a fan of a slow moving all foam bed. This mattress contains coils and a pillow top, so if you're looking for something more slow moving, opt for the Bear Original or the Bear Pro.
Also the Bear Hybrid is not super great for stomach sleepers. It has a nice medium firm level, so if you're a taller or a heavier person, you might sink deeper into the layers and get your back out of alignment.
Finally the Bear Hybrid isn't a great pick if you're on a super strict budget. This is their highest end model so it costs a bit more.
If you're trying to save some money, we recommend checking out the Original Bear.
Comparison
Let's take a moment to see how the Bear Hybrid compares with another popular bed on the market, the Purple.
These beds have vastly different constructions.
The Purple is made with their proprietary gel grid. It feels squishy and firm at the same time. There's really nothing else like it.
The Bear Hybrid has more of a traditional pillow top feel. You'll get a little bit of memory foam in the top layers and the coils at the bottom keep it nice supportive and bouncy.
When it comes to the firmness level, these beds are actually both at a six and a half out of ten or medium firm. However the Purple is going to feel firmer for lightweight people because they won't compress the gel grid quite as much.
Both the Purple and Bear Hybrid mattresses cost about the same.
Let's see who should get the Bear Hybrid mattress.
This bed is best suited for light to average weight sleepers and fans of a classic pillow top hybrid feel.
The Purple works exceptionally well for heavier people and those who are looking for something with a more unique feel.
Best Double Sided Mattress Review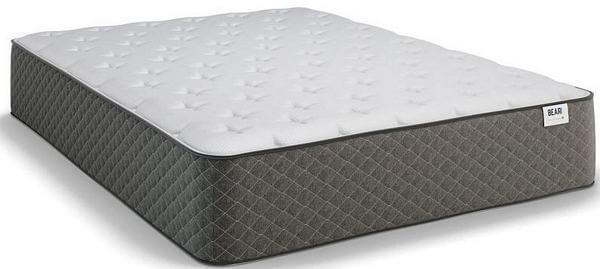 Unboxing
The Bear Hybrid mattress is a bed and a box mattress so this means it's going to arrive on your doorstep compressed inside a cardboard box.
So how do you unbox it?
First of all you'll definitely want to get a friend for help. These are very heavy boxes and you don't want to hurt yourself.
Once you get some help, bring the mattress into your bedroom and cut open the top. Pull out the rolled up mattress and place it onto your bed frame or foundation.
Gently cut through the layers of plastic. You don't want to damage your brand new mattress and unroll it.
Allow the mattress to off gas and expand for 48 hours and then you'll be ready to use it.
Policies
Before we dive into the frequently asked questions, we'll cover some additional information about the Bear Hybrid pillow top mattress.
This bed comes with free shipping and free returns.
They have a 100 night sleep trial period, a 20 year warranty and different accessories are available.

FAQs
Moving on to some of the most frequently asked questions about the Bear Hybrid mattress.
Is the Bear Hybrid a good choice for people with back pain?
Our answer is yes, especially for average weight people, this bed provides a great balance of comfort and support, which is exactly what you need if you're dealing with back pain.
Do I need a box spring for the Bear Hybrid mattress?
No, this bed works perfectly fine placed directly on top of your bed frame.
How long will the Bear Hybrid mattress last?
because this is Bear's most luxurious model, it should last you a very long time. We expect it to last at least 10 years.
Memory Foam Mattress With Celliant Cover (With Graphite Gel)
Best Mattress With Phase Change Material
Best Pillow Top Hybrid Mattress