If you are looking for the best rowing machine under $300, you just found it. It's Stamina ATS Air Rower 1399.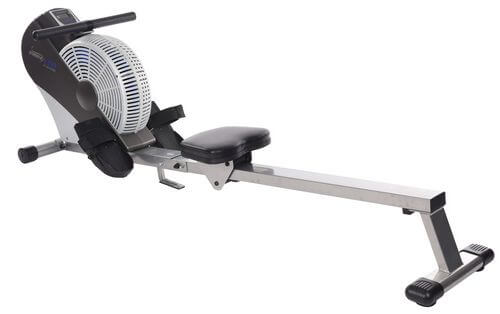 I adore this rowing machine. It's an air resistance rower. What you're doing is you're working out full body.
You're not only getting your strength training, you're getting your cardio in a short amount of time, in one piece that's lightweight, portable and it folds up to almost nothing.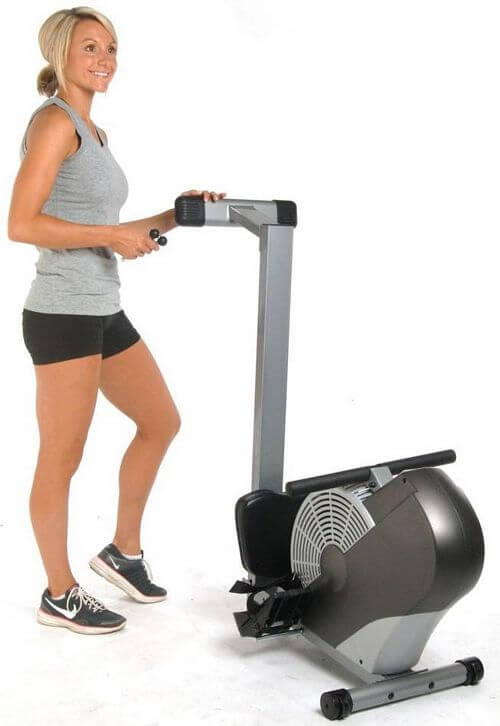 Why this one as opposed to another rowing machine in your home?
Stamina has brought us one of the top notch pieces of equipment that is going to work your entire body, from your head to toe. It's a calorie incinerator, it's going to burn those calories. It builds muscles and also works your endurance. Your cardiovascular system is going to grow with this rowing machine.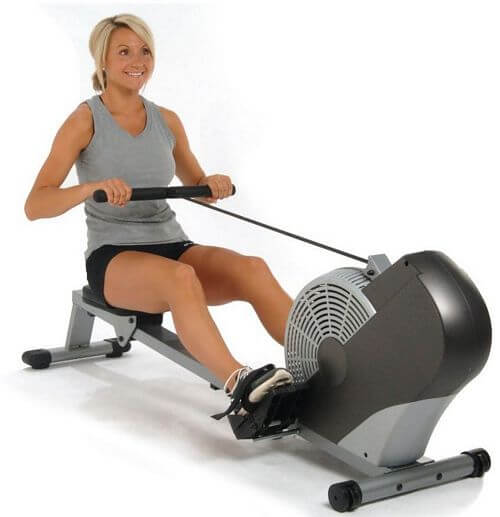 You can get a step machine, you can get a bike, you can get other in-home quality equipment, but it's going to usually either just do cardio or work one part of your body. This rowing machine will work all parts of your body.
In addition, because it's air resistance, it cools you down while you're using it. There's actually air coming out of the machine, so if you get overheated while you're working out, it's great.
It folds up into next to nothing, it even has wheels so you can roll it around as well and it really doesn't take up a whole lot of space.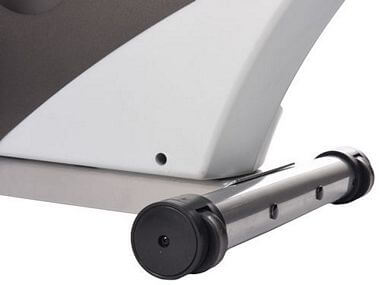 There is some assembly needed but it's not that hard. I was able to do it solo with the help of my little girl which is saying a lot because she doesn't do much.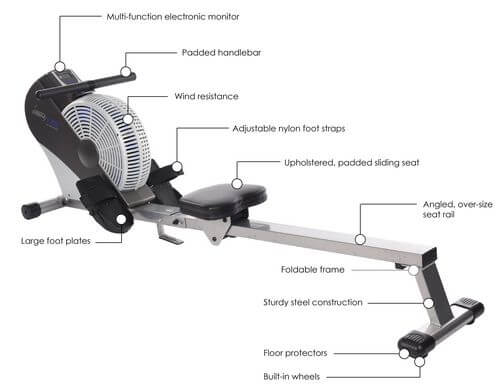 If you've been thinking about getting back in shape, if you want something in your house that's really going to incinerate the calories, this is it!
How it Works
Don't be intimidated, it's really easy and smooth.
There is a nice padded sliding seat that goes back and fort.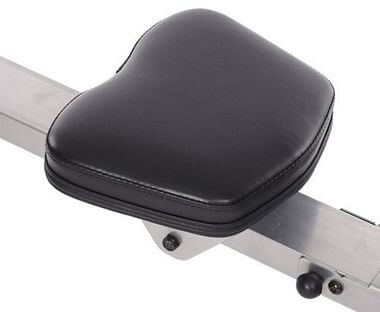 There's an elevation on the rail and so when you push back, that's going to give you some more resistance on your quads.
You put your feet in the nice big foot straps with velcro.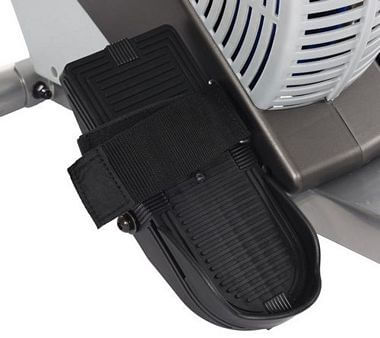 Keep in mind that there is a 250 pound weight limit on this rowing machine.
You grab the handles and now you're just going to straighten your legs out. You can just work on the arms, you're not going to do any of the rowing. You want to keep your core nice and tight and all you are doing is just pulling your arms back.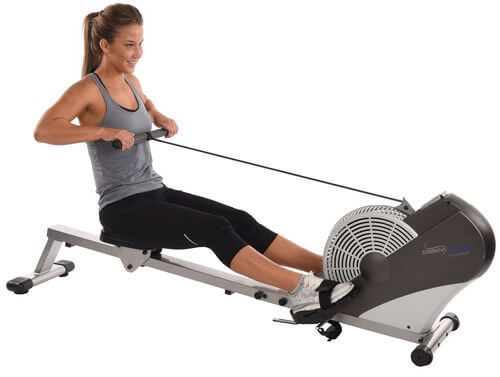 That's really awesome. You can use your legs, you can use your knees, but if you just want the arm workout, you can do it. You can change your grip and workout your biceps as well.
Now you're going to take it to the next step. Now you're going to use your body and your arms. Now you're just going to tilt at your waist and then pull back and now you're really working your core and your arms and your back.
You are going to get cooled down because it's air resistance. This is like a fan coming out of the machine.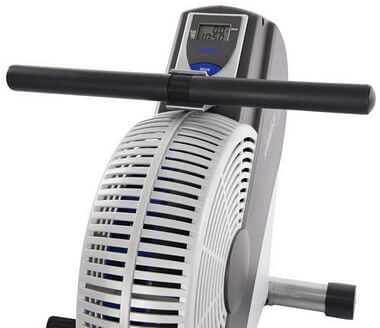 Next, bend your knees so you're going to push off with your feet and pull your arms back. That's all you're gonna do. You're just going to push and then pool. So you are straightening your legs and your arms follow.
While doing this, your quads are engaged, your hamstrings are engaged when you are coming back. You'll feel your legs pulling, your back is engaged, core is engaged throughout the entire motion. Every muscle in your body is used in every row.
That's why you need this. That's why it's a calorie incinerator.
Related: Space Saving Rowing Machine (Easy Storage)
Do you know what this means to you? Shorter workouts! Because you're burning more calories, you're working your entire body, that means you can workout less, that means 10 minutes on this machine is like 20 minutes on a stair machine or 20 or 30 minutes on a bike.
This is working out smarter, not longer and it's for all levels!
We all want to do our cardio because we want to lean down. You usually have to choose 'am I going to go for a run, am I going to do the stair machine, am I going to do a bike', which is really all just cardio. Maybe a little leg work.
This rowing machine works your entire body, strength training + cardio. You can also use HIIT workout technique.
You are going to have a continually smooth movement, every repetition is going to be the same. If you want to increase the intensity, there's no need to turn a knob, all you have to do is row faster and pull
harder.
Your heart rates are going to go up, you are going to burn those calories. Like I said, shorter amount of time, quicker results.
You get onboard electronics so you are going to be able to monitor and track your time, your distance, your speed and calories burned.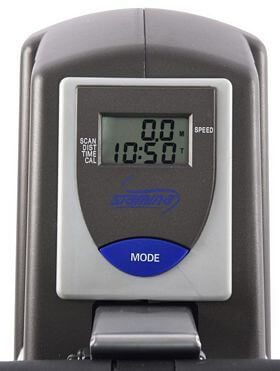 Your body intuitively knows what to do. If you think it's too hard, I can't figure it out, your body just knows what to do and your body learns just like when you were a kid. Don't feel that you can't learn this. Your body will remember.
If you just want to do the upper body, you can just do the upper body and your intensity level depends on how much you want out of it. There are no dials to turn, you get that continual smooth resistance based on how fast and hard you pull.
I like the sound, there's a sound, you can hear the air motion. An air resistant rower mimics rowing on water better than any other type of rowing machine out there.
There are different rowers that have pistons, you got to worry about the pistons getting hot, you have water filled ones that are a lot bigger, a lot more expensive than this and you also have magnetic ones, which over time will lose their grip, so to speak, and then you won't get that consistent, efficient rowing.
Using this rower is relaxing, you put on headphones, and you feel like you're on the ocean.
If you have a choice between riding a bike, between going for a run or jumping on this, which is going to give you strength training and cardio and do it in a quicker amount of time, wouldn't you try it?
And you get it under $300. At the time of writing this review, it costs just $299. Click here to check the latest price.
I love it that it has a small footprint. This folds up and goes in the corner easily.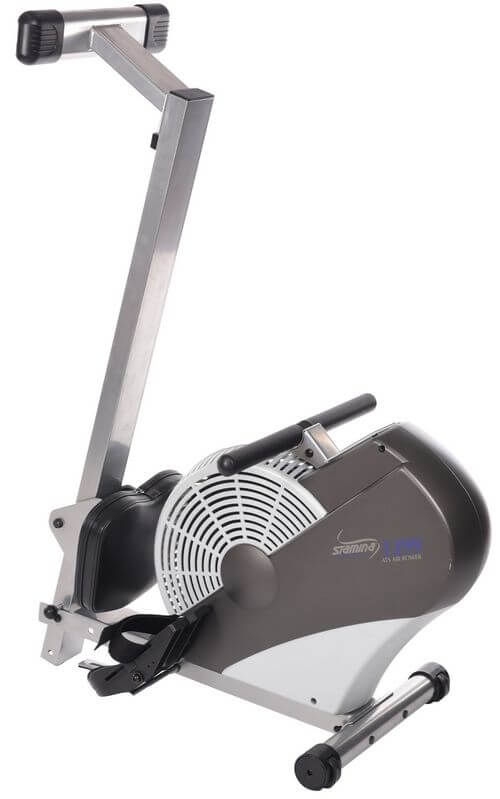 It's going to be durable because you don't have pistons, you don't have things that have to be changed over time.
If you're new to this, count your reps. I like to count when I work out. Do 20 reps. The next time you do it, make five of those reps more intense and then add on to it. You start reaching your goals, you're going to see your body transform. You're going to see it!
This can change your life. This can give you the body you want. This can give you more energy and allow you to have that longevity.
Click here to buy with free shipping!
Main features:
Smooth rowing stroke due to efficient air resistance
Multi-function electronic monitor displays distance, time, calories burned and speed
Padded, upholstered seat is very comfortable and slides effortlessly
Oversize seat rail for smooth sliding seat
Large foot plates for users of different sizes
Nylon foot straps can be adjusted and they hold feet securely in place
Textured grips keep hands stable and comfortable
Tough, nylon rowing strap
Sturdy steel construction
Wheels for easy moving
Floor protectors to protect floor and prevent skidding
Folds for storage
Assembled dimensions: 22 inches high x 18 inches wide x 77 inches long
Folded dimensions: 48 inches long x 18 inches wide x 28 inches high
Maximum user weight 250 lbs.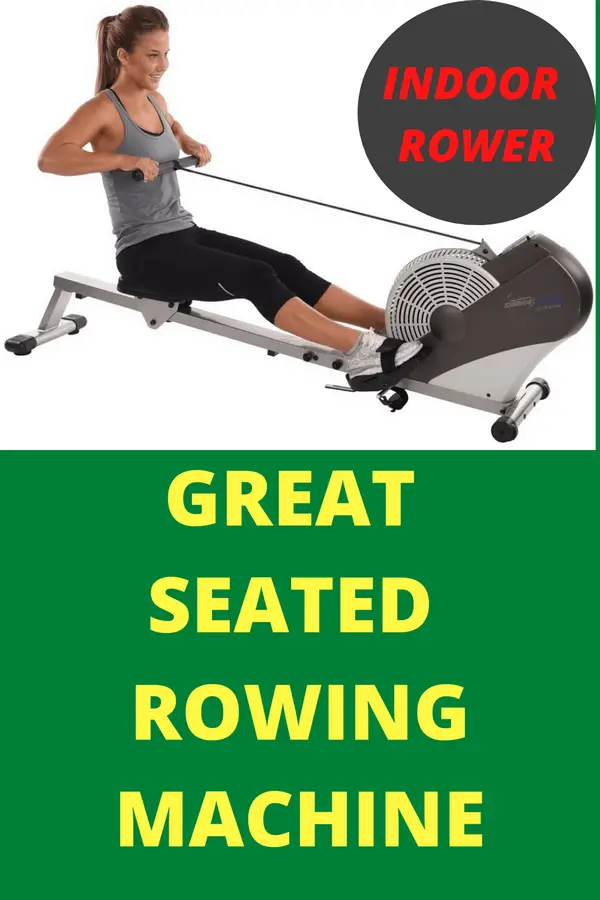 Best Rowing Machine Under $300 (Air Resistance)