This review is about the best beard care kit. It's the Black Box Grooming Kit by Babel Alchemy.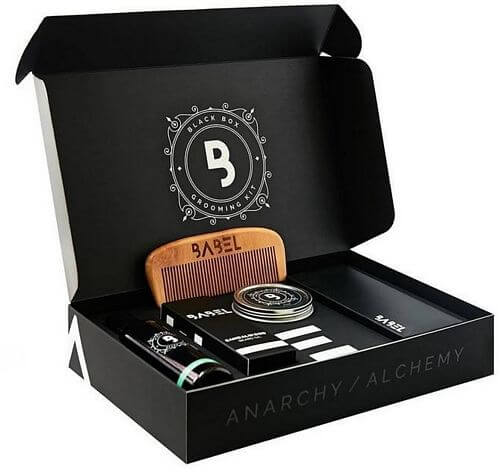 Men really like the products in this amazing beard maintenance set.
See also: Best Heated Beard Straightening Brush
This is some really nice stuff. What man (with beard of course) would not love this as a gift?
Inside the box there are four products to take care of the hairs on your face:
Beard Oil
Sweet Tea Tree Beard Balm
Mint Pistol Beard Wash
Pear-Wood Beard Comb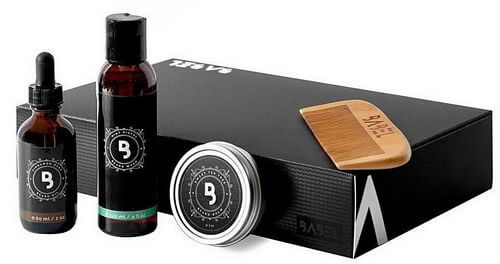 Let's talk about each of these products so you know what you can get from them. Keep in mind that they only use organic ingredients. You can buy them here with free shipping.
Best Beard Care Kit Products
Oil
When buying this grooming kit, you can choose between four oils:
Cinnamon Bark
Cool Mint
Sandalwood
Unscented
Every oil comes in a 2 ounce bottle (60ml – almost double what you get from others for the same price) packaged in a nice little box. They last up to 6 months. There are no chemicals, preservatives, fragrances or colorants.
Cinnamon bark oil is mixed with sweet almond oil, avocado oil, apricot kernal oil, argan oil, vitamin E oil, clear jojoba oil, pumpkin seed oil, hemp seed oil, grape seed oil and scented with premium grade essential oils.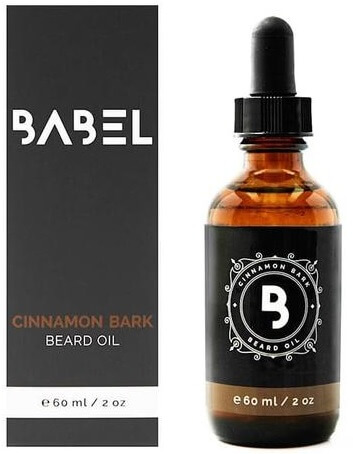 This is really good oil. It absorbs in very nice and quickly. The smell is great and lasts all day but it is not over powering at all.
No more dryness or itching, it keeps beard looking straight, sleek and less bushy.
Cool Mint oil also has the same ingredients as Cinnamon oil. It absorbs well and it's not greasy at all. It's not strong, it's not subtle, and when you put it on, you could smell it throughout the day. It gives you that feeling of freshness a long time, which is fantastic.
This oil sells individually for $20 for two ounces, which is awesome. Most of the time you're gonna get one ounce for $15. So two ounces for $20 is a steal.
Sandalwood oil absorbs quickly, conditions the beard, leaves no greasy residue and the scent is extraordinary (woodsy and masculine ) and lasts all day. It severely decreases the itchiness and eliminates dry skin.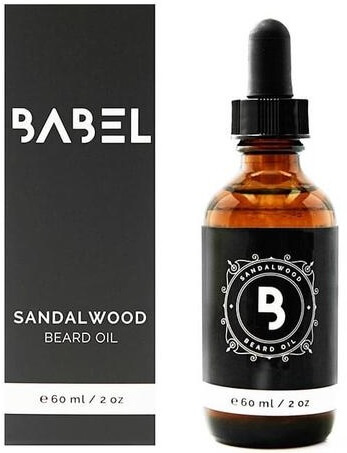 It can help with uneven facial hair growth. Some men reported that after they started using Sandalwood oil, it gave shape to their beard.
Other men have also seen positive results. Some men had beard that was weak, falling and with knots and after using this Sandalwood oil, their beard is now in very good shape, with no knots or hair loss. It is also good at eliminating dandruff.
Unscented oil is fragrance free. You can smell the Jojoba Oil but it goes after a minute or two. It really softens up the beard and it doesn't itch on the neck. It sinks into facial hair quickly, making your beard easier to style.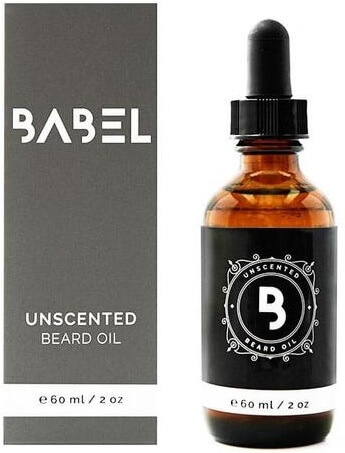 You must use it for several days in a row to notice a real difference. Your beard will get softer and tamer over time. However, you can instantly feel the difference in texture when you apply it.
Balm
Next product you get in the grooming kit is Sweet Tea Tree Beard Balm. It's a 2 ounce container. This is a sweet tea tree. The main ingredients are: pure beeswax, Shea butter and sweet almond oil and scented with pure tea tree essential oils.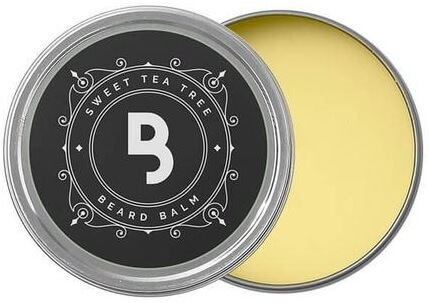 It smells sweet and has a thin consistency. It breaks down quickly and easily. This balm has a light to medium hold, not a strong hold at all. It's a very conditioning balm because that's what beard balms do – they condition your hair and your skin. And that's exactly what this balm does.
It gives the beard the healthy shine and the nicest thing about it is that it smells absolutely fantastic.
If you're using a very strong scented beard oil, whatever it may be, and you put this balm in it, this will definitely soften it up and make it more subtle.
The quantity you get is unbelievable for the price!
Wash
Mint Pistol Beard Wash is shampoo that thoroughly cleanses both hair and skin. It lathers up nicely. This hydrating formula relieves dryness and regulates natural oil production. It not only produces the deep-cleaning effect, it is also very refreshing thanks to peppermint and tea tree essential oils.

This is a four ounce container (120ml). It has strong peppermint scent but it's not overpowering. When you clean your beard with this wash, it tingles. The tea tree is tingling so that tells you that it's cleaning and it's getting into the skin, which is exactly what tea tree is supposed to do. The peppermint also gives you that fresh tingly feeling as well.
Comb
Pear Wood Beard Comb is excellent for grooming coarse beard hair. It helps evenly distribute natural oils throughout hair strands, making your beard softer and fuller. The comb doesn't tangle and it doesn't cause static which causes your beard to be frizzy.

It's in between a fine toothed and a wide toothed. I say it's a mid-grade. It's durable and big, about the size of my hand.
It does not sell individually. It's included in the beard care kit.
Conclusion
This whole grooming kit is very nice, with high quality products and you pretty much get everything you need. It has the most fancy, very classy packaging with amazing presentation.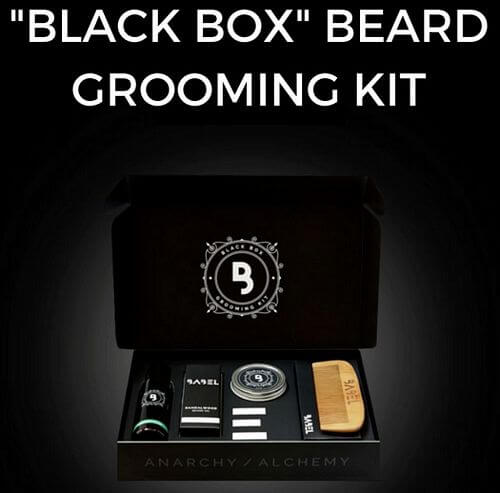 One of the biggest pros is that it's really affordable, considering how much of each product you get.
I honestly recommend you try them.
The final rating for the Babel Alchemy's kit is two thumbs up and five-star rating.
It's like a beardsman's dream!
Grooming Tips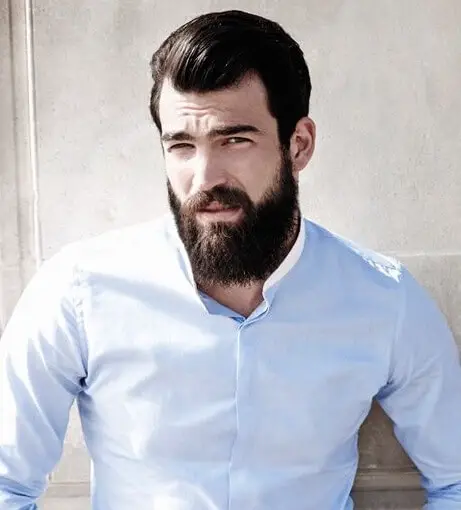 Here is how to get you the best beard that you can.
1. Grooming
The first thing I want to talk about is growing your beard. If you want to get a really long beard, the first thing to keep in mind is stop trimming it. I hear about it all the time. People are like "I keep trimming my beard, but I want to go long, but I don't like how it looks in the middle."
Unfortunately that's just kind of how it works. It's like when you grow long hair. There's awkward in-between phases and if you're trimming it, you're never gonna get there. You just have to deal with these bad phases. It just doesn't work the way you want it to.
You can trim every 2 or 3 months and just do a clean up but not like a trim and reshape. To get a beard that you really are happy with from scratch, generally speaking, I'd say six months in needed. You can get your beard looking good in two months, maybe three, but to get what you're looking for, it usually takes about six months. How long does it take to grow a beard?
2. Washing
I highly discourage using any shampoo or conditioner that is made for your head hair and scalp. Your scalp and your face are totally different skin types. You need something a lot more gentle for your face with far less chemicals. I suggest that you use the wash that comes in the Black Box Grooming Kit.
If you don't have access to this or can't afford it, I do recommend a natural soap over any kind of shampoo and wash. It treats the hair and the skin a lot better because it's more gentle.
When you're washing it, also keep in mind you don't have to wash it every single day. That can cause irritation to the skin and hair can dry out. You want to just rinse it on those in-between days. Why not to wash your beard daily.
3. Oils and Treatments
This is one of favorite parts of having a beard. You want to put about a dime-size into your hand, rub it through your hands and spread it out and put it into your beard. You want to aim to get it into your skin, you want to put it through your beard and trying to get to the skin and treat your skin as well as the hair.
Beard oils doesn't necessarily grow your hair faster, they help your hair be healthier. Also, the healthier that you are, your hair is better. If you really want to try to grow your hair faster, you want to be healthier, drink more water, exercise and so on. And use beard oil or balm to really care for it.
4. Styling
A lot of people misunderstand that if they just grow a beard, it's gonna look good or they're gonna look cool or whatever they want to do. That's not always the case. You actually have to style it in a way that works for your face and your proportions. There's a little bit more to it than just having a beard.
You have to brush it or you have to comb it. Some people like brushes, others like combs but you have to take care of it. Brush it or comb it. Use a hairdryer, it is one of the best things to shape it. Once you learn how to use hairdryer and fix the problem areas with it, you are gonna step up your game so much.
5. Protection
A lot of people pull their beard, stroke it, touch it and lean on it and they just do these things to it that are just really damaging in the long run. It can break hairs, it can make them fall out. You really want to be careful, you need to treat it like it's made of a precious stone.
I don't know why people touch it. Just leave it alone, that's the best way to treat it. Also stop putting chemicals in it. I hear people putting Cologne in their beard and that is so bad. It's like putting alcohol on hairs, it just doesn't make any sense. Use a beard oil that smells much better than alcohol and it takes care of it.
6. Don't Compare
Don't compare your beard to others. That's a big discouraging aspect a lot of people do. People are noticing a great beard on somebody and are thinking that's how it should be. That's not always the case. You have your own beard and it is sometimes good and sometimes it's bad. It is your hair, it is different, your face is different, everything is different from this other person.
You really want to focus on your own growth and make your own beard the best, instead of trying to imitate somebody else's. Try to be at your top game because even if you have a good beard day, it's not gonna look like that every day, but you might learn something from that and step it up again and you just keep leveling it up.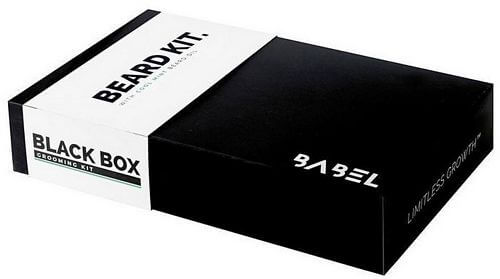 Remember, your beard will look like crap unless you take care of it! That's why I recommend buying the above best beard care kit.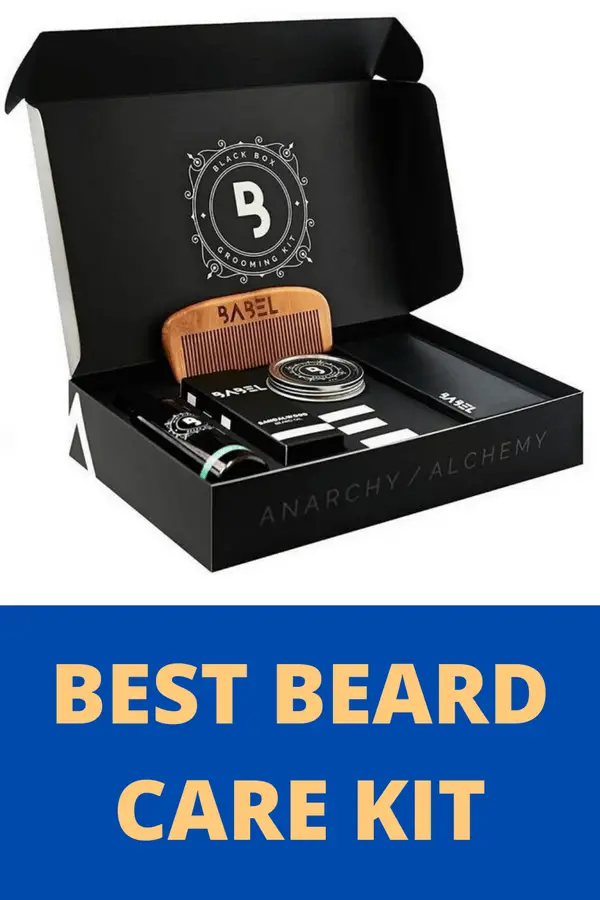 Best Beard Care Kit (Everything You Need)