This extra wide padded stadium seat for bleachers is a portable recreational chair that has lightweight steel frame, adjustable arm rests and backpack straps for optimum portability.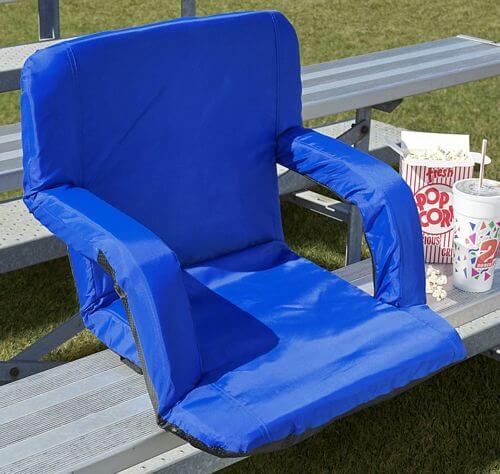 The seat is filled with high-density foam. Its back rest with six positions provides the firmness and support that you need so you can feel comfortable at your stadium event.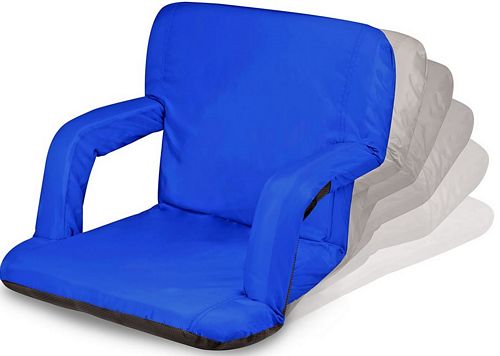 It's good to know that you will able to find the perfect groove for your aching back. These seats have substantial padding in every area that counts.
If you need a wider seat and do not need arm rests, you can simply invert the armrests to increase the width of the padded stadium seat to 20 inches.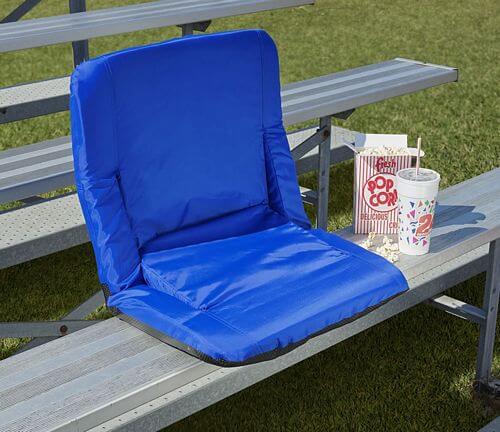 The seat folds flat for easy storage or transportation, while adjustable backpack shoulder straps make carrying super easy. Take it with you anytime, anywhere.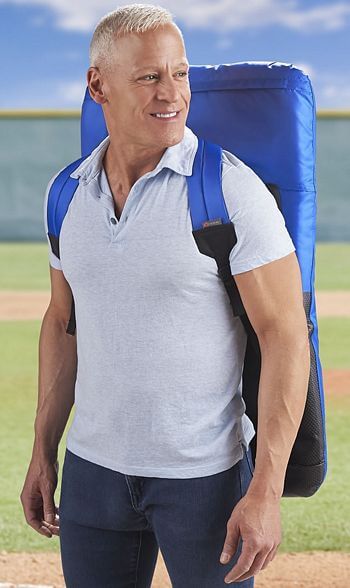 The chair is covered in durable, wipe-clean 300 denier polyester, while the bottom is reinforced with water resistant material.
The fabric is very easy to clean. If you spill a beverage, it wipes dry and clean with a paper towel.
There are no clamps underneath the chair to attach it to the bleachers. But you do not need them because the chair is really stable. There is a non-skid coating on the underneath side to help keep it from slipping around.
It also has a full-length zippered pocket on the back where you can keep your keys, wallet and cell phone.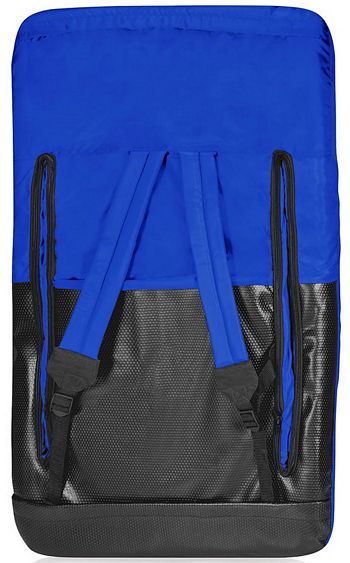 You can use it as a stadium chair, beach chair, game chair, or straight-up recliner!
Even though it's very sturdy, it is not heavy at all. Maybe 3 or 4 pounds.
You can use it on a folding chair to provide extra cushion or back support. The possibilities are as much as you can imagine.
This seat has a very good back support. Even people with a lot of back pain, arthritis or bulging discs can now make it through a game without hurting from sitting on the bleachers.
You can really lean back into the backrest with no notion that you would tip backwards. Because it reclines to your choice of position, it helps avoid the stiff back syndrome that is caused by sitting straight upright in bleacher seats.
Click Here to Buy With Lifetime Guarantee!
The first time I got this seat, I sat in it for about 3 hours straight in a high school gymnasium, and I can tell you it's the best money I've ever spent. People kept asking me where I bought it. Now countless other parents admire them.
The one thing that usually goes along with the padding is that it can get hot. If it is hot outdoor or indoor, you can start sweating quite a bit in the chair. But not sitting on the bleachers far outweighs getting sweaty.
It is a little bit big and a little clumsy to carry, but worth the minor imposition because it's so comfortable!
The seat is easy to pack in the car because it's pretty slim when laid flat.
They are holding up really well after over 12 months of continuous use both indoors and outdoors.
Whether you're watching your kid's soccer game or the pros, your buns and back will thank you for using this magnificent padded stadium seat. If your child does indoor/outdoor sports, this seat is an amazing investment!
The cost is a bit more than other stadium chairs on the market but worth every single penny.
This is the most comfortable padded stadium seat I have ever used. I will never buy another one other than this chair.
If you are going to spend anytime at all on bleachers, you will want one of these padded seats with backs.
Click Here to Buy With Lifetime Guarantee!
Extra Wide Padded Stadium Seats With Backs (For Bleachers)