No more excuses to buy and use a home exercise bike! Storage problem is solved!
This collapsible, space saving exercise bike is the most compact stationary bicycle on the market.
Model 1
Tecnovita By BH YF100 Exercise Bike (Kube Bike)
The portable bike is just 4 inches wide!
You can store it absolutely anywhere in your home.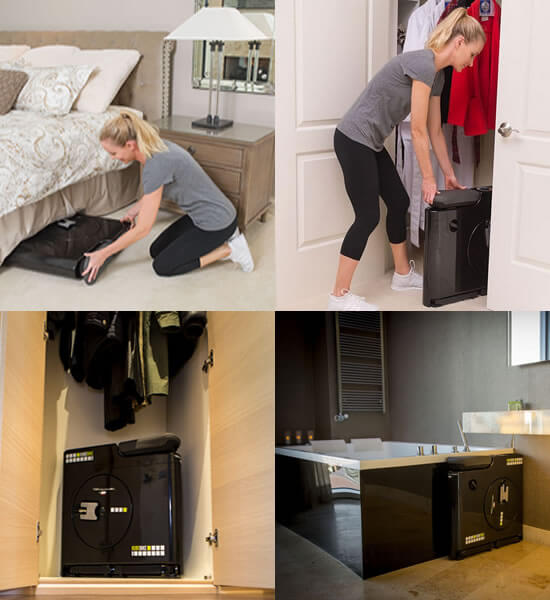 You can folded it and unfolded it in less than 60 seconds, in three simple steps!
It has everything that you expect from a full-sized home bike:
eight intensity levels
adjustable seat with eight height levels
ergonomic seat for correct posture
extensible footrests for stability
The magnetic resistance adjusts with a turn of a dial to one of 8 levels of tension.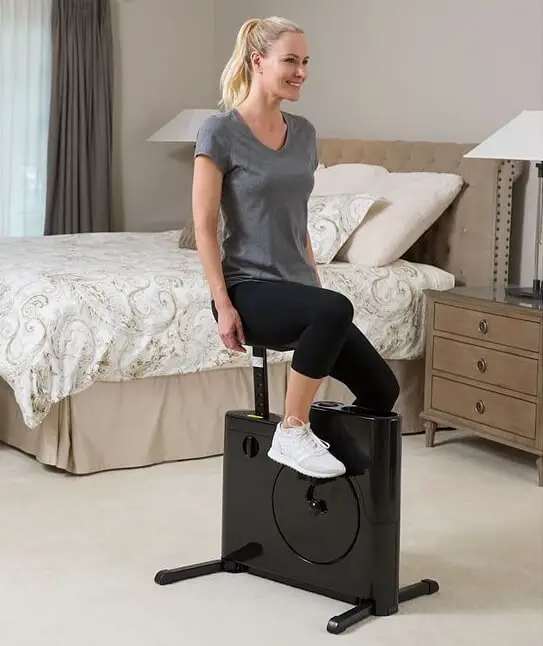 This folding bike does not come with a handlebar. This provides two great benefits:
you improve your body alignment because there is no bending the back
freedom to do other things such as reading, using your tablet or phone or working out your arms with barbells
This collapsible bike enables an absolutely secure training with its own structure and extensible footrest.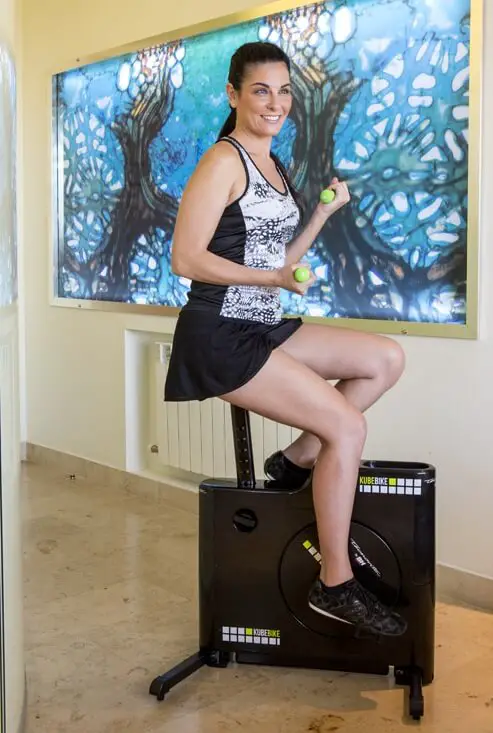 Because it has adjustable seat and low height, it's easily accessible, making it perfect option for users with little experience.
Unlike standard models that require permanent floor space, this space saving bicycle occupies as little space as piece of luggage!
This means you can store it in a closet, under the bed or desk, behind the curtains, next to the couch or bath tub.
Supports up to 264 lbs. Folded 25″ L x 23″ W x 6″ D, unfolded 27″ L x 23″ W x 34″ D.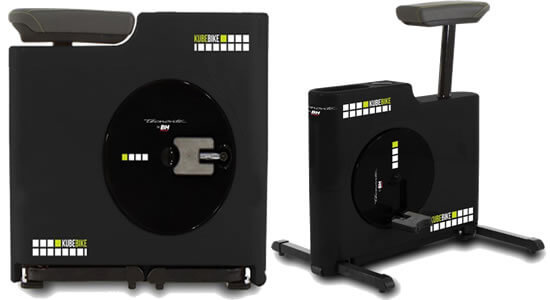 Click the button below to buy the best collapsible, space saving exercise bike with lifetime guarantee:

Model 2
Here is another great folding exercise bike to consider.
It is the recumbent exercise bicycle that also folds in seconds to half its set-up size.
Unlike most other stationary models that force you to pedal while hunched over (causing back pain), this recumbent model allows you to sit upright and have correct spinal posture.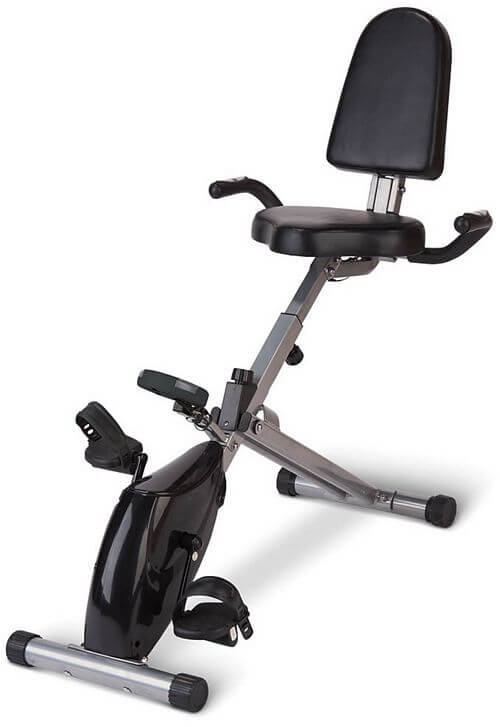 An LCD displays your:
heart rate (when gripping the sensors built into the handlebars)
exercise time
speed
calories burned
distance traveled
You can adjust the resistance at the turn of a knob.
The frame is made of sturdy steel ensuring years of use.
The foam-padded handgrips and seat provide optimal comfort.
You can adjust seat to different levels.
Pedal straps keep your feet secured and integrated wheels ensure ease of portability.
Supports up to 250 lbs.
Click here to buy with lifetime guarantee!

Tips For Using Collapsible, Space Saving Exercise Bike
The first step in bike setup is to adjust the seat height.
As a rough guideline, the top of the saddle should be level with the top of your thigh when you're standing alongside the bike with your leg lifted to a 90 degree angle.
Now, you need to get on the bike for further adjustments.
See Best Home Exercise Equipment For Beginners & Weight Loss
Mount the bike and sit on the widest part of the saddle. Perform a heel check by placing the heel of one foot on the center of the pedal and lower that pedal to the bottom position.
Check to see if the heel reaches to the pedal with an extended leg and hips level in the saddle.
If the heel does not reach the pedal, the seat is too high. You need to lower the seat a bit and retry the heel check again.
In addition to the heel check, you want to check the degree of knee flexion when your foot is positioned on the pedal for riding.
Place the ball of your foot over the center of the pedal. The ball of your foot is also the widest part of your shoe. With the pedal at the lowest position, your knees should be flexed 25 to 35 degrees. This works the same way whether or not you are wearing cycling shoes.
Keep an eye on the alignment of your knees while cycling.
You want your kneecap to go straight forward in front of you. Some people, as they get tired, turn their knees out and this can actually put quite a bit of work on the knee, so you can end up with cranky knees after training.
So if you feel like you're a little bit off, look down, check your knees, make sure those knees are going straight forward at all times.
Another thing is pointing your toes. People will start to go faster and faster and they'll point their toes to the floor. That can actually stress out the top of your ankle and you can end up with some ligament damage.
So do not do that. You want the foot to be flat to the floor at all times.
Also if the foot is flat to the floor that means you're probably using your hamstrings and gluts more and you are evening out the work between your quads and your hamstrings and gluts.
So the top of the leg and the bottom of the leg. You don't want to have huge quads and no hamstrings. You want a nice balanced look when you're working out.
See: Motorized Leg Exerciser For Seniors
Which Type of Exercise Bike is Best For You?
With so much choice in fitness equipment, it's hard to know what's right for you. Even within a category such as exercise bikes, there's still huge amount of choice.
Here is the difference between the main types of exercise bikes: spin, recumbent and upright.
The spin bikes, often seen in the gym, are the most authentic replica for a road bike. How they work is there's a large spinning disc at the front and your job is to keep it moving at all costs. Even after you finish pedaling, the momentum of the flywheel keeps it going.
There are no programs to spin bikes and generally no consoles. The seats are the most like authentic bike seats and do tend to lean forward like you do when you're on the road.
Recumbent bikes involves sitting down and leaning back on a traditional back support. They use different muscles. The more leg based and less buttock and back based. They're easier on the joints and they tend to be comfortable if you just want to sit and read a book or watch TV.
One small thing about recumbent bikes is their a slightly unusual feel. Those of us who've grown up riding a bike just find them a bit unusual.
The third category is called upright bikes. These are by far the most popular category. Riders tend to sit upright or occasionally forward but as a result they're much larger, more comfortable, soft padded seats.
There's a huge range of upright bikes. They tend to be broken into manual versus computer-controlled and they have huge variances in size and strength and computer features. That tends to be the difference between relatively cheap and very expensive models.
For most customers I recommend an upright bike. See above collapsible, space saving exercise bike.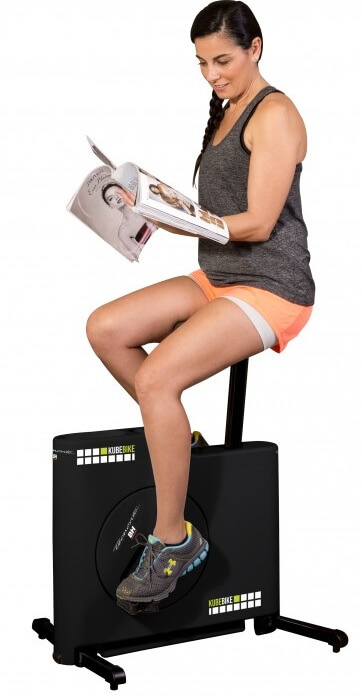 A spin bike really is bought by people either after a spin class experience from the gym or after really feeling like they're on a road bike and they actually ride bikes other parts of the day.
People with recumbent tend to get referred for a recumbent bike from the physio or doctor. Much easier on the joints and a much more relaxed feel leaning back on the seat.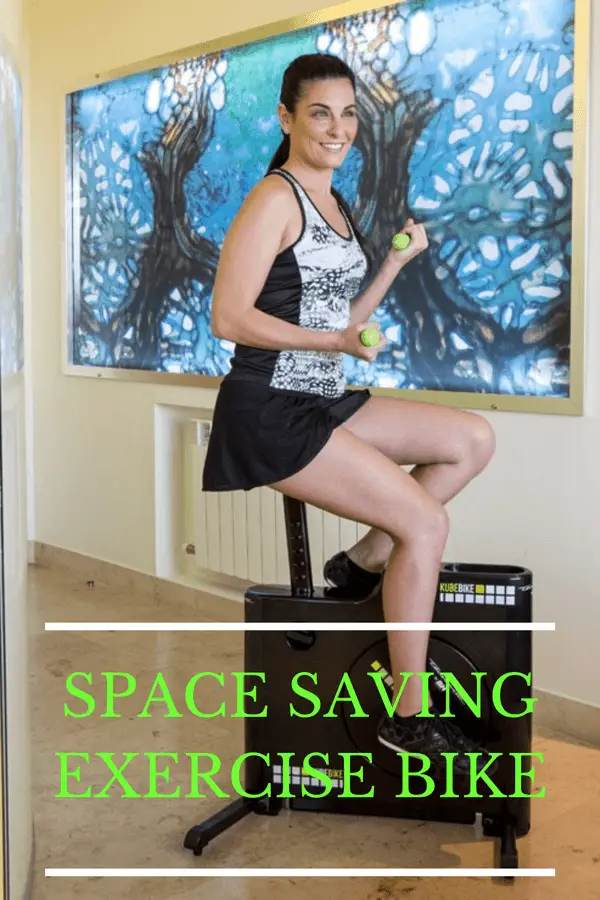 See other health products:
Collapsible, Space Saving Exercise Bike (Just 4 Inches Wide)