This is the Cubii Junior seated compact under desk elliptical trainer and it is very different from any other sort of indoor exercise bike.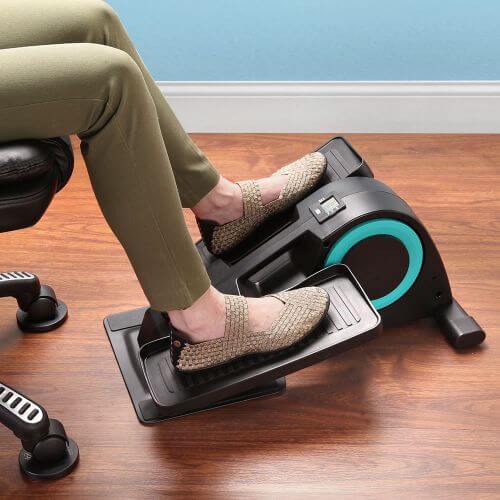 Unlike a traditional indoor exercise bike, the Cubii Junior is actually relatively light and small. In fact it only weighs 27 pounds, but more importantly it's designed to get fit while you sit.
It is designed for all ages, abilities and lifestyles, so it seems like the entire point of the Cubii is to make wellness approachable to all.
Are you gonna get on the Cubii Junior and get a crazy workout? Probably not. but that's not the point of this machine.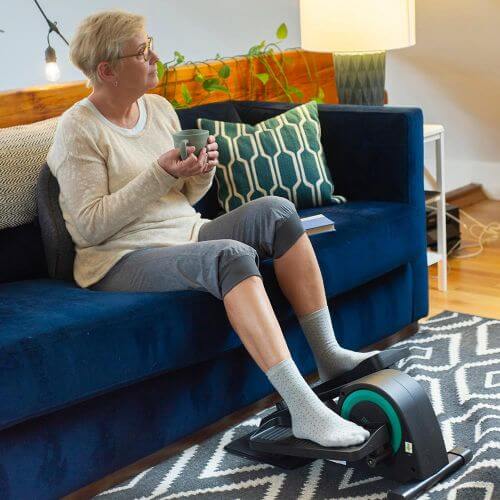 So let me tell you more about Cubii seated compact under desk elliptical trainer.
First of all, it is in the aqua color, although this one does come in purple and other models do have different colors.
There are eight levels of resistance and you simply use a knob to adjust what resistance you want.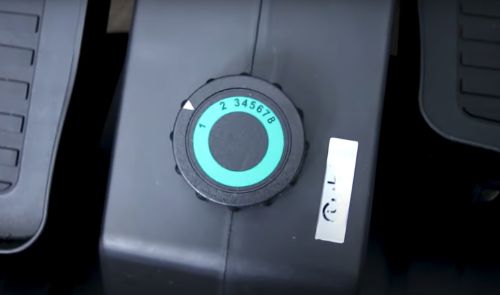 The Cubii Junior has a little LCD display on the top that shows you metrics such as distance, RPM or cadence and also your time and calories burned.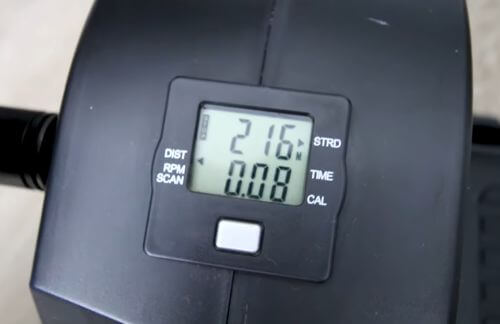 You can use a little button right there to tab between the different displays. and also there is a scan mode.
On the bottom there are these little wheels and they actually do seem to be pretty quality wheels. They are of like a rollerblade quality material.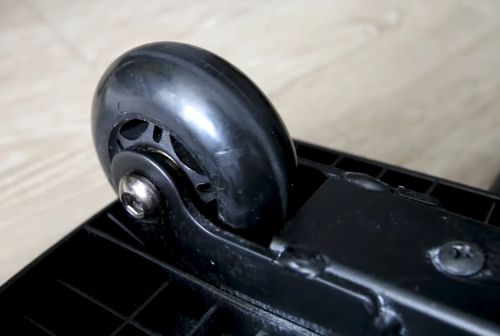 According to the Cubii literature, this is a whisper quiet machine. However mine does make a little bit of noise, but I did buy it used. It seems like the wheels down there make a little bit of a squeaky noise. I don't know if that is something that's a common thing or maybe just this particular one I have is making that noise. It seems to me that the rubber wheels are rubbing and making that rubbing squeaking noise.
When you look at this mini elliptical thing you think it's really light and it actually is pretty light. When I first picked it up, I was actually pretty surprised – it weighs 27 pounds, which isn't a lot.
But it does have a little bit of mass to it. Fortunately it does have a little handle in the center, which makes it much easier to pick up and maneuver around.
When I flipped the entire thing over, it does have these rubber feet on the bottom, so it will protect your hard surface floors and also the rubber feet make it stick to the ground better, so it'll make it less likely to slide around on you.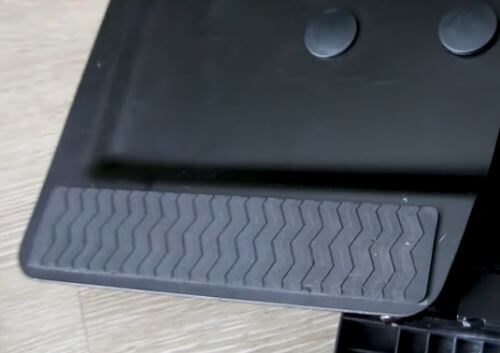 Also on the front corners of the Cubii there are little rubber protective feet to protect your floors and help it stick to the ground better.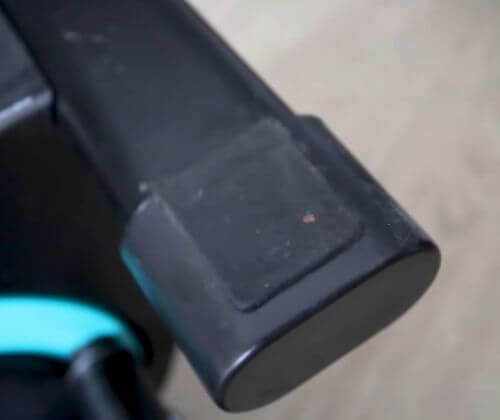 Taking a look at the actual surface area and size of the elliptical foot pad, it is actually relatively large. I wear a size 14 shoe and my foot can easily fit on.
There are also these little rubber grips that make your feet stick pretty well. When I take my shoes off, I have to say I actually do like the way it feels under my feet. It feels nice.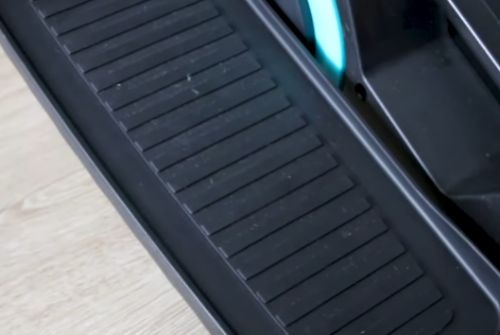 Obviously this machine is designed to be used with or without shoes and this little rubber pad actually does make it a little bit nicer than if it was just plastic or something. Not only does it grip better, but it makes it more comfortable when you are using this compact elliptical trainer when sitting on the couch or if you're working on your laptop and you just have this under a computer desk.
You can pedal going forward or you could reverse and go backwards.
Let's talk about the resistance ranges.
When I have it on one, honestly that feels fine. The whole point of this machine is to get moving a little bit rather than just sitting completely stationary when you're working on your computer or watching TV. Just to get a little bit of movement. You are not trying to max out the resistance.
When I have it on maximum resistance, honestly it changes the resistance, but not very much. Like I was saying, that's not the point of this machine.
When I put it on a medium resistance, four is also fine.
I want to comment on the motion of this eliptical trainer. It feels like an oval shape as it's going around, so your knees don't come up and down too much to hit the table. They go forwards and backwards. It seems it would be fine for having under a desk.
Also I noticed when I took my shoes off, it gave me a little more clearance, so my knees won't hit the table. I'm really tall, so most people probably aren't going to have table clearance issues.

What this seated compact desk elliptical trainer targets: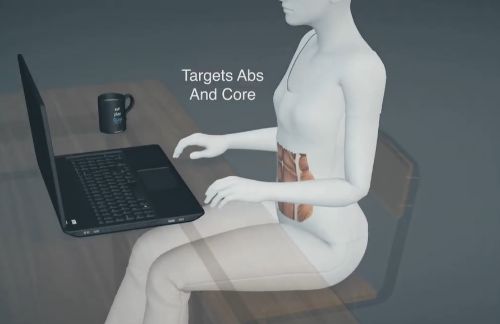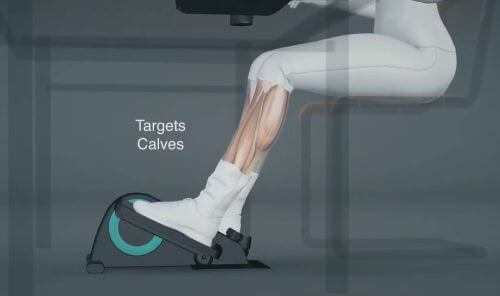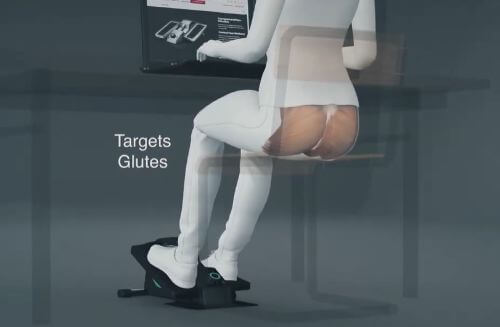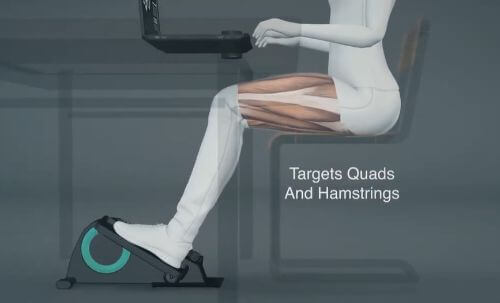 So what are my thoughts on the Cubii Junior?
Well I'm using it right now as I'm writing this. I just bought this thing to check it out, see what it's like. It's obviously not going to get you a crazy good workout like a normal indoor cycling bike where you're putting down big power through your legs.
But in terms of something to use while you're sitting around the house, say you work from home a lot, you're on your laptop and you just don't want to sit completely still all the time, this is the perfect machine. I can see the benefits of having something to get your body rocking and moving.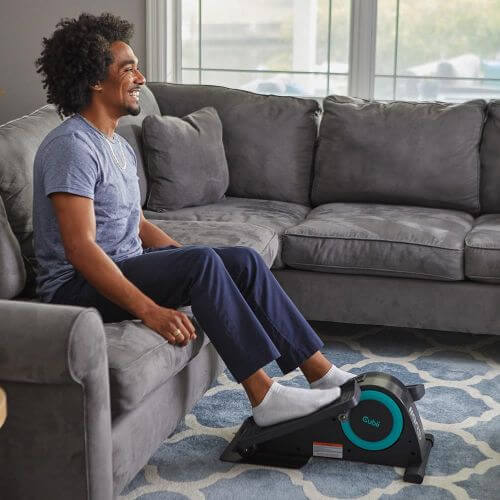 My legs are moving, but it's also causing my core area to move and work a little bit.
There is a calorie tracker and RPM, but honestly I don't think it matters. I don't think what resistance you're on matters, I don't think that the calories matter, I don't think the RPM matters. The point of this is just to get you moving.
I think that the Cubii Junior does a really good job at doing that, rather than just sitting completely still, this thing gets your body moving and working a little bit.
Conclusion on the Cubii Junior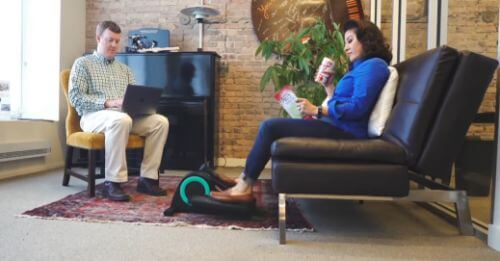 Obviously this thing is not a real indoor cycling bike that you're going to get on there and put down massive power through your legs and get a killer workout.
This is more targeted and more tailored to get your body moving and doing something rather than nothing. It's a non-intimidating approach to just doing some sort of physical activity.
Basically anybody of any age can really use this thing, any sort of exercise abilities. I could see the Cubii Junior being beneficial to the elderly or somebody recovering from an injury or somebody who just doesn't have the ability to get on a full-size exercise bike.
Also I can see this being really beneficial to people who work from home or you spend a lot of time on your computer, just to get your body moving so you don't sit completely still all the time. I know I'm guilty of this all the time.
Cubii has really changed my life in terms of staying mobile and being in constant motion, which is something that I've really missed in the past years.
Related: Ultra Slim Folding Treadmill (Under Bed)
What I do is I get on my elliptical every night. It's easy on my knees and I don't have low back problems when I use my elliptical like I do with the treadmill.
I have really seen benefits. I do not think of it as a replacement for my exercise and my workout. That's not what I considered. I think of this as a supplement to it. It gives me that feeling of constantly being in motion instead of locked at my desk. So it's been phenomenal.
It kind of cuts down my guilt factor of sitting in front of the TV for an hour. I'm actually doing something while I'm watching TV.
The Cubii redefines the state-of-the-art and under desk ellipticals.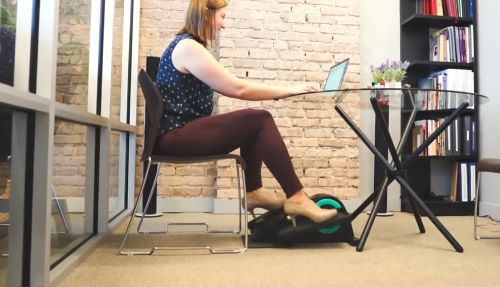 In the realm of under desk cycles, there are units that have either a circular pedaling motion, which is not recommend, or an elliptical motion, which is generally easier on your knees and does somewhat reduce the odds of you kneecaps banging into the bottom of your desk.
With its solid design and high-quality components, the Cubii is nice and quiet while in motion. It weighs just under 28 pounds and the weight feels evenly distributed throughout the frame so it's stable and carried with a convenient built-in handle.
It is sleek and professional with a lower profile than other under death cycle products.
After reviewing many under desk cycles on the market, I can say without reservation that the Cubii clearly offers the greatest value for the dollar.
The Cubii's elliptical motion is more ergonomically sound, it fits better under the desk and it's smart features and clean industrial design has a real value.
The Cubii will help you meet your health goals!

See Best Home Exercise Equipment
Seated Compact Under Desk Elliptical Trainer