So many people agree that this is the best one person inflatable kayak!
393rl inflatable kayak by Sea Eagle, is extremely well-built and tracks and maneuvers amazingly well!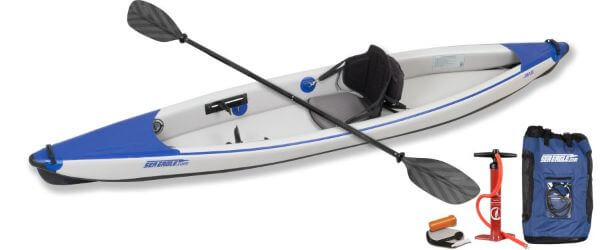 It's pretty fast and stable and inflates really quickly.
The entire structure of the kayak, including the floor, is rigid. The workmanship is of highest quality. The stitching is high quality as well. The paddle that it comes with is all well built and functional.
This product is built to last. I'm sure it will last me for the next 50 years, making it worth every penny!
One thing I'm sure about this single kayak is that tracking is outstanding, with almost no yaw.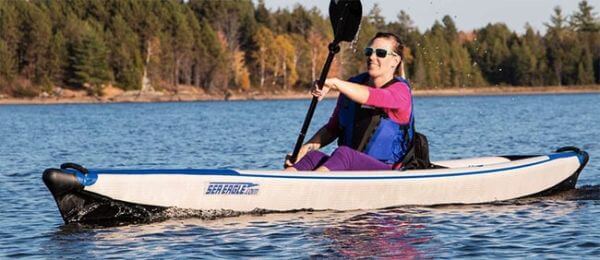 The sharp bow and stern in combination with the rear skeg keep the kayak gliding straight. It tracks much better than many other inflatables as well as hard shell boats.
The stern and bow are so rigid that the kayak can track just fine without the skeg.
Its maneuverability is impressive. It turns super easily with paddle strokes.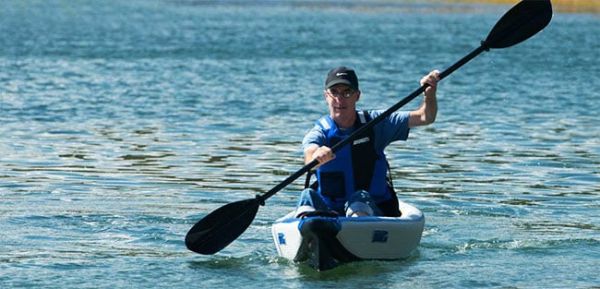 It has the double concave design at bow. Because of this design feature, pockets of air can enter in between the hull and the water. This creates lift while reducing friction and drag, so it glides quickly and effortlessly through the water!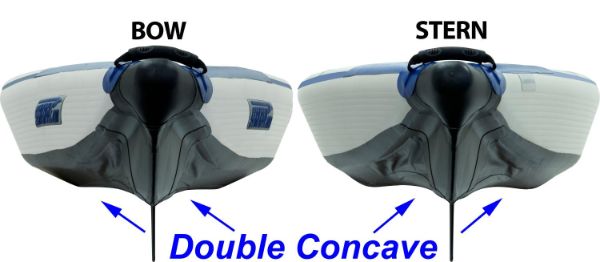 393rl one person inflatable kayak has the performance of a rigid kayak, but with one big difference – you can put this one in your car trunk.
The manual pump is great. You can inflate all three chambers to 10 psi in just 5 ro7 minutes. At 35 lbs., it is easy to carry. At 10 psi, kayak is stiff as a board but lightweight.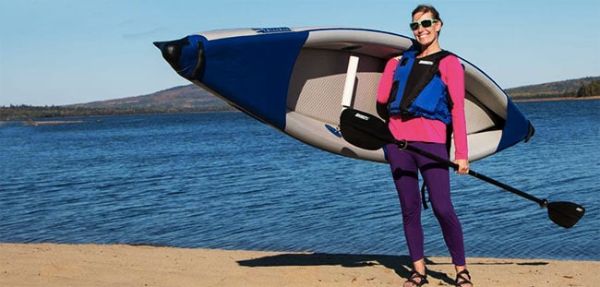 It's incredible that it can be inflated to 10 psi, which is much higher than other inflatable kayaks that can only be inflated to 3 to 4 psi.
This is possible because 393 RazorLite kayak is the only inflatable kayak made entirely with Drop Stitch Technology.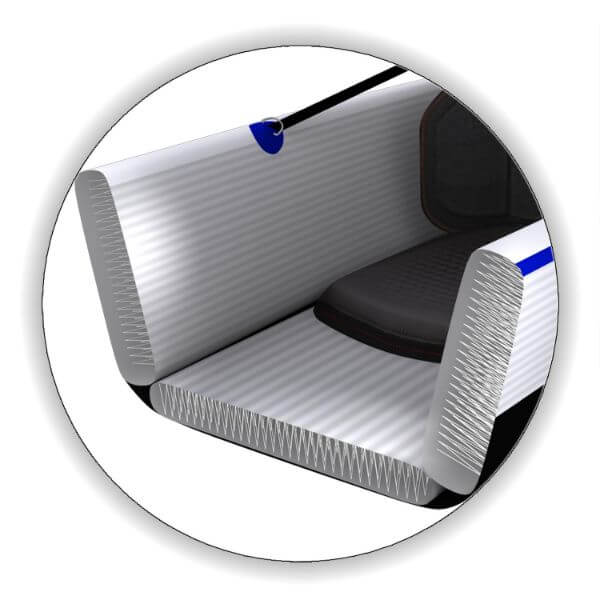 3″ drop stitch material is used for the floor and 4″ drop stitch material is used for the side walls. There are thousands of high tensile strength threads that connect the top and bottom fabric layers, creating numerous I-beam supports.
That's why it is as tough as nails and incredibly rigid!
393rl single kayak cuts right through the wind and waves. Even in very high winds, it's quite impressive how well it moves.
The paddle has asymmetrical spoon blade design that allows for smooth entries and an even pull. This maximizes the power from your every stroke. It requires less gripping force and less effort per stroke.
Made of thermal molded foam, the folding seat is comfortable and has good adjustment points. It provides great back support with an 19″ high backrest. The seat has removable zippered rear pouch for storage.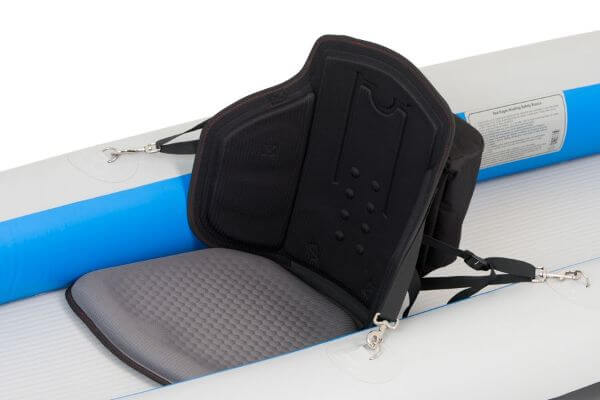 The molded foam construction gives you a low sitting position to for maximum stability in rough whitewater and excellent back support.
There is enough leg room inside of the kayak. You can even lie down flat if you want.
The adjustable ergonomic foot rests are outstanding. You easily adjust to 20 different positions for any size paddler.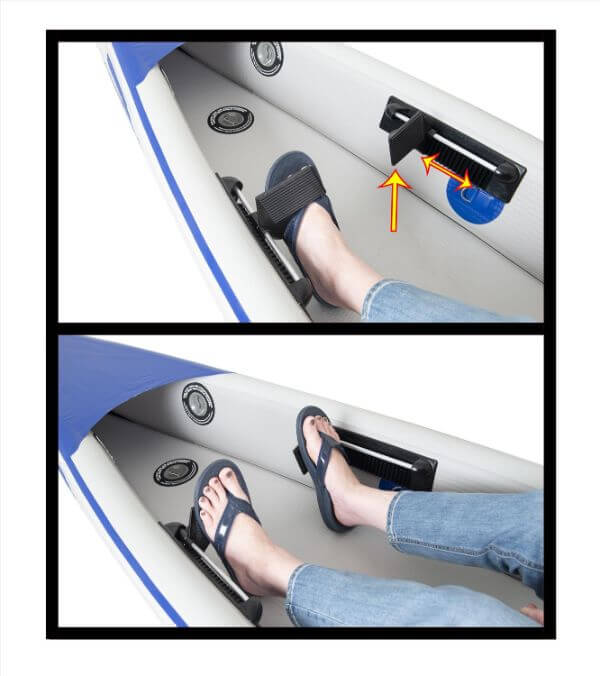 It has more than a decent speed for an inflatable kayak – about 5 mph when paddling fairly hard. I was able to keep up with people in rigid touring kayaks with ease.
My only complaint is that getting the boat back in the bag is not that easy. Sometimes, when we are very tired, we avoid repacking and store them folded in our car. But after doing it several times, we learned how to do it quickly and with little effort.
If you are looking for the best one person kayak that does not require roof support, or a truck, this is the boat for you.
Everything is just so nice about it. We like it a little more each time we take it out.
We have two 393rls and we are comfortable taking it downriver on a multi-day camping trips.
Every time we take the kayaks out people are honestly impressed. Many of them can't believe they are inflatables, until they see us put them in the car.
Two models of this 1 person kayak are available:
Pro Solo Package and Pro Carbon Solo Package.

At the time of writing this article, you can save $380! So be sure to click the above link to find out what is the current pricing.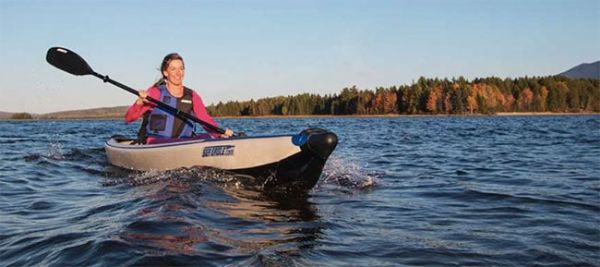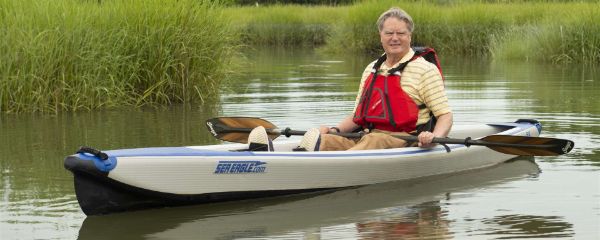 Best Inflatable Kayaks For Sale
How to Paddle One Person Inflatable Kayak
Kayaking is an amazing way to enjoy nature, get some exercise, socialize or get some much needed peace and quiet.
To ensure you get the most joy out of your time on the water, here are some kayaking basics to remember.
The kayak paddle is central for the kayaking. After all you can't paddle without a paddle.
All kayak paddles consist of a blade and a shaft.
Paddling should be relaxing, which starts with your grip.
To find the right hand position, put the center of the shaft on top of your head, your arms should form 90 degree angles at your elbows. That's how far apart your hands should be while paddling.
When gripping the paddle, hold the shaft with thumbs and forefingers, forming rings, like making OK signs. Keep the other fingers loose.
Here are some of the pitfalls of efficiency and some of the common mistakes that are made that lead kayakers to get tired really quickly or working harder than they really have to.
One of the common mistakes I see is that people will be too far leaning back in their boat. A lot of the kayak stroke comes from the torso and the core, so it's hard to really engage the torso from this position.
If you have a backrest, push your lower back up against it and if you don't, then try to get into an active sitting position.
Keep your legs a little bit bent because it will help you to be able to push against the sides. Even if you have something down below that you can push against with your feet, that will help you to be very active in your kayaking.
Another mistake that people make is that the blades of their paddles do not really go into the water. They are just not utilizing very much of their paddle. They are not really pulling the water as much as they could be,
Easy fix to that is that the whole blade of the paddle is in the water and be utilized.
Another mistake is that people have their arms really close into their bodies. That's gonna exhaust your biceps, it's gonna make your arms really tired really quickly.
If you can utilize your whole torso, and extend your arms a little bit more, if you use your upper arm more, instead of using your low arm to pull, then you will get tiered a lot less quickly. You will be able to paddle all day long.
One more common mistake that I often see is a lot of bending and pulling. Kayaking actually involves pulling and pushing and it involves a lot of torsional rotation and turning.
Best Rated 2 Person Inflatable Kayak
Best One Person Inflatable Kayak