If you are looking for the best inflatable fishing boats, this article will provide you with several models and what they have to offer. The purpose is to help people with limited inflatable boat knowledge choose the best one for them.
All these inflatable boats are NMMA & CE certified. If you decide to buy them, keep in mind that they come with risk-free 180 day trial and 3 year warranty! Click here to find more!
Top Inflatable Fishing Boats For Sale
PackFish7 (One Man)
It is the perfect grab and go solo fishing pack boat. It has all the features that will make your time on the water fun. Great for trolling and fly fishing.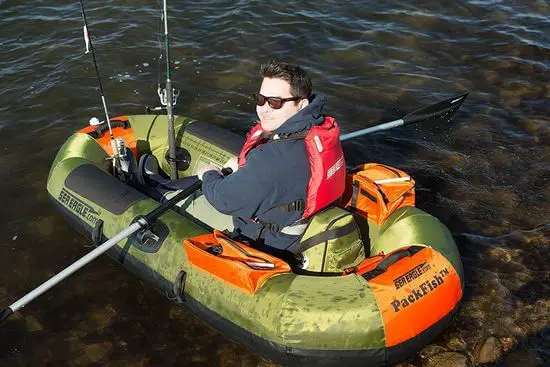 It weighs just 21lbs and packs in a backpack so you can take it anywhere. The best part about this inflatable fishing boat is that it's super rigid.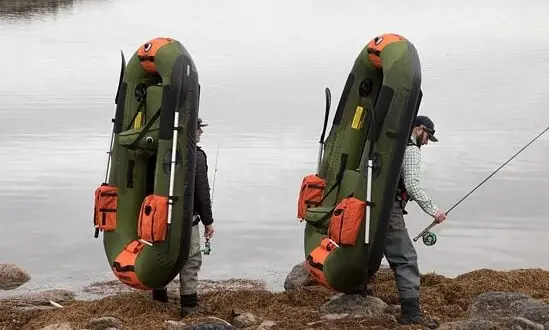 It features a tough external protective cover made from 840 denier nylon which protects against punctures. The cover has two 36″ fish measurement rulers printed on it.
It has two separate air chambers for safety. This is very helpful in case you have a problem – you are not going to be left out there stranded.
Bass Fishing on Fellows Lake in my Sea Eagle PackFish7!
PackFish7 comes with an inflatable seat that is super comfortable. You can seat for hours without any problems. However, the boat is stable enough for standing with the wooden floorboard.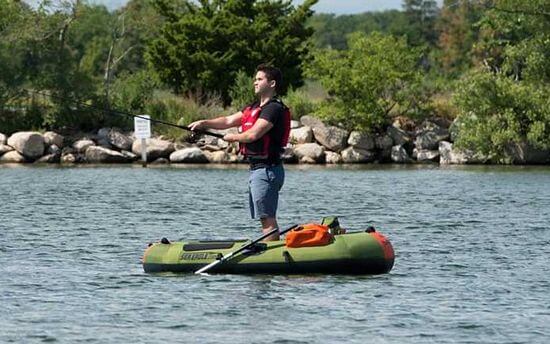 There are also two built-in, industrial-strength rod holders in the front and two large pouches in the back for tackle box and tools.
One of the key things that fishermen really like about this inflatable boat are tracking strips. There are four of them – two on each side. They help you when fighting with big fish and they are also great for increasing stability and reducing being blown around by the wind.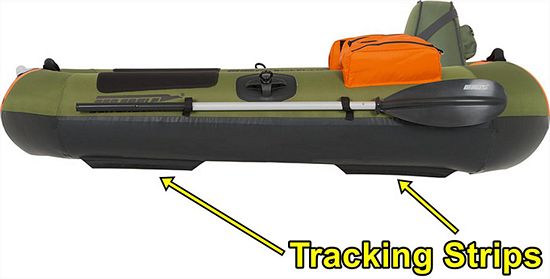 This isn't the best inflatable fishing boat for very tall individuals due to its compact interior and for those who bring along a lot of gear.
But this boat is perfect option for solo anglers who are looking for an affordable, well-built, super convenient boat that can be inflated and setup in 5 minutes.

Available in two discount packages:
Deluxe Fishing
Pro Fishing (includes removable wooden floorboard )

Stealth Stalker 10 (Two Person)
Sea Eagle Stealth Stalker 10 review 1
It is an absolutely incredible inflatable boat for fishing on rivers, lakes and ponds. Comes in a bag that can easily fit in the trunk of a car and when fully inflated it fits in the back of a truck.
No trailer, no ramp. Just unpack, unroll, add the floorboard, clip in the seats, grab your oars and motormouth and you're on your way.
Main features:
Capacity 1200 lbs
Material 1000 denier 36 mil
Weight 45 lbs (hull only)
It inflates in just 10 minutes. Once you have it fully inflated, the molded handles make it easy to carry it to the water or just put it on the easy cart and you're ready to fish.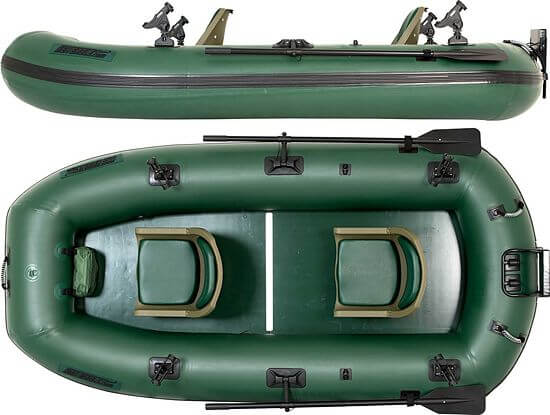 You are able to maneuver and you are able to get to the spots that you need to get.
It's a raft that is large enough to be able to handle two people fishing. If you're fishing alone you can easily take one seat out and fish on your own and you're able to put it in a normal four-door car. All the components fit in a car and you're able to get from spot to spot without any kind of issue.
Its effectiveness is amazing. A lot of the river fishing that you do, you need to have a boat that can handle higher currents and moving water and you need a boat that can maneuver easily in those kinds of situations. Stealth Stalker 10 is absolutely perfect for that.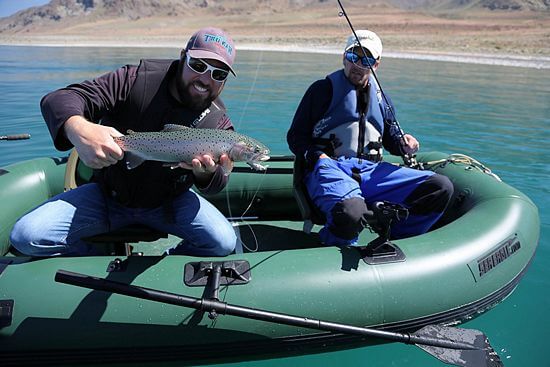 You are able to strongly get from spot to spot with the oars that are provided. It moves swiftly through the water and you are able to get to spots that a lot of normal boats and drift boats and rafts can't get to.
It moves quietly through the water too. So fishing a river where the fish can be extremely spooky, it's really important that you can get to those spots without alarming the fish. No banging in the water from aluminum or fiberglass boats. And the natural green color blends in so you won't frighten the fish.
Sea Eagle Stealth Stalker 10 review 3
Another great thing is value. The price that you pay for the quality you get with the Stealth Stalker is really incredible. A lot of the materials are the same materials that you can find in some of the rafts that cost three or four times as much.
The stability of this boat is really unsurpassed. You can stand, you could fly fish all day and it's not tippy, it is firmly placed on the water.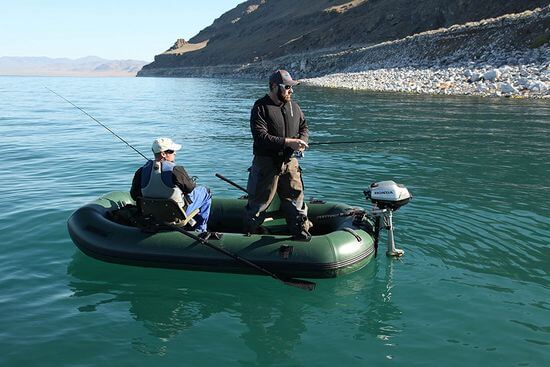 Plenty of room for two fishermen and high-rise paddle mounts give you power and mobility.
It comes with a motor mount in the back for a small gas or an electric motor. This is a really stable boat so leaning over to land the big one – no problem.
You'll also find plenty of room for your gear with easy access. Even swivel seats that turn a full 360 degrees and don't forget rod holders.
There's nothing like the Stealth Stalker. Easy to set up, rugged construction, easy to fish and at a great price. Makes sense!

Available in four discount packages:
Pro
Motor Canopy
Watersnake Motor Canopy
Honda Motor

285 Frameless Pontoon Boat (One Man)
It is for serious fishermen, not just for kids! Extremely safe and extremely stable.
You can be confident in this boat that it's gonna perform and it's gonna keep you safe in any kind of weather. You can be out in some 25 mile an hour winds, you can be in 3 – 4 foot waves with no problem – this thing is stable!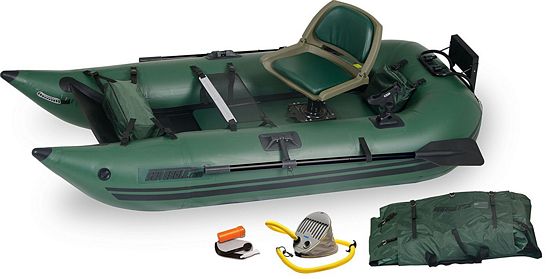 This little boat is so light and you can get in where other ones can't. This thing is tough! If there are tree structures and you are rubbing over them, no worries.
It's nine feet long and four feet wide. It does come with a motor mount.
This thing floats high in the water. What's nice about it, it moves very gingerly through the water. The oars are actually built into the craft and are omnidirectional. When you let them go, they float to the side and are really always out of the way.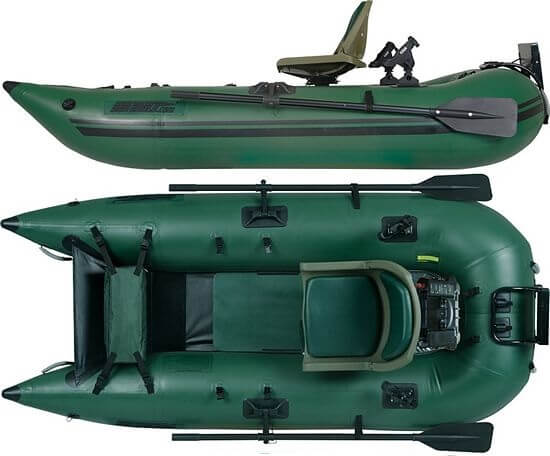 The other thing I like about this boat is you can put Scotty rod holders on it that are omnidirectional as well. It comes with two rod holders, perfect for trolling.
There's a tackle bag set in front by your feet. The nice thing about the u-shaped design is that it can actually position your rods right out by your feet. This it's not impeded by a bow of the boat, it's almost as if it's an open boat, which makes it perfect for fishing.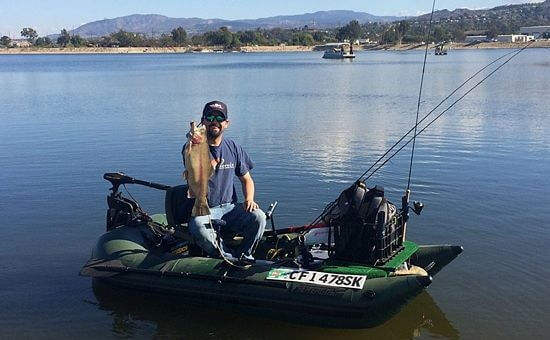 The oars are five feet four inches, which is a little bit short. Normally they run six or seven feet. I don't know why, I'm guessing it is because they want you to be able to maneuver in tighter spots.
The cool thing I like about this boat is the swivel seat – you can turn, which is really nice when you're trying to land a fish. You can also stand up on the floorboard and fish.
Overall this inflatable boat seems really high-quality. It packs down really small. It comes apart very easily and goes into a car trunk. The whole boat weighs 42 pounds, it's lightweight, it's rugged, made out of a 1000 denier material and it will literally last many years.
It's a really functional fishing machine! It is being advertised as the mean green fishing machine.
It is intended mostly for use on small lakes, ponds and smooth flowing rivers. You can fly fish off this thing. There's movement in the upper body that in other boats you're just not able to do that because they'll rock, they'll roll you could fall in.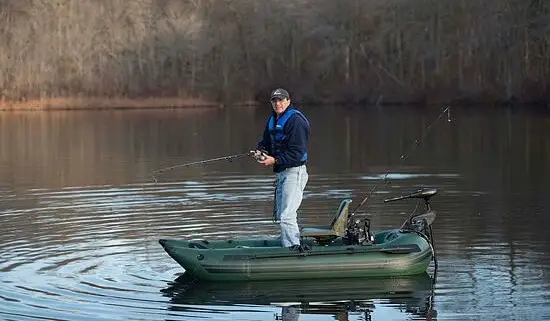 It is a complete boat so if you drop something it doesn't fall through. There's plenty of space to store stuff. You can put an electric motor on it, you can row it, it rows very well and it's extraordinarily stable, so you can cast and really catch a fish, even when you're having to fight the fish.

Available in three discount packages:

375fc FoldCat (Two Person)
Sea Eagle 375fc FoldCat­™ Fishing Boat Visits Patagonia Argentina!
It is a remarkably stable fishing platform. Its twin holes give you maximum fishing space and tremendous stability. You can even stand to cast.
Pontoon fishing boats have been popular for years. The problem with old-style pontoon boats is they're held together with a complicated external metal framework. With dozens of parts and nuts and bolts, they take hours to assemble.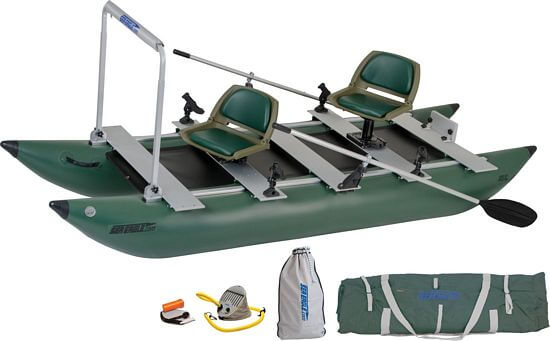 The FoldCat is completely different and significantly better. It packs neatly and fits easily in your car trunk. There's nothing to assemble. It's fully equipped and ready to go in just five minutes. Simply unroll it. The FoldCat is completely assembled and rolls out ready to go. A small pump is all it takes to inflate it. As it expands, it becomes very rigid.
Weighing under 100 pounds, two people can easily carry and launch the FoldCat anywhere. It's that simple.
You can roll the boat with ease since the twin pontoons sit high on the water and there's almost no drag or add an electric motor and go anywhere you want silently and effortlessly.
Other pontoon boats have open water between the hulls. The FoldCat has a full floor that you can step on and store gear on and the full floor keeps dropped gear from falling into the water.
Its hull is tough as crocodile hide. Made of super rugged thousand denier high-pressure polyester fabric with sunlight resistant UV coating. How tough is it? So tough a fishhook can't snag it! So tough it can take serious beating with a backside of an axe.
It is a complete fishing machine better equipped than boats costing far more.
Stealth green color blends into your natural surroundings. High comfort seats set high on steel pedestals, swivel 360 degrees and have a convenient quick-release feature.
This inflatable boat is perfectly made for river fishing that involves floating. Most of these floats take about 8 to 10 hours if you really want to do it right and catch some fish. After spending that much time in most other boats, you get out of them and your back is just killing you. This is probably one of the most comfortable boats on the market.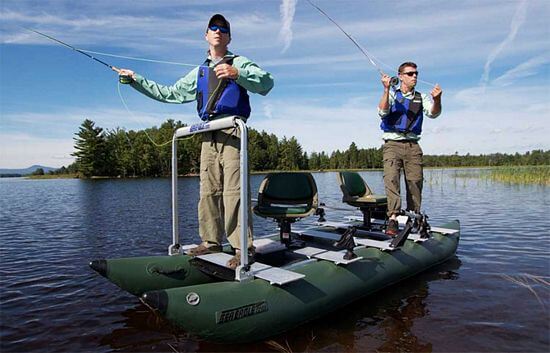 Very easy, very slick, very maintenance-free, ease of putting it together, ease of getting it in the water.
One of the great things about this boat is that the material is not metal and with it not being metal, you don't get the banging of the water up against it, even with the motor running. Very little noise, you can go in stealth mode, without disturbing the area in which the fish might be.
If you fish in a river with logs, stumps or root wads, you can run into those and never had a puncture, never had a failure, never had a problem and that's the one thing that is so great about this material. You don't have to worry about losing air or having it deflate on you because this is some pretty tough stuff.
One of the other nice things about FoldCat is that it's very easy to get out, maneuver the boat, walk through the riffles and get right back in the boat.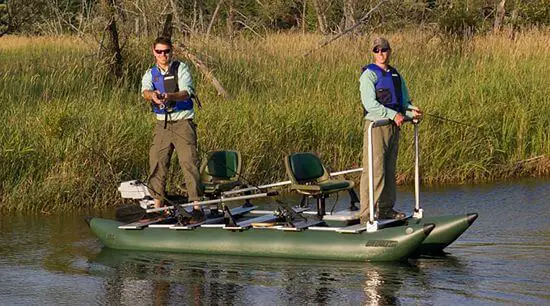 All I can really say is that this inflatable boat will meet every expectation that you may have about it. I don't think you could ever find another one that will suit this type of fishing the way this one does.
One of the things I also like about this boat is that it has a full floor. It's a rubberized floor. If you happen to drop a lure or drop your fliers or whatever while you're fishing, it doesn't go into water.
The other nice thing about this boat is the swivel seats. They go 360 degrees around, very easy to maneuver, you can turn with the slightest little touch. Rod holders are really nice too. Very easy to get to, locking little swivel bar on them.
If you put a little trolling motor in the back, it will push the boat like a dream. You can also row. Or you can use the paddles to just stir it through all the rapids and float with current.
When you order any extra equipment whatever it may be, from the casting bar to the anchor, everything comes right out of the box and fits right on the boat. There's no mechanical, no drilling holes, everything is already preset and ready to go, attach it and you're off.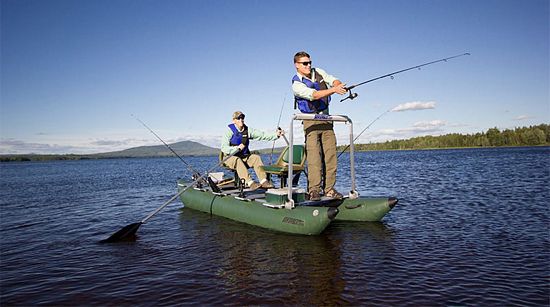 After you get done with your initial investment of buying this boat, you do not need to spend any more money. If you had a bass boat, you constantly have to pay for licenses, trailer fees, trailer license, insurance, everything else that goes along with owning a regular boat, plus the gas.
From a standpoint of monetary wise, you can't beat this inflatable boat.
I've seen a lot of other fold up boats or put together boats and they are a real pain. You got all the screws and nuts and bolts and you got to take it out and put it in every time you mess with it. With FoldCat, once you've got everything on, it folds up, goes right in the bag, back in your trunk, never have to mess with any more screws or attachments or anything.
If I had somebody asked me if they should buy one of these boats, I'd just say what are you waiting for, go get one, they're an absolute dream, it's a fisherman's dream come true.
This is really the best pontoon fishing boat in the world!

Available in six discount packages:
Deluxe
Pro Angler Guide
Motor
Watersnake Motor
Honda Motor
Ultimate

385fta FastTrack (One Man)
If you want something cool, than this inflatable fishing kayak is for you.
Sea Eagle 385fta FastTrack™ Angler iK (inflatable kayak)
It's really functional but also comfortable and pleasure to use. It glides and cuts through the water amazingly well.
You can use it for fishing on lakes, ocean bays or rivers (up to class II rapids).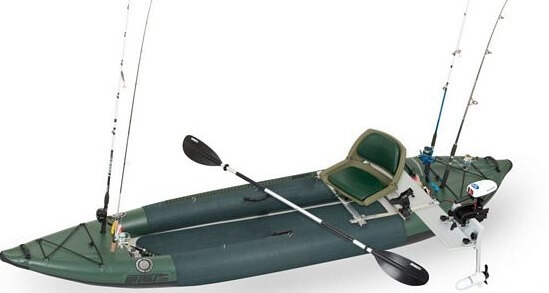 It comes with really great features: built-in rod, tool, hook and lure holders, 36" fish ruler, EVA foam padding for additional durability and protection against damage, etc.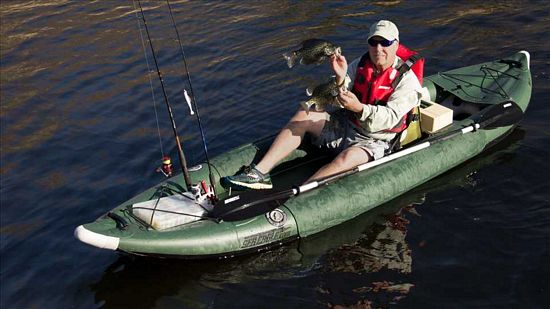 Available in four discount packages:
Deluxe Solo Angler
Swivel Seat Fishing Rig
Pro Angler
Pro Motor Fishing Rig

FishSkiff 16 (Two Person)

It is inflatable fishing skiff that offers all the benefits of a traditional hard-shell fishing skiff.
Weighs only 94 lbs and measures 16' long x 54" wide when inflated. It can hold 1765 lbs. of people and gear. It's made completely of Drop Stitch construction.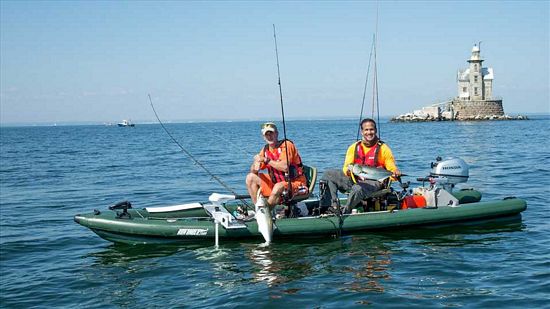 Because of its long, elegant hydrodynamic shape, a 6 hp outboard will power this boat 15 mph. This makes it perfect option for anglers who want to cover long distances in short time.
Three separate air chambers provide added safety. Chambers are made of double layered, 1000 denier, reinforced material. You can find Scotty pad at the bow and stern, giving you the ability to customize your skiff with Scotty Fishing Accessories. You can easily attach a bow mounted trolling motor.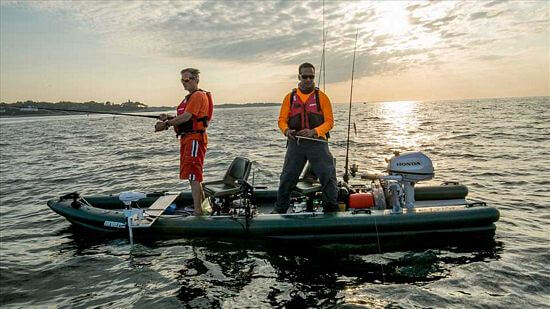 The FishSkiff is completely unsinkable. The low profile gunwales provide you with unparalleled access to the water.

Available in five discount packages:
Solo Startup
2 Person Swivel Seat
2 Person Swivel Seat Canopy
Watersnake Motor Canopy
Honda Motor

FishSUP 126 (One Man)
This thing will elevate your fishing to a whole new level! And make you look cool in the eyes of your fellow anglers.
Inflatable paddle board fishing is a ton of fun and FishSUP 126 makes it easy to get started. It's an absolute game changer. It's cutting edge design combines unmatched stability, stealth and practicality in an impressively unique fishing platform.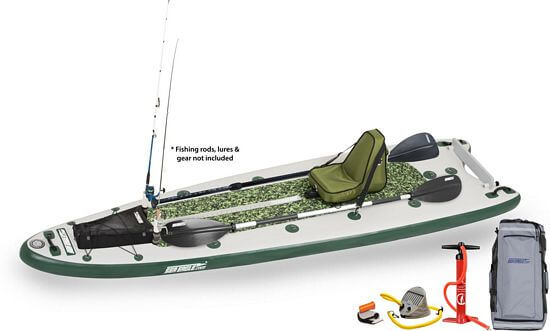 Ideal for freshwater or saltwater adventures, this lightweight inflatable is exceptionally portable. Just grab the backpack carry bag from your car or truck and head to the water.
The entire stuff inflates from a single point in under 10 minutes, less time than it takes most anglers to launch a boat. At day's end, simply deflate the board and hike out.
Far wide than traditional SUPs for maximum stability, the FishSUP has plenty of space to store your gear and stretch your legs. Fish it while sitting, standing, kneeling, patrolling and feel free to cast in any direction.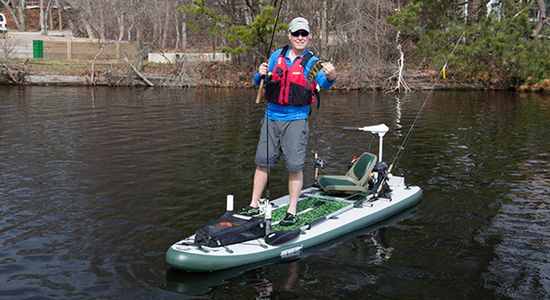 The deck is so solid – 15 PSI is what these things blow up to and at 15 PSI they are hard as a rock! They are as solid as a fiberglass board!
Big and stable enough to cross wide-open stretches, its shallow draft will also get you into skinny water others rarely explore.
Sea Eagle FishSUP 126 🎣 Fishing SUP 📈 Specs & Features Review and Walk-Around 🏆
Rugged as they come, both the top and bottom layers feature the thickest drop stitch material.
A wide swath of EVA foam provides the non-slip surface while adding an additional layer of protection against fish hooks and sharp things.
It meets every challenge with rock steady stability. Feel the wind picking up! No problem.
The FishSUP's pointed bow slices through a chop with ease. Three removable skegs ensure perfect tracking under any conditions.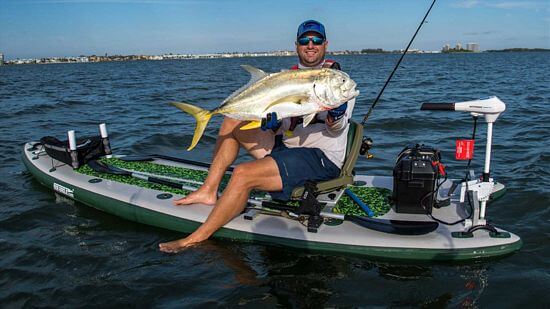 A multi-purpose mesh storage box with two PVC style rod holders slides under the front tie down and a 36 inch ruler run straight down the center to measure your catch.
And the best part about it, you can store this boat in your closet at home and the trunk of your car.

Available in five discount packages:
Startup
Deluxe
Swivel Seat Fishing Rig
Pro Motor Fishing Rig
Ultimate

What do you love most about fishing? Early mornings on the lake, gliding silently into your favorite fishing spot, scouting prime spots with friends, placing those perfect casts, reeling in the big ones or earning bragging rights with your buddies.
No matter what you like, with one of these inflatable fishing boats for sale, you can have it all!
7 Best Inflatable Fishing Boats 2023 (Nearly Indestructible)