If you're looking for the best rated 2 person inflatable kayak that is really portable, has a good price and very good durability, the SE370 is something you should consider.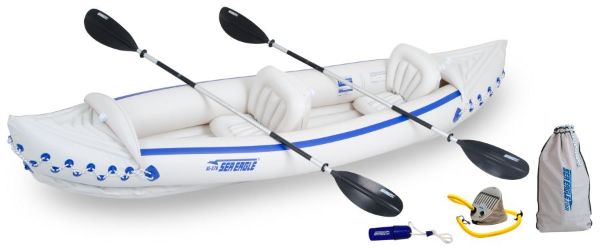 It has so many great features:
Can be used either solo or tandem.
It is very comfortable kayak (one user called a couch on water).
Surprisingly great performance for an inflatable boat.
It is easy to maneuver and tracks really well for an inflatable kayak. In calm conditions yaw is minimal.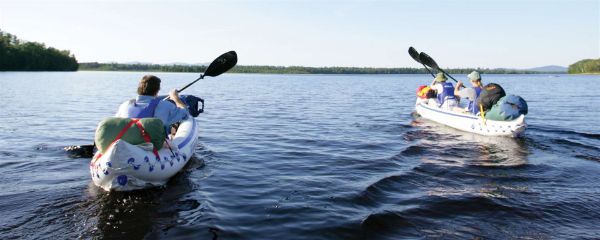 Two skegs help with tracking, allowing you to go faster and further with less paddling. They are made of very hard molded plastic. They can withstand hitting rocks or running up on the beach.
Although it is not advertised as being fast, it can attain good speeds: up to 3.5 mph with easy paddling, up to 4 mph with firm paddling, and up to 4.5 mph at a sprint. These speeds have been verified by GPS.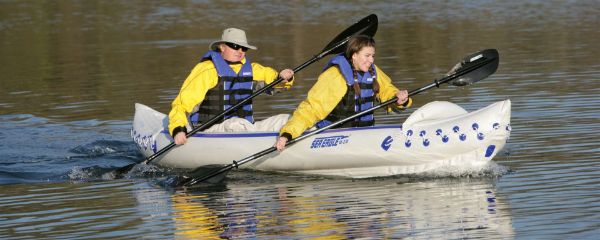 Amazing load carrying capacity, two persons plus a decent amount of gear (650 pounds). Great option for long trips on water. The 10 foot interior gives you plenty of room.
Although it weighs just 33 lbs, it's remarkably stable and durable.
The boat is very rugged because it's made of heavy fabric, in this case 38 mil PolyKrylar. I scraped the rocky bottom many times, hit submerged branches several times and I bounced off numerous rocks, and these boat doesn't show any damage.
It's incredible how much abuse it can take!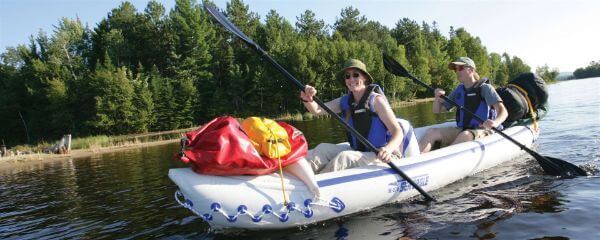 Huge advantage of this tandem inflatable kayak is ease of transport. It is even airline transportable. The entire kit packs into a large duffle bag. This is big plus if you are a condo dweller or you have a small car.
When inflating the boat, you should always use the scale that comes with the kit. This is necessary to inflate the kayak properly. Because the more rigid it is, the better it will perform in every aspect.
The only downside of SE370 is that seniors who have mobility issues may find it difficult to get in and out of the kayak.
After reading about all these great features, I'm sure you understand why this boat is considered the best 2 person inflatable kayak. Two of my neighbors, after trying my boat, have purchased ones themselves.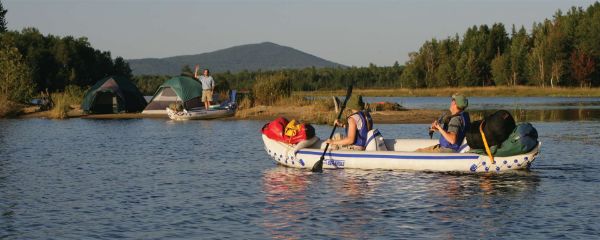 I recommend the Sea Eagle 370 to tandem kayaking without reservation.
The price is truly incredible for a product that you get.
It comes with an outstanding 4-month return option and 3-year warranty.
There are four packages available. At the time of writing this article, there are huge discounts as well. You can save $220.

How to Paddle Two Person Kayak
Tandem kayaks (they are also called doubles) are an excellent and fun way for two adults to spend time together on the water.
They are also a great way for a new paddler to join this beautiful sport.
However, it is crucial that both people follow the rules. This will ensure that you get the best performance out of your kayak. At the same time, it will help you avoid frustrating moments.
Tandem kayaks are usually longer than single kayaks.
That good thing is that one of the passengers doesn't have to paddle if they get tired. In this case, this person should sit up front, and the person that paddles should sit in the back.
But tandems can travel astonishingly fast if both people are paddling.
Best Inflatable Kayaks For Sale
Follow these tips to have the best experience possible in a tandem.
The most important thing to always keep in mind is to paddle in unison. This is critical for at least two reasons: your kayak will move in the best possible way, and you will not clash paddles, which could lead to flipping if happens.
Another tip to remember is that physically stronger paddler should always sit in the back. The weaker paddler should sit in the front. The paddling pace should be dictated by the weaker person.
Some tandems come with a rudder, whose function is to keep the boat running straight or to make small course corrections. But it's good to know that rudders are not essential on 2 person kayaks.
What is the best way to turn a tandem kayak?
The front paddler makes a forward sweep stroke on one side. In other words, this forward stroke sweeps a wide arc out to the side of the kayak. At the same time, the back paddler makes a back sweep stroke on the opposite side of the kayak.
What to do if you capsize?
Because the majority of tandem kayaks are very stable, they rarely capsize, but it can happen. If you and your kayaking partner do end up upside down, here is what you can do.
In the case of a sit on top 2 person kayak, you can climb back onto it one at a time. The other person stabilizes it.
If that is not possible, move the boat back to shore, and get back on there. It will be much more challenging to get back on a sit-inside kayak because it will be filled with water.
It this scenario, you will need to have great abilities to reenter the kayak from the water. It is recommended that you always stay close to shore, and paddle in calm water where there are no winds and waves.
Keep in mind the following recommendations if you are paddling a tandem kayak with a kid.
Children should always be wearing a PFD. It's a good idea for adults as well.
Kids should always sit up front for two reasons: to keep your eyes on them all the time and to control the kayak. Another option is to have the child sit between your legs.
The best practice when paddling with kids is to do it in calm waters and to stay close to shore. If you capsize, you can help the child swim to shore.
Best One Person Inflatable Kayak
Best Inflatable Sport Kayak Review
Best Rated 2 Person Inflatable Kayak