With all the different styles and sizes available, there's no shortage of recreational kayaks to choose from. Luckily finding the right boat for you comes down to a few key choices.
We're going to talk about sit-inside kayaks, sit-on-tops, an inflatable and folding kayaks.
Sit-inside kayaks are great for anything from paddling around in flat water lakes or rivers to going for a longer trip in the ocean.
They're faster and more efficient than sit-on-top kayaks. They're a good choice if you're planning to paddle to a destination.
Sit-ons are especially nice for cooler weather and cold water because your lower body is protected from the wind and you can have a spray skirt for extra warmth to keep your legs dry.
Here are some of the key choices when looking at sit-insides.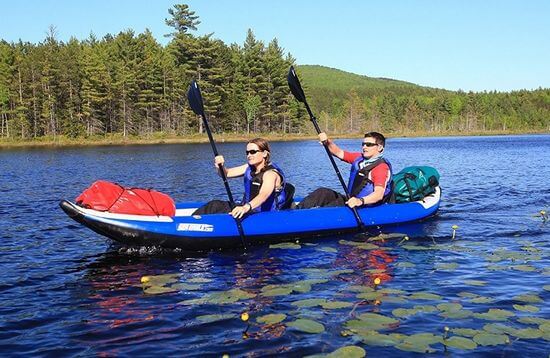 Longer kayaks are faster and more efficient to paddle. They also paddle straighter and can carry bigger loads.
Shorter boats are more maneuverable and playful on the water and easier to transport and store.
Wider kayaks are usually more stable and turn quicker, but narrower boats are faster and track well.
Big open cockpits make it easy to get in and out. Smaller cockpits offer more protection from the elements and because you can tuck your knees inside, you have more control of the kayak.
Most boats have at least one sealed bulkhead, where you can stow the essentials for a day on the water.
Some kayaks, especially those made for overnight trips, have two bulkheads for tons of storage and flotation in open water.
More than anything else, it's important to choose a kayak that fits you.
Try on a few different boats to make sure you get one that feels right.
Most kayaks are made from either polyethylene or ABS plastic.
Polyethylene kayaks can handle impacts but they're sensitive to UV, so it's best not to store them outside. They tend to be on the heavier side but they're relatively inexpensive.
If you choose an ABS kayak, you don't have to worry about scrapes or UV damage. They also weigh less, but they're more expensive.
Sit-on-top kayak shine on lakes and flat water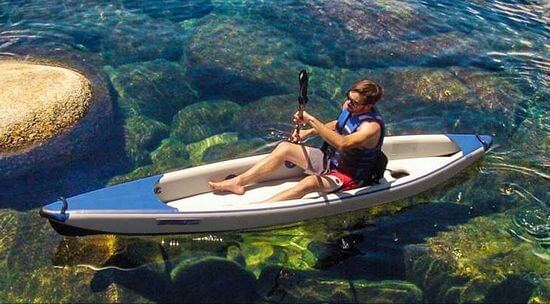 They're wider than sit-ins, so they're very stable and easy to launch, which makes them great for families or if you're planning to share with your friends.
They don't feel restrictive and their open design means you can jump off to take a swim and easily pull yourself back on.
You also have easy access to all your gear, which is great for activities like fishing or photography.
Because sit-on-top kayaks leave you exposed to splashing water and the elements, they're great for warm weather and warm water.
Lots of your buying choices, like length, widths and materials, are the same as sit-in sides.
For extra room go for a longer boat. Some also have hatches for more storage.
Most sit-on tops have simple foam seats so you can easily adjust to fit your back.
Some boats, especially those designed for fishing and photography, have folding style seats that give you a higher view point.
You can also remove these seats and use them on shore.
When it comes to foot braces, many kayaks have adjustable pedals so you can dial in the right length for your legs. A few have their braces molded into the deck, which is convenient, but offers fewer options.
If you don't have a lot of room to store your boat, an inflatable or folding kayak might be a good choice.
Folding kayaks are easy to set up once you get the hang of it. And they handle much like a hardshell sit-inside kayak.
These kayaks are lots of fun and some are even designed for overnight trips.
Inflatable kayaks come in both sit-inside and sit-on-top styles.
Some options look more like hardshell kayaks and are great for everything, from flat water to mild days in open water.
Others feel more like rafts and are at home on lakes and rivers.
Inflatables don't handle the same as hardshell boats but there's still lots of fun.
Best Inflatable Kayaks For Sale
Differences Between Kayak Designs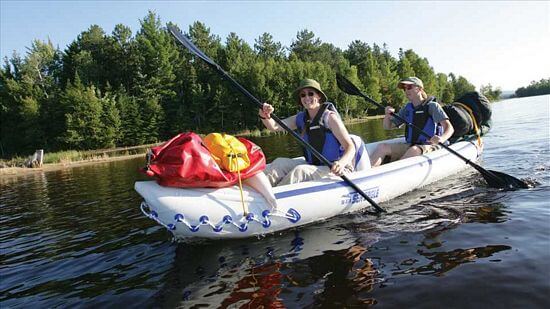 One of the most commonly asked questions is what kayak is best suited for my needs.
As simple as it may sound, it can be quite complicated when you visit any one of the stores or websites.
So many different models and sizes to choose from. It can be quite daunting.
So what we are going to do is narrow it down for you to five categories.
There are:
sit-inside
sit-on-top
whitewater
touring also known as sea kayaks
canoe kayak hybrids
Kayak fishing can hold its own category. In fact any of the kayaks we just mentioned can be transformed into kayak fishing machine with just a few accessories.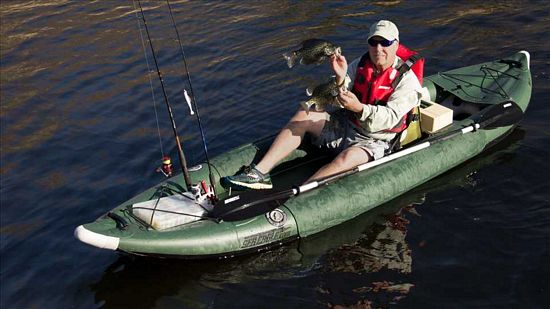 Standard recreational sit-inside kayak has a semi enclosed cockpit. Quite larger than you find in some of the other kayaks, making it easier to get in and out of the boat.
One of the key differentiators of a sit-inside kayak as opposed to sit-on-top is the fact that water enters a boat. It will stay in the boat, which is why it's always important to carry a bilge pump
That said, you can actually purchase a skirt that fits around the cockpit area to protect yourself from the elements and from water entering the boat.
The key feature of a sit-inside kayak is the bulkhead. This is designed for two reasons.
One, to keep water from entering the boat should you roll. And two, also serves as a dry storage area.
These kayaks are very popular for recreational pilots of all types, making it one of the more popular choices.
A sit-on-top kayak, as the name states, you actually sit on top of the kayak as opposed to inside, like a sit-inside kayak.
Another key differentiator between a sit-on-top and the sit-inside is the fact that if water gets in the boat, it actually drains out.
One of the key features of a sit-on-top kayak is a low area in the back. This makes it popular for kayak anglers because of the fact that you can access your gear easily.
Just like sit-inside kayak, you do have hatches for dry storage and unlimited decorating options.
Sit-on top-kayaks tend to be one of the more stable of the bunch and they're actually very easy to get in and out of.
Whitewater kayak looks a lot like a sit-inside recreational kayak. The only difference is the cockpit. It is much smaller, it provides more control when rowing the boat.
Speaking of rowing, we do recommend that you utilize properly fitted skirt. This will help protect you from the elements, but more importantly will help keep water out of the boat.
In addition to that, they are shorter in design and tend to have rounder or even flatter hull designs.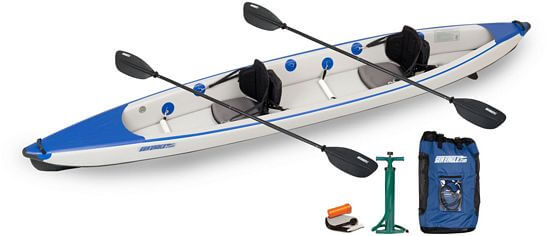 This allows for more maneuverability amongst whitewater rapids.
If you do plan to buy a whitewater kayak, we do recommend you seek proper lessons for the most enjoyable experience out on the water.
A touring kayak also known as a sea kayak. It has very similar design to recreational sit-inside kayaks, except they're much longer and thinner.
This contributes to a quicker and more efficient piloting experience, especially for those long-distance trips.
You also find the design of kayak is made so that you can roll the boat just like you would a whitewater kayak.
In addition, the longer the length of the boat provides additional cargo space for those on distance trips where you may need extra gear.
These boats aren't made for everyone, but for those looking for the ultimate experience in long distance paddling, this is your boat.
A canoe kayak hybrid basically combines the best of both worlds.
At first glance, it may look more like a canoe, but the reality is it paddles more like a kayak. In fact, you actually use a kayak paddle for this boat.
Wide open cockpit allows for unlimited storage capabilities, making it ideal platform for fishing, but also kayak camping.
Some of these boats are made specifically for flat waters, but if you do want to paddle white waters, most manufacturers do offer skirt systems to help protect you from the elements and from getting too much water in the boat.
However, if you do get water in the boat, it's not self bailing, so you will have to use a bilge pump, just like you would in an sit-inside kayak.
Hybrids tend to be the most stable of the bunch. They're actually designed so that you can stand on them. A great platform for fishing.
My favorite feature of these boats are the seats. They're by far the most comfortable.
There you have it. We just covered five of the most popular kayak categories in the industry.
Best Inflatable Kayak For Whitewater
What Do I Need to Know About Buying a Kayak? | Basic Tips