In this article I will review 10 inflatable kayaks and one canoe. They all come with 180-day return policy so you can inspect and test them to determine if they are really good for you.
You also get three-year warranty against defects, giving you a peace of mind and protecting your long-term investment.
Top Inflatable Kayaks For Sale
300x Explorer (One Man)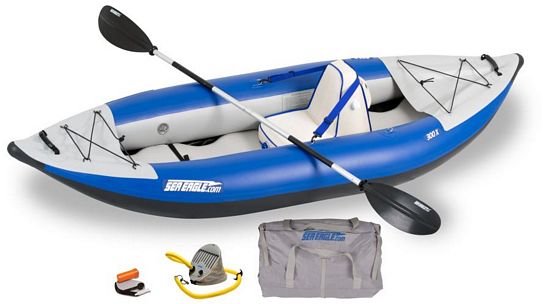 This model is a standard in the world of single inflatable kayaking. It's tough and reliable and can be used in all kinds of situations – it can tackle whitewater (up to Class IV) as well as open-water and surf.
This elegantly designed inflatable kayak has all the features to satisfy professionals but is also stable enough so that beginners can use it with confidence.
Specifications:
Hull weight: 31 lbs.
Length: 118"
Beam: 39"
Interior: 105" x 16"
Load capacity: 1 person or 395 lbs.
Inflation time: 5 min
Material: 1100 Decitex Reinforced
The hull has three chambers: port, starboard walls and drop stitch floor, and can be inflated to a satisfying firm 3.2 psi.
300x comes with 16 high-speed self-bailing drain valves for very fast drainage in whitewater or surf.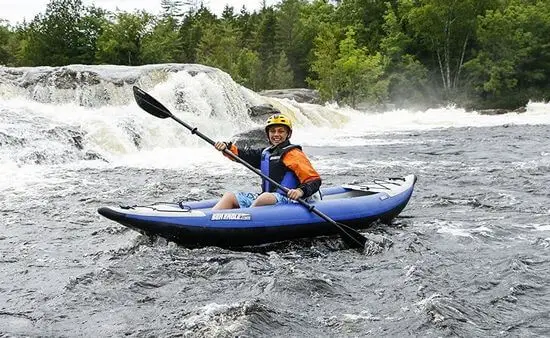 An especially functional element is the removable skeg. It improves the kayak's tracking on open water and prevents fouling. When you found yourself in whitewater or surf, simply take off the skeg.
The triple-layered material can resist collisions that would puncture most other blow up boats. UV rays, oil, gas and chemicals have no effect on this fabric.

5 discount packages available:
Deluxe
Pro Kayak
Pro Carbon
Swivel Seat Fishing Rig
QuikRow

380x Explorer (Two Person)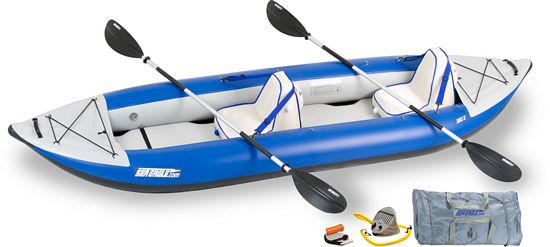 One of the most versatile and most popular boats. It can do flat water all the way up to class 4 rapids. Equally good for both single and tandem kayaking.
It has 16 bailing holes throughout so if water gets in, it will self drain. It also has a drop stitch floor which is really rigid and makes for a really tight boat. It has really big pontoons so they have a lot of volume to keep you above the water in all the rapids.
Sea Eagle Explorer Kayaks - Whitewater thrills and flatwater touring
These big pontoons do mean you get blown around a little bit more on the flat water so there's a little bit of a drawback there but if you're going to be in rapids higher than a class 2 this is definitely the boat I would get.
Specifications:
Hull weight: 40 lbs.
Length: 150"
Beam: 39"
Interior: 141" x 15"
Load capacity: 3 person or 750 lbs
Inflation time: 8 min
It comes in a variety of trims. Has a great seat, has great attachment points, you can run it as a one man or a two man. This boat is really a jack-of-all-trades and it's great for so many things.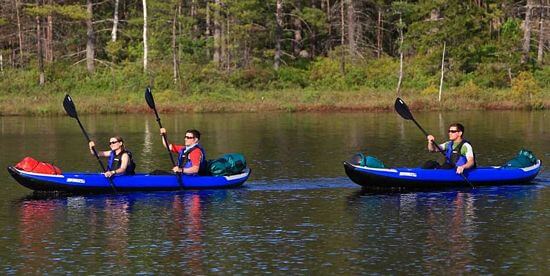 The tough hull resists impacts. Built of super strong 1100 Decitex Reinforced, high-pressure fabric constructed with electronically welded seams and a double floor system makes the 380x as tough as crocodile hide:
Inflatable Kayak torture test - Sea Eagle Explorer 380X
The 380x is elegant, has effective design and exceptional manufacturing, supports a huge load and is easily adapted to all requirements. And it still packs into the trunk of your car!

6 discount packages available:
Deluxe
Pro Kayak
Pro Carbon
QuikSail
Pro Motor
QuikRow

420x Explorer (Two Person)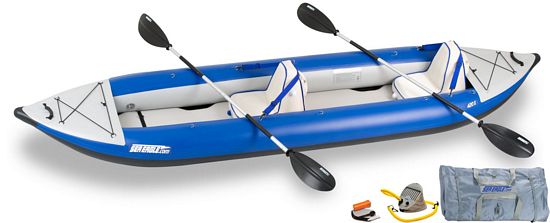 This is the big brother to the previous two models. It is the largest in Explorer range of inflatable kayaks that is superbly engineered. It has amazing stability, and an impressive carrying capacity.
It is sort of a mix between a kayak and a raft and it gives you a lot more flexibility on the river. Great for all kayaking conditions – whitewater, open water, and even surf.
Sea Eagle 420x on the Alberton Gorge
The extremely tough, three-chambered hull can resist nearly any impact and is proof against just about any damage incurred in the water.
It has 16 self-bailing drain valves, bow and stern spray skirts. There are also 26 stainless steel D-rings so you can secure the seats and gear.
Specifications:
Hull weight: 44 lbs.
Length: 168"
Beam: 40"
Interior: 160" x 15"
Load capacity: 3 Person or 855 lbs.
Inflation time: 9 min
The hull is made of a super tough 1100 Decitex reinforced material. It can take full speed collisions into boulders and tree limbs and it will not make a scuff.
The separate high-pressure drop-stitch floor improves maneuverability and provides great stability. Inflating to 3.2 psi, the floor and walls are rigid under all conditions.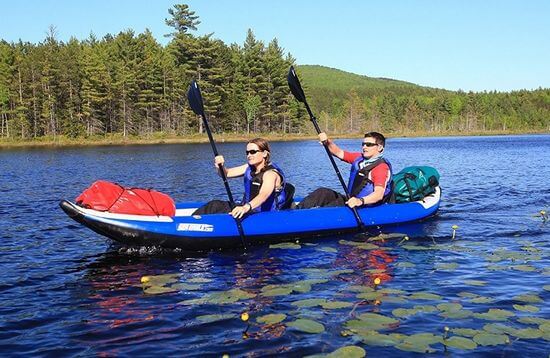 The center of gravity is so low that there is a very little chance of being thrown out or flipping the kayak.
On calmer waters, it's so easy paddling while using the skeg. Thanks to the high-back seats, you can go for hours in full comfort.
For what you get for the money, 420x Explorer should definitely be one of your top options.

7 discount packages available:
Deluxe
Pro Kayak
Pro Carbon
QuikSail
Pro Motor
QuikRow
Pro Motor Fishing Rig

393rl RazorLite (One Man)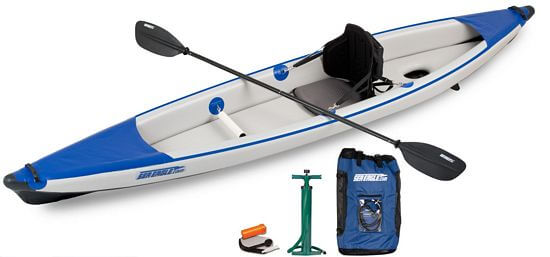 The world's first all drop stitch construction inflatable kayak. This unique design provides the performance of a rigid kayak with the portability of a blow up kayak.
This one person inflatable kayak is not suited for beginners – it is for intermediate and skilled paddlers. It is best used for vigorous activities such as training or racing.
No bulky car racks and power lifting to get you to the water. It's just 33 and a half pound.
Simply unroll, inflate with the super fast high-pressure electric pump and go. It's super light and easy to get to the water. The bow slices through the water making it fast in a sprint and easy to paddle for miles on end.
Unlike other inflatable kayaks that use tubes to construct the shape, the Razorlight utilizes the new drop stitch material with hundreds of thousands of threads inside to create a rigid high-pressure floor in narrow high-pressure sidewall.
This enables the RazorLight to be inflated to 10 psi. That's much higher than any other inflatable kayak on the market!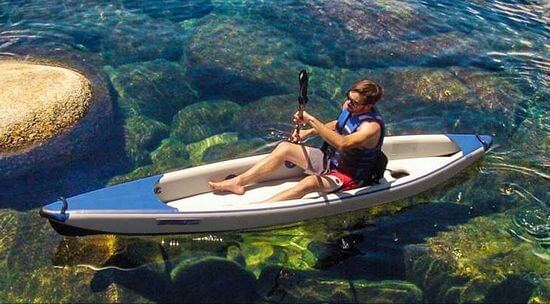 How is this possible?
The hull's three chambers are constructed using drop stitch technology. This means that thousands of high-tensile threads are used to connect the top and the bottom walls of the chambers. These strong threads prevent the walls from expanding, allowing the chambers to be inflated to an astounding 10 psi.
As a result, this hull occupies just a fraction of the space of the traditional, pontoon-like walls of other inflatable kayaks. Thanks to all this, 393rl has much more narrow design than traditional blow up kayaks.
The 393rl is constructed from 1100 reinforced Decitex. This material is strong enough to withstand the enormous pressure, but still light enough to be used for an inflatable kayak.
Sea Eagle 393rl RazorLite - InflatableKayakWorld.com
The sidewalls are narrow with more space in the cockpit. It's a super rigid, high-performance kayak. The unique concave design created by the bow and stern molds creates a lift and allows the kayak to go faster. The razor-sharp stern mold creates a super clean exit.
Specifications:
Hull weight: 33 lbs.
Length: 154"
Beam: 28"
Interior: 146" x 17"
Load capacity: 1 Person or 500 lbs.
Inflation time: 7 min
A very functional feature is the tube-shaped footrest that fixes securely to the hull using stainless steel D-rings. It is included as a brace to improve your balance and power.
Its super sleek design and unbelievably rigid hull are very similar to a hard-shell kayak – more than any inflatable on the market. In addition, the speed and performance are unheard-of in the world of inflatable kayaks.
The 393rl is in a class of its own!

2 discount packages available:

473rl RazorLite (Two Person)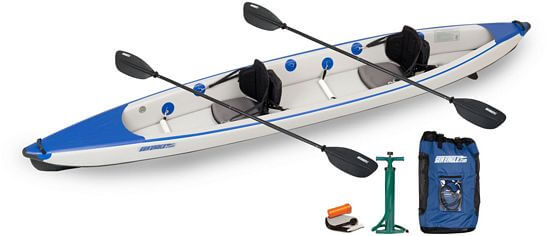 Similar to the previous model, this one is bigger and designed for tandem kayaking.
You can achieve paddling speeds up to 6 mph because it cuts through waves cleaner, straighter and sharper than any other kayak.
It also features 100% drop stitch construction for the hull. This means that unlike most inflatable kayaks that have wide tubes, the 473rl has thin walls that are inflated to an amazing 10 psi.
Compare that to most other inflatable kayaks for sale which inflate from between 1.1 to 3.2 psi!
This high pressure not only makes the 473rl very rigid, but it allows the boat to have a unique straight hull design – industry first. The straight hull reduces unwanted drag and improves the speed and performance.
Sea Eagle 473rl RazorLite inflatable kayak
The boat also comes with a removable skeg that you may or may not use. It's only 7" long, so you can paddle in even the shallowest waters.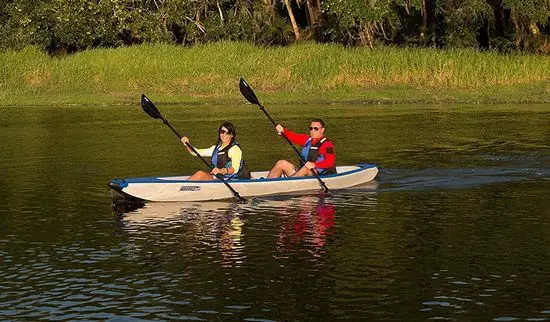 Specifications:
Hull weight: 44 lbs.
Length: 186"
Beam: 30"
Interior: 178" x 20"
Load capacity: 2 adults or 750 lbs.
Inflation time: 8 min
The maneuverability, tracking and stability of this kayak are very close to a hard-shelled tandem kayak. If you want to train hard, race, or just push yourself more, than get the 473rl.

2 discount packages available:

435ps PaddleSki (Two Person)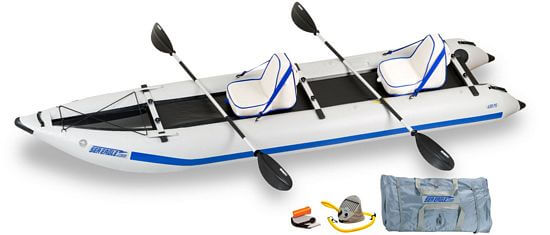 If you are looking for something special, something that will not give you a lot of trouble, something that would be safe, something that you could take your children or grandchildren out and have fun, PaddleSki is definitely for you.
So many people said that they never felt so secure on any boat as this one! It is so stable that it can be safely sailed in winds of up to 15 knots. There are crossbars that prevent the kayak from twisting outwards and inwards.
Good for single or tandem kayaking, you can turn the 435ps catamaran kayak into a sailboat, a rowboat, or a powerboat.
Sea Eagle 435ps PaddleSki™ Classic Catamaran Kayak
This kayak is amazingly durable and highly portable. It's great combination of stability, speed, and fun. It paddles fast enough to make happy even the most demanding kayakers.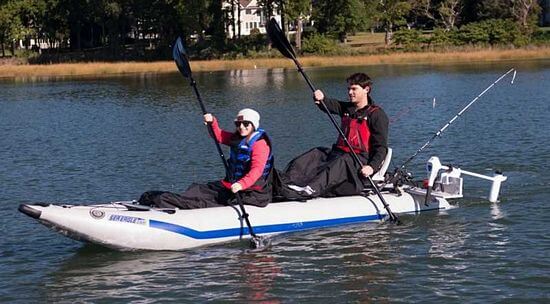 It has unique double hull construction and is constructed from 1100 Decitex Reinforced material with a floor of 1000 Denier.
The double-hull design eliminates about ⅓ of the natural water resistance that single-hull kayaks encounter.
Specifications:
Hull weight: 42 lbs.
Length: 174"
Beam: 39"
Interior: 150" x 16"
Load capacity: 2 Persons or 6650 lbs.
Inflation time: 7 min
Inflation pressure: 3.2 psi
Because it is a catamaran, the floor is centered and it rides 4 inches above the waterline. This is another reason why this kayak paddles, sails, and motors much faster. The skegs on the bottom really help your tracking.
SeaEagle 435PS with Mercury 2.5hp outboard
Unlike most other kayaks, you can jump out of PaddleSki into the water and swim around and then climb back in easily. You pretty much cannot flip this boat.
In summary, if you are looking for stability, lots of space for gear, versatility and ease to store, this boat is for you. If you want performance and maneuverability, you should choose another model on this page.

7 discount packages available:
Deluxe
Pro
Pro Carbon
QuikSail
Water Snake Motor
QuikRow™ 4-in-1
Honda Motor

SE330 (Two Men)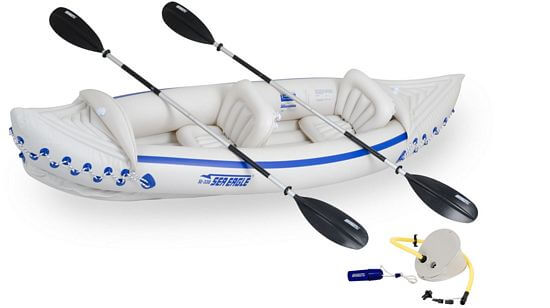 This is one of the most budget-friendly boats and America's most popular inflatable kayak. This can be set up as a one or two-person boat and can carry up to 500 pounds of gear.
It is ideal kayak for beginners to learn kayaking, but skilled kayakers can also have lots of fun with it. It can be paddled by anybody – from children to seniors. It can be used on flat water, white water (up to Class III rapids), and ocean surf.
The SE330 comes in a ready-to-use configuration. Take it out of the box, inflate it, and start paddling – no need to do anything or make additional purchases.
One of the best things about this boat besides the budget is the weight. This boat comes in at 26 pounds, which is extremely manageable and you can easily take it anywhere you want.
Sea Eagle 330 Inflatable Kayak - InflatableKayakWorld.com
It works great, it's a little bit narrower than some of the other ones, but it will hold all of the gear that you will need.
It is manufactured from 33 mil Polykrylar and is strong enough to withstand normal use without any damage. This material is sun resistant, and good for both fresh and salt water.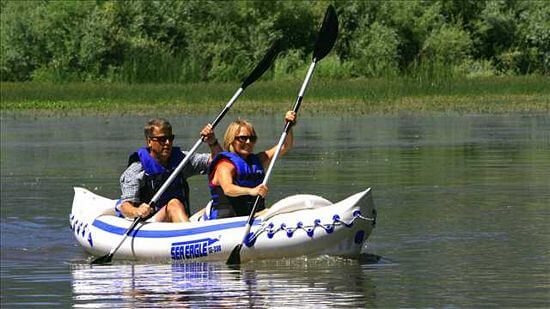 Tracking is very important in kayaks and for this reason, SE330 features two molded skegs. This allows you go faster and further with less effort! The skegs are made of super strong molded plastic that will not be damaged by hitting rocks. The skeg is not removable, so keep that in mind.
Carol Derer talks about her Sea Eagle 330 kayak
Specifications:
Hull weight: 26 lbs.
Length: 134"
Beam: 34"
Interior: 114" x 15"
Load capacity: 2 person or 500 lbs.
Inflation time: 6 min
Inflation pressure: 1.1 psi
The boat handles really well, even in 10mph winds, and can survive powerboat waves without problems. The balance is fabulous and almost impossible to tip over. The seat is comfortable for long hours.
It is designed for two adults but it is much more comfortable with just one person. Portability is its strongest quality: easy to store and transport in the included bag (can be taken by plane too).
If you're on a budget, this is the boat I recommend for you.

5 discount packages available:
Startup
Pro Solo
Deluxe
Pro Kayak
QuikSail

SE370 (Two Men)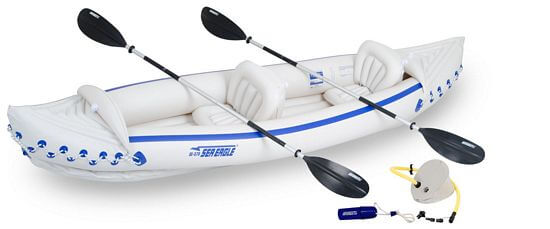 This is an amazing kayak. Fits two persons and a dog very comfortably.
There are three chambers in this boat: the floor and the two side chambers. There's also a rear and front spray skirt.
All of these inflatable portions have one-way valve, which means you put air in and it's not going to come back out on you.
The kayak only takes about ten minutes to inflate using the foot pump that is included. The foot pump is really easy to use. You can speed that process up by using an electric pump.
To deflate, make sure the kayak is dry and then simply unscrew all the valves. Deflation happens quickly so you can immediately start folding and rolling the kayak to push out all of the air.
The deluxe seats give you a little bit better back support and they give you five inches of lift off the floor of the kayak. These seats have two inflation chambers that you need to inflate. They have really nice supportive straps that you can adjust to help with that support. The seats have a really heavy covering and they have the back storage pouch.
At the back of the kayak, there is a drain valve and underneath you will find two plastic skegs. On the bottom, you can see there are multiple ridges, they call it I-beam construction and that's for more rigidity and stability.
The material is sun resistant and salt water resistant. A lot of people do use these boats with their dogs without having any issue and people run it over rocky bottoms and have had no issues.
Specifications:
Hull weight: 33 lbs.
Length: 150"
Beam: 34"
Interior: 128" x 15"
Load capacity: 3 persons or 650 lbs.
Inflation time: 8 min
Inflation pressure: 1.1 psi
From a performance stand point, this boat doesn't feel like a toy. It feels well made, good quality and it's not just a cheap raft. It tracks very well with those two skegs in the back, so it keeps you going in the direction that you want to go. These skegs provide really good tracking in wind.
In general, it is quite stable on the water and from a durability standpoint, it's amazing. It's pretty comfortable, especially with deluxe seats.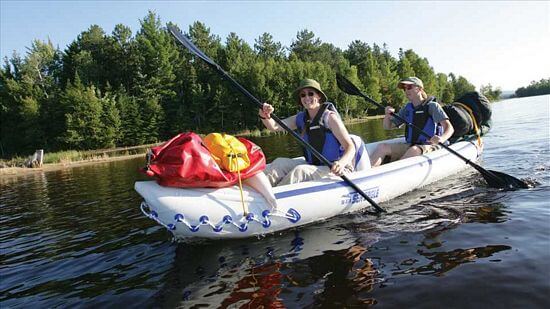 This kayak is advertised as being able to fit three people but honestly I think you'd be really crammed.
The boat does very good on flat water and lakes. The seats are too high for rapid flowing rivers and whitewater. For these cases, I recommend sitting on the floor.
The SE370 is the best inflatable for the price. A perfect choice for anyone that doesn't have a roof rack. Just don't expect it to outperform a hard shell kayak, but it fits in the trunk!
I would recommend it to people for a first kayak, who are looking for a truly portable boat, who has little storage space, or just interested in a cheap way to get into kayaking!

5 discount packages available:
Start up
Deluxe
Sport Fishing
Pro Kayak
QuikSail

385ft (Two Person)

This is my favorite boat for flat water and lake trips. It's got smaller pontoons so it doesn't get blown around by the wind as much as others. It has a drop stitch floor that you can inflate up to 10 psi. It's so stable that you can stand up in the boat without getting tippy.
It has three air chambers, it also has an inflatable keel on the front to keep the front locked in and a removable fin on the back to help with tracking as well.
It holds 635 pounds of gear and people and it's perfect for multi-day camping trips.
Another thing I love about the FastTrack models is how light they are. These come in as 36 pounds and it's really easy for a single person to carry these, put them in the trunk of their car, pull them out and take them to the river.
Specifications:
Hull weight: 36 lbs.
Length: 151"
Beam: 36"
Interior: 140" x 18"
Load capacity: 3 persons or 635 lbs.
Inflation time: 7 min
Inflation pressure: 3.2 psi
They inflate really fast with both a foot pump and an electric pump. The deluxe model has the better seat and the bag on the back where you can stash on your gear and quickly reach back and grab it.
I also really like the d-ring straps and the elastic straps, they're perfect for a dry bag and they hold all gear really well.
Sea Eagle FastTrack 385ft Set-up
It's lighter in weight, its sleeker, it's faster and easier to paddle. The reason for this is a drop stitch floor inside, which makes the whole boat more rigid.
There is a drop stitch outside keel, which makes the boat go straighter. There is a removable skeg at the rear, which also helps the boat go straighter. It has a narrower profile on the water and yet the boat is inherently more stable because of the drop stitch outside keel and because of the skeg.
Drop stitch construction allows you to have a rectangular shape and a much more rigid floor and it allows you to have shapes that were never possible in an inflatable boat.
It's created by thousands of little threads that go from the top of the material to the bottom of the material and it's also what allows you to put an external keel on the outside of the kayak. This creates the directional stability and allows it to paddle straighter and fast.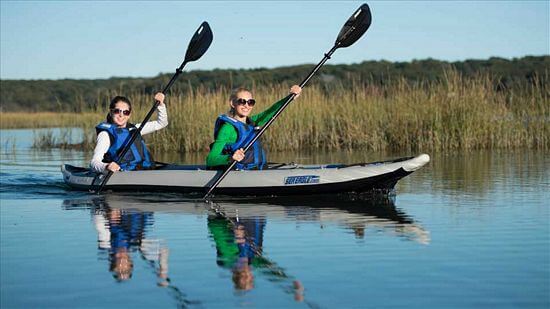 The most important feature that is critical for its ability to paddle faster and straighter is the drop stitch outside external keel. This creates a side wall on either side when the boat wishes to yo. Yoing is when the boat goes left or right when the paddler paddle is right or left.
Two other features make FastTrack paddle faster and easier. One is the chine, the sidewall that is created by the drop stitch floor dropping below side pontoons. Second is the large removable skeg, which provides stability directional control at the rear of the boat. This in combination with the outside inflatable drop stitch keel at the bow, create a boat that paddles faster and straighter.
A convenient feature is the adjustable drop stitch footrest. This allows you to place the footrest anywhere you want, a little bit forward or a little bit back. That gives you more space.
If you're paddling lakes or flat water class two or below and you really enjoy your paddling and you can afford a little bit nicer boat like this, with the drop stitch floor and a little bit higher quality construction, I recommend you go with the FastTack 385.

8 discount packages available:
Deluxe Solo
Deluxe
Swivel Seat Fishing Rig
Pro
Pro Carbon
Pro Motor
QuikSail
QuikRow

465ft (Three Person)

If you want to share your kayaking fun with other people, this is the best option. It is perfect for flat water cruising and can be used in both salt and fresh water.
It's biggest advantage is its capacity – it accommodates three people comfortably – or two with lots of gear.
Its revolutionary design combines the performance of a rigid kayak with the portability and stability of an inflatable kayak.
It is fast, light and easy to paddle. The secret is its hull design that is engineered to paddle faster and easier. It has outstanding performance and high speed.
Unlike ordinary kayaks that wander side-to-side as you paddle, 465ft tracks straight and true. It's even stable enough to stand up.
Specifications:
Hull weight: 44 lbs.
Length: 183"
Beam: 36"
Interior: 170" x 18"
Load capacity: 3 persons or 794 lbs.
Inflation time: 8 min
Inflation pressure: 3.2 psi
One of the original features is its asymmetrical shape. Wider at the stern and tapered at the bow, it cuts through flatwater easily. It is also buoyant enough to prevent unnecessary drag.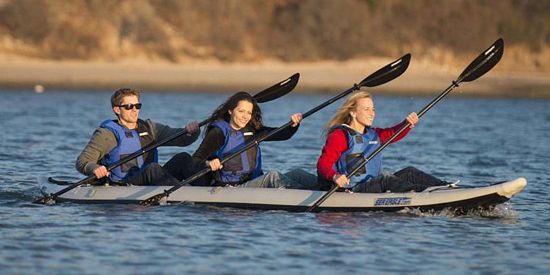 The hull consists of four chambers (including high-pressure removable drop stitch floor) and an outer wall. It is made of 1100 Decitex reinforced material, which provides great protection against abrasion and punctures.
However, the best feature on this boat is the NeedleKnife that is responsible for increased speed and improved performance. It can be found just under the bow and is made using the same drop stitch technology as the floor.
I would recommend 465ft for those who plan to paddle mostly in flat water such as lakes and ocean bays.

7 discount packages available:
Deluxe 2 Person
Deluxe
Pro 2 Person
Pro
Pro Motor
QuikRow
Pro Carbon

TC16 Canoe

This is the world's first drop stitch inflatable canoe. It's 16 feet long. It's rated for three people or up to eight hundred pounds and that's a lot of gear. It also has a removable fin.
If you wanted to track like a normal canoe, I'd recommend pulling the fin off. If you're going to be doing a lot of long river crossing or in the wind and you want to just hold your line, I'd put the fin on.
The canoe rides best with a lot of weight in the front. It is way faster than any of the kayaks. Because of the high profile of the sides, it gets blown around a little bit more, but with three paddlers in, it is possible to just cut right through a lot better.
It's capable of paddling scenic lakes and running up to class IV whitewater, this 16-foot inflatable canoe does everything a traditional canoe can and more, plus it packs in just one carry bag. It packs so small you can fit to travel canoes in your car trunk. t
The canoe inflates in only a few minutes with the high speed electric pump or by hand with a high-pressure piston pump.
The inherently buoyant canoe paddles easily. Open the four drain valves for whitewater paddling, where the canoe easily rides over the rapids.
The tough double-walled hull bounces off of rocks with ease. That is because it's made with a super-strong 1100 Decitex Reinforced material with added fabric layers on all sides, making it canoes incredibly tough and durable.
The high-pressure double layered inflatable drop stitch construction creates tremendous rigidity and strength. The inflatable floor is rigid enough to stand up on.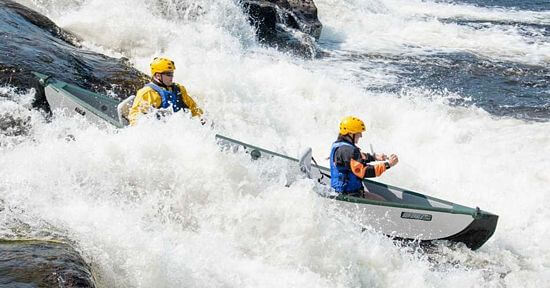 Because the canoe has inflatable sidewalls and inflatable floor, it is inherently buoyant and incredibly easy to get back in. In the same situation traditional canoes sink because they do not have inherent buoyancy.
Portage is easy because this canoe weigh just sixty pounds. They're lighter than most traditional rigid canoes.
For better tracking in speed on flat water, you can use the large removable skeg. It helps you to keep paddling straight.
Travel canoe can hold 915 pounds of people in gear so there's plenty of room for 2 or 3 paddlers and all the gear they need.
TC16 is perfect for lakeside camping trips. It has all the benefits of a traditional canoe plus the safety and portability of an inflatable. This means that you can take the travel canoe with you just about anywhere in the world you want to go.
Sea Eagle TC16 Inflatable Canoe Unpacked | Canoeroots | Rapid Media
Specifications:
Hull weight: 60 lbs.
Length: 192"
Beam: 38"
Interior: 182" x 25"
Load capacity: 2-3 person (800 lbs.) or persons + gear (915 lbs.)
Inflation time: 7-9 minutes
Inflation pressure: Up to 10 psi
One disadvantage or advantage depending on how you look at it with the TC 16 is that it's a little bit more tippy. Initial stability is lower than the rest of the kayaks.
I would never feel comfortable standing up in this while moving on the water where a lot of the other ones I would have, but that's true of most canoes.
So it feels like a typical canoe in that sense. If you're a canoer and you like to canoe and paddle that way rather than being in a kayak, I highly recommend the TC 16.

4 discount packages available:
Basic
2 Person Start Up
Electric Pump
3 Person Electric Pump

---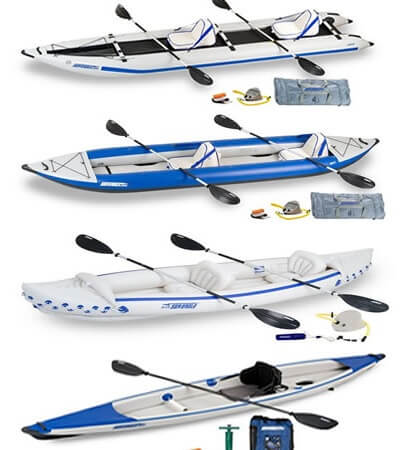 Why bother with inflatable kayaks for sale?
Here are several reasons why you should consider buying an inflatable kayak.
There are a number of reasons why you should get a blow up kayak.
The biggest one is to have it in the back of the car whenever you feel like boating, you are ready! You don't have to have it strapped to the top of the car and plan ahead. You get everything in the back of the car and you are ready to go.
People like inflatables because they're forgiving. When you're going down the river, you can hit rocks and bounce around. Things don't break and get holes in them as easily.
You can go into lakes, you can go into rivers and you can go into very shallow water and scout out fishing spots or just go exploring. You will not be worried about dragging or running aground, the bottom is tough and you can just cruise where most boats are not going.
You can pull it out easily which is also a really nice feature and get it up on the beach or on the land quickly.
They are so simple to setup. You blow them, up you get your life preserver on, you've got your paddle and in ten minutes you're in the water out having fun. You're not dealing with carburetors, batteries, propellers or any of that stuff. You're out having fun in ten minutes.
What about portability?
If you have done a lot of kayaking with standard kayaks, you know that these kayaks are heavy and getting them off a car and get them down to the water is hard and it takes two people. They're bulky and back-breaking.
Inflatable kayaks are lightweight and if it's inflated, you could just move it down to the lake real easy and if you're running a river and you need to portage, a standard kayak is heavy to carry it, if you've got to carry it a mile.
Inflatables are a whole lot lighter and make the job a lot easier.
When you go on a long trip, you you've got a lot of stuff: you got sleeping stuff, you got tents, you got first-aid equipment, you got food and a major thing is good drinking water and you can fit all that in the 420x, for example.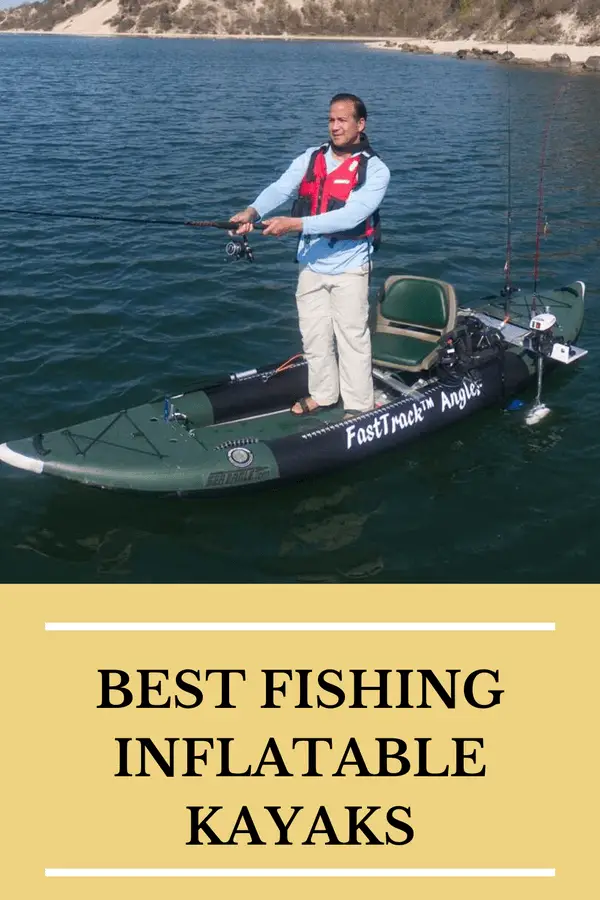 Best One Person Inflatable Kayak
10 Best Inflatable Kayaks For 2022 (Beginners & Pros)