Paddle board fishing is super fun and enjoyable and Sea Eagle's inflatable FishSUP 126 makes it really easy to get started. This thing is an absolute game changer.
Its pioneering design fuses unparalleled stability, stealth, and practicality, creating a unique fishing platform.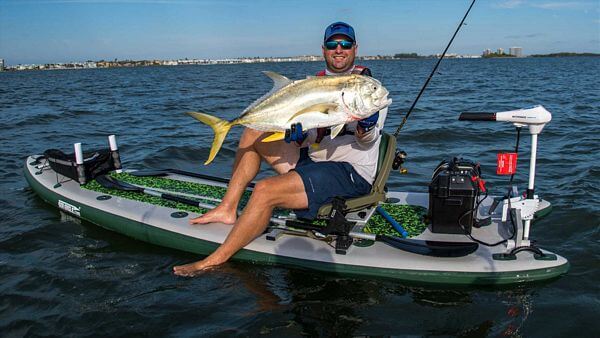 Perfect for freshwater or saltwater activities, this lightweight board is truly portable. Just grab the backpack carry bag from your car and head to the water.
It takes just 10 minutes to inflate the entire paddle board from a single port; less time than it takes most anglers to launch a boat! At the end of the day, simply deflate the board and go home.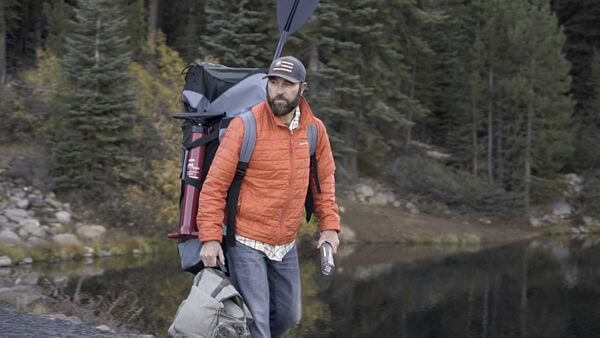 It's far wider than standard SUPs, providing not just maximum stability, bit it also gives you plenty of space to battle lunkers, store your gear and stretch your legs.
Enjoy fishing while sitting, standing, kneeling or patrolling. And feel free to cast in any direction.
Due to its size and stability, you can cross wide-open stretches,while its shallow draft gets you into skinny water others almost never explore.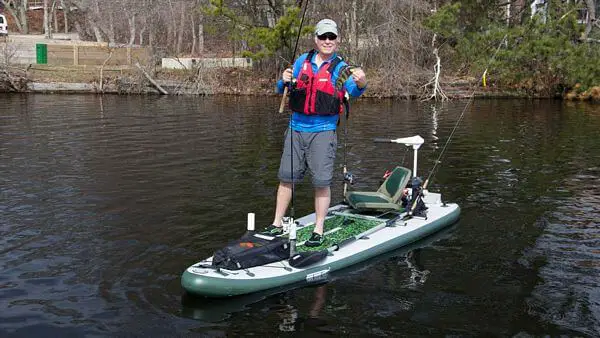 Both the top and bottom layers are made of the thickest drop stitch material.
A wide area of EVA foam provides the non-slip surface while adding one more layer of protection against fish hooks and other sharp items.
Whether casting around docks, working reefs and rock piles, probing the shoreline or stalking mangrove flats, the FishSUP meets every challenge with rock steady stability.
Feel the wind picking up? No problem! The FishSUP's pointed bow slices through a chop with ease and three removable rear skegs ensure true tracking under all conditions.
There's a carry handle in the bow, two at the stern and one at center board to make lifting and moving a simple task.
D-rings align from bow to stern to secure the seat, gear and bigger items like tackle boxes and coolers.
A multi-purpose mesh storage box with two PVC-style rod holders, slide under the front tie down.
A 36 inch ruler run straight down the center to measure your catch.
There's even a motor mount standard on all models.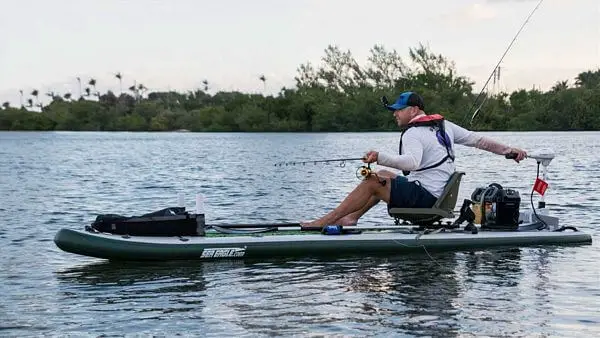 The SeaEagle FishSUP is available in several versatile and affordable configurations.
Whether you are seeking the catch of a lifetime or just looking to have more fun wetting a line, SeaEagle's inflatable FishSUP is a terrific choice.
Specifications:
Person Capacity: 2
Hull Weight: 45 lbs. (48 lbs. with motor mount)
Length: 12 ft. 6 in.
Width: 3 ft. 4 in.
Load Capacity: 2 persons or 500 lbs.
Deflated: Approx. 45″ x 15″ x 10″
Air Valves: One Way
Inflation time: 7 Minutes
Seam: Quadruple Overlap
Material: 1000 Denier Reinforced Drop Stitch
Board Thickness: 6"
Engine Capacity: 55 lb. thrust (45 lbs. max weight)
Inflation Pressure: 12-15 psi
Volume: 340 Ltr.

My Review
One of the hottest new crazes in fishing is stand up paddle board fishing. It is easy to understand why.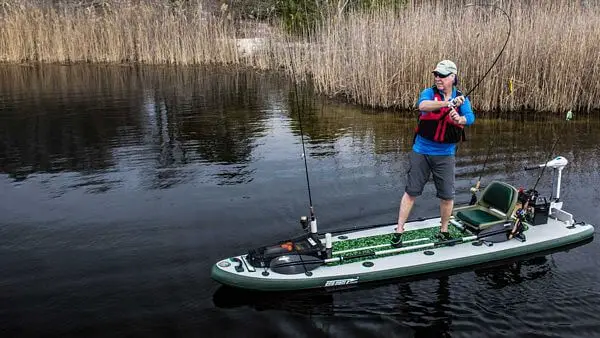 You're surrounded by water and nature everywhere and the best part about it, you can store this boat in your closet at home and the trunk of your car.
SeaEagle has made a fishing SUP strictly for the fishermen. Why? Because it's wider. One of the things about a stand-up paddle boards is you're worried about falling into the water. So the guys at SeaEagle came up with this great idea to make them wider.
The 3 foot 4 inch beam makes this an incredibly stable platform for any angler that wants to fish on it.
The best part is that it's very stable and you can fish all angles out of this boat. You can fish front and back or you can turn sideways.
But the deck is incredibly solid – 15 psi is what these things blow up to and at 15 psi, they are hard as a rock. They are solid as a fiberglass board.
It blows my mind how stable these things are.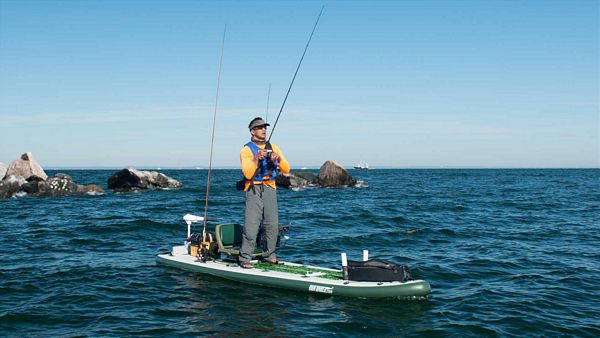 The paddle breaks down into two pieces and you can throw them in the backpack. They have extensions so they can adjust to anybody, from short to big guys.
You can set up your inflatable fishing paddle board basically bare bone. You can have just paddle, the board and a little gear in the multi-purpose storage box.
Or you can put all the bells and whistles on this thing. You can put the seat, the battery and the motor mounted at the back.
They come with fins that you attach on the bottom to make it track a little easier.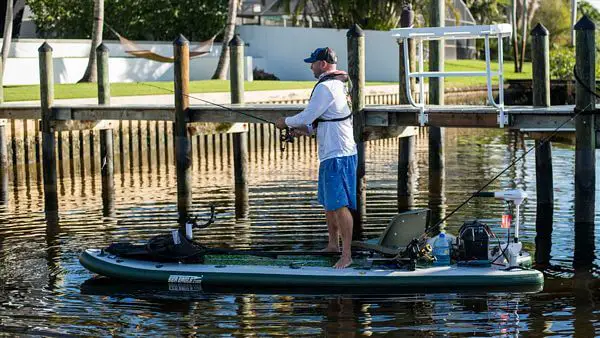 The seat is very stable. I was standing on it, pushing it over, putting all my weight on it. It has a couple of brackets and it's really easy to put on. Swivel seat is extremely comfortable. I've fished all day and never even thought twice about how my back might be hurting.
Another great thing about these stand-up paddle boards is there are handles everywhere. And this thing is lightweight. You can have a paddle in one hand, and using a central handle, you can carry it under your other arm.
It's a drop stitch technology that they have it. I know that doesn't mean a lot to most people but that fabric is the best. That's why we're getting so much stability with so little of air.
It's so rugged and so durable. You're not gonna have problems with this thing.
It's a great fishing platform. It's quick, it's easy, it's light and it's incredibly stable.
It allows me to fish in skinny water, I'd say from a shallow draught of about two inches, and I can hook it up with a trolling motor and troll on it and then get as deep as fifty feet.
It's got a built-in fish ruler so you can make sure that your catch is legal.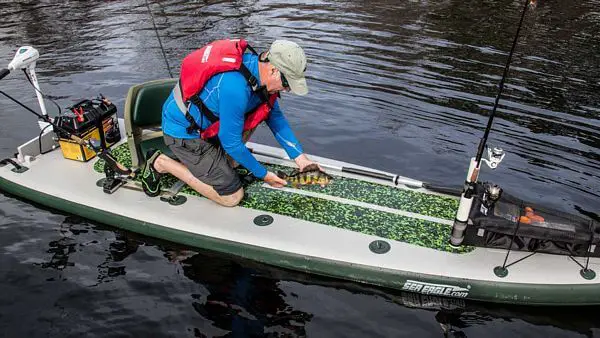 It's got non-slip EPA, so standing is not a problem.
One of the greatest features of it is the ability of seat to swivel back and forth. I can't tell you how much that is a deal breaker for me. To be able to turn around, reach into a tackle box or turn around and work a fish. But to actually be able to rotate with a chair is a really big deal to me.
On the seat, these is a Scotty rod holder that you can accessorize with triple rod holders.
It is powered by Watersnake Venom 34 motor. It's a dual purpose, salt and freshwater, so I don't have to grab one motor for fresh, and one motor for salt water. The same motor every time. This is possible thanks to anti-corrosive paint and stainless steel parts.
It paddles extremely well. With the seat, you can paddle it like a kayak or you can stand up and paddle it like a SUP. I prefer to stand up and paddle it like a SUP because it's just a little easier to fish.
Guaranteed to catch tons of fish, gives you that stealthy approach and get really shallow. They go in virtually inches of water. The fish don't really know you're there. You can be right on top of them and score them every time.
7 discount packages available.

Depending on type of the package you choose, you can save up to $600.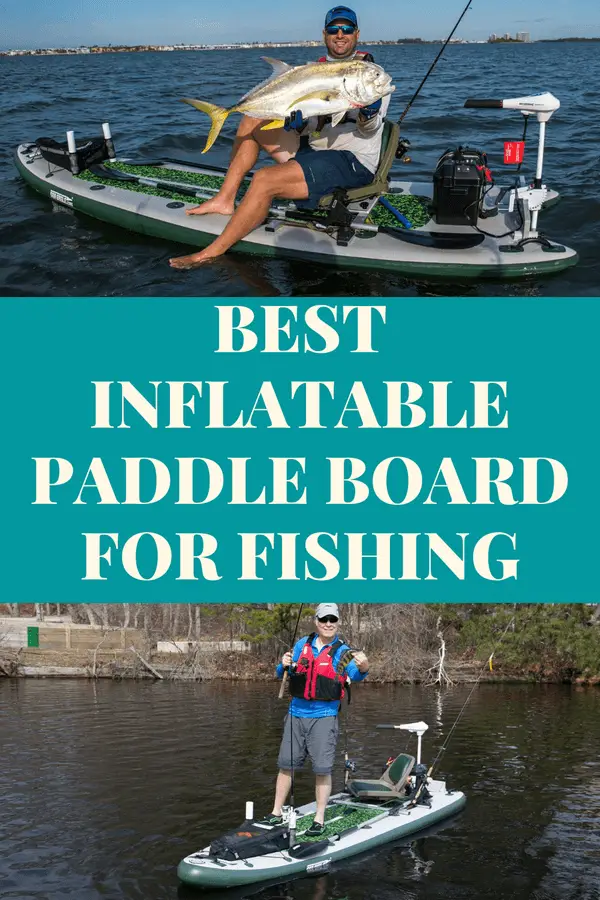 Best Inflatable Paddle Board For Fishing