What can you do about your messy garage? You can easily organize your garage with the best overhead garage storage racks.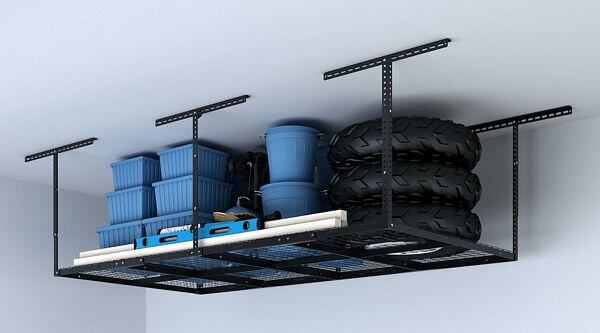 They open up huge storage options and utilizes "wasted" storage space in garages. They move items off of the garage floor. No more dings in your car doors!
These Fleximount heavy-duty racks have gone through strict tests.
Here is an array of garage ceiling storage racks in different sizes and weight capacities.
4′ x 8′ Overhead Garage Storage Racks
Very sturdy and stable thanks to the integrated wire grid design and frame that are welded together. Other brands have separate frame and wire.
Made from heavy cold-rolled 14 gauge steel construction for long-lasting use.
Weight capacity is 600 lbs.
High-quality, thick screws provided.
You can secure the racks to either ceiling studs or a solid concrete ceiling.
You can adjust the height from 22" – 40".
Installation in just a few steps with easy to follow the instructions.
Black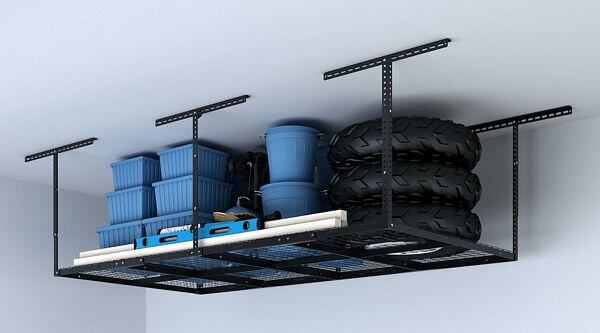 White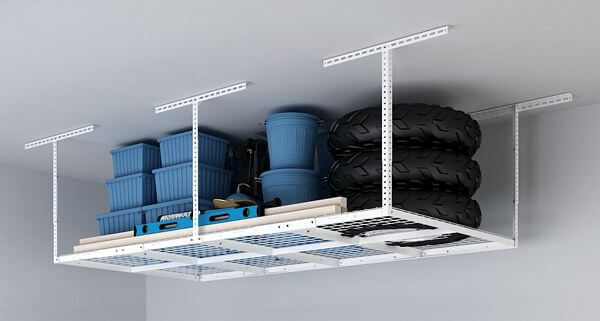 Hammertone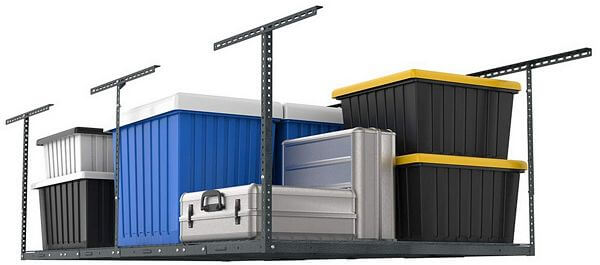 With Hooks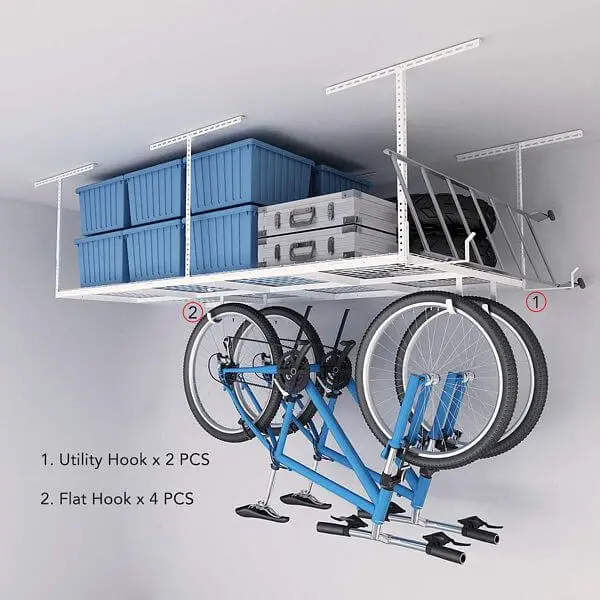 4′ x 6′ Overhead Garage Storage Racks
The only difference is that the weight capacity for these racks is 450 lbs.
Black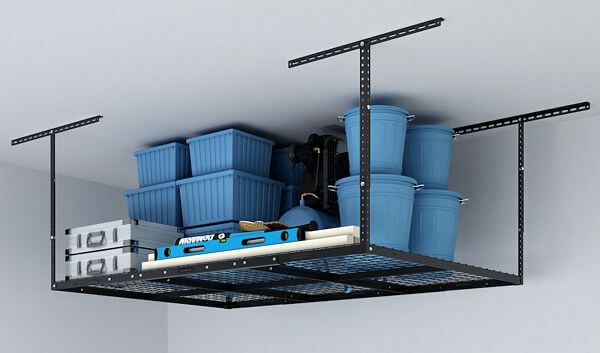 White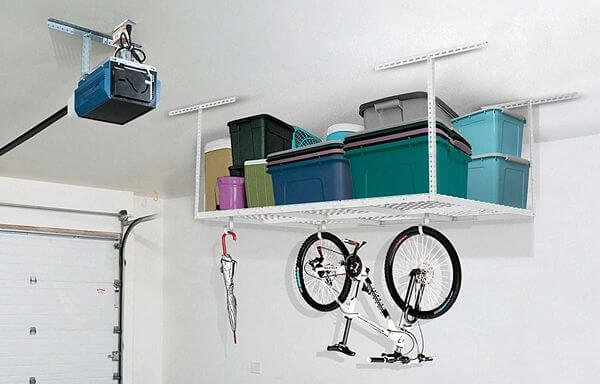 3′ x 8′ Overhead Garage Storage Racks
Weight capacity of these items is 550 lbs.
Black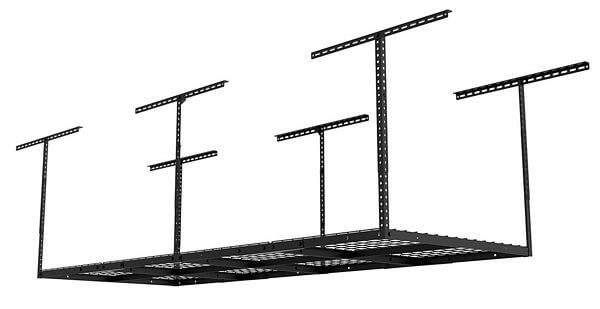 White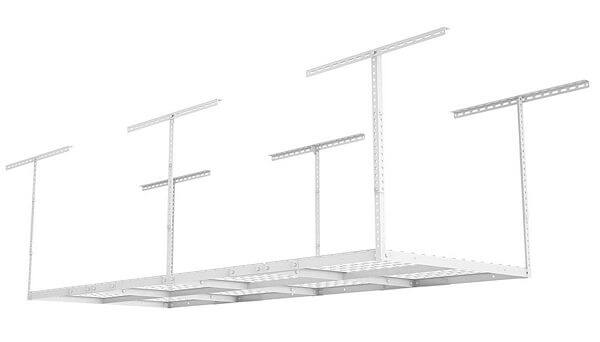 3′ x 6′ Overhead Garage Storage Racks
Weight capacity of these items is 450 lbs.
Black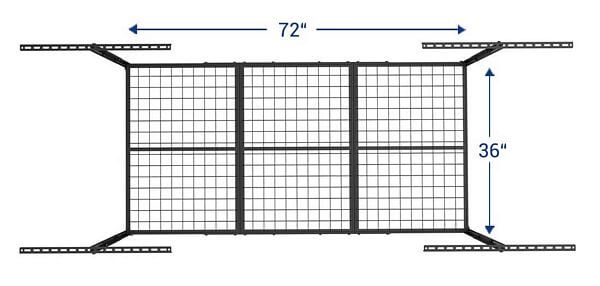 White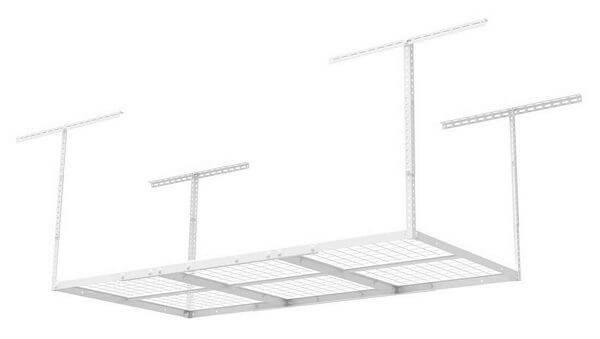 These rack are incredible. They really clean up the clutter in garage and open up the room for twice the storage. You will have so much extra space. You will feel like you have control of your garage again.
Click Here to Order + Free Shipping + 30-day Return Policy + Free Lifetime Support!
My Review
One of the struggles all of us have is keeping our places organized and one of the most wasted storage places in the standard home today is the ceiling of the garage.
We've got two 4 by 8 ceiling storage units and we think it's a great system. We recommend it and let me tell you why.
There's a couple things I want to point out.
Number one, this is a great modular system and everything comes in smaller sections, making it easy to work through.
Everywhere where it needs to be reinforced it is. For example, where two modular parts are joined together, there's a row of fasteners on each end that are threaded and there's a gusset that really, really is strong.
The vertical posts and everything on the ankles are of sufficient gauge to make it a very strong connection.
One of the things you'll see is that these brackets that are used to fasten to the ceiling are of a long enough distance that they'll bridge between the standard distance, usually 16 inches of ceiling joists. If the ceiling joists were running in the other direction, then you would simply run these along.
You want to always make sure that you have a fastener on both sides of the downrod. That's the only correct way to install them.
What else do we like about it?
The finish is really nice. It goes together nicely, it's clean looking and is substantial.
We think Fleximount did a great job and for the price point of what you pay for this, I think it's a great contender. You can look around out there but I think you'll find this to be a good value.

How to Install Overhead Garage Storage Racks
Fleximount Garage Rack installation and Review / Jon's DIY
Just received my Fleximount garage ceiling racks in the mail and in this video I will show you how to put them together.
Overall these racks were easy to install and the instructions easy to follow. These racks, once installed can support up to 500 pounds, they are appealing to the eye and come in both black and white. They definitely do away with the clutter in your garage by allowing you to use unused space that otherwise goes unnoticed.
In my opinion, these racks are top-notch. So let's get started.
The racks were delivered well packaged in a single box. Inside the box you will find the rack, installation manual and three bags of screws. The only tools you will need for the job: marker, drill, drill bit, 1/2 socket, 1/2 wrench, stud finder and tape measure.
These racks will be installed above the garage door to take advantage of the wasted space when the door is open.
Start in an open area and take out all the contents of your box.
You should have four shelves. The total size of these altogether is 4 by 8.
Next lay out your hanging brackets. Group them together according to their ends.
We're going to start with the support brackets. We will join each 4×4 squared together. You will complete this task four times.
Do not join your two 4×4 squares together yet. Ensure you are using the standard flattop bolts.
Once your support brackets are on, you can fill the empty bolt holes between the two pieces. Do this for both sides and tighten completely.
Once complete, take your two pieces and move them out of the way.
Now grab your stud finder and find your studs in your ceiling. Take a pencil and using the cardboard template provided, make your markings.
Before trying to drill in your screws, take your drill bit and drill in a couple of pilot holes. With the wood screws provided, mount your first ceiling bracket.
Fleximount provides high-quality screws that are thicker than most of their competitors and Fleximount screws go through strict tests.
First bracket up, five more to go.
Now start with your second center bracket. Measure 48 inches from your other bracket. You can check with your stud finder but if your first bracket is mounted properly, the second will be in the stud as well.
Use the same steps you used with the first bracket and after your measurements are accurate, mount it to the ceiling.
Now the instructions say measure from front end to front end but here I measure from the center of my first bracket out 48 inches. I will then align my next bracket to the center. Then I use my cardboard template to make my marks.
Repeat the same process as you did with the others. Drill your pilot holes and then mount your ceiling brackets.
These two steps are then just repeated to hang the rest of the ceiling brackets.
Once you have all six up, we can move on.
For the next step, you need to figure out how low you want your racks to hang. A good rule of thumb is to raise your garage door and measure down from your ceiling. Give yourself a good 6 inches between your door and the rack.
I have decided to go the full 40 inches.
Next you need to pull out all the bolts with the round heads. Under the round heads are small squares. They need to go into the sides of the extender pieces with the square holes.
Now take your four corner hanging arms and mount to your ceiling brackets. At this point just hand tighten. Remember, you're just mounting the four corners. your two center pieces should still not be mounted.
Going back to your last two center arm brackets, mount them the same length as your corner arms. Again mine will be the full 40 inches.
Take them back up, mount them to the center ceiling brackets and again just hand tighten them. Ensure while mounting them, that the lips of each are facing inwards.
Now take your first 4×4 piece that you previously put together and take it up the ladder. If you can find someone to help you that's great, but if you have to do it alone, place it on top of the ladder and then place it in the corner brackets first. Then place it on the lips of the center brackets.
Have a few screws in your pocket for the center bracket. Place one in each side and finger tighten. Then go back and place screws in the corner brackets. While you're at it completely tighten them into place.
The reason we only finger tighten the tops was to allow for some play. This will help you when installing the shelf.
Like the first shelf, place your corners in position first, then place the other side on the center arm lip with a screw place one in each side of the center arm, then go back and place one in the corner of the corner arms.
After this is complete, you can mount the two shelves together. Once your two shelves are mounted together you can go back up to the ceiling brackets and tighten all remaining screws.
Double check all screws before you are done and ensure that all are completely tightened.
That's it you're all done. You can now load up your ceiling shelf and unclutter your garage.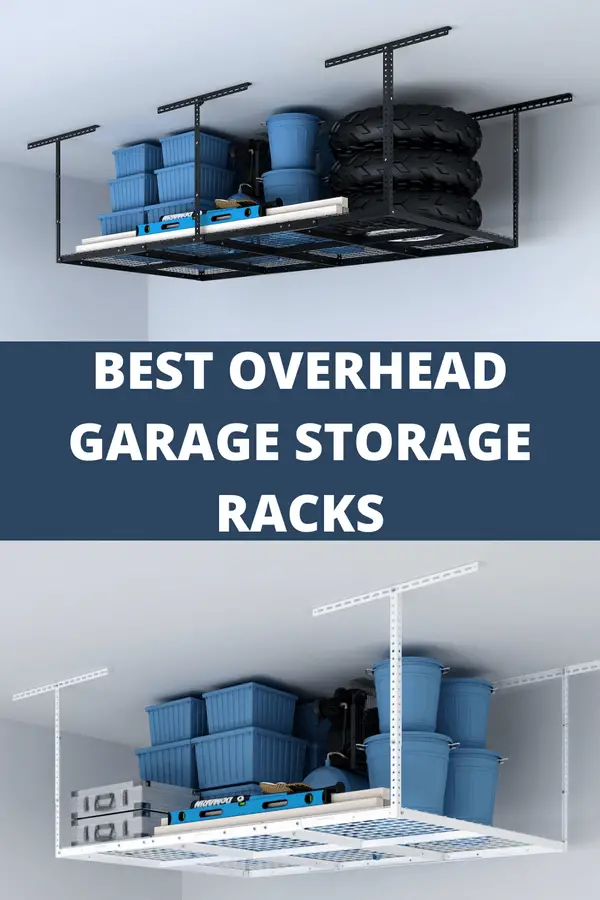 Best Overhead Garage Storage Racks