There are many great manufacturers of rigid hull inflatable boats on the market. Included below are reviews of the best models.
These boats come with risk free 180 day trial and 3 year warranty! This tells you that you are well covered and that the company that makes them stands behind what they sell. Who offers you 180 days to try the product and sent it back if you do not like it? Not many!
Top Rigid Hull Inflatable Boats For Sale
SE9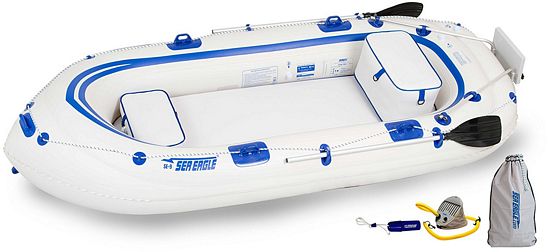 Affordable, inflatable boat perfect for motoring around, great for rolling with one or two persons and of course, it's excellent for fishing.
You can count on SE9 because of its strong hull, a significantly stable construction, and high carrying capacity. Although it is designed for four persons, it is really just for two.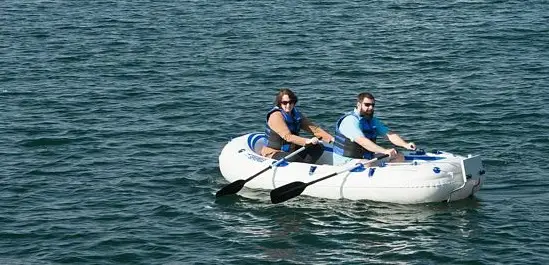 The entire 11 foot boat, seats, oars, floor, pump and repair kit fit in all-purpose carry bag, making it perfect for storing and transporting.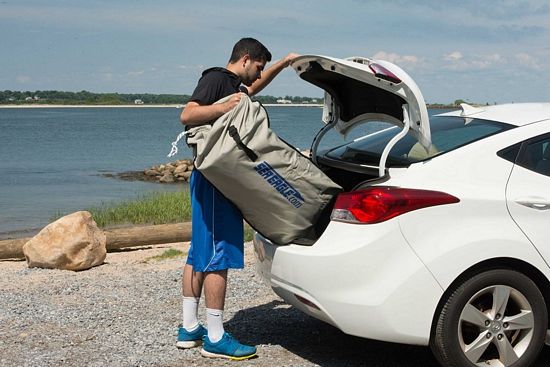 One of the min features is four-chambered hull design – chamber on chamber design. Literally a boat on top of a boat. The main chamber runs around the boat, while a safety chamber rests above it.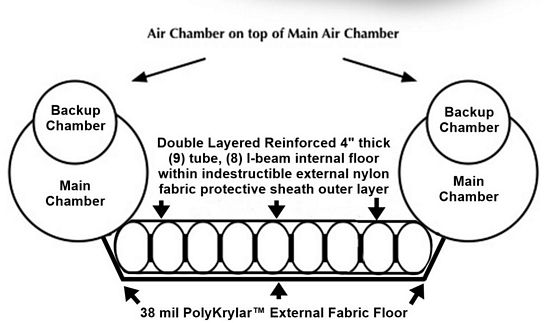 This has two important advantages:
First, there is no chance to puncture both air chambers at the same time. This means that the SE9 is unsinkable. You'll stay afloat no matter what happens to the hull.
Second, you'll have a dryer cockpit with maximal interior space.
There are also floor and Motormount support chambers.
Due to a compact design and wide (15″) tubes, the SE9 sits securely on the water. It is very stable even when boats pass nearby. Additional stability is provided by strong and rigid floor.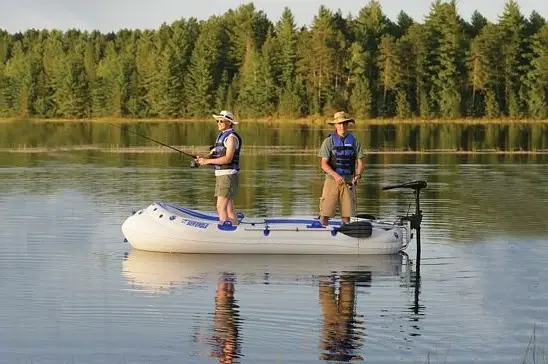 It's nice to be able to stand and stretch thanks to removable high pressure reinforced inflatable floor
made of high strength protective nylon fabric sheath for rigidity.
The SE9's puncture and abrasion resistant hull inflates to 1.1 psi for sides and up to 2 psi for floor. The hull is manufactured from strong 38 mil Polykrylar and reinforced with high-frequency welded seams.
Other features:
Hull weight: 35 lbs. (50 lbs. with inflatable floor & motor mount)
Length: 131″
Beam: 56″
Interior: 90″ x 28″
Load capacity: 4 adults or 120 lbs.
Inflation time: 15 minutes
You also get two inflatable seats:
a 14″ fishing seat that elevates you position for better viewing
a 4″ rowing seat that lowers your position for better rowing
Another great thing about the SE9 is that it has four molded oarlocks. This allows you to choose your rowing position if you're rowing alone or in tandem. When you do not need the oars, molded clasps hold them against the sides of the hull.
You can use the SE9 boat for different purposes – for family fun, fishing or as a ship-to-shore tender.
Sea Eagle SE9 Inflatable Boat, Predator 6.5 HP Longtail Mud Motor
If you are looking for the portability of a boat and want to be able to get to the remote waters that other people can't get into, then this inflatable boat is a great choice.
It's an amazing thing when you buy a product and when it is delivered to your home it is way better then expected.

Available in six discount packages:
Startup
Fisherman's Dream
Watersnake Motor
Watersnake Motor Canopy
Fish-n-Troll
Honda Motor

106sr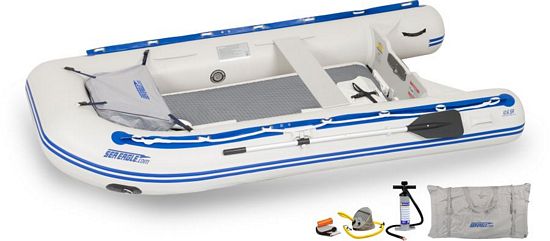 This inflatable boat offers astonishing value for the price! This line has been launched in 1997, and it has been used all over the world, including China and India. Some countries are using this boat range for Fire and Rescue.
They have been tested and proven to quickly travel long distances, even on very stormy sea.
It is not only speedy on the water, you can set it up and launch in 15 minutes. It's lightweight, with hull weighing just 77 lbs.
Most importantly, it has advanced navigational features that cheap inflatable boats simply don't have.
The rigid keel gives you the ability to turn sharply and precisely in any direction. This is so helpful when coming to a dock or motoring in crowded harbors.
The keel also provides good stability when at rest. It also allows this boat to ride over waves rather than plowing through them.
The boat features five air chambers. The broad beam allows for first-class stability. Big pontoon tubes provide for buoyancy and better rigidity.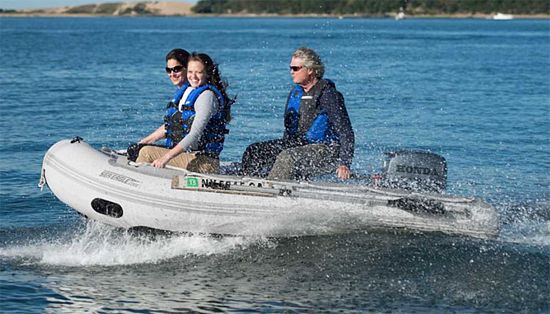 The 106sr inflatable boat is very durable. The lower halves of the tubes have an extra layer that protects against abrasion and punctures. The hull is additionally protected by a 3″ rubbing strake that goes all around. A 4″ rubbing strake protects the keel.
A high-pressure drop stitch floor inflates to 7 psi, making it extremely firm to stand on as well as resistive to direct sunlight, high heat, salt water, gasoline, etc. Some packages include plastic floorboards.
A 15 hp engine gives the boat 18 mph speed with two adult passengers, or 12 mph with four people.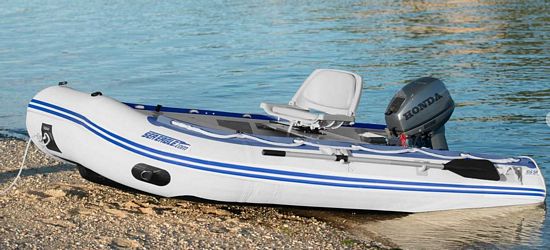 Main specifications of the 106sr:
Length: 126″
Beam: 65″
Interior: 86″ x 33″
Load capacity: 5 adults or 1200 lbs.
Material: 1100 Decitex Reinforced
This Sport Runabout is very tough with lots of features that set it apart from most other boats in its class.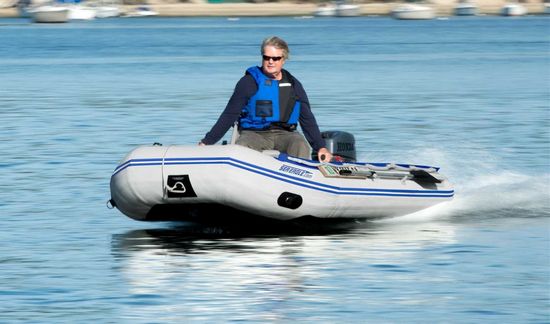 The exterior keel guarantees easy control and precision steering. It handles long distance trips on the ocean in both good and bad weather without problems.
You should seriously consider the 106sr!

Available in eight discount packages:
Drop Stitch Deluxe
Deluxe
Drop Stitch Swivel Seat
Swivel Seat
Drop Stitch Swivel Seat Canopy
Swivel Seat & Canopy
Drop Stitch Swivel Seat Honda Motor
Swivel Seat Honda Motor

126sr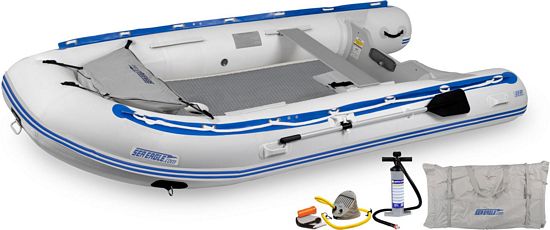 If you want an inflatable boat that is roomy, comfortable, and stable, this model is for you. It's almost 13 feet long and can be used for multiple purposes. It's popular for its durability and great performance.
With its large 18″ air tubes and deep-V keel, it ensures that every journey is smooth, easy to plane and easy to steer.
New Sea Eagle 12.6sr Sport Runabout Inflatable Boat
Heavy-duty construction will keep you safe for many years. The hull is so rugged you cannot rip it or tear it with the claw end of a hammer!
A strong fiberglass-reinforced transom supports the weight of a 150-pound motor. If you have a 20-30 hp outboard, you can tow a skier or a tube.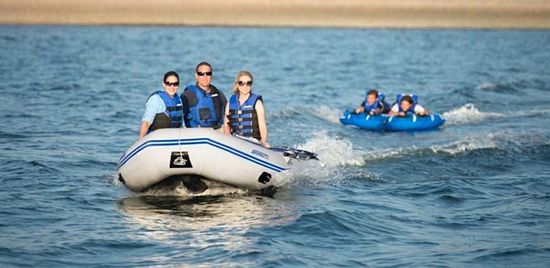 Main specifications of the 126sr:
Person capacity: 6
Hull weight: 95 lbs.
Length: 150″
Beam: 65″
Interior: 102″ x 32″
Load capacity: 1600 lbs.
Inflation time: 20 min
Material: 1100 Decitex Reinforced
What motor you are going to use is dependent on the floor. If you have inflatable drop stitch floor, use a 20 hp gas motor. If you have plastic floorboard, get a 30 hp gas motor.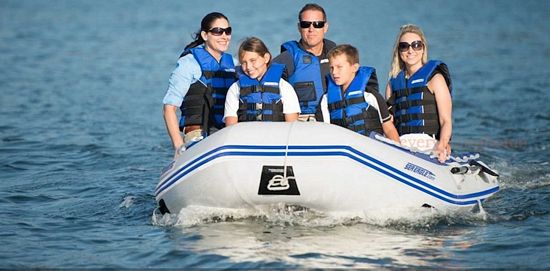 There are five air chambers: port, starboard, bow, keel and drop stitch floor. Thanks to this multi-chambered design, a single puncture won't sink the boat, although a puncture is extremely unlikely.
Additionally safety is provided with an extra layer of material bonded to the seam and with rubbing strakes along the hull and keel.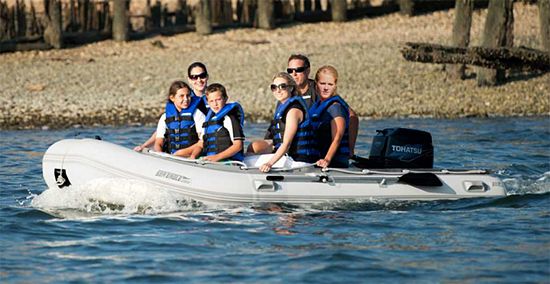 The 126sr is a perfect inflatable boat for anyone who is looking for a serious boat. With so many awesome features, it can pretty much do it all.

Available in eight discount packages:
Drop Stitch Deluxe
Deluxe
Drop Stitch Swivel Seat
Swivel Seat
Drop Stitch Swivel Seat Canopy
Swivel Seat & Canopy
Drop Stitch Swivel Seat Honda Motor
Swivel Seat Honda Motor

14sr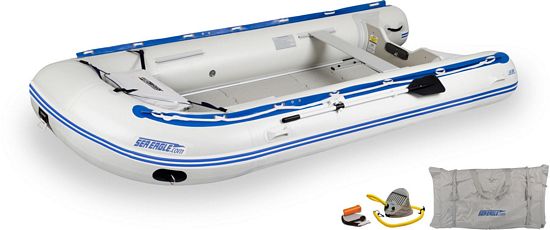 Extremely durable rigid hull inflatable boat that is frequently used by the fire and police departments.
Jay Craig talks about his Sea Eagle Sport Runabout
Its rugged composition allows you to use up to a 40 hp motor. Also, its 6″ inflatable keel helps you tackle stormy and rough waters. The keel lets you turn quicker than other comparable runabouts, which is very useful in limited spaces.
The 14sr has well-deserved reputation for stability, which is achieved thanks to a wide beam, the hydrodynamic tubes and drop stitch keel.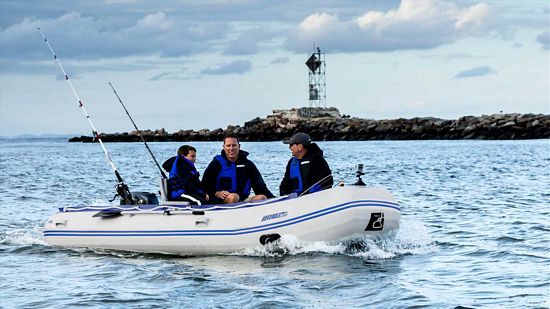 The rounded rear pontoons allow for rapid planning. This boat can carry heavier loads at high speeds – it can carry up to 7 adults or 2000 lbs.
There are two floor options: a high-pressure inflatable drop stitch floor and a plastic floorboard.
You should choose the inflatable floor if you want the boat to be lightweight. However, if you want more speed, the plastic floorboard will give you more stability and you can use a larger engine.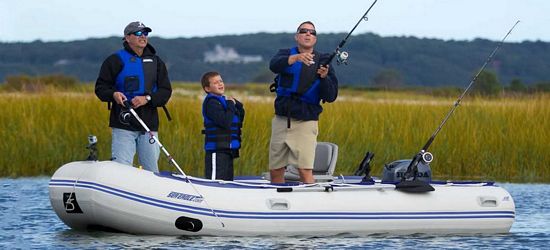 The 14sr is a great combination of durability, size, convenience, power and speed.
Main specifications:
Person capacity: 7
Hull weight: 104 lbs.
Length: 168″
Beam : 71″
Interior: 115″ x 35″
Chambers: 5 (port, starboard, bow, keel & floor)
Tube diameter: 19″
Inflation time: 25 min.
Material: 1100 Decitex Reinforced
This boat performs well, but to be able do that, it must be exceptionally tough to endure all kinds of situations. In other words, an inflatable boat is as good as the quality of its hull.
In the case, the quality of the hull is spectacular. It uses extremely durable 1100 Decitex reinforced material that is resistant to damage from sun, salt, and chemicals. There is not one owner of this boat that is complaining about hull strength.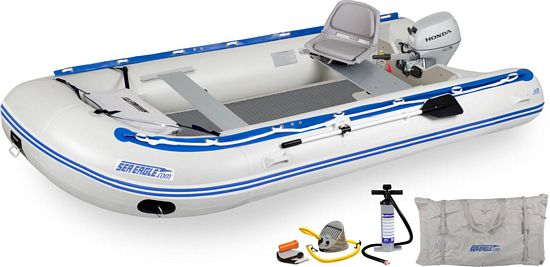 The transom can support up to 174 lbs. of outboard. When a 25 hp engine is used, you should reach 15 mph with half load. But, if you use a 40 hp, you can push 25 mph even with some weight. Without lots of people and gear, it can reach much higher speeds.
You can use oars to row it, but it is best when used as a powerboat. I can honestly say that this is the perfect inflatable boat for just about anything!

It is also available in eight discount packages, with names identical to the previous model.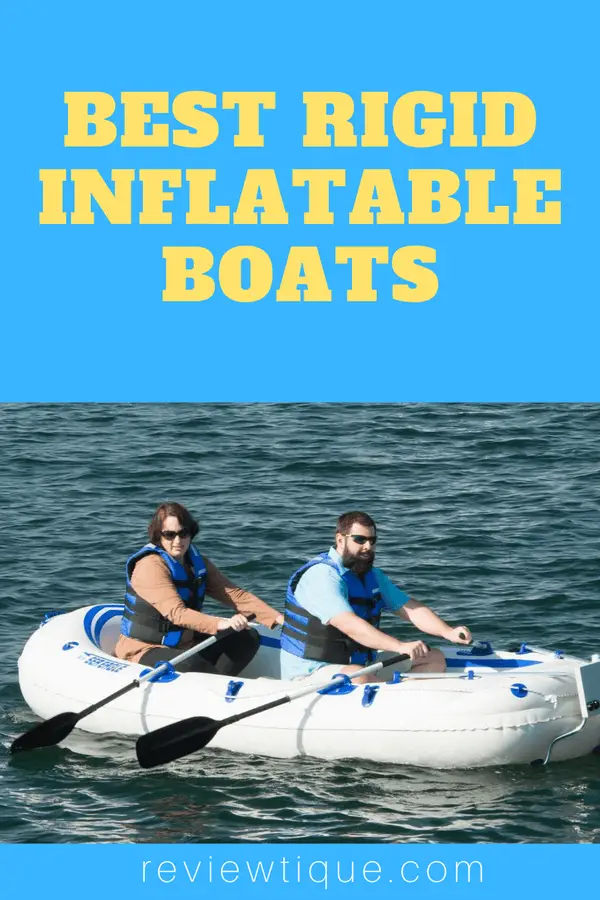 See also:
Best Rigid Hull Inflatable Boats For Sale 2023