Today I want to talk about the magical world of towels and towels really are magical.
I love taking a hot shower but the best thing is when you come out and you have a really good towel to wrap yourself around.
Why is it important to have a good towel?
If you think about it, it's how most of us start our day. So it's important to have a towel that we love.
So let's talk about what makes a towel a good towel.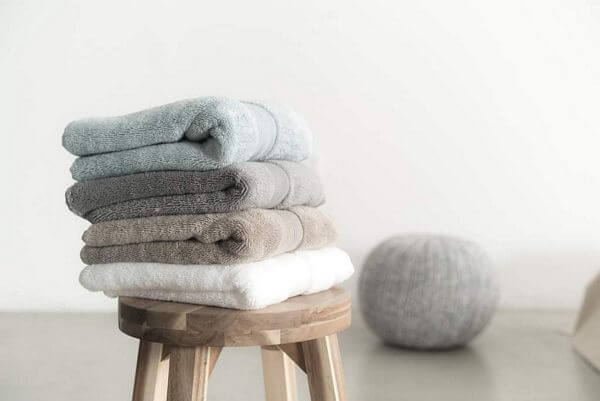 These antibacterial towels kill 99.9% of bacteria! These silver infused bath towels have maximum absorbency and take about half the time to dry as standard towels.
A lot of the times people think of towels as something generic. They are as much complicated as bed sheets. When you're thinking about sheets, you think about thread count, construction and the quality of the materials. The same thing is with towels.
What are they made of? That's the first question you're going to ask yourself.
What is the most important quality of a towel? Absorbency!
More cotton equals more absorbency.
I'm a big fan of 100% cotton. But not all cottons are created equally. Egyptian cotton has done a very good job of marketing itself and it's wonderful.
But there's another cotton which is American ring-spun cotton. It's grown in the United States, it's woven in the United States and it is a superior cotton in every sense of the word.
If you're looking for a quality cotton for your towels you might ask for a ring-spun or at least something that's grown in America.
Best Antimicrobial Towels, Silver-infused
You're thinking about thread count when you're buying bed sheets. When you're buying towels, you're thinking about grams per square meter.
You're looking for a thickness in terms of the quality of the material and you're thinking about the type of material and then you are thinking about how is that woven.
When it comes to colors, you should choose a color that makes you happy and color that you look good naked in. And then you want to think about the quality of construction.
One thing that consumers are surprised about is lint. Lint is actually an indication that you have a quality towel. Don't be afraid of a lint that is gonna come from a natural fiber like cotton.
How many types of towels one household could need?
Many people own three types of towels and that would be: the bath towel, the hand towel, and washcloths.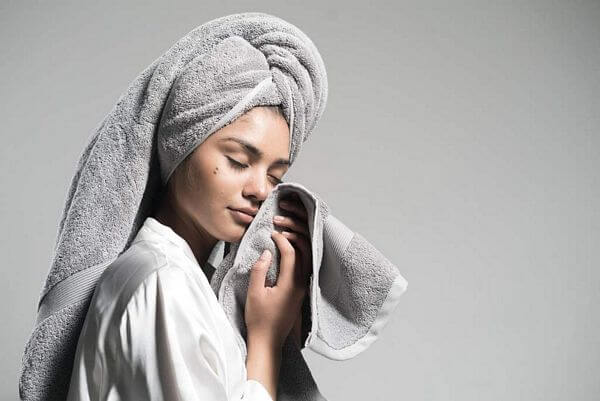 I want to go over some towel tips.
The first tip is to wash your towels in cold water. Cold water will make them last longer and stay more vibrant.
The second tip is not to use fabric softener. Oils in fabric softener go into the fabric of the towels and make them less absorbent.
The next tip is when you're buying towels, you should always go for white first because you can accidentally bleach your towels, whether with benzoyl peroxide or just plain bleach.
Because a lot of bathrooms are small, white towels open it up. If you have a really dark towel and a really small bathroom, you can feel really tight.
So try to get white towels or blue towels. If there's a lot of white in the bathroom and it's pretty big, then get blue towels to add a pop of color. Use the towels as decor.
Generally speaking, I try to keep my towels light-colored so I can see when they're dirty.
When it comes to my bath towels I change them out every two or three times I use them. So three towels are enough for one person.
If your towels smell, just dump vinegar inside of the washer and there will be no more smell again.
If you want to make your towels whiter, than you use one cup of vinegar and a half a cup of baking soda in the washing machine and they'll get your towels clean and white again.
The way the washing machine works is that it gets most of the dirt off by itself without having to use any detergent. You really don't need a whole lot, you don't need something very strong. I try to use unscented as much as I can because some people have allergies.
We go for plush, luxurious-looking towels most of the time, because when we go to hotels, we just love the way that they feel. Until we go out and buy the plumpest robe and the plumpest towels, but the problem is that these towels don't absorb water that well. The plumper the towels, the less water it will absorb.
That's why when you go to the beach, you bring a nice thin towel and most of your house towels will be very thin because thin towels absorb water a lot better. But not only do they absorb water a lot better, but they also air dry a lot sooner so the bacteria is not just sitting in a towel, making a grimy and making you have to wash your towels a lot because it starts to smell.
The plumper the towel, the more likely you're going to have to wash your towels separately, because they'll be shedding on all of your other clothes. The skinnier it is, the better.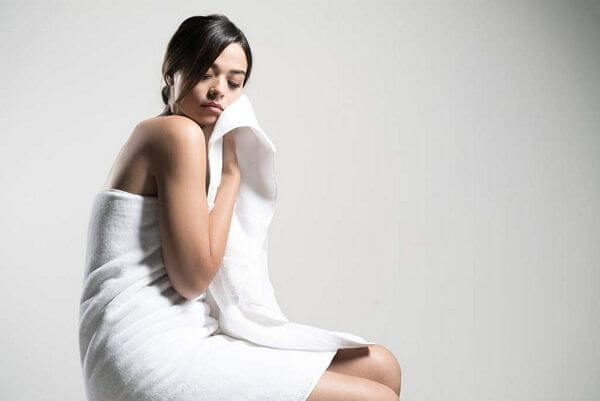 Miracle Towels: No more odors! 3x less laundry! Click Here Now!
Here's the secret.
If you really want to get an absorbent towel, get a waffle weave towel. It collects the water off of your body easily, so it makes drying a breeze and it dries instantaneously. It's like having a microfiber cloth on your body.
I use hand towels as face towels.
If you don't have sensitive skin, you can dry your face with bath towels and nothing will happen. But if you have sensitive skin, you do not want to be putting your face on top of your bath towel because you'll be rubbing your conditioner, unless you wash every towel after you use it.
Not only that, but if you wear makeup frequently, then you don't want to be rubbing your makeup onto your bath towel.
If you visit any store selling bath towels, you gonna find stacks and stacks and there are all those different kinds and there are a wide range of prices. Often times, many of them make different advertising claims.
Picking from a huge selection of towels can be daunting. Here is what you need to know.
Thick and heavy towels will dry you off better. Egyptian or pima cotton is the best quality. Their long fibers are stronger and they are less likely to pill.
But shop carefully.
There are a lot of towels out there that are labeled Egyptian or pima but aren't. If their prices are too good to be true, they are probably not the real thing.
Another option, look for cotton rayon blend. They absorb a little bit better although they won't wear as well.
And be aware, those towels that are so soft in the the store won't stay that way. They're treated with a special finish that will wash out.
Using liquid fabric softener will make your towel feel soft but it decreases absorbency significantly.
An occasional dryer sheet is a better option, but over drying towels can shrink them.
Instead of timer setting, use machine's moisture sensor.
And if you have a teen at home, colored towels can be ruined by benzoyl peroxide in acne medications, which ca leave bleach spots.
Some manufacturers claim their towels resist these bleach stains. Tests show that these towels really don't bleach. Regular white towels were also tested, and they also passed the tests. So white towels are a great options for teens.
When you buy colored towels, buy a matching wash cloth and store that away. If your towel fades, the wash cloth is gonna be good evidence when you ask for your money back.
Bath Towel Buying Guide – How to Buy a Good Bath Towel