>>> FALL SALE! Use code COZY for 15% OFF or code FALL23 for 20% OFF orders of $250+ –  CLICK HERE NOW! <<<
You will be crazy about these antimicrobial bath towels, if you love a clean and soft towel after a relaxing, warm shower.
Your typical towels you keep in your bathroom absorb all the bacteria floating around. These towels become breeding ground for all kinds of microbes.
In order to keep these stinky towels clean and odor-free, you are supposed to get washed them often, at least once a week.
Excellent news is that Miracle Brand's antimicrobial bath towels change all of that. No more musty smelling towels!
They are woven with antibacterial natural silver fibers that eliminates 99.9% of bacteria. This means that they stay cleaner much longer than typical towels.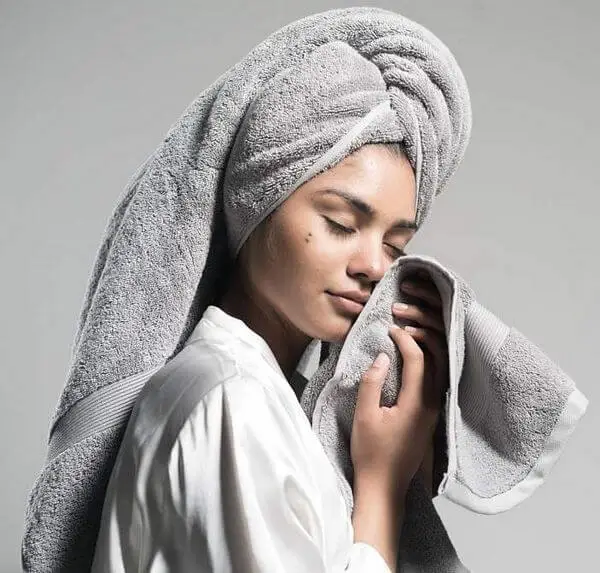 They can be washed three times less often. In other words, they are essentially self-cleaning.
What is the Secret of Silver-infused Antimicrobial Bath Towels?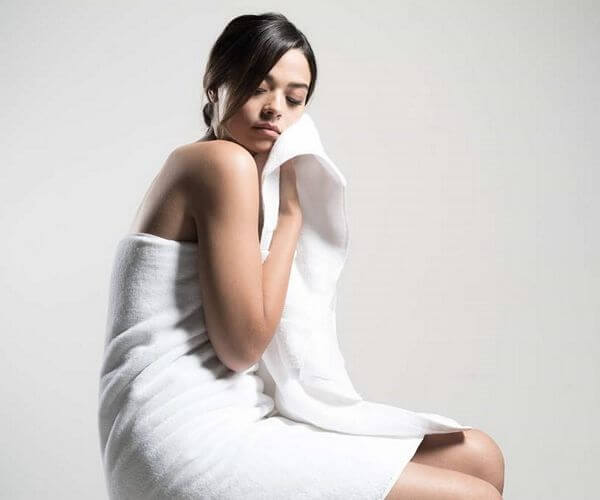 Silver ions, which have a positive charge, attract bacteria and other microbes and destroy them before they reproduce.
Science supports this fact and there's been enough evidence to show that silver does kill bacteria.
You can't feel or see the silver because they are intertwined within the fabrics.
When it comes to longevity, the effect of silver is permanent. It means that you can wash these towels countless times and the silver will not be impacted.
Most people don't know that towels can cause bad acne on your face skin and body. This is because bacteria on typical bath towels builds up very quickly – they double every 20 minutes! And when you wipe your face with such bacteria-infused towel, you're spreading more of them.
With Miracle Brand antimicrobial bath towels all these problems are gone!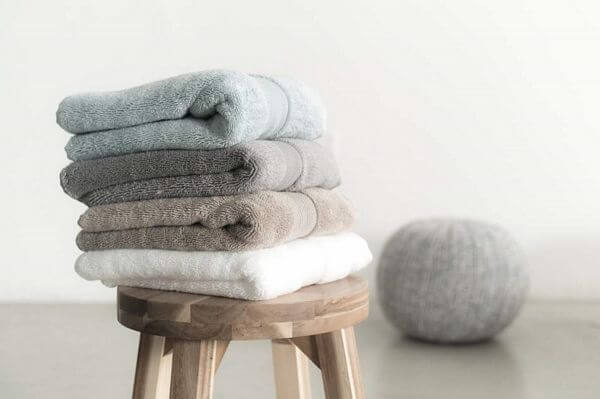 Not only they are bacteria-free, they are engineered to have high absorbency rate. They also have quick-dry characteristic and take about half the time to dry as standard towels. Towels are measured in grams per weight or GSM. A higher GSM means more absorbency potential.
Imagine a towel with all the perfect characteristics. Now add the antimicrobial properties of silver. This is what Miracle Brand towels are!
They are made of extra plush premium cotton and come in three different sizes (bath towels, hand towels, and washcloths) that all look the same, making a perfect set. Miracle towel set includes six items: 2 bath towels, 2 hand towels and 2 washcloths.
All three types are thick and plush yet soft to the touch.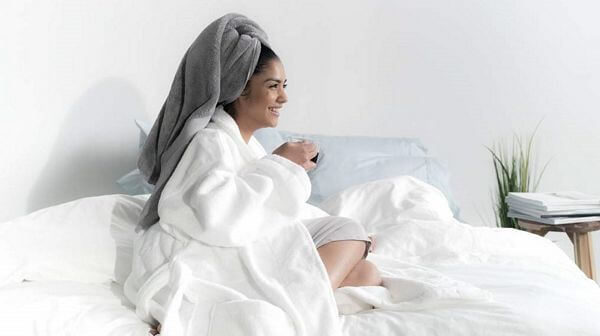 The bath towels feel fluffy and big enough to fully wrap a tall person. The hand towels are considerably larger than my old hand towels. The edges are sturdy and very well made.
I put them to the test for 7 days and they didn't smell at all. Also, they were still as fluffy as after washing them!
I find the power of silver genuinely incredible. I enjoy the fact that what I use is constantly being naturally disinfected every day. And I don't have to do anything. Truly a miracle.
I strongly recommend you buy them.
They are available in four colors to match your bathroom: stone, white, sand, and sky blue.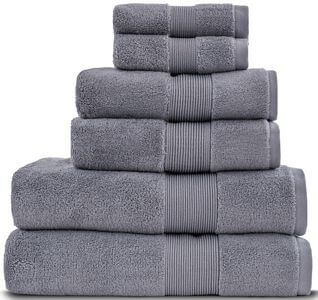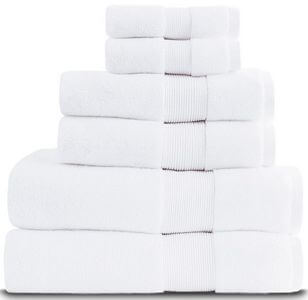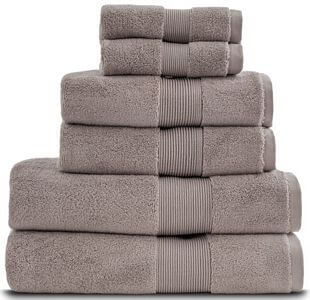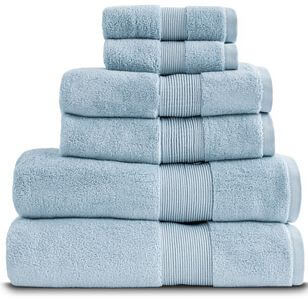 If you are still skeptical, you can try these antibacterial bath towels risk free for 30 days. With free shipping and free return. Click here to order! Over 800 positive reviews.
You have nothing to lose except musty smelling towels!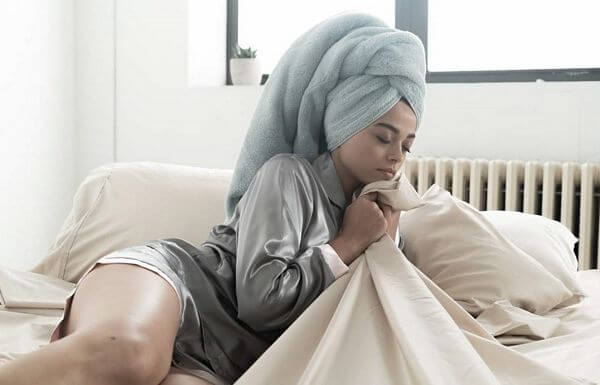 I also think they are a great and useful gift. Towels are not a common gift, but if you know someone who hates musty smell on towels, these would make a fantastic gift. Just tell them that they are resistant to bacteria and that they can wash them 3x less often.
Yes, that's true. Three times less laundry!
The Miracle Brand antimicrobial bath towels are one of the best products that I personally have purchased in many years.
Many people deal with musty and moldy smelling towels using vinegar, baking soda or borax.  But the problem with this way of keeping a good hygiene of your towels is that it's time consuming. No more with these silver-infused bath towels.
The same company also sells antimicrobial bed sheets and pillowcases.
What's Growing on Your Towel?
Do You Know What's Growing on Your Towel?
Summary of the video:
Inside Edition put some towels to the test to find out what's lurking in our towels.
Using a standard testing procedure, they swab a towel with sterile swabs and then they sent them off to a lab in Florida.
Two weeks later the results came back.
They found one fungus and five different bacteria, including E. Coli.
The same towel was used for a week. On day one, the bacteria count was 260 thousand, but by day seven, it had shot up to 650 million!
Next, they did another test in different home. They washed their towels about once a week.
Test found eight different types of bacteria, including E. coli and Staph Aureus, which can cause infections.
On this towel, they found a bacterial count of 490 million.
In the third test, they found one fungus and four bacteria, including one that can cause urinary tract infections and even pneumonia.
Microbiologist and University of Arizona professor Dr. Charles Gerba said that if you're drying your face or your body with a dirty towel, it's like flushing your head in the toilet.
Experts recommend washing your towels in a washing machine every three days, using hot water and detergent. It's also a good idea to toss your towels into a dryer between uses to kill or slow bacterial growth.
But now you know about much better solution – The Miracle Brand antibacterial bath towels!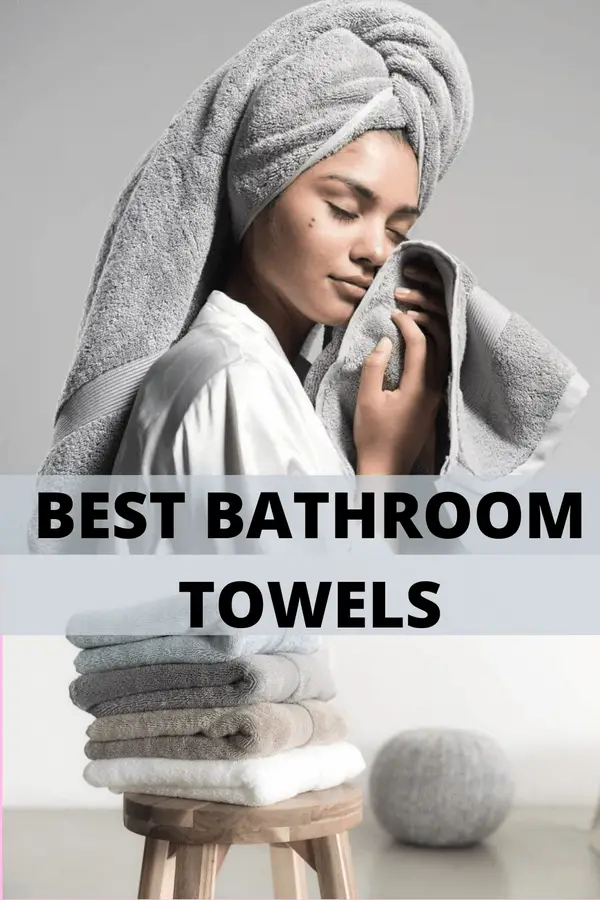 Address: Antimicrobial bath towels – 1501 Haines St. – Jacksonville, FL 32206
Best Antimicrobial Bath Towels (Silver Infused)