ToothWave is innovative and only toothbrush that uses Radiofrequency energy to reduce stains and tartar, prevent and reduce gingivitis and improve discoloration.
But does it work?
Professionals Reviews
Kate Honey, a registered dental hygienist
"My personal experience using the ToothWave was fantastic. My first impression of the toothbrush when I received it, it was very sleek design, I liked that it was lightweight, it had a very good handle on it that made it very convenient.
The ToothWave uses radio frequency RF technology. What it does is it breaks up the plaque as well as over time breaks up the tartar buildup. It's very well focused around the gum line and below the gum, which does a very good job because normally it's very difficult to even reach those areas with a regular toothbrush or with other electric toothbrushes.
A lot of patients in my practice are concerned about the condition of their gums as well as periodontal disease and the progression of it. I find that the ToothWave will help them greatly in that aspect because it will definitely minimize the amount of tartar that they have built up.
By using ToothWave and the technology that it provides, it is definitely a bonus for the patients because it does a lot of the work for them at home. It decreases the amount of tartar that they have over time as well as it reduces inflammation of the gums.
I would recommend the ToothWave to my best friend or actually anyone that I know because it really does give you a better clean and it does remove a lot more of the plaque and long-term the tartar buildup as well. And it's just a very convenient way to take care of your overall oral health at home."
Laura Kathick Martin
"For the last 17 years I've been a treatment coordinator at an orthodontic office, so I saw new patients for the consultations.
When I first got the ToothWave of course I was excited.
I think a lot of the public doesn't understand how important it is or the proper steps in order to maintain their oral health. So even just brushing their teeth alone some people don't have the proper technique.
They're missing a lot of steps and therefore soft deposit is being left on their teeth and that's when they come into problems with their gum tissue being inflamed and then further problems occur.
Plaque is when we wake up in the morning everybody knows you have that soft deposit, that film on your teeth. If you're not using the proper technique, then that soft deposit can hide in places and within 24 hours it turns to calculus and that material typically can't be removed unless you see an oral hygienist.
Now the ToothWave is the first proven toothbrush that can help kind of shake it up and wash it out. In between your hygienist appointments, you can make sure that you're doing the best job possible. I's just a very easy process and and I really saw a difference.
You just place it in the area and it's doing its job and really going around to all the different areas. It's really almost like breaking up the molecules so that any stain or tartar or bacteria in your mouth it's making it loose so that it's then easy to brush away.
I definitely recommend ToothWave as part of your improved oral health."
Leah Mackey
"I've been in the dental field for 15 years and 11 years as a hygienist. A good 80 percent of my entire time in the mouth is spent cleaning tartar and then 20 will be just trying to go around and collect the extra plaque that's left behind.
Plaque, we also call that biofilm, is the soft sticky stuff. Bacteria that lives in the mouth feed off of the foods that we eat. When that stays on the tooth surface for longer than a 24 hour period, it starts to harden and form tartar or calculus as we call
it.
When I saw my patient in the schedule I was like it's been nine months since this last cleaning. I don't know what I'm getting myself into. I was mentally prepared for the worst and then I started cleaning and I said wow, this is great, and that's when I had asked my patient did you implement those techniques that we talked about last time.
No, not really. I've just been using the ToothWave.
So after I saw that I was like I just need to get this into every mouth out there and make my job easier.
The oral health field doesn't have many innovations that come into play. The electric toothbrush was the last piece of technology that's really been added that people can take home with them. So having a new version, something that creates more knowledge to put into your oral health, is great.
It's time to add a new technology to your toothbrush. The ToothWave radiofrequency technology will disrupt the bonds that adhere the tartar to the tooth and replaces those bonds with the healthier bonds from your toothpaste and water."
Linda Do, dentist
"My gums are very thin. When I first started using the toothbrush, the first thing that popped up was how soft the bristles were. I couldn't realy feel the pressure against the gums, which is really good for patients with gingival recession.
I actually haven't found toothbrush that was super soft until the ToothWave. It's actually the softest bristles that I've seen.
A plaque is a soft boil film on your tooth or your gumline. Whereas calculus is when that soft plaque hardens up, usually after 48 hours, if it doesn't get brushed away. And tartar is what causes gingivitis and eventually ireversibal gum disease.
During an appointment I spent about 80% of the time cleaning teeth and you can really visibly see how things are. The ToothWave is keeping your teeth nice and clean, reducing the amount of plaque and tartar in your mouth.
The ToothWave uses RF technology which is radiofrequency waves. The vibration of these radiofrequency waves actually helps removal of the plaque along the gun lines. I would definitely recommend ToothWave to a friend of mine."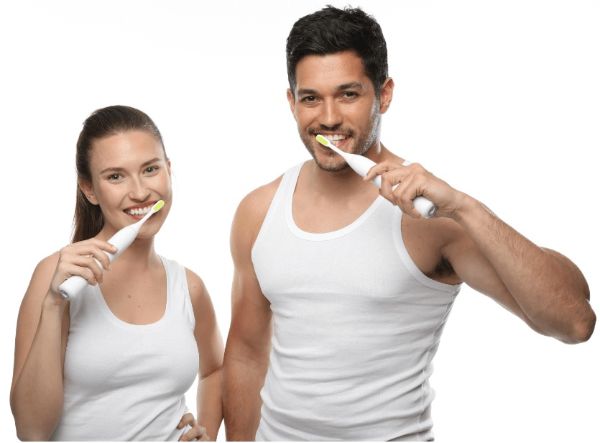 User Reviews
Erica Dyson
I'm from the UK originally. I'm 65 and I'm a technical writer. I wish I'd looked after my teeth a little better in my youth. I didn't realize how important they are. Before I started using ToothWave, I had a lot of problems with sore gums and generating a lot of tartar.
I was a bit skeptical because my teeth weren't in great condition and I thought it probably wouldn't make any difference, but I was wrong.
Since I've been using ToothWave, I've seen a reduction in in sore gums and reduction in tartar, which I'm very pleased about. ToothWave is really easy to use. I like the fact that it gives me the two minute timer. I find it really helps me clean my teeth properly.
Other benefits of using the toothbrush are that I get a nice clean feeling in my mouth after cleaning my teeth.
I'd recommend ToothWave to everyone. Give it a go."
Johanna Samberg
"Before I started using ToothWave, some of the oral hygiene issues I was experiencing was I had receding gums and I also felt I needed to use toothpicks because I had a lot of tartar and plaque and buildup between my teeth.
My gums were receding at a very rapid rate and I was told that I was going to have to have a pretty invasive procedure that I really didn't want to have.
I started using ToothWave just about a year ago and I got very good results. I noticed a big response from my oral hygienist after using ToothWave right at my very first teeth cleaning in that she asked me outright what are you doing to your teeth because they are so clean. I'm finding no tartar or plaque on your teeth. They are very, very clean.
I would recommend ToothWave to anybody who cares about keeping their oral hygiene at its best. I encourage anybody who has the opportunity to find it in the market to grab one and start using it today."
Nokyoung Xayasane
"I have a bit of tooth sensitivity and also a little bit of gum recession from wearing braces, so I have to be really careful when I'm using a toothbrush.
ToothWave has a radio frequency technology which you don't see it at all in any of the other toothbrushes out there. That is one of the main reasons I wanted to test it out.
It was a great experience. I actually did the different heads and then did the different settings just to compare and contrast. The ToothWave was really gentle on my gums. I really appreciated that.
I was able to break up the particles in between the teeth because when you have braces you're always thinking it's something in my teeth.
I noticed how it was so easy to use. You're not working as hard but you're getting a lot of things cleaned up. I really also liked how it buzzed to make me aware to switch surfaces.
I would definitely recommend it to my best friend."
Does ToothWave Really Works?

According to a study published in Juniper Publishers, "The ToothWave RF-utilizing toothbrush produced significant benefits in reduction of teeth stains and whitening of teeth shade as compared to a control, ADA-approved powered toothbrush."
84 subjects completed the study. After 6 weeks of brushing, "the test group showed significant reductions in all the tested measures as compared to the control."
According to another study published in PubMed.gov, "The RF powered toothbrush used twice daily resulted in an overall improvement in oral health."
85 subjects completed the study. After 6 weeks, "the RF test group demonstrated statistically significant reductions in plaque, gingivitis and calculus compared to the control powered toothbrush."

ToothWave Before and After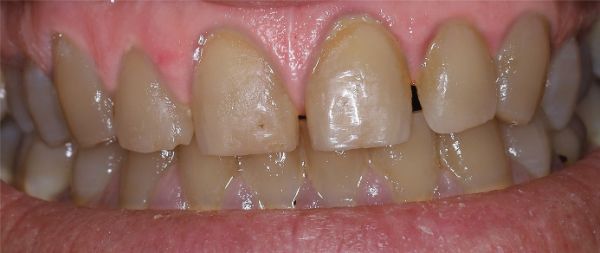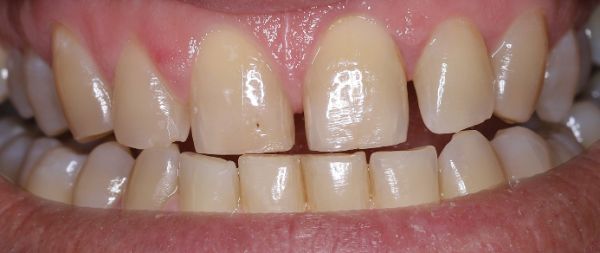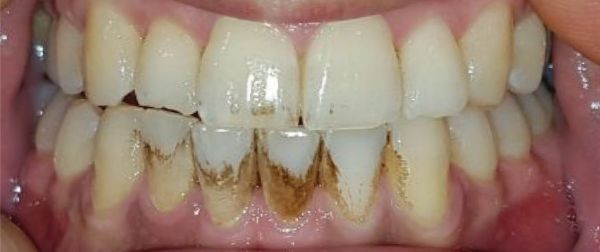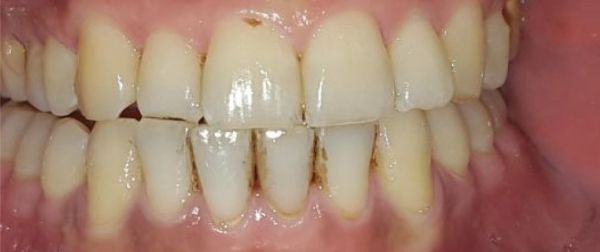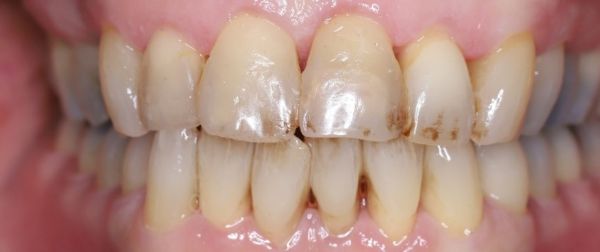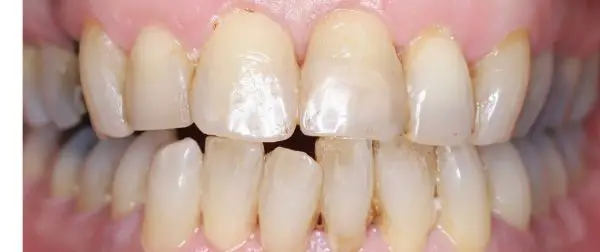 How ToothWave Works?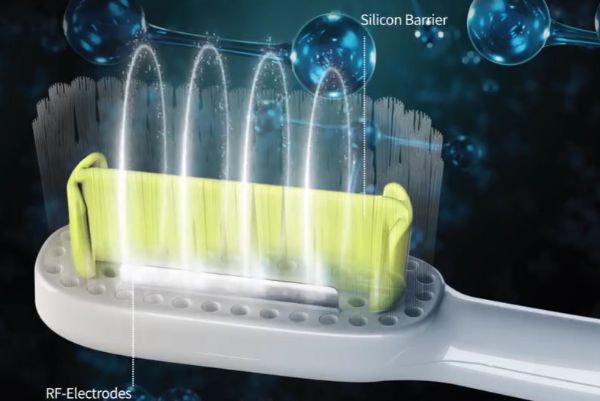 Discoloration, stains and tartar attch to the teeth by strong molecluar bonds that brushing can't break.
Dental RF technology in ToothWave is the first to employ the power of Radiofrequency energy. The RF energy can attack and break those strong bonds.
Gentle Radiofrequency waves of charged molecules engulf the surface of each tooth. The charged molecules destabilize those strong bonds until the impurities detach from the tooth's surface and replaced by harmless molecules.
RF waves follow the teeth surface, penetrating the most difficult to reach cracks, even under the gum line.
The new molecules shield the tooth's surface against other impurities.
No chemicals or special toothpaste needed. No change to your daily dental care routine.
Main Features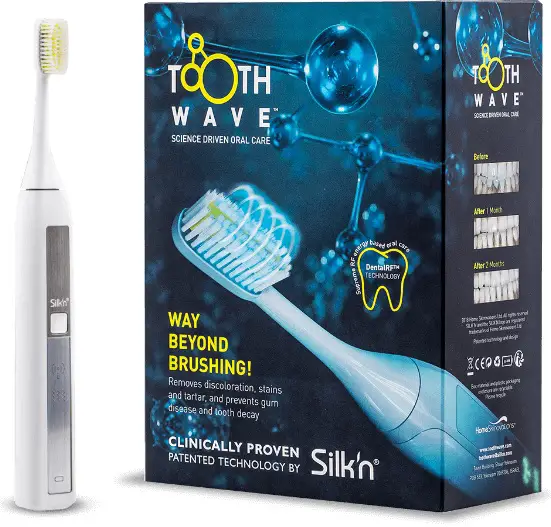 It's waterproof and suitable for use under the shower or while taking a bath.
On one full charge and with regular use (twice a day for 2 minutes) the device will work for up to 2 weeks.
ToothWave is provided with a smart 30 second interval timer, reminding you to move to the next section. After 2 minutes of continuous use the device will automatically shut down to indicate the end of the treatment.
Choose between 3 vibration speeds (high, medium or low vibration) or decide to brush the teeth without any vibrations. In all 4 modes the DentaIRFTM technology is active. At its highest vibration speed, ToothWave makes up to 48.000 vibrating brush strokes per minute.

Highest Rated Battery Operated Electric Toothbrush (UNIQUE)
Dental RF Toothbrush Reviews (ToothWave)