Out new top pick:
Philips Sonicare HX6921/04 FlexCare Plus Electric Toothbrush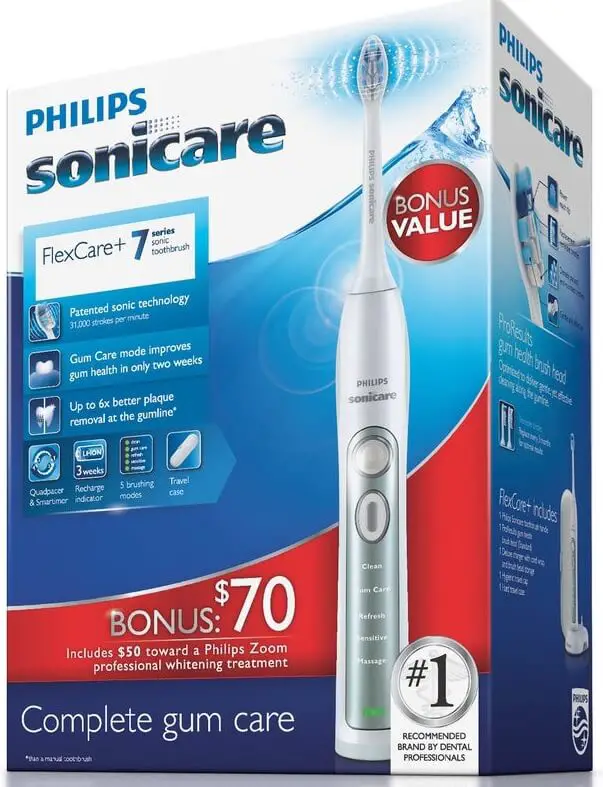 With five different modes, this toothbrush has an angled brush head for better reach to back teeth. It will clean, enhance gum care, refresh your mouth and massage your mouth. Removes up to 83-percent of plaque in hard-to-reach areas.
Looking for the most effective toothbrush for adults? Triple Bristle is an extremely good, sonic battery operated electric toothbrush that is recommended by many people and dentists.
Everyday we brush our teeth or at least I hope you do. But do we really think about the type of toothbrush we use, and how it impacts our next dentist visit.
I like how this toothbrush cleans my teeth and even better, it saves me time. It takes all the guesswork out of brushing.
I bought it because of how unique it is and also because of the back story of how it came to be.
Everyone can say they have a dentist recommended toothbrush, but not everyone can say that their toothbrush was developed by a dentist.
Review of Highest Rated Battery Operated Electric Toothbrush by a Dentist
Description
This sonic toothbrush head was made to look like a honeybee. The sides of the brush are made to look like wings and the middle represents the body with the bee antennas.
Each of the three parts are independent which allows them to adapt to different tooth sizes and positions.
The side bristles are positioned at a 45 degree angle which ensures that people can consistently brush at the gum line which is where dental disease often starts.
This battery operated electric toothbrush for adults reduces levels of plaque, gum soreness and bleeding and is safe for braces, implants and dentures. It cleans every crevice, helps remove stains and bacteria while keeping fresh breath and white teeth that are gingivitis-free.
It is the world's first 3D sonic toothbrush created by a group of dentists in Philadelphia. It has been 4 years in the making.
Featuring cutting edge design and the latest technology, it takes all the guesswork out of brushing and gives you the perfect clean teeth in less than a minute.
Assembling the brush is incredibly intuitive. Just snap on the brush head and put it on the charger.
At first you'll notice striking design that will add to the aesthetic of any bathroom.
Next you'll find that this toothbrush is packed full of luxury features including a heavy-duty rechargeable battery, a convenient four quadrant timer, three brush modes including high, low and pulse and 31,000 powerful sonic strokes per minute that create deep cleansing micro bubbles.
The replaceable brush head features extra soft bristles positioned at the recommended 45-degree angle. As you gently lead it along your teeth, all three surfaces are thoroughly cleaned at the same time.
Triple Bristle 3D sonic toothbrush demonstration on dental model
Since the three heads of the brush are independent of each other, they automatically adapt to teeth of all different shapes and sizes.
Several dentists and ordinary people have been given a prototype of this rechargeable electric brush and the feedback has been overwhelmingly positive.
Boris Babiner, DMD, Board Certified Periodontist (Gum Specialist):

"I've been using this brush for the last two weeks and I find it to go to work right where it needs to, at the gum line. The unique shape of the head gets to those hard-to-reach places I struggled so hard to get my patients to clean and it forces you to do it right the first time and make it easy and fast."
How to Use
Unlike traditional brushing, Triple Bristle battery operated electric toothbrush is incredibly intuitive and efficient.
Relax your cheeks and glad the toothbrush slowly and gently across all your teeth.
The three sided design automatically brushes your teeth perfectly and gives you a satisfying deep clean that only this brush can provide.
After using it for two weeks you will find that this is the only toothbrush you are willing to use.
Here are a few tips for using Triple Bristle electric sonic brush:
1. It's an entirely new method of brushing so be patient. It will take you about 14 days to get used to positioning the brush head so that tickles do not cause you discomfort. With every passing day, you will find that it does an excellent job and that it feels really comfortable in your mouth.
2. Even though you can use it for 40 seconds, I still recommend the entire two minutes to get the same benefits as brushing six minutes with a standard toothbrush.
3. Use a toothpaste that isn't too much abrasive. Abrasiveness value should be below 70.
4. Do not stop flossing or using an interdental cleaning device.
5. This electric sonic toothbrush is great for individuals with a history of gum disease, or for those with dental restorations. As a mater of fact, anyone who wants to have an easier time brushing their teeth properly will benefit from Triple Bristle.
Why I ditched my toothbrush for the Triple Bristle - Review & Giveaway!

I really like that this rechargeable electric toothbrush for adults was created by a dentist which is nice because he knows what you need to clean your teeth properly.
Three brushes are going to surround your tooth so it's going to optimally clean your teeth. These are extra soft bristles so it's very gentle on your teeth, it's not going to damage your enamel or your gums and the brushes are set at a 45 degree angle which is going to effectively clean your teeth.
Related: Dental RF Toothbrush Reviews (ToothWave)
There are three settings on this battery powered electric toothbrush:
press the button down once, it's going to be the high setting
press it second time, it's gonna be the low setting
press it a third time and it's going to massage or pulse
They recommend using the low setting for the first two weeks because your teeth are gonna be very sensitive and then after the two weeks you can set it to high.
What's really good about this is when you press the button down, it's gonna do 30-second increments, so you know when to change a position.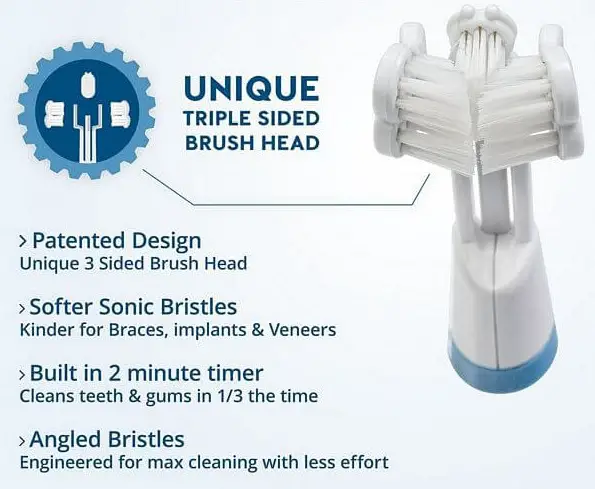 So what you're gonna do is position this over your teeth until you can't go down any more. This can fit all teeth types and teeth sizes. Put it down and then you're gonna hit the button and then it's gonna go for thirty seconds.
I usually start with my bottom left side and I'll just brush it for the thirty seconds. It's gonna stop briefly, that's when you know to reposition and then I move it to the other side of my bottom teeth and then it's gonna go for another thirty seconds and then I move it to my top right and then my top left and then it's gonna shut off after the two minutes are done.
The really cool thing about this battery operated electric toothbrush is if you are short on time and you don't have a full two minutes to brush your teeth, you can just brush your teeth for 40 seconds and those 40 seconds are going to leave your mouth cleaner then two minutes of brushing with the normal toothbrush. So you can do 10 seconds on each side.
I think this is very innovative product that is going to optimally clean your teeth and leave your mouth super clean in half the time.
When I first brush my teeth with it, it tickled. The vibration and the three brushes surrounding my teeth caused this tickle sensation on my teeth and my gums. But after one week, it went away.
I also experienced some bleeding with my gums. This massages your gums the whole time you're brushing your teeth, every single time you brush your teeth. So you are going to experience some bleeding in your gums but that's completely normal. It's gonna go away after the two weeks.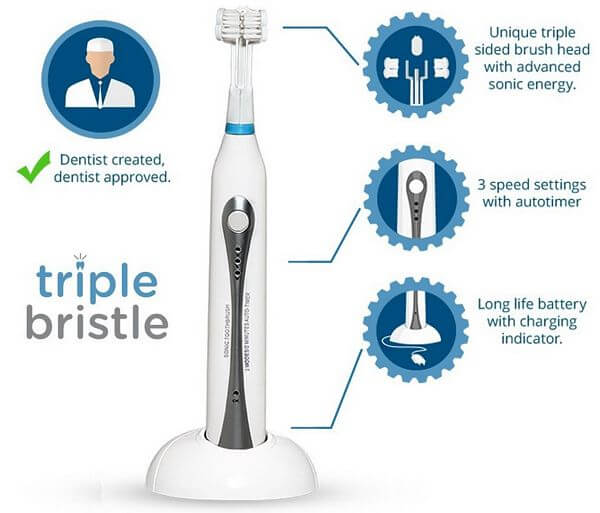 After trying it for around three weeks to a month, I have to say this is amazing. I'm never gonna use anything ever again. My teeth have never felt so clean before.
I run my tongue over my teeth and they're just like sparkly. They just feel amazing and my gums feel super healthy.
With a normal toothbrush most people miss a lot of different spots, you'll mainly focus on brushing the outside of the teeth and not the inside, so this is gonna cover everything.
I freaking love this battery operated electric toothbrush, it is just amazing, I highly, highly recommend it.
What Comes in the Box?
the body of the toothbrush
two heads (one with the blue ring, another one with a pink ring; you can purchase the heads separately, they recommend using each of them for about three months and then replacing them)
the charging station to charge your toothbrush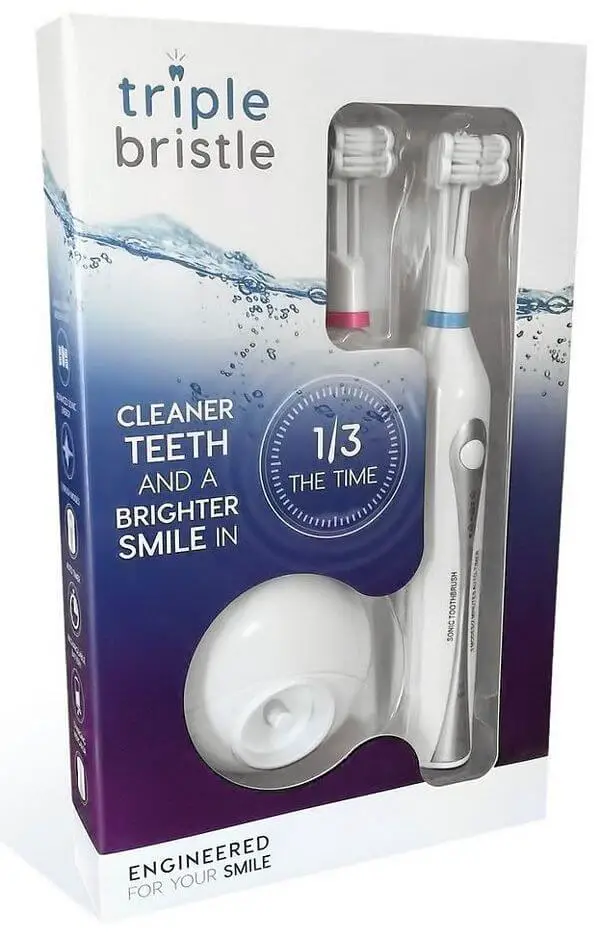 Buy online here:

User Testimonials
"If you think about it, toothbrushes haven't evolved in so many years. We've had the electric toothbrush now for about 20 years, but nothing's really changed. So it's nice that someone's changing the way it looks and changing how it works, so I think it's awesome."
"My favorite thing and I've talked about it a lot, is the design. I think it's fantastic, it's genius."
"I like the design, I like the look, I like the feel, it fits comfortably in your hand and it's comfortable around your teeth."
"It's easy to use. You replace the brush like you would a normal electronic toothbrush, it's got a button to go on different modes. So for people that think that 10 seconds is enough time to brush your teeth, this actually forces you to brush your teeth for the right amount of time."
"You don't really have to do much once you turn it on and put it around your teeth because it does all the work for you."
"Felt like a three-dimensional brushing experience."
"If I were to give someone advice who just started using a Triple Bristle, I would say give it a shot, it might feel awkward at first, but after a little bit, you'll get used to brushing with it and your teeth will feel cleaner."
"On a scale of one to ten, ten being the highest rating, I would highly recommend this battery operated electric toothbrush to my friends and family. Having a toothbrush that helps make cleaning easier and more effective is something that I would want to share with family and people I care about."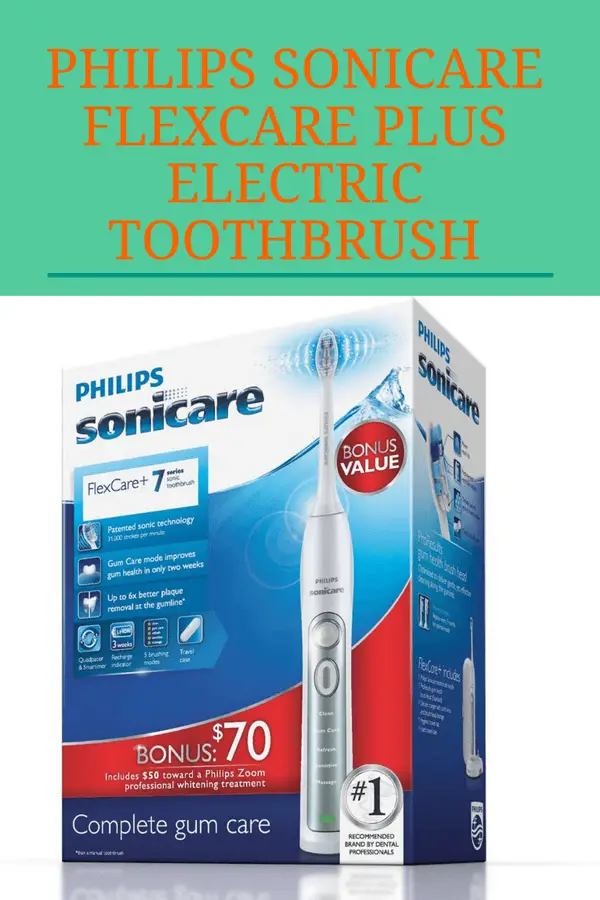 Best Smart Electric Toothbrush (With Timer & Bluetooth)
Highest Rated Battery Operated Electric Toothbrush (UNIQUE)