Welcome to Lisbon, Portugal's vibrant capital, where history meets modernity, and traditional charm blends seamlessly with contemporary flair. With only 4 days to explore this captivating city, you're in for an exhilarating whirlwind tour of Lisbon's top attractions, cultural gems, and delectable cuisine.
In this blog post, we'll guide you through the best 4 days city break in Lisbon, ensuring you make the most of your limited time. Get ready to immerse yourself in the rich tapestry of Lisbon's past and present and create unforgettable memories.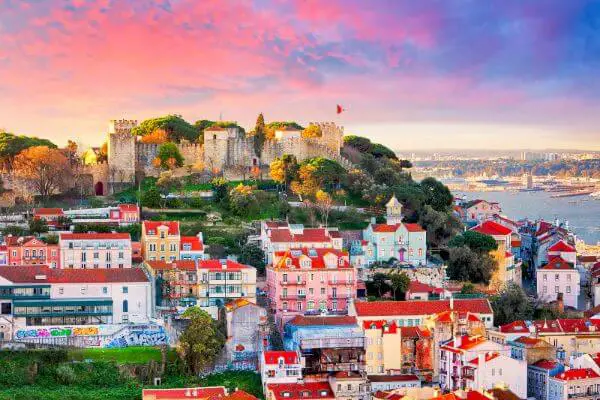 Day 1: Exploring the Historic Heart of Lisbon
Morning: Discovering Alfama and São Jorge Castle
Start your Lisbon adventure in the enchanting neighbourhood of Alfama, the city's oldest district. Wander through narrow cobblestone streets lined with colourful houses and get lost in the maze of alleys. Don't forget to visit the Lisbon Cathedral, a stunning example of Romanesque architecture. Make your way up to São Jorge Castle, perched on a hilltop, and enjoy breathtaking views of the city and the Tagus River.
Afternoon: Tram 28 and Belém Tower
Hop on the iconic Tram 28, a Lisbon essential experience, as it takes you through the city's most picturesque areas. From Alfama, the tram will wind its way through Graça, Chiado, and Baixa, allowing you to soak in the essence of Lisbon's neighbourhoods. In the afternoon, head to Belém, where you'll find the historic Belém Tower, a UNESCO World Heritage Site. Explore this magnificent fortress, which once guarded Lisbon's harbour, and learn about Portugal's maritime history.
Evening: Pastéis de Belém and Sunset at Miradouro Santa Catarina
No visit to Belém is complete without savouring the world-famous Pastéis de Belém, delicious custard tarts that have been a local favourite since the 19th century. After indulging in this sweet treat, return to the city centre and head to Miradouro Santa Catarina for a magical sunset experience. This viewpoint offers stunning vistas of Lisbon's colourful rooftops and the shimmering river below.
Day 2: Cultural Immersion and Modern Lisbon
Morning: Lisbon's Cultural Hotspots
Kick off your second day by delving into Lisbon's cultural scene. Visit the Calouste Gulbenkian Museum, home to an impressive collection of art spanning various periods and cultures. The museum's serene gardens are perfect for a leisurely stroll, offering a peaceful escape from the bustling city.
Afternoon: Time Travel at Jerónimos Monastery and LX Factory
In the afternoon, head back to Belém to explore the grand Jerónimos Monastery, another UNESCO-listed monument. Marvel at the intricate Manueline architecture and pay your respects at Vasco da Gama's tomb. Afterwards, immerse yourself in the hip and artistic atmosphere of LX Factory, a former industrial complex turned into a vibrant hub of shops, restaurants, and creative spaces.
Evening: Sunset Cruise on the Tagus River
As the sun begins to set, embark on a relaxing sunset cruise on the Tagus River. Admire Lisbon's iconic landmarks from a different perspective, as the city's golden rays bathe the landscape in a warm glow. A Tagus River cruise provides an idyllic end to your cultural and modern explorations of Lisbon.
Day 3: Day Trip to Sintra and Cascais
Morning: Enchanting Sintra
On your third day, venture outside Lisbon for an unforgettable day trip to Sintra, a fairytale-like town nestled amidst lush forests. This UNESCO World Heritage Site is renowned for its picturesque palaces and charming streets. Visit the whimsical Pena Palace, a colourful marvel perched atop a hill, and explore the romantic Quinta da Regaleira with its mystical gardens and underground tunnels.
Afternoon: Coastal Beauty of Cascais
From Sintra, make your way to the coastal town of Cascais, where the charm of a fishing village meets the elegance of a seaside resort. Stroll along the promenade, soak in the ocean views, and indulge in fresh seafood at one of the waterfront restaurants. If time permits, visit Boca do Inferno, a natural sea cave and an impressive geological formation.
Evening: Return to Lisbon and Fado Experience
Head back to Lisbon in the evening and prepare for a quintessential Portuguese experience – Fado. Find a cosy Fado house in Alfama or Bairro Alto, and let the melancholic and soul-stirring melodies of this traditional music tug at your heartstrings. It's the perfect way to conclude your day trip and immerse yourself in Portugal's rich cultural heritage.
Day 4: Lisbon's Modern Side and Farewell
Morning: Oceanarium and Parque das Nações
Spend your final day exploring the modern side of Lisbon. Begin with a visit to the Lisbon Oceanarium, one of the world's largest and most impressive aquariums. Immerse yourself in the underwater world and witness fascinating marine life from different ecosystems.
Afternoon: Time for Shopping and Cuisine
In the afternoon, indulge in some retail therapy along Avenida da Liberdade, Lisbon's upscale shopping street. Treat yourself to souvenirs, fashion finds, or a traditional Portuguese ceramic piece to take home. Later, savour a leisurely lunch at a local restaurant, relishing Portugal's delectable cuisine one last time.
Evening: Sunset at São Pedro de Alcântara and Farewell
As your 4-day city break in Lisbon draws to a close, head to São Pedro de Alcântara, a lovely terrace that offers panoramic views of Lisbon. Watch the sunset over the city, casting a warm glow over its vibrant streets and picturesque landmarks. Bid farewell to Lisbon, cherishing the memories of this captivating city and promising to return one day.
Conclusion
Lisbon, with its rich history, vibrant culture, and warm hospitality, offers an unforgettable city break that will leave you yearning for more. During your whirlwind tour of Lisbon, you'll have experienced the best this dynamic city has to offer, from its historic neighbourhoods to its modern attractions. To make the most of your 4-day adventure, consider booking the best vacation package in Lisbon, Portugal, tailored to suit your preferences. As you leave, take a piece of Lisbon with you in your heart, knowing that this vibrant city will always welcome you back with open arms.
Lisbon in 4 Days: A Whirlwind Tour of Portugal's Vibrant City