Hey there, fitness enthusiasts and pain-relief seekers! If you've been on the lookout for a massage gun that doesn't break the bank, you're in the right place.
In this article, we'll dive into the world of percussive therapy and unveil the best massage guns under $300, because relieving muscle tension shouldn't empty your wallet.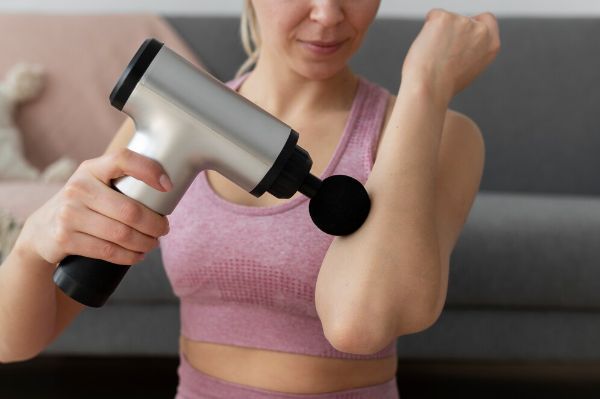 The Power of Percussive Therapy
Before we get into the nitty-gritty of our top picks, let's quickly explore why percussive therapy and massage guns are all the rage.
Instant Muscle Relief: Percussive therapy, delivered by massage guns, uses rapid pulses to target deep muscle tissue. It's like having a personal masseuse at your disposal, providing instant relief to sore and tight muscles.
Enhanced Blood Flow: The percussive action of these devices helps increase blood flow to the treated areas. This not only aids in muscle recovery but can also alleviate pain and reduce inflammation.
Customizable Experience: Most massage guns come with adjustable speeds and attachments, allowing you to tailor your treatment to your specific needs. Whether you need a gentle massage or an intense deep tissue session, there's a setting for you.
Now, let's get to the good stuff—the best massage guns you can snag for under $300.
Our Top Pick
Our top recommendation is ReAthlete Deep4S Massage Gun. You can buy it here.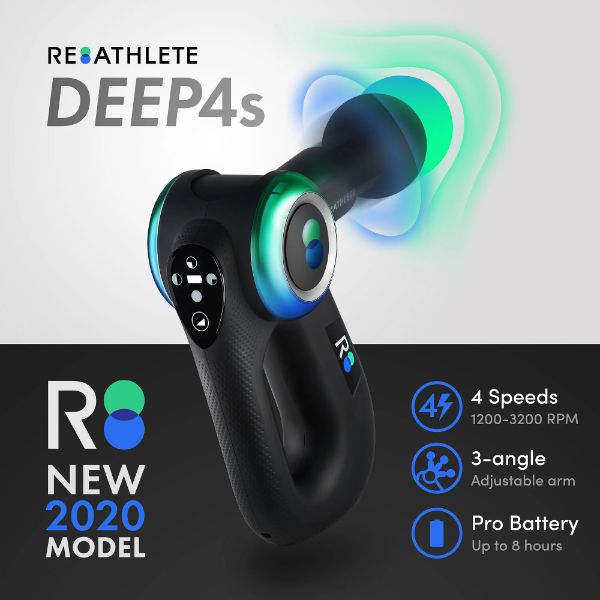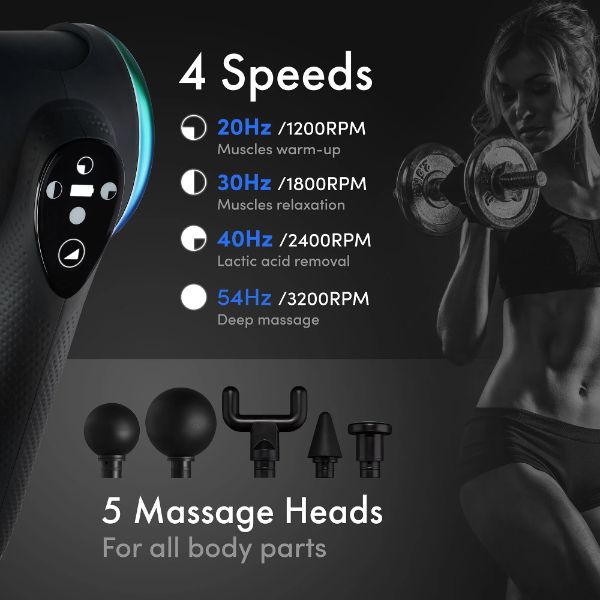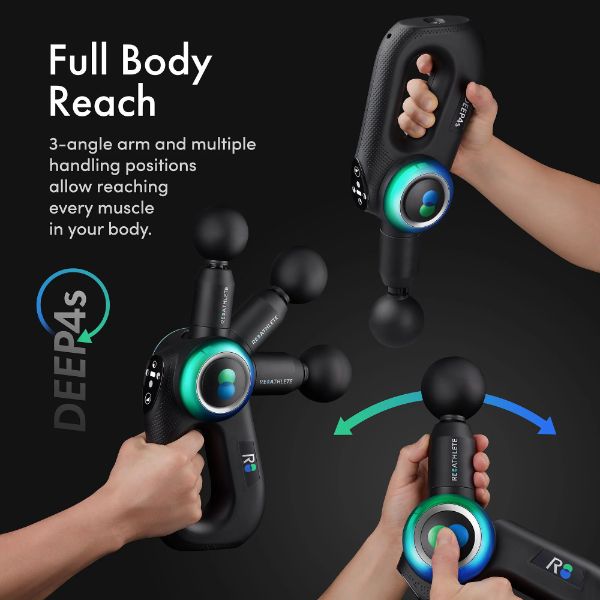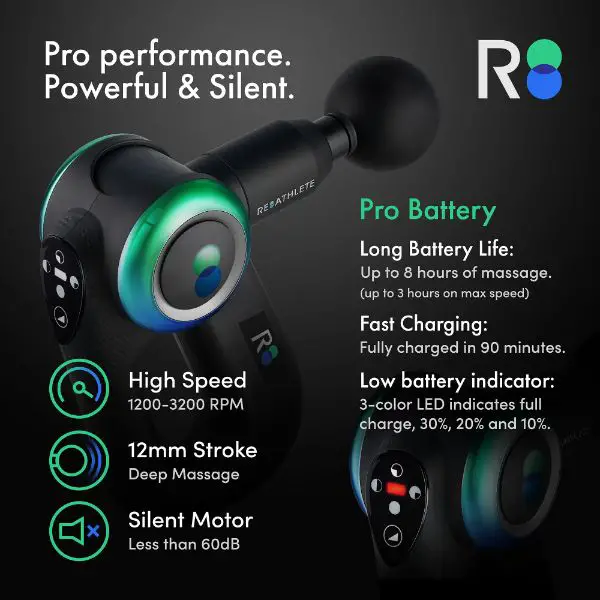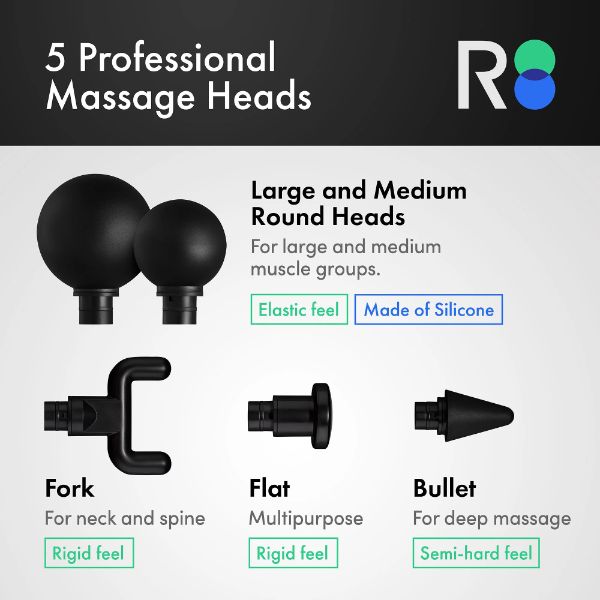 Best Massage Guns Under $300
1. Theragun Prime: ($299)
Why We Love It: The Theragun Prime is a top-notch performer in the world of massage guns. With its ergonomic design and quiet operation, it's perfect for both beginners and experienced users. It offers five different speed settings and comes with a range of attachments for targeting different muscle groups.
Key Features:
5 speed settings
Quiet operation
4 attachments included
Bluetooth connectivity for the Therabody app
2. Hyperice Hypervolt Go: ($199)
Why We Love It: The Hypervolt Go is a compact and travel-friendly option that doesn't compromise on power. It's lightweight, making it great for on-the-go relief. With three speed settings and a long battery life, it's an excellent choice for those always on the move.
Key Features:
3 speed settings
Lightweight and portable
Long battery life
Whisper-quiet operation
3. Ekrin B37: ($229.99)
Why We Love It: The Ekrin B37 offers exceptional value for its price. It boasts a sturdy build and powerful performance. With five speed settings and six attachments, it's versatile enough to address a variety of muscle issues. Plus, its long-lasting battery ensures you won't run out of power mid-massage.
Key Features:
5 speed settings
6 attachments included
Long battery life
Durable construction
4. LifePro Sonic LX Professional: ($189.99)
Why We Love It: The LifePro Sonic LX Professional is a budget-friendly option without compromising on quality. It's designed with a user-friendly interface and offers nine speed settings. The package includes six attachments, making it a versatile tool for various muscle groups.
Key Features:
9 speed settings
6 attachments included
Budget-friendly
User-friendly interface
5. Achedaway Pro: ($299)
Why We Love It: The Achedaway Pro is a powerhouse of a massage gun. It offers five speed settings and comes with six attachments. What sets it apart is its impressive battery life, ensuring you can enjoy extended massage sessions without interruptions.
Key Features:
5 speed settings
6 attachments included
Extended battery life
Premium build quality
Choosing the Right Massage Gun
Selecting the best massage gun for your needs involves considering several factors:
Massage Intensity: Think about how deep you want your massage to be. If you prefer intense deep tissue massages, opt for a model with higher speed settings and more powerful percussion.
Attachments: Different attachments are designed for specific muscle groups. Make sure the massage gun you choose has the attachments you need for your preferred type of massage.
Battery Life: If you plan to use your massage gun on-the-go or for extended sessions, pay attention to battery life. Longer battery life means less frequent recharging.
Portability: Consider how portable you need your massage gun to be. If you travel frequently or want a compact option, choose a lightweight and travel-friendly model.
Price: Stick to your budget, but also keep in mind that investing a bit more in a high-quality massage gun can provide better performance and durability.
Caring for Your Massage Gun
To ensure your massage gun lasts and continues to provide relief, follow these maintenance tips:
Clean the attachments regularly.
Charge the battery as recommended by the manufacturer.
Store it in a cool, dry place.
Avoid dropping or mishandling the device.
In Conclusion: Aching Muscles, No More!
With the best massage guns under $300 at your fingertips, you can wave goodbye to muscle soreness and tension. These devices bring the benefits of percussive therapy right to your home or gym, offering customizable massages tailored to your needs.
Remember to choose a massage gun that aligns with your preferences, whether you prioritize portability, power, or versatility. Whichever option you select, you're one step closer to a more relaxed, rejuvenated, and pain-free you. Happy massaging!
Discover The Best Massage Gun Under $300