In today's fast-paced world, finding ways to relax and relieve muscle tension has become more important than ever. Thankfully, massage guns have gained immense popularity for their ability to provide therapeutic muscle relief without the need for expensive spa appointments.
And guess what? You don't need to break the bank to enjoy the benefits of a good massage gun.
In this guide, we'll walk you through everything you need to know to find the best massage gun under $100.
Our Top Pick
Our top pick for the best massage gun under $100 is Bob and Brad Q2 Mini Massage Gun, developed by physical therapists. It costs $90 and you can buy it here.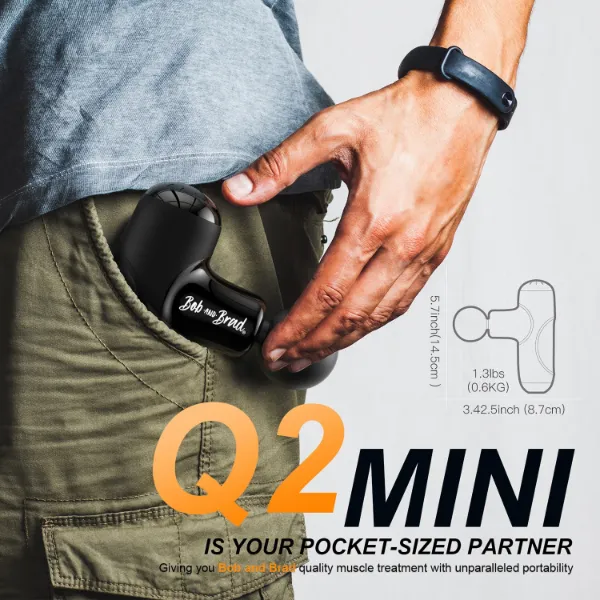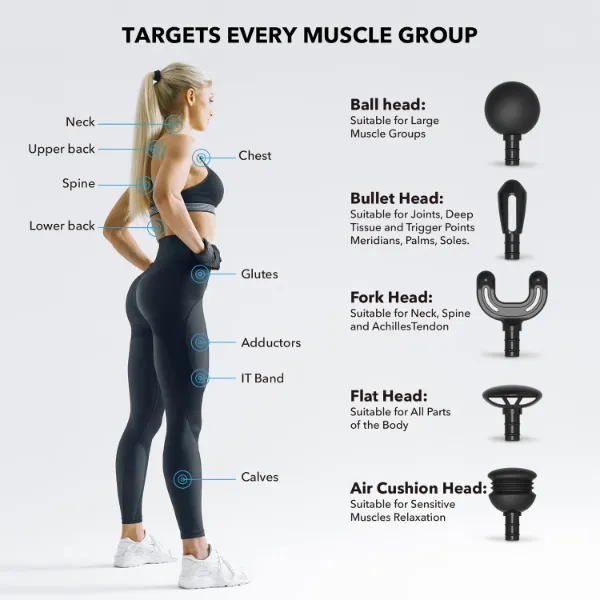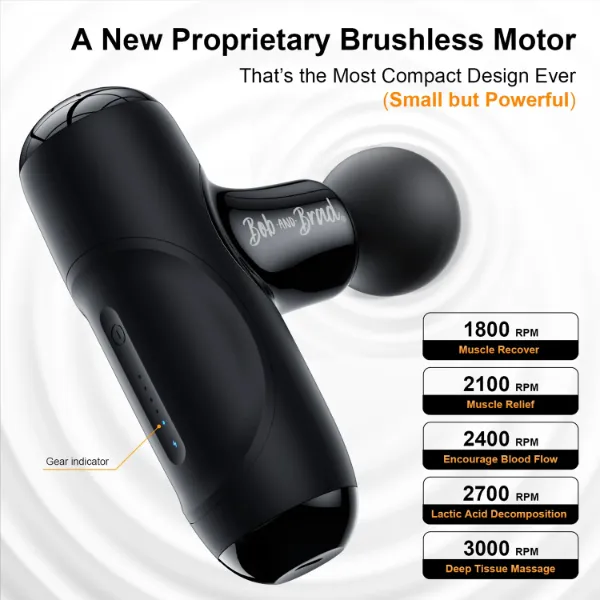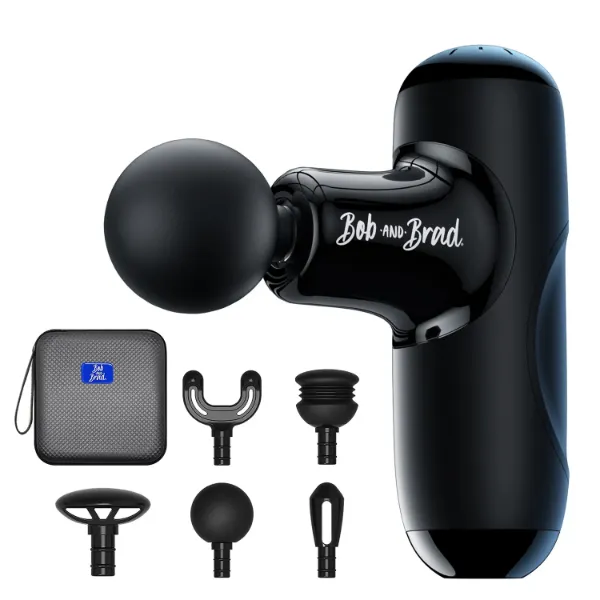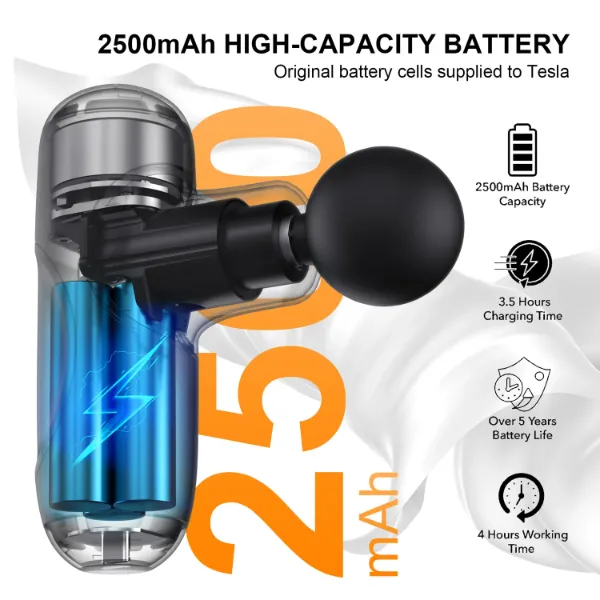 What to Look for in a Massage Gun Under $100
Now that we understand the benefits, let's explore the key factors to consider when shopping for an affordable massage gun:
1. Massage Gun Types:
Massage guns come in various shapes and sizes. The most common types are:
Handheld: These are the traditional massage guns you've likely seen. They are compact, easy to use, and great for self-massage.
Mini or Pocket-Sized: If portability is a priority, consider a mini massage gun that can easily fit in your gym bag or purse.
Massage Gun Attachments: Some models come with interchangeable attachments like flat heads, round heads, and more. These attachments offer different massage experiences and target various muscle groups.
2. Battery Life:
Opt for a massage gun with a decent battery life. Look for models that can last at least 2-3 hours on a single charge. This ensures you can enjoy extended massage sessions without constantly worrying about recharging.
3. Percussion Speed:
Different massage guns offer varying levels of percussive speed. Ideally, you should select a model that allows you to adjust the speed to match your preferences. Most massage guns under $100 come with multiple speed settings.
4. Noise Level:
While some noise is expected with massage guns, quieter models are more comfortable to use, especially if you plan to use them in shared spaces or quiet environments. Look for massage guns that operate at around 50 decibels or lower.
5. Build Quality and Design:
The build quality of the massage gun is crucial for durability. Look for models made from high-quality materials and ergonomic designs that are comfortable to hold and use.
6. Warranty:
Check for a warranty, even in budget-friendly models. A warranty provides peace of mind in case of any manufacturing defects or issues with the product.
7. Customer Reviews:
Always read customer reviews and feedback before making a purchase. They offer valuable insights into the performance, reliability, and user experience of a particular massage gun.
Top Picks for Massage Guns Under $100
Now that you're armed with the knowledge of what to look for, let's dive into some of the best massage guns under $100 available on the market:
1. RENPHO Massage Gun – $99.99
Percussion Speed: 3200 RPM
Battery Life: Up to 8 hours
Attachments: 4
Noise Level: 55-75 dB
Warranty: 1 year
The RENPHO Massage Gun is an excellent choice for those seeking an affordable yet high-quality percussion massager. With multiple speed settings and a long battery life, it's suitable for various muscle recovery needs. The noise level is relatively low, making it a great option for quiet relaxation.
2. Ekrin B37 Massage Gun – $89.99
Percussion Speed: 3200 RPM
Battery Life: Up to 4 hours
Attachments: 4
Noise Level: 35-55 dB
Warranty: 1 year
Ekrin B37 is known for its powerful yet quiet operation. With a sleek design and four interchangeable attachments, it's perfect for targeting specific muscle groups. The extended battery life ensures you won't run out of power during long massage sessions.
3. LifePro Sonic Handheld Percussion Massage Gun – $79.99
Percussion Speed: 1800-3200 RPM
Battery Life: Up to 6 hours
Attachments: 7
Noise Level: 55-75 dB
Warranty: Lifetime
The LifePro Sonic offers a wide range of speed settings and attachments to cater to various massage preferences. What sets it apart is the lifetime warranty, offering long-term peace of mind. Despite its budget-friendly price, it's built to last.
4. NORSPORT Massage Gun – $59.99
Percussion Speed: 2400-3200 RPM
Battery Life: Up to 4 hours
Attachments: 6
Noise Level: 35-55 dB
Warranty: 1 year
The NORSPORT Massage Gun is a versatile option that won't break the bank. With six attachments and adjustable speed settings, it offers a tailored massage experience. The relatively low noise level ensures a peaceful massage session.
Conclusion
Finding the best massage gun under $100 doesn't have to be a daunting task. With the right information and a clear understanding of your needs, you can select an affordable yet effective massage gun that will provide you with the relaxation and muscle relief you deserve. Remember to consider factors like battery life, noise level, attachments, and build quality when making your decision.
Explore the models mentioned in this guide, read customer reviews, and don't hesitate to try out different massage guns to find the one that suits you best. Investing in a quality massage gun can be a game-changer for your wellness routine, helping you feel your best every day without breaking the bank. So, go ahead, embrace the power of percussive therapy, and treat yourself to the soothing relief of a massage gun under $100. Your muscles will thank you!
Finding the Best Massage Gun Under $100