Keeping our homes and workplaces clean can be a difficult chore but thanks to this incredible UV sanitizer wand you can clean in a matter of seconds!
Many years ago scientists discovered that a light wave from the Sun has special energy. Nowadays people apply this light wave to sterilization.
So far no germs have been found on the planet that can resist it! There are heat-resistant germs, cold-resistant germs and drug-resistant germs.
But there is no UV-resistant germs!
59S UV Sanitizer Wand
This handheld, cordless UV sanitizer wand eliminates 99.9% of viruses and bacteria from surfaces using safe UV-C light. This is the same technology that hospitals use to sanitize surfaces.
It can also kill mold and dust mites.
The wand uses 20 LEDs to generate 260-280nm wavelength UV-C light that destroys the DNA of viruses and bacteria, preventing these microorganisms from reproduction and survival.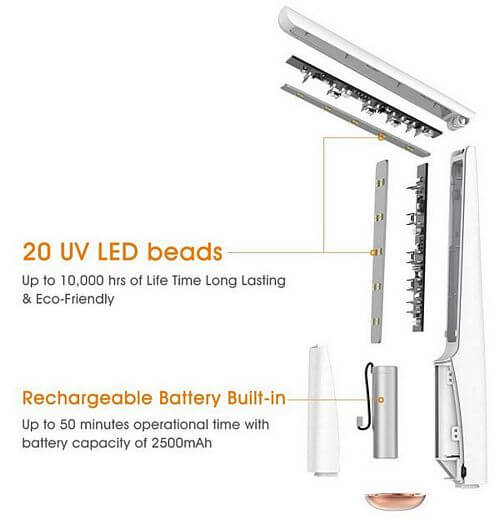 It's 100% ozone-free and chemical-free!
You can use it your home, office and when traveling. All you have to do is press and scan.
59S X5 UVC LED Light Sterilizer For Hotel
The wand is lightweight (just 200g) with built-in battery. It can easily be stored in a handbag, backpack or luggage.
Unlike liquid disinfectants, you can use this sanitizer to clean keyboards, cell phones, upholstered furniture or any other delicate surfaces that harbor germs.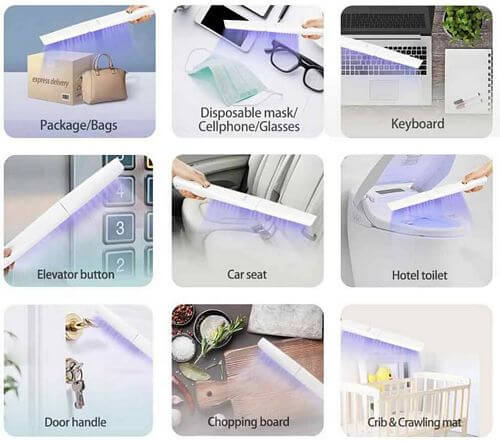 Angle sensor shuts off the device automatically if the light is turned upward to prevent accidental exposure. There is also a child safety lock.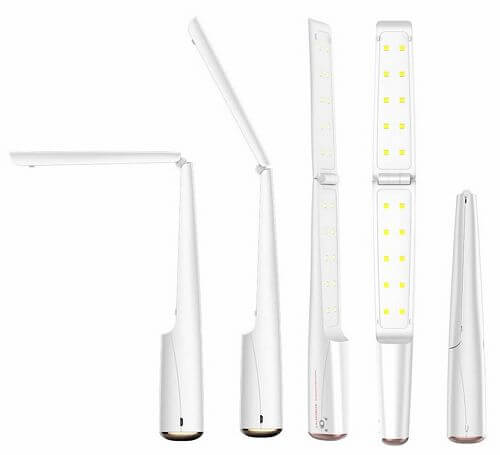 LEDs are rated for 10,000 hours. The wand operates for 50 minutes on a full charge.
You also get protective goggles and storage bag.
Remember!
This device damages DNA of viruses and bacteria physically, achieving quick and efficient disinfection.
59S Sterilizer Wand brings you a healthy lifestyle, protecting your and your family safety. It makes disinfection simple and affordable.

How to Use 59S UV Light Sanitizer Wand
How To Use 59S X5 Sterilizing Wand
Fully charge the device.
Unlock the safety lock.
Unfold the flip panel.
Wear the protective goggles.
Double click the button to start the process.
Scan back and forth on the surface for 5 to 10 times with a distance of 1 inch.
Press the button again to stop the process. (Or it will automatically finish in 3 minutes)
Click Here to Buy With Lifetime Guarantee!
UV-C Light Against COVID-19
UV light is one of the best disinfection tool against numerous viruses, bad bacteria, mold and spores.
It is also one of the most effective and safest solutions in destroying the COVID-19 coronavirus. A huge advantage is that it does not need to come in contact with the surface or object.
How does UV light destroys germs? How does it compare to using usual liquid-based cleaning solutions?
The UV-C wavelengths from between 200 nanometers and 280 nanometers can eliminate diferent microbes, including viruses, bacteria, mold, spores as well as the COVID-19 coronavirus, SARS (Severe Acute Respiratory Syndrome), MERS (Middle East Respiratory Syndrome), E.coli, yeast and more.
This technology is being used in wastewater treatment, medical facilities, hospitals, laboratories, manufacturing and food processing.
How does it work?
During the disinfection process, UV-C light aims the DNA of the germ. As a result, thymine dimers are formed in the DNA.
The more thymine dimers are formed, the more damage is done to the DNA. Bumps also form in the DNA due to the presence of the dimers.
These mutations within the cell negatively affect growth. The repairing process is also impacted. In the end, the damage becomes so large that the cell dies.
DNA replication is blocked, which means that the spread rate of the virus is drastically reduced.
Tests have shown that UV-light is very effective against many viruses. The Journal of Virological Methods published an article in which we can read that SARS, caused by the coronavirus, is destroyed with UV light in the 254 nanometer range.
The U.S. National Institutes of Health's National Library of Medicine published a study showing that UVC light can deactivate MERS-CoV in just 5 to 10 minutes of exposure.
When it comes to the latest outbreak of COVID-19, UV light has been proven to be able to destroy the virus by scientists from Emory University and University College of London.
UV-C light is already verified to be effective against previous strains of the coronavirus. For this reason, it is logical to use the light against COVID-19.
In comparison to liquid cleaning agents, no contact with the object is required when sanitizing with UVC light.
Another big advantage is that there is no downtime after sterilization. You can immediately use the area or equipment after disinfection.
The above-mentioned UV sanitizer wand will be one of your best investments in life. And who knows what kinds of viruses will appear in the future! Be prepared!