A toaster is a piece of electrical appliance that is very important for many people. There are many individuals that cannot get by their morning without having eating warm and crispy bread.
It is common to change several toasters over the years. Some work great, while some go into the garbage bin quickly.
If you are on the lookout for a new toaster that will work great then I recommend you buy one of those mentioned below. They are popular brands that have good reviews and price. Use the links to get amazing deals.
5 Best Toasters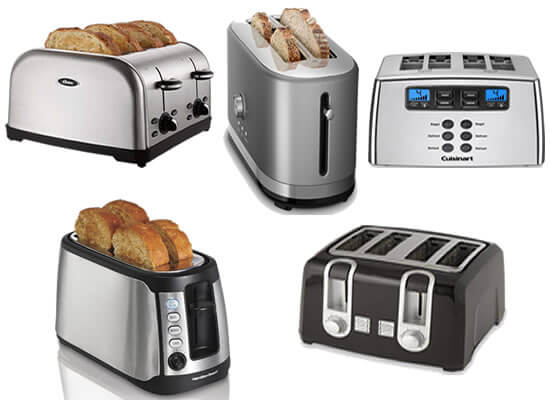 Cuisinart CPT-440 4-slice Leverless Toaster
Cuisinart 4 Slice Toaster Review Real Review, Timed
Click here to buy + free shipping + 3-year limited warranty!

This unit has lots of great features and functions. Digital technology and great design make this unit one of the best toasters on the market today.
It has two totally independent two-slice chambers with their own buttons and controls. So if one person wants to do a bagel and the other one wants to do really thin toast, you can put them on different toasting levels.
First you'll notice that the LCD displays, with countdown timers, are nice, blue and large. You set them by using the plus or the minus button and that will be your toasting doneness.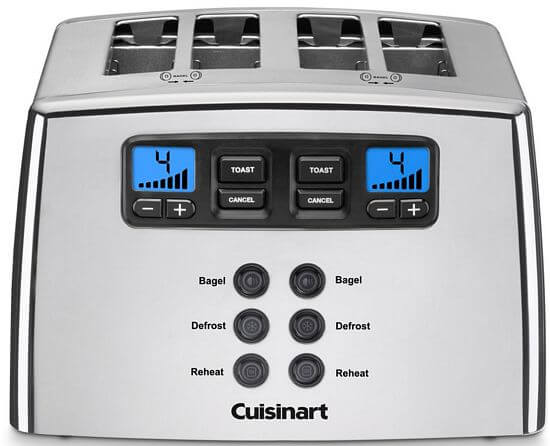 There are seven shades for browning. Use the following settings:
1-2: light shade
3-5: medium shade
6-7: dark shade
Cuisinart CPT-440 has five toasting functions:
Toast
Bagel
Defrost
Reheat
Cancel
When you press the toast function, it will let the toast go down automatically, quietly and securely. You can hit the cancel button at any time during the toasting cycle to stop it; it will also raise the bread out of the chamber.
The bagel button has an enhanced bagel feature for the interior toasting. You want to point that part that you want really toasted towards interior, making it crispy. It toasts a bagel better than any restaurant! If you want a bagel that is crispy on both sides, do not use the bagel button.
Defrost function first defrosts then toast frozen bread. Reheat function allows you to reheat toast/bread without browning or burning it.
It also has audible sounds when it's done toasting. It'll rise itself up and it will beep, letting you know the toast is done.
A very good feature is that the machine has extra wide slots – 1.5″, so you can toast different items such as: sliced bread, French toast, bagels, frozen pancakes or toaster pastries. The slots have the ability to self-center, which means that the bread will be placed in the right spot.
See: How to Prevent Electrical Fire at Home
It also has removable independent crumb trays in the back. You should always remember to empty your crumb trays every once in a while because you want to keep it clean.
I also like the hideaway cord feature that not many toasters have. You can leave it on the kitchen top to manage ugly power cord while not in use.
This is an expensive toaster and you may think why would you pay big money when there are toasters that cost a lot less and do the exact same thing. I do not disagree with you. But this one is a pretty good one – from amazing features and functions to an attractive brushed metal design.
There is no lever on it. You do need to push down to toast. The practical benefit of this feature is that there's no spring-loaded mechanism to break. You just push a button and it will automatically depress down into the unit. At the end of cycle it will raise back up the same way.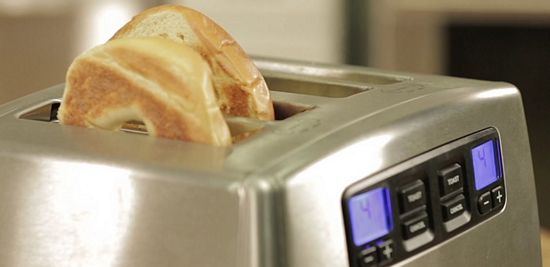 Anything you throw in this thing will be handled really well. You will get very good results at all settings. On the low setting, you got nice lightly toasted bread; on high settings, you got dark, almost burnt bread. Each of seven settings will give you distinct results that are satisfying.
All four slots give evenly toasted bread. That's something that you can't say with every model on the market, including really high end models.
I think this a great model that lives up to the performance expectations that it puts on itself with its price tag. So if you are ready to splurge, I recommend this one.
Click here to buy + free shipping + 3-year limited warranty!

KitchenAid KMT4116CU Contour 4-slice Long Slot Toaster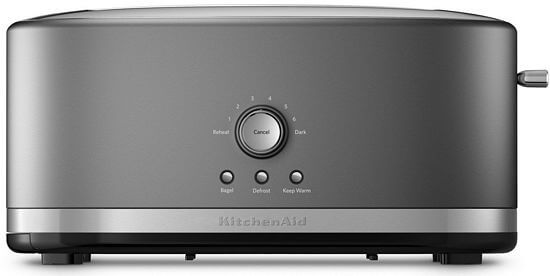 This is another top rated model that will really make a statement in your kitchen with great style and all-metal, smudge resistant housing. A piece of jewelry for your counter!
It has a high lift lever which you can use to remove smaller slices of bread or to check toasting progress at any time.
This toaster has seven shade settings with Bagel, Defrost, Reheat and Keep Warm (keeps bread warm for 3 minutes after toasting) functions.
KitchenAid KMT4116CU features long slot design, allowing you to use different shapes and sizes of artisan breads (large enough for sourdough slices). The slots are extra wide, 1 1/2 inches, so you can toast the thickest bagels or breads.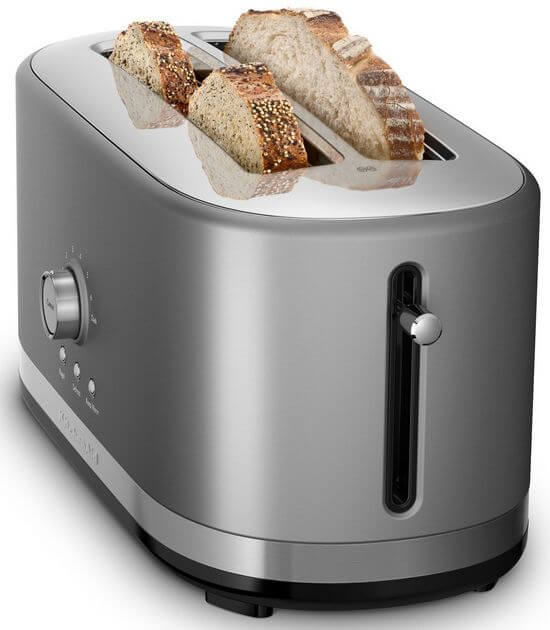 Another cool feature is under base cord storage to store the cord on the bottom of the unit.
It heats hot enough to toast fast and the sides of the unit get warm but you won't get burned.
This toaster is not only beautiful looking, it makes perfect toast quicker than most other toasters. As one customer said:
"If my house ever catches on fire, I'm grabbing this toaster on my way out the door."
Click here to buy + free shipping + 1-year limited warranty!

Hamilton Beach 4-Slice Long Slot Keep Warm Toaster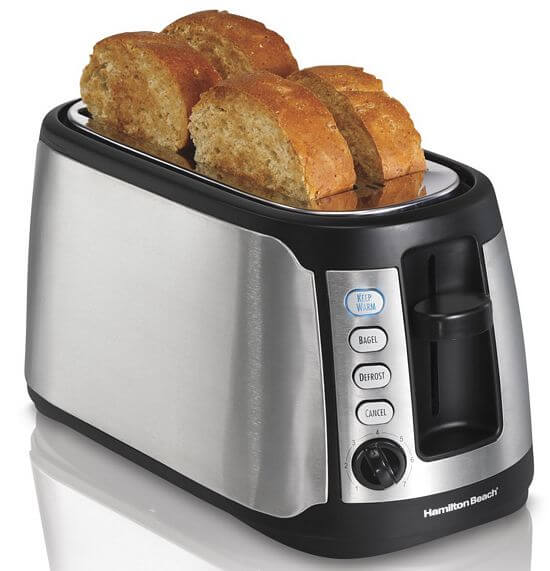 With this machine, you can select your preferred toast shade and select the optional keep warm mode. It beeps when ready, then keeps your toast warm for up to three minutes without over toasting.
Extra wide and extra long slots easily accommodate bagels and Texas toast. Even thick-sliced bread slides easily into the slots.
It also includes a defrost mode for thawing and toasting frozen bread. There is a shade selector, from 1 to 7, so you can select how light or dark your toast should be.
For even more convenience, the toast boost raises your bread so you can reach it safely. You'll enjoy the perfect slice at the toasty temperature every time.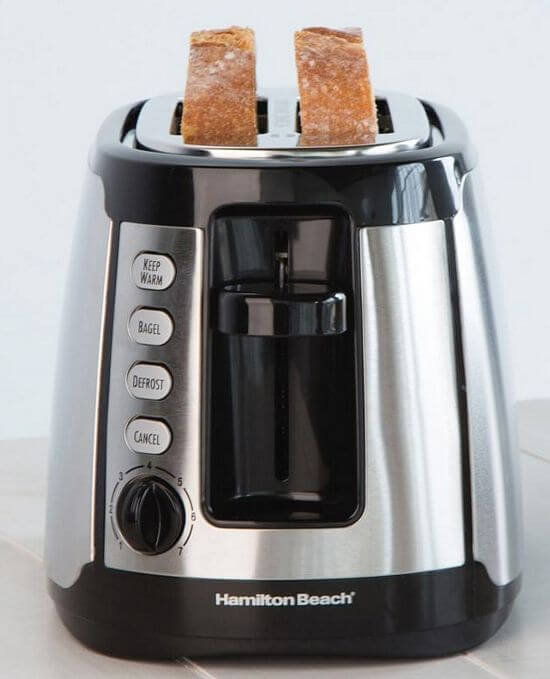 The cool-wall feature keeps the unit cool on the outside. The toaster has a sleek stainless steel design for contemporary kitchens. It has illuminated buttons for easy view. It also features a smart cord wrap for clutter-free storage.
The only strange thing about this unit is that the cord comes out in front!
This Hamilton Beach Toaster is very well made and solid, very easy to use, browns evenly on both sides and looks nice on the counter.
Click here to buy + free shipping + 1-year limited warranty!

Oster 4-slice Stainless Steel Retractable Cord Toaster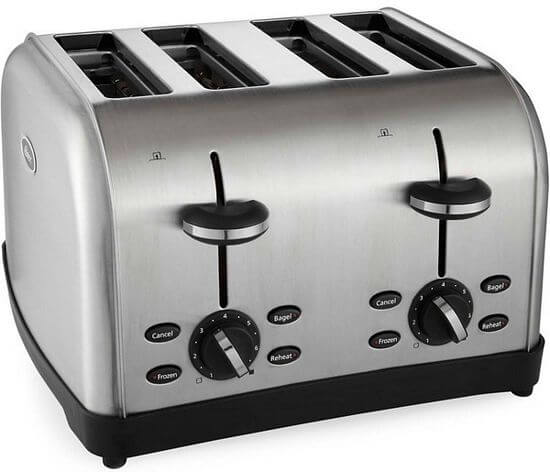 This model has dual auto-adjusting bread guides so you can have perfect toasts every time. These are used to accommodate the bread thickness, ensuring even toasting.
Similar to Cuisinart CPT-440, it has four separate but large bread slots, not two long ones.
A great thing about this top rated toaster is retractable cord for easy storage. A very good feature not seen in many models is an anti-jam functions that automatically shuts toaster off.
I comes with seven toast shade settings and 4 operation modes: bagel, frozen, reheat and cancel. High-lift lever allows for safe removal of smaller items.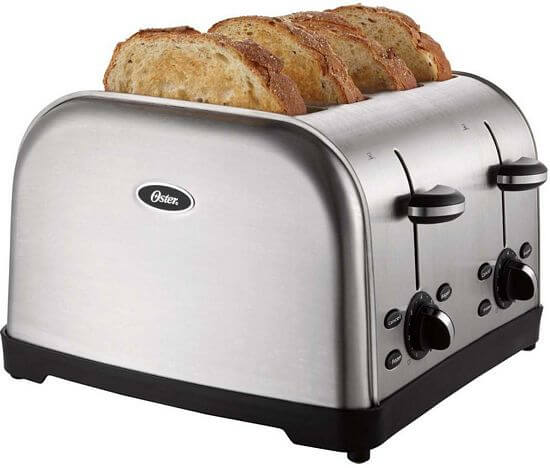 The Oster also includes a removable crumb tray for quick, convenient cleaning.
This is somewhat smaller unit but powerful, with a simple style that is both attractive and user- friendly. The appliance itself is lightweight and not oversized.
It provides everything you will need to use on a day to day basis.
Click here to buy + free shipping!

Black & Decker Black 4-Slice Toaster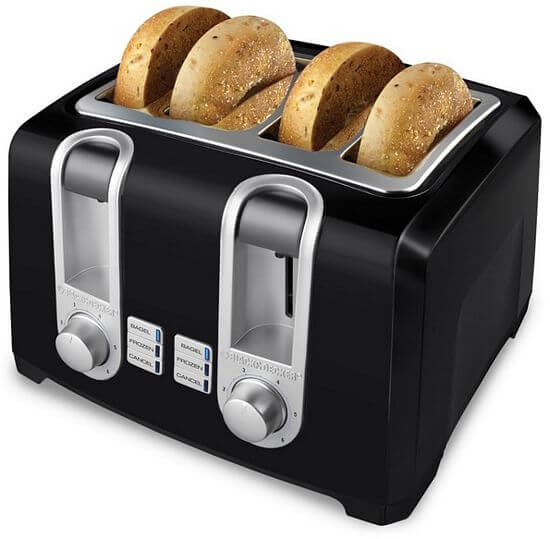 This model has a nice looking modern design, and while it does not have some of the features that more expensive models have, it does what it does efficiently.
You will get your bread and bagels toasted evenly and at the correct brownness. Dual trays that operate independently have self-adjusting guides for thinner sliced bread.
It has bagel, frozen, and cancel functions as well as six browning-control settings.
Other great features include auto shut off, cool-touch housing, cord-wrap storage, ready indicator light and crumb tray for easy cleanup.
Toast both sides perfectly and cooks bagels thoroughly! Nice color and size without taking too much space.
Click here to buy + free shipping!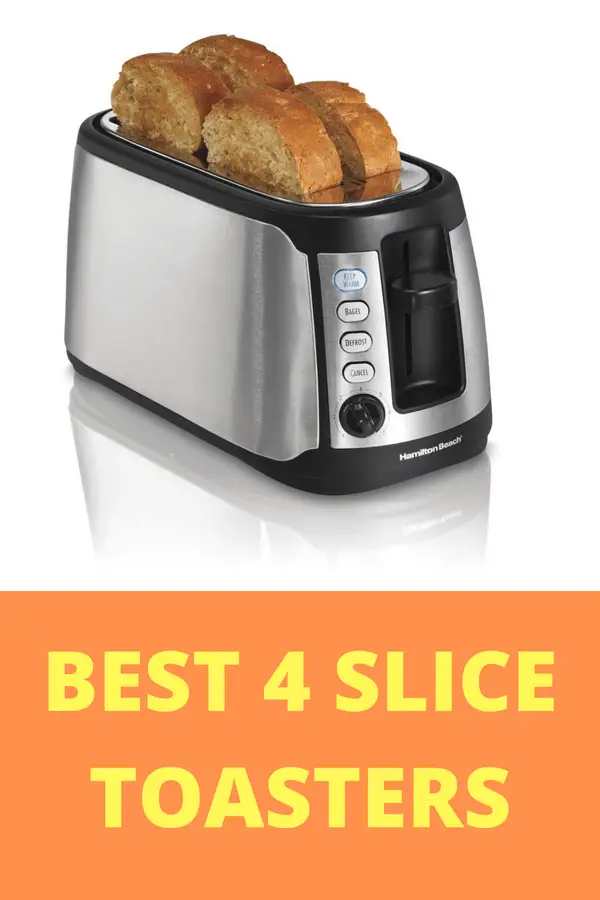 See other kitchen appliances:
Top Rated Toasters (AMAZING Features and Functions)