Our top pick is:
Hamilton Beach FlexBrew 2-Way Coffee Maker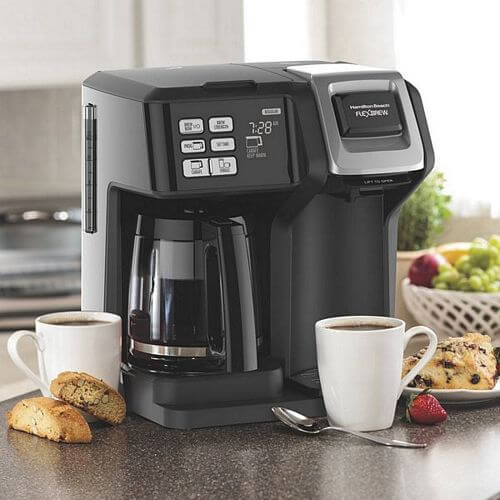 One side makes a single cup at a time for quick one-person servings, and the other features a full pot to serve a group. With the automatic shutoff function, you can leave for work with peace of mind.
Click here for customer reviews!
Years ago buying a home coffee machine was no big problem because there was a limited number of coffee makers to pick from. Not any more! There are so man great brands.
This article will provide you with a list of the most recommended coffee makers that are popular this year so you'll be in a position to make an educated choice about the best model for your need.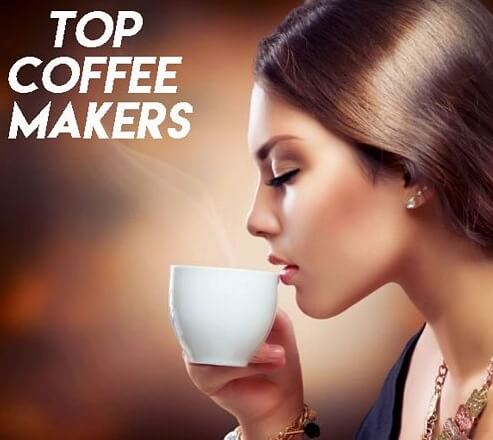 Every one of these high rated machines will ensure you have a rich brew each morning – just the way you like it.
Most Recommended Coffee Makers
Ninja CF086 Coffee Bar Brewer with Milk Frother
Ninja Coffee Bar System Review
Click here to buy + free shipping!

With the Ninja Coffee Bar you can now make an array of hot, iced and even specialty drinks simply by choosing your size and choosing your brew.
It isn't just a coffee maker that makes a pot of coffee and a single cup of coffee. It brews smooth rich coffee in four different styles all at the touch of a button. No matter what your favorite coffee is, it will truly unlock the flavors through thermal flavor extraction technology.
This technology is completely different from how standard machines brew coffee. It means that you can control the concentration of the coffee brewed to suit your taste and drink preferences – never bitter or sour! Just full-bodies and rich.
First you select your size, from a single cup to a full carafe. Then using the OneTouch intelligence Auto IQ you have four different brew styles to choose from. You have:
classic brew
rich brew
over ice brew
specialty brew
Classic brew is perfect for that smooth, rich, classic cup of hot coffee.
Rich brews a little bit stronger than classic but it's ideal for those that like to add extra milk or cream to their coffee.
Over ice dials up that strength even more to make a really strong concentrate of coffee that's perfect for brewing directly over ice and that will make you a really nice cold refreshing iced coffee that's not watered-down.
Specialty brew dials up that richness even more to make a really strong concentrate of coffee that you can use to make all kinds of frozen, blended and hot specialty layered drinks – cappuccino, flat whites, iced latte or macchiatos.
Besides the ability to brew all of your favorite coffeehouse style drinks and any size, the Ninja Bar offers so many convenient features that make brewing coffee just a breeze.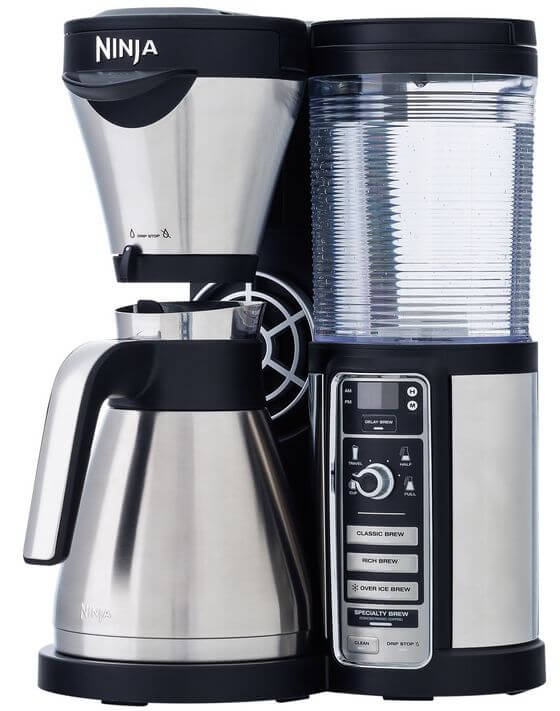 First, the water reservoir is removable and has a flip top lid for easy filling over at the sink, or in your refrigerator or you can even remove the top and it has multiple positions that you can lock it in.
Just fill the water reservoir to the max fill line and auto IQ OneTouch intelligence knows how much water to use for the size and the brew type that you select so you don't have to measure anymore.
The Ninja Coffee Bar also has a convenient removable brew basket which slides out horizontally for easy filling underneath the cabinet. You can also remove it completely if you want to bring it over to a different side of your kitchen and it has a nice flat bottom so you just place it on your counter top to be able to fill it right there.
You have option of two different filters. You can use one filter that's included on most models and this is the permanent filter. So you can use this and just add your coffee directly into this filter or you can use a number four cone paper filter and this is available at most retailers.
Adding coffee is simple with the Ninja scoop which helps you quickly and easily measure your favorite coffee. So all you have to do is use one of the two sides you have on the scoop. So on one side you have the single-serve side and on the other you have the carafe side. You also have four different markings for the four sizes that you can make with your Ninja Bar so there's no more guessing or losing track. It's all right on the scoop. It's super simple.
If you're brewing a cup, you can simply place your cup on the multi serve cup platform. So all you have to do is place your cup directly underneath the brew basket.
If you're brewing a large size such as a travel mug or even a larger cup, then you just fold up the cup platform and place your travel mug directly on the base of the unit.
Besides brewing a single serve and travel sizes, the Ninja Coffee Bar has uniquely designed carafes with an easy grip handle. It is a thermal, double wall, vacuum sealed, stainless steel carafe and this will keep your coffee hot for up to two hours.
The carafes also come with the brew through lid? What's a brew through lid? It actually looks like a funnel but it mixes the coffee consistently through the entire brew cycle. Your first cup will have the same great taste as your last cup.
If you're one of those coffee lovers that just can't wait for your first cup, all you have to do is simply close the drip stop and that will allow you to be able to pour your first cup and then replace this to then open up your drip stop.
The Ninja Bar will actually stop brewing until you reopen the drip stop so it'll never overflow. Just remember to replace your carafe and reopen the drip stop. But if you forget the machine will remind you with a friendly set of beeps and you'll also see a light illuminate.
It also have a two hour auto off so you never have to remember to turn it off but you can also use the stay warm button to turn it off before the two hours is over.
Wake up to the aroma of your favorite coffee brewing with the delay brew function. Program delay brew to brew any size or any style at any time in the next 24 hours.
There it is! Choose a size, choose a brew and auto IQ OneTouch intelligence does the rest to produce a perfect cup of coffee.
The machine also comes with a milk frother so you can make cappuccino and latte drinks, and the included recipe book will show you how.
This best rated coffee maker does everything it says it does. I have never enjoyed my coffee so much! Tastes just as good as any specialty shop.
If you looking for an all in one coffee maker, Ninja is worth the price!
Click here to buy + free shipping!

Cuisinart DGB-900BC Brushed Chrome 12-cup Coffeemaker
Click here to buy + free shipping!

This is a fully automatic coffee maker that will give you superior flavor every time.
With easy-to-use controls you can choose the strength of coffee you like best. Plus your grinder automatically adjusts the amount of beans that are ground based upon the amount of cups of coffee you choose and the strength of the coffee you select.
Let's begin by reviewing all the parts.
There's the hopper container which holds the coffee beans. The hopper container lid keeps beans fresh by sealing out moisture and air. There is the release knob for the container which locks it onto the unit.
There's a water reservoir window which indicates how much water you put in the machine. The water reservoir cover flips back for easy filling and included are a charcoal water filter and holder.
The control panel contains the on/off button, the program button with LCD display and the grind control knob with six different settings based on the number of cups you plan to brew. The setting should be equal to the amount of water you place in the water reservoir.
The grind off button turns off the grinder when you are using pre-ground coffee.
There's also a button that lets you control the strength of your coffee – either mild, medium or strong.
The hour and minute set clock buttons are used to program the time of day, which will appear on the clock display. Your clock display also shows the coffee settings you choose.
It comes with a 12-cup thermal carafe with brew through pour through lid. It's easy to pour and has double walled insulation with an ergonomic handle.
The coffee brews right into the carafe's unique lid, which seals air out and keeps the coffee fresh. There's no need to turn or adjust the lid when pouring.
There's a resting plate with a nonstick coating from thermal carafe to sit on.
This machine has an internal burr grinder that grinds the beans to a consistent and ideal grind for true coffee flavor and aroma.
There's the filter, filter basket and cover. Your machine comes with a Cuisinart gold-tone commercial filter. You can also use an 8 to 12 cup paper basket style filter.
Now that you're familiar with the parts you're ready to start brewing some coffee.
The fully automatic clock system not only displays the time of day but lets you program your brewing time so that the machine starts automatically. Your coffeemaker can also be programmed to start brewing automatically at a future time. Don't forget to select the number of cups and the coffee strength you want and remember to press the grind off button if you are not using whole beans. You can program the machine to turn off at a preset time from zero minutes 24 hours after brewing.
When you think about it coffee is 95% water and the quality of water that you use is as important as the quality of coffee. That's why Cuisinart includes a water filter to take out chlorine bad tastes and even odors.
After brewing your coffee, the unit will automatically shut off. Thermal carafe will keep your coffee hot for hours after brewing.
Some people complain about the amount of maintenance this machine needs in order to function properly. However, it takes just 2 minutes! It is not difficult to maintain this device. I think those that complain are just lazy.
With this top rated machine you will impress your friends and family with bright and bold taste.
Every morning you will be amazed by the magic of the conversion of whole beans into yummy amazing coffee!
Click here to buy + free shipping!

Bonavita BV1900TS 8-cup Coffee Brewer
Bonavita's brand new coffee brewer is hard to beat
Click here to buy + free shipping!

The Bonavita is one of very few high rated automatic drip coffee makers that is endorsed by the Specialty Coffee Association of America. The reasons for the endorsement include:
– a 1400 watt heater, which makes sure that the water heats to a consistent 200 to 205 degrees Fahrenheit brewing temperature. Many automatic brewers that you can get at stores only get up to 180, maybe 190 degrees, and even then it's a spiking temperature. So having a consistent 200 to 205 degrees Fahrenheit brewing temperature allows for a really great cup of coffee.
– it has a shower head design. The shower head is great because it's not just one stream of water coming down. You have several streams making sure that the coffee grounds are evenly saturated. So you put that together with temperature stability and even saturation and you can make for a really great brew of coffee.
– the dripper itself for the brewer is a very simple wedge design that works with standard filters.
– the brew basket has plenty of room for grounds to bloom. When you are using freshly roasted coffee, the grounds expand and with a smaller basket you will just get a mess.
– when you hold the switch down for five seconds, you can set it to pre-infusion mode. This means that the brewer sprays small amount of water onto the grounds, then pauses for a bit to let the coffee bloom.
– this unit is very easy to use – it has just one button!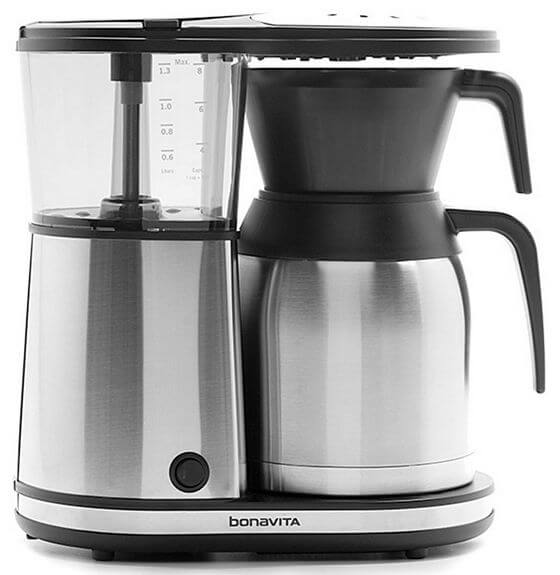 To brew, simply put your filter in, put your coffee in (a ratio of six grams for every 100 milliliters), pour water into the reservoir (which opens very simply), set it all down and you turn it on. Let it brew.
Depending on the amount of coffee, amount of water going through, it may take about six minutes. Once you're done, you can turn it off and remove the carafe. Remove the dripper. The thermal carafe comes with a top and it will keep your coffee warm for a long time.
The Bonavita automatic coffee brewer is a great automatic machine for those of you who want to have good office coffee. It's very economical and produce a good cup of coffee with temperature stability and even saturation.
Overall, Bonavita is a fantastic brewer, very simple and clean and makes a great coffee. The only con is that it isn't as eye-catching as more expensive models.
If making amazingly delicious drip coffee for less is what you are looking for, then the Bonavita BV1900TS is the best choice.
Click here to buy + free shipping!

Hamilton Beach Programmable 2-Way Brewer Coffee Maker
Hamilton Beach 2 Way Flex Brew Coffee Maker Review
Click here to buy + free shipping!

If you're like me, there are plenty of times when you only need a single cup of coffee that making a whole pot means wasting the rest. And then there are other times when you need to serve family and friends and a 12-cup carafe comes in handy.
This programmable 2-way brewer provides the perfect middle ground with convenient options depending on what you need.
No more wasted coffee or waiting to brew several cups!
You can brew up to 14 ounces in a single mug or 12 cups in the carafe. Choose from gold or regular strength for the carafe and easily use a k-cup pack or grounds for a single serving.
You get the coffeemaker itself, a carafe, a basket for coffee grounds, a tray and two inserts: one insert is used when brewing k-cup coffee packs and the other insert is when brewing ground coffee. You also get a manual and a quick start guide.
Let's take a closer look at this high rated unit.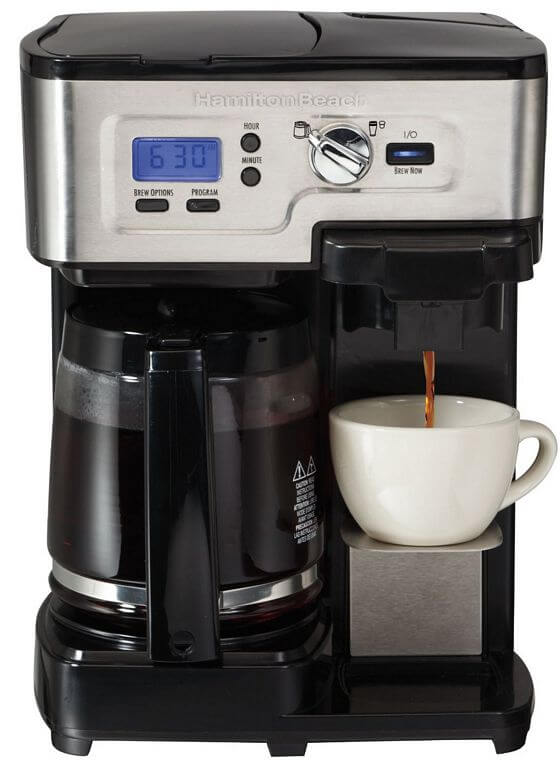 There is the display panel which has a clock and an indicator on which mode you're brewing. You have a choice of brewing a pot of coffee or a single cup of coffee, either with ground coffee or k-cup coffee packs.
You have several options when brewing. For single cup you have the option of selecting the k-cup coffee packs or ground coffee.
For the carafe, you have the choice of brewing regular coffee or bold coffee.
There is the power button which starts the brewing process. There are also hour and minute settings and if you're brewing a carafe of coffee you may program the coffee maker to start brewing at a desired time.
There's the hot pot for the coffee maker and on the right side is where you set your individual coffee mug. If you have a tall coffee mug then you can set this tray in the lowered position. If you have a small coffee cup, however, you may flip the tray over and set your coffee cup there.
If you're making individual serving sizes of coffee, you use an insert if you want to brew k-cup coffee packs or use another insert filled with ground coffee. This tray goes into the right side of the coffee maker.
It also features an automatic 2-hour shut off for peace of mind.
This top rated coffee maker is an excellent combination of single-brew and carafe. If I had been asked to plan the ideal home coffee machine, this is what I would have planned.
Click here to buy + free shipping!

Breville BDC650BSS Stainless Steel Grind Control Coffee Maker
Breville Grind Control Brewer Review
Click here to buy + free shipping!

This is a drip coffee maker with a built-in grinder. It brews right into a carafe but it's real trick – it does single serve coffee as well!
Brewing from fresh ground always means better flavor and the cost per cup with the Breville grind control it's going to be a whole lot less.
For a pot of coffee, the grind control operates like any other drip brewer, but what I really like is how the machine handles single serve brewing into a cup or travel mug.
What it does for single serve is like fully automated immersion brewing. It grinds into an included goldtone filter basket or you can use a paper filter. Then it immerses the grinds with anywhere from 8 to 20 ounces of water. The immersion lasts for about three minutes and then the brewed coffee is released into your cup or mug all at once.
You can select from eight strength settings which determine the amount of coffee ground. Just set the amount of coffee to be brewed and how strong you like it and the machine automatically adjusts the amount of coffee ground to match your strength and volume settings.
As far as temperature, I measured 180 degrees just after brewing into the dual wall thermally insulated carafe. So for reference, 175 degrees is considered a hot cup. For a single serve, I measured about 162 degrees after brewing eight ounces into a room-temperature cup. That's above the 150 degrees serving temperature typically recommended for specialty coffee.
If you like it hotter, you can easily up temperatures as much as 10 degrees by preheating your cup.
One thing I love is the auto start function. You can set the machine to automatically turn on and brew any single serving or carafe size. So your cup, travel mug or a full pot can be waiting for you in the morning. A removable piece in the drip tray gets you seven and half inches of clearance for taller travel mugs.
Display is very easy to program. Just set the start time, select single serve or carafe, how much to brew and your coffee strength and that's it. The display is an easy-to-read LCD that shows you how much water is in the tank, the amount of coffee to brew and the strength.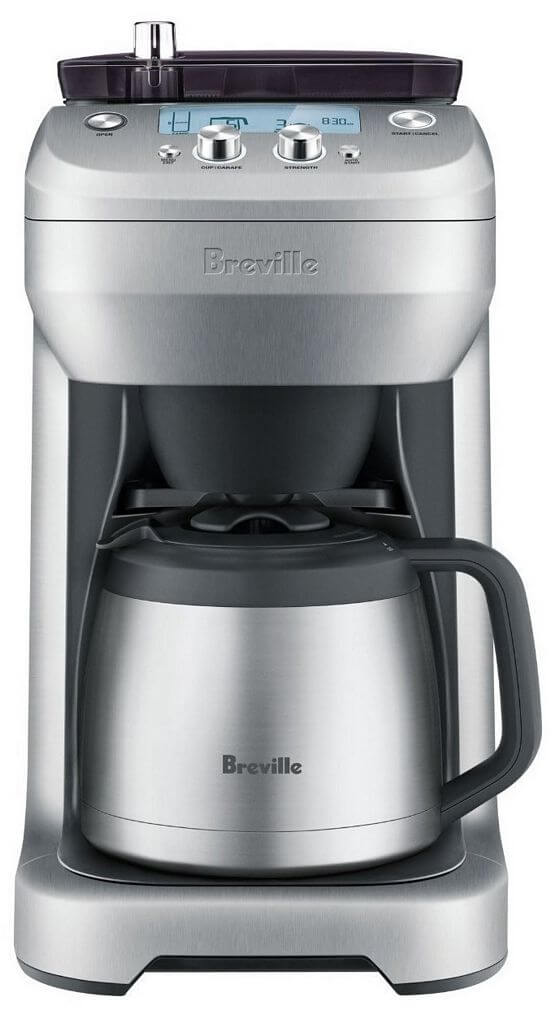 The machine has six grind settings so when you change those, the display tells you which setting you're out.
You also get other messages during brewing. The machine displays an estimated time remaining and tells you when it's preheating, infusing and brewing.
After brewing it reminds you to empty the filter basket and if you should try to brew more, than the water available in the tank it reminds you to fill it.
When it comes to the outside of the unit, it's coming in at 17 inches high. You will need a little bit of space for it but overall height is shorter than the typical 18-inch clearance for most overhanging cabinetry.
Up top, the bean hopper has a 1/2 pound capacity. Its locking mechanism shuts off the bean flow when removing the hopper so you don't make a mess if you'd like to switch out your beans.
In front of the hopper is a door for filling with water. It has a pop-up indicating when the tank is full but you always know how much water is available right on the display.
Press the open button and a swing out door opens which holds the brew basket and filter. After brewing just rinse, dry and replace and you're ready to brew again.
The carafe has a 60 ounce capacity. It's a dual wall, thermally insulated, stainless steel so there's no need for an electric heater that would just cook out the flavor anyway. An hour after brewing, in carafe temperature only drops three degrees, from 180 to 177.
That carafe does an excellent job of keeping coffee hot and it has a group pause drip stop so you can remove and pour a cup mid brew if you want to.
The exterior of the machine is mostly brushed metal, all plastic parts that contact water or coffee are BPA-free.
Overall, if you appreciate excellent coffee, I think you'll like the Breville Grind Control. It's easy to use with simple controls in the plain language LCD display and it really lets you customize your coffee with six grind settings and eight strengths.
Click here to buy + free shipping!

BUNN MCU Single Cup Multi-Use Brewer
Bunn My Cafe MCU - Not Your Mamma's Single Cup Brewer!
Click here to buy + free shipping!

MCU comes with four drawers that work with specific coffee and tea formats so that you can decide what and how you want to brew. I'm really excited about the ground coffee drawers ability to help you brew an amazing cup of coffee, when and how you want it.
Bunn's ground coffee drawer is different from other ground coffee adapters and other single-serve ground coffee machines on the market. It can hold up to 20 grams of your favorite coffee. This larger capacity allows you to brew bigger, bolder cups of coffee.
You can achieve Specialty Coffee Association of America brewing standards with the ground coffee drawer. To do so, I suggest weighing out 15 to 19 grams of coffee for 10 ounces of water. You can also use the scoop provided with the MCU. The scoop provided holds approximately 10 grams of coffee, depending upon your beans and your grind size and the roast level.
You can adjust the amount of coffee that you want to use based on your own personal preferences. You can even adjust your grind size. After placing your coffee in My Cafe, it makes it easy to also put in your water. Water lines provided inside help you dose out the proper amount of ounces.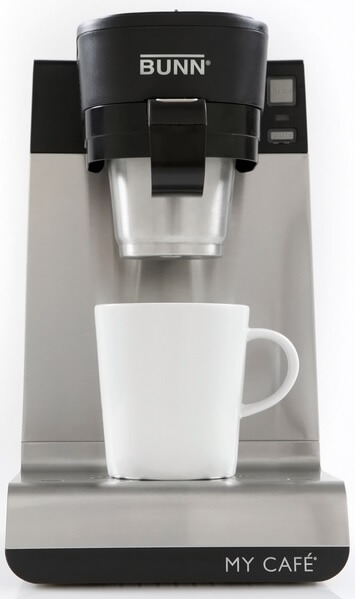 MCU also manages the science behind your brewing. The perfect water temperature, the right flow rate, everything is housed right inside this little powerhouse.
This best rated machine features a pulse brew which starts and stops the flow of the water. This extends the coffee contact time for a bolder beverage.
When brewing with My Cafe and the ground coffee drawer, I recommend activating the pulse brew just by pressing it till the light comes on. Once you've done so, you can hit brew.
The design of the ground coffee drawer combined with the technology inside MCU will help optimize extraction for a superior single cup.
The coffee produced is dark and rich and very flavorful and aromatic.
The drawer also features a metal filter which enhances body and mouth fill. The only thing that you're throwing away are spent coffee grinds. Those can even be composted if you wish.
If you're looking for a single-serve brewer to use with your favorite coffee, I recommend MCU by Bunn.
Click here to buy + free shipping!

DeLonghi Bar32 Retro 15-bar Espresso/Cappuccino Maker
Crew Review: DeLonghi BAR32
Click here to buy + free shipping!

I love the retro style of this great espresso and cappuccino maker. It comes with a scoop so you can get the perfect measurement every single time.
At the back you have a removable water reservoir and you can take it out and wash it. It just simply puts on to the back and you can see how much water is left in it. It does hold 32 ounces and it just flips open. There is also a spot to hold your extra filter.
On the front, there is an indicator for how much steam you would like to use as well as some other manual functions that are quite simple.
There's a swivel frothing arm on the left side to get the perfect amount of froth with every single beverage.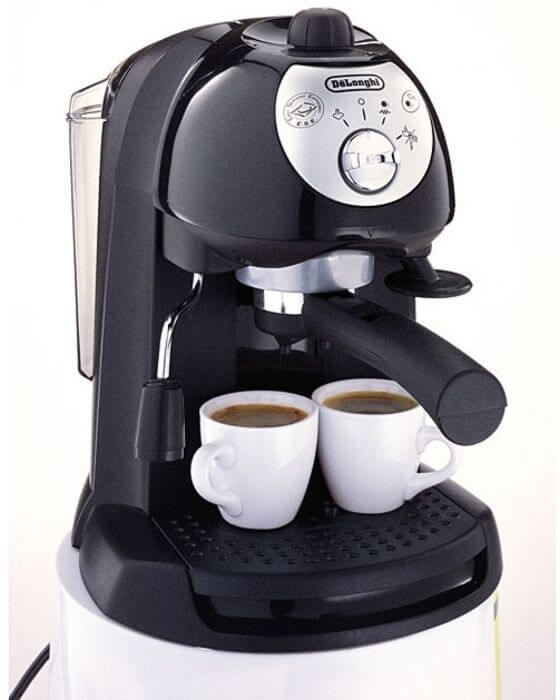 There is a tamper on the right side. It makes it really easy to make your favorite beverage. You can simply fill the filter and tamp it down and it's easy to remove the filter.
You can use pods or ground coffee with the dual function filter holder.
Two thermostats control separately water and steam pressure. The self-priming operation eliminates annoying start-up preparation so you can get to your coffee faster.
This is a small machine that takes up very little space on the counter.
Have a refreshing espresso or cappuccino any time with this great machine from DeLonghi.
Click here to buy + free shipping!
Still need more options to consider?
Click here to see hundreds of high end models for sale, including drip, single-serve, K-cups, grinders, pour over, percolators and French press.
Coffee Maker Types
Many people have coffee makers but they're curious as to what other types of makers are available.
Maybe you'd like to try something new or maybe your old coffee maker finally died and you just need a good replacement.
With hundreds of different types of makers on the market, you have a lot of options and you're definitely going to be able to find something that you like.
But before you buy a new coffee maker, you should figure out exactly what you want out of it, are you a coffee addict who needs 10 cups a day or should you stick with a smaller single-serving maker.
Do you need to grind your own beans and want a grinder built in? Do you want foam or options for espresso and cappuccino or do you just want something cheap that will make coffee as easily as possible?
These are just a few questions that you should ask yourself before going out to find a new coffee maker.
Even though most people would agree that it's not the best way to prepare a gourmet cup of coffee, the easiest and most common type of maker is the automatic drip. This is where you put some water in the back or on the side, throw in a filter, fill it with coffee grounds and then press the start button.
Its ease-of-use is really one of the things that makes it so appealing. These can make just one cup at a time or they can make gallons at a time. It all depends on what you want to use it for.
The thing that you really need to worry about with this type of maker is the coffee that you put into it. Keep in mind that quality coffee beans can be ground up at stores and they can be infused with flavors like hazelnut, cinnamon or even vanilla.
The second most popular type of maker is the manual drip. This is a lot like the automatic drip except you heat up and pour the water yourself. You just pour it into the holder where the coffee filter is filled with coffee beans. It drains into the pot and you're done. These also make single cups or up to 12 cups but aren't usually used commercially.
For those who love fishing, hunting or camping, these are a pretty good choice because you can heat the water up however you want. You can use a stove campfire or even a hot car engine as an option if you really need a cup of coffee right away.
Less popular than both of these is the French press. A French press is a device that usually looks like a glass mug to prepare coffee using a press. You first mix hot water and coffee grounds directly together. Then you allow the mixture to brew for about four minutes. Finally you simply attach the lid which has a mesh filter attached. Just push the mesh filter down to the bottom of the press and this pushes all of the coffee grounds to the bottom of the device. Then your coffee is ready to be poured out while the mesh filter keeps all of the grounds at the bottom of the mug and out of your cup.
A French press is usually considered a more sophisticated way of preparing coffee and it allows for more flavor to be extracted from the grounds, giving a deeper and more rich taste.
Espresso and cappuccino machines are more for a selective person who knows exactly what they like. Unlike a normal coffee maker, these are expensive and you need to practice to operate them efficiently. They utilize pressure, foam, froth and milk, depending on the type of machine that you buy and the type of drink that you're preparing.
Percolators have been around since the beginning of the 20th century and were the standard type of coffee brewers in most homes. They are not as popular today, but they are helpful to brew large volumes of coffee. Today's percolators are available as stove top and electric models.
Percolators work by water continuously running over the coffee grounds held within a metal filter. This takes place while the water is boiled. The problem with this process is that coffee may boil, becoming stronger and more bitter tasting. However, modern electric percolators prevent the risk of boiling coffee, switching to a warming function once the coffee is brewed.
Coffee Making Tips
The three most important things (besides choosing one of recommended coffee makers) that affect coffee taste are the freshness of your beans, quality of water and the size of the grind. Read best Kona Coffee online review.
Coffee is just like any other food – fresh is always best. Always buy quality, freshly roasted coffee. Coffee is at its peak flavor potential between 5 and 20 days after it's roasted. Always look for coffee that has a roasted on date printed on the bag and not a use, buy or best buy a day as you never know when they were roasted.
Always buy coffee from your local coffee shop or from a roaster if you're lucky to have one near you or you can always buy them online from a reputable quality roaster.
Water quality is another very important aspect if you want to make great tasting coffee. Water is the foundation of your coffee since coffee is approximately 99 percent water. If you can taste the difference in your water you'll be able to taste the difference in your coffee.
Always fill the tank with fresh clean water. Do not use the water that has been sitting in the water reservoir for days and be sure not to use hot water.
Also avoid water with heavy mineral content. If you live in an area that has heavy mineral deposits, then try using a spring water or bottled water, but definitely don't use distilled water or demineralized water. They'll affect the taste and also the way the electronics of the machine work.
The next most important thing is contact time. It is the amount of time that the water stays in contact with the ground coffee and this can have a dramatic effect on taste. Too much contact time will result in coffee that's overly bitter and ashy tasting. Too little contact time and the coffee will taste weak and
underdeveloped.
In drip coffee makers, grind size usually determines contact time. The ideal grind size should look like beach sand. Too fine and it will look like coffee ground for espresso. If it's too coarse, it will look like sea salt.
So depending on the origin, the age and degree of roast, you need to adjust the grind size. To do this you'll need to grind a small amount of coffee into the filter basket and visually assess. If it doesn't look right, make a small adjustment – coarser or finer – until it's correct.
Next you'll need to set the amount of coffee for the strength you prefer. Freshly roasted, freshly ground coffee always looks like you have too much but if you're brewing a 12 cup carafe, you'll need to have about 4 ounces of coffee or 95 grams.
So to make great tasting coffee you need to set the grind size first. The grind size should look like coarse beach sand; it shouldn't look like rock salt or finely ground espresso.
If the coffee is still not tasting right maybe you need to alter the strength. If the coffee is too strong reduce the strength setting; if the coffee's too weak then increase the strength setting.
Also you may want to try using a plain store-bought paper filter. This will give a more clean tasting cup as opposed to a more muddy cup that's delivered by the gold tone filter.
Now you know how to make the best coffee using one of the recommended coffee makers.
Please share on Pinterest: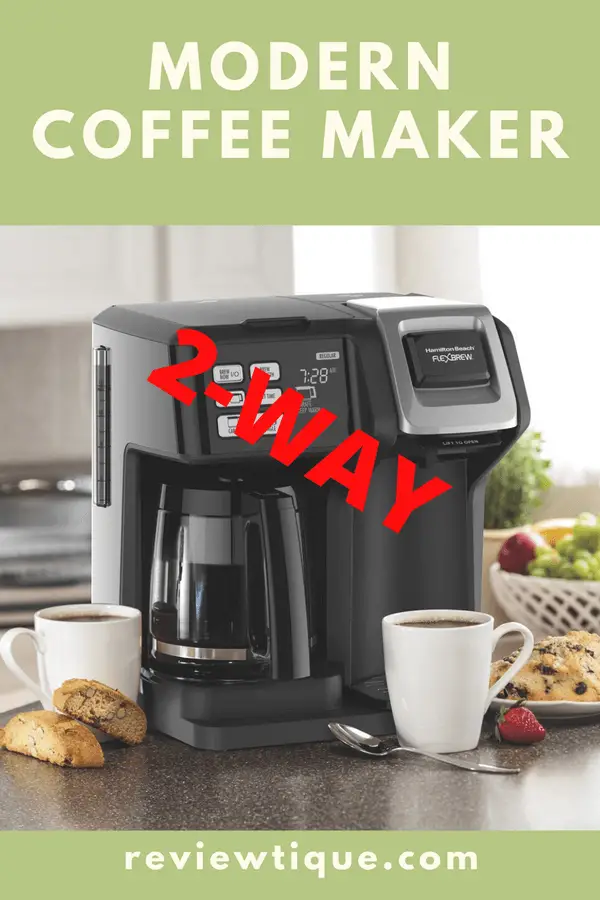 See other kitchen appliances:
7 Recommended Coffee Makers (MOST Popular)