I'm incredibly obsessed with T3 Whirl Trio wand. I have always used a curling iron with a clip. I just felt more comfortable with it. I thought the curls were better but ever since I got the T3 wand I have not gone back to my curling iron with the clip.

I thought this would be really hard to use. I thought that I just wouldn't get the technique down, but honestly after the first time I used it, I was totally sold.
T3 Whirl Trio Interchangeable Styling Wand is the easiest and greatest way to get pretty much any hairstyle you want.
It's been in OK Magazine, Harper's Bazaar, all the beauty bloggers and beauty editors love it.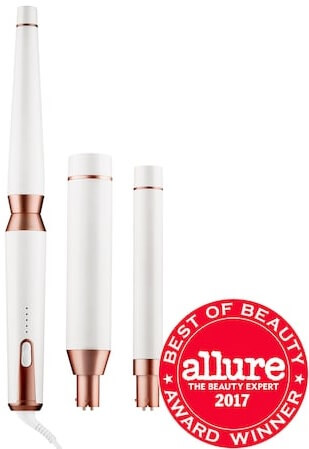 The curls hold very long, even after brushing my hair! The curls last at least two days, and on day three, I need just a slight touch up.
It's not just me that love this product.
A very good friend of mine have used many curling irons (including expensive ones) and not one could help her hair! Her hair is amazingly difficult to curl, it never holds the curls. Even when she used hair spray, it becomes straight in 1-2 hours.
However the T3 Whirl Trio curls her hair easily and most importantly, the curls last until she washes her hair. All without a hair spray.
Click here to buy + free shipping!
Main features:
5 heat settings (260-410°F / 127-210°C), optimized for any hair type and condition.
Tourmaline + ceramic surface – smooths cuticle and creates soft, shiny styles that last.
Smart microchip regulates heat with great speed and precision.
Responsive ceramic heater distributes heat quickly and evenly for one-pass styling.
8.5ft, 360° swivel cord.
1-hour auto off.
Auto world voltage (100-240V).
You're getting three barrels with three distinct sizes. Keep in mind that it's not just three different looks, it's infinite. You can do anything you want.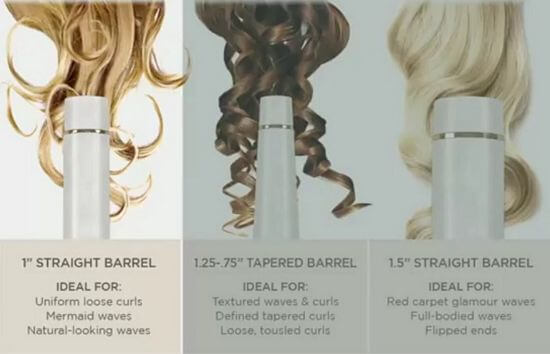 The 1 inch barrel is for those looser curls, maybe mermaid waves, some natural looking waves. You can just wrap a very large sections of your hair to create bounce or to revive the blowout.
The 1.25-.75 inch tapered barrel is best for textured waves and curls, defined tapered curls or loose tousled curls.
The thicker wand, 1.5 inch, is perfect if a you have super long hair because the longer your hair is, the larger you can go with a barrel and still get a nice curl because there's just more length. It adds volume and shape to hair versus ringlet curls. So if you just want to add polish to make it look like you've got a professional blowout, this is the barrel size that I recommend.
See: Anti Bacterial Bath Towels
This wand gave me that shape and volume back that I've always wanted and I absolutely adore it.
It's a little on the pricey side but I 100% recommend this. It's very rare that I try a new product and completely abandoned what I was using before. I'm a creature of habit. But after getting this iron I will never go back. I love the curls this gives, I love the shape, the definition, I love how long they last, I just feel like this makes your hair look gorgeous, like you got it done professionally and it literally takes less than 10 minutes.
It does get really hot so you're not having to hold your hair there forever as you're wrapping it to get that nice, defined, tight curl.
I absolutely adore this. It is worth the investment, it's such an amazing product. T3 is such a fantastic brand and I cannot say enough good things about it.
This product has worked so incredibly for me and I hope if you get a chance to try it that you love it as much as I do.

How to Use Your T3 Whirl
To turn on the iron simply press the power button once quickly. You will see the lights cascade up and eventually turn solid when the iron is ready for use.
On your first use the iron will heat up to the maximum heat setting of 410 degrees, indicated by five solid lights. To adjust the temperature, double click the power button then use one click to cycle through each of the temperature settings.
Stop when you've reached the desired heat setting. The lights will cascade as the iron reaches your selected heat settings.
To turn the iron off, hold the power button for two seconds. The lights should cascade down and turn off completely.
Removing the interchangeable barrel is easy. Just twist the barrel lock on the handle to the right to unlock the barrel. There are icons on the tool that indicated that is locked or unlocked.
Once you have unlocked the barrel, pull it out to remove. To insert a barrel, simply line up the pins on the barrel with slots in the handle and insert them into the handle.
Be sure to twist the barrel lock to the left in order to securely fasten the barrel.
Creating Bombshell Waves With T3 Whirl Trio Curling Wand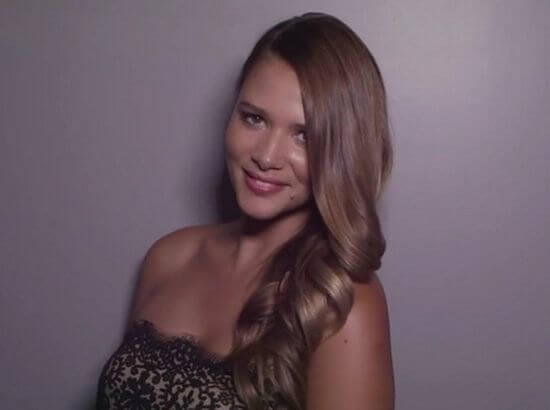 I love this look because it looks stunning in formal occasions but I can also wear it with jeans and a t-shirt. This look is so versatile and so fast and easy to do if you have the right tools.
To create this look, use one and a half inch straight barrel.
Brush through hair with paddle brush to detangle and smooth.
Create a deep side part on one side. Section hair into two sections, clipping the right side out of the way.
To begin styling the left section, put the heat resistant glove on your left hand.
Take a one-and-a-half inch section and wrap it around the wand from roots to ends.
Hold for a few seconds, then release.
Very gently place the wave down and allow it to cool for a few seconds. This will help your style last longer.
Continue styling the rest of the sections on the left side using the same method.
Repeat this process on the right side. Be sure to switch the glove to your right hand before you start styling.
When all sections are fully styled and cool, apply a texturizing lotion to palms then shape hair by moving all to one side opposite your part.
The texturizing lotion will help keep your style in place with gorgeous red carpet worthy waves that last.
Creating Mermaid Waves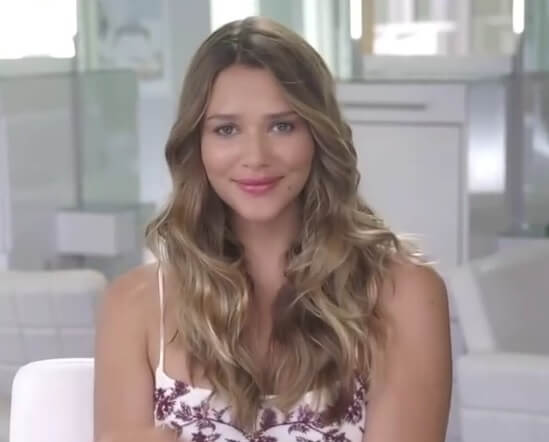 Vacation inspired waves are always in style. The key to this look is texture and the right curling wand.
To create this style, use the 1 inch straight barrel.
If you want your hair to look like she just walked off the beach, we left the ends unstyled, meaning we did not need to use the heat resistant glove.
Spritz dried, detangled hair with a prep spray. For extra volume quickly run over the hair with a blow dryer on a low heat setting.
Section hair from ear to ear, twist and clip the top section out of the way.
Start with a 2 inch by 2 inch section of hair and wrap it around the wand, away from the face.
Hold the ends off the barrel for a few seconds then release.
Leaving the ends unstyled will give you a more natural beachy look.
Now take a 1 inch by 1 inch section next to the first section, wrap it around the wand but this time wrap it towards the face.
Continue styling by alternating section sizes and wrap direction.
This will give your look more body and natural looking texture.
Repeat this process on the top section.
When hair is fully styled, apply a small amount of texturizing cream, run fingers through the head to break up the curls for the perfect straight of the beach finish.
See also:
T3 Cura Luxe Hair Dryer Review
BEST 2 in 1 Hair Straightener and Curler Combo
BEST Laser Headband For Hair Growth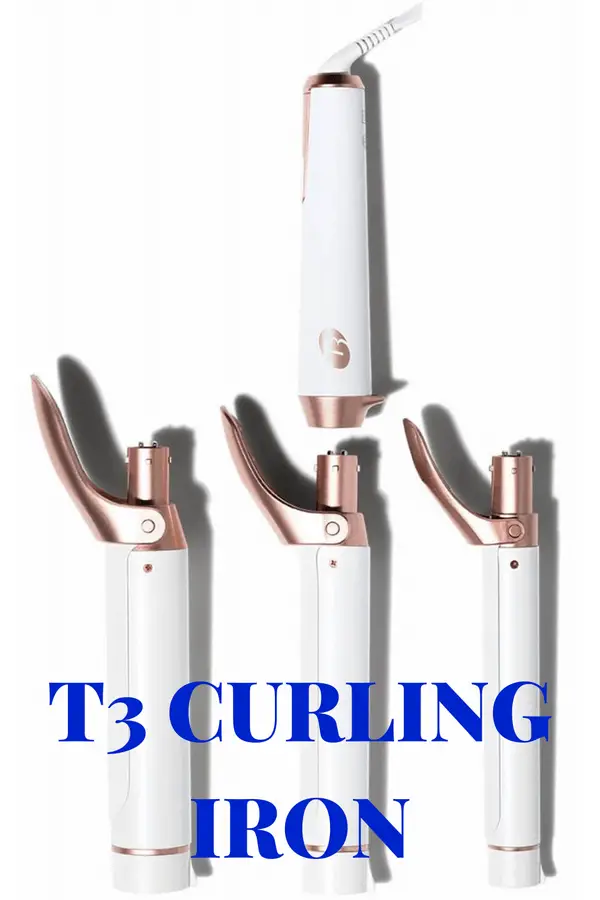 T3 Whirl Trio Interchangeable Styling Wand Review