Today we are going to be reviewing this Oral-B GENIUS 9000 electric toothbrush. It's smart toothbrush because it links to your phone via Bluetooth and can actually help you to brush your teeth better and also track your brushing habits.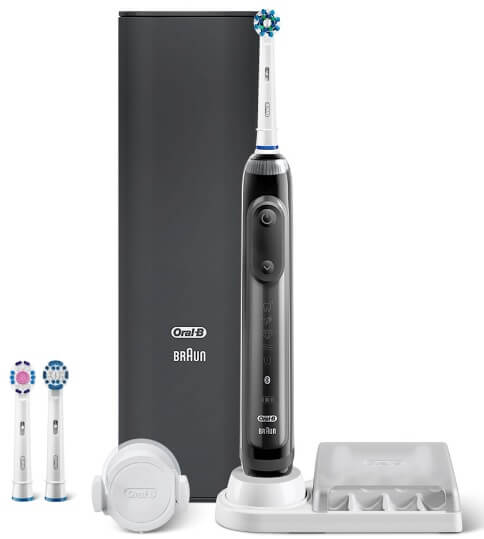 One of the key features of this toothbrush is something called Precision Detection, which uses facial recognition software on your phone camera to help guide your brushing. This ensures you get very thorough clean, you don't miss any areas and you are brushing in a systematic way.
This toothbrush is the proud winner of these rewards: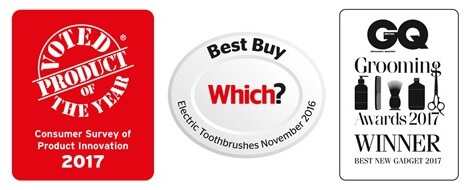 Another key feature of this smart electric toothbrush is the app that is linked to. On your smartphone, you need to download the Oral-B app and then connect it to your phone and then it can track every time you brush. You can use the timer as well.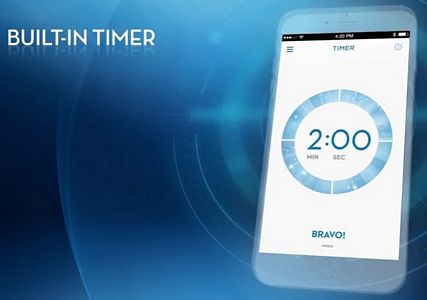 If you're confident with the position of where you're brushing and that you're not missing any areas, you can just use the app to track your brushing. Every time you brush, it will log it on your phone and then you collect points and badges.
Also it develops a streak, which is a useful thing because when you develop streaks, you're less likely to break that streak in the middle and so it will encourage you to brush every single day, twice a day, so you don't break your streak.
It has flossing and mouthwash reminders as well.
You can also share your logs with your dentist so he or she can see if you are brushing twice a day (if you want to share that with them).
Another feature of this smart electric toothbrush is the famous round brush head.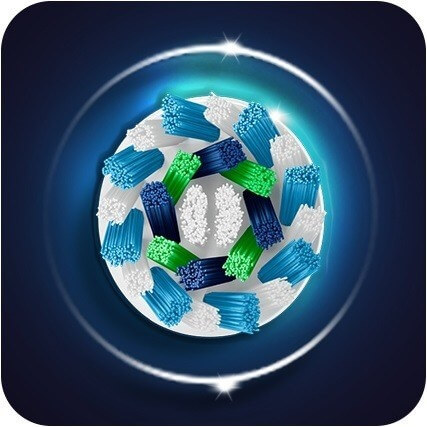 The reason why we like this brush head a lot is because it's nice and small and you can get around the teeth very easily. You can also get around the teeth in the back, in some of harder to reach areas. It's shaped in a way that it wraps around the contours of your teeth.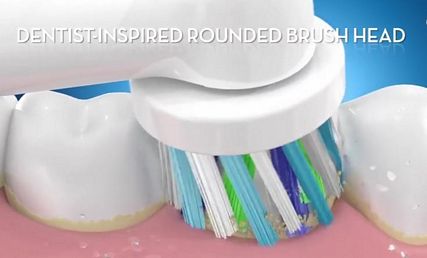 This toothbrush is really powerful. It's more powerful than the other Oral-B models. This one actually oscillates about 10,500 times and it pulsates 48,000 times in a minute.
That's very powerful. It's going to be more effective than manual brushing. You'll never be able to replicate that with manual brushing. That's why electric toothbrushes are really good. They just make your teeth feel very clean.
Related: Dental RF Toothbrush Reviews (ToothWave)
The first time I used this smart toothbrush, it felt really fresh. I do have other models as well but this one is a lot more powerful. You can really notice the difference.
It also has six modes that you can use. It has your daily clean, pro clean mode, sensitive mode, whitening mode, gum care mode and it also got a tongue cleaning mode.
Daily Clean with 3D movement for a basic clean.
Pro-Clean for an intense clean feeling through faster 3D movement.
Sensitive mode with a lower speed to gently clean teeth and gums.
Whitening mode for a polishing to remove surface stains.
Gum Care with massage mode for the gentle stimulation of gums.
Tongue Cleaning mode after brushing.
Another really good feature of this smart electric toothbrush is the pressure sensor that prevents you from brushing too hard, which can damage the gums and the enamel. When you brush too hard, it actually goes red.
Also, if you push too hard, it can't spin effectively so you're not actually going to benefit. When you are pushing normally, it oscillates, rotates and pulsates. These are the motions it does. When you press too hard, you can hear the sound changes and it can't brush completely.
You don't want to be pushing too hard and it's got that red light there for a reason so you can visually see when you need to ease off the pressure.
A lot of people when they're using a manual toothbrush are pressing too hard. I've seen many people with really worn down enamel or the gums have receded a lot. That's irreversible so you really do have to be gentle.
These are the key features. We've also got a few accessories that comes with it.
There's a smart travel case which is quite nice. It has space for two heads there. You can charge it through the case, which is quite handy. There is a little socket there to put it in and also when you're traveling, another useful feature is you can charge your phone through this socket as well.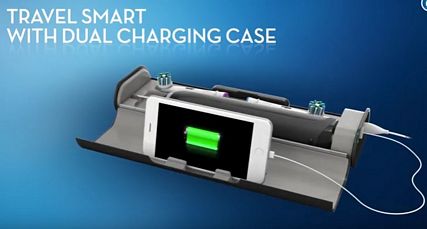 How to Use The Best Smart Electric Toothbrush
You can use it without the app and without the Bluetooth. It just works like a normal toothbrush. You don't have to take your phone with you every time.
You can customize the ring color if you want, which is quite nice. After pressing the power button, to change the modes, you just press the down arrow.
I would recommend you use the app because it is useful, especially if you are just starting using the electric toothbrush. If you've just gone from manual, it is a lot different than using manual toothbrush.
So there is a learning curve. Once you've mastered the technique with the Position Detection, you don't have to do the Position Detection every time. You can just use the timer. You don't always have to link it to your app every single time you brush.
It comes with the suction cup smartphone mirror mount. You put your phone in the mount and you pop that on your mirror or any smooth surface. Your phone needs to be directly in front of you so that the Precision Detection can work properly.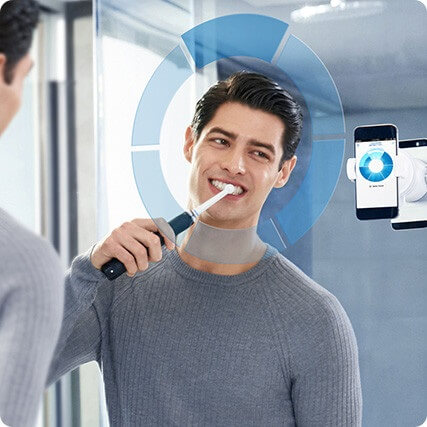 Once you've set it off, if you want to use the Position Detection, open the menu button in the app, you press Position Detection and then just click the timer.
Use Precision Detection if you want to learn how to brush correctly, to make sure you don't miss any areas out, and really focus on the brushing.
Set up the camera first, align your face and then press a button to connect it. Start brushing.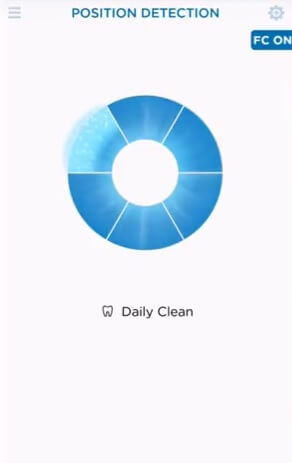 In this picture, we can see the Precision Detection working. The outside blue line around the circle is where the toothbrush is located in the mouth and the area where it's going white is where you're brushing. You see the progress. Once you've completed that area it goes completely white and then you move on to the next zone. The mouth is split into six zones.
When you've completed the area, if there's any focused care zone programmed, it will ask you to do this. It will ask you to do the highlighted area for an extra ten seconds. Once you are done, you can move on.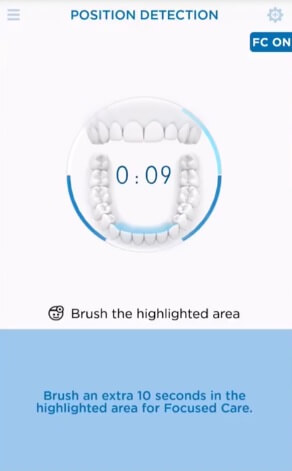 In the end, your teeth will feel incredibly clean.
As mentioned earlier, you do not need to use the Precision Detection. You can just use the standard timer. It is the same thing as the Precision Detection except you don't need to use the camera. It just shows you the areas that you need to brush.
At the bottom of the app, it's got some facts for you to read and to keep you entertained if you get bored. You can look at photos, listen to music while your brush, look at the weather, check the calendar. These things are there to keep you motivated because two minutes are actually quite long.
The other things is a fun zone, which is for kids. It can put filters on.
You can also check your progress, to see how many days you've brushed, how many sessions you've missed, how long you spent on. It's quite good, it's like any other activity tracker. Especially useful if you're not already brushing twice a day, every day. It is useful because it gives you a visual representation of what you're doing and where you need to be.
Best Smart Electric Toothbrush in Short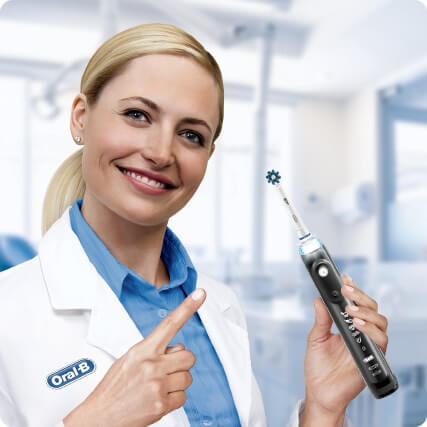 With Oral-B GENIUS 9000 electric toothbrush you can achieve a superior clean.
It's unique dentist-inspired rounded brush head cups teeth to remove up to 100% more plaque.
The built-in timer helps you brush for the recommended two minutes.
To protect your gums, the pressure sensor alerts you if you're brushing too hard.
To get a whole mouth clean, Position Detection helps you brush all areas of your mouth for 100% coverage.
You can personalize your experience. You can choose from 12 SmartRing colors and six different
brushing modes.
You get up to 12 days of battery life and smart travel case. The USB travel case charges your brush and smartphone at the same time.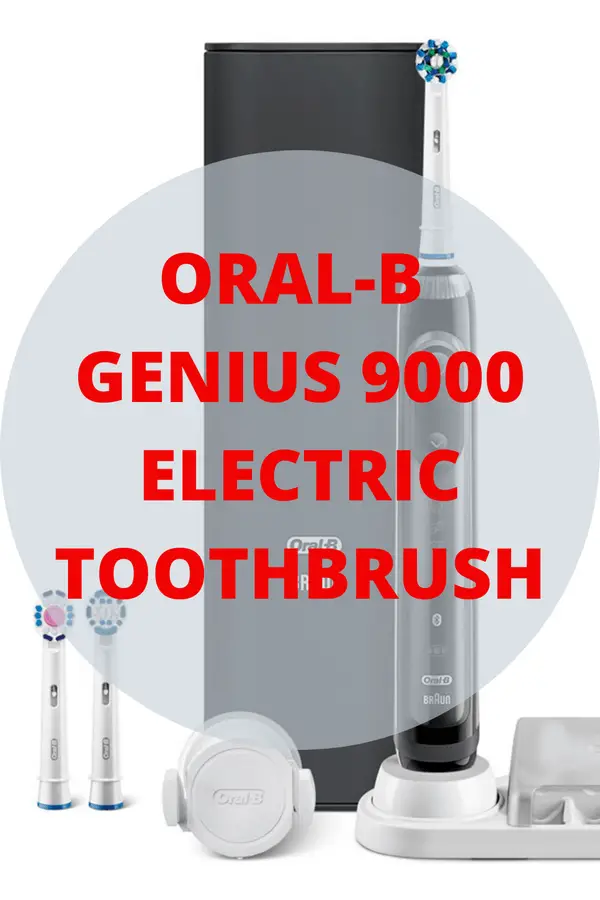 Highest Rated Battery Operated Electric Toothbrush
How to Choose Right Toothbrush
Best Smart Electric Toothbrush (With Timer & Bluetooth)