Here you will find some of the best short cowgirl boots. Women find these western boots very cute and really comfortable.
Step up your boot game with these trendy and chic models.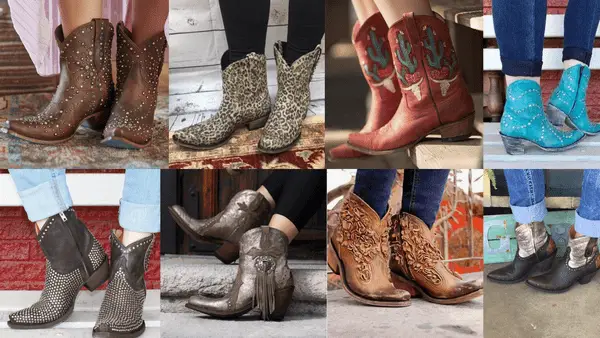 Old Gringo
Double D Ranch Apache Kid Boots – Brass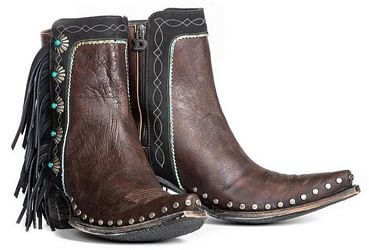 Hand crafted in calfskin with sassy fringe, contrast trim and the turquoise studded conchos.
Double D Four Winds Short Boot – White & Black Snake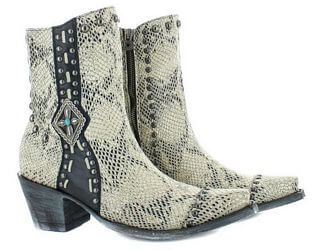 Snake skin embossed leather with nail heads and concho detailing.
Dulce Calavera Short Boots – Rustic Beige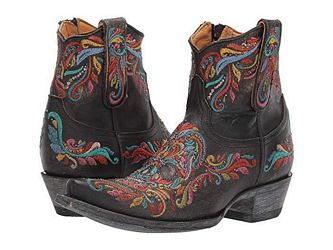 Embellished with rhinestones and with the tonal embroidered sugar skull, pull tabs on the side and inside zipper for easy on and off.
Polo Zipper Signature Ankle Boots – Chocolate/Silver Style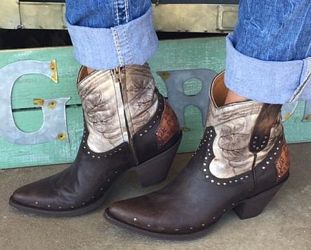 Feature a saddle brown distressed leather with a hint of silver running through it. With an inside zipper and studding along the edges.
Moreen Short – Brass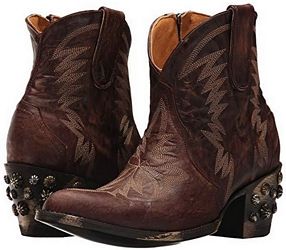 The classic Moreen stitching in a light tan sets the contrast against the brass color. Heel loaded with studs and nail heads.
Yippee Ki Yay Bridget Short Boots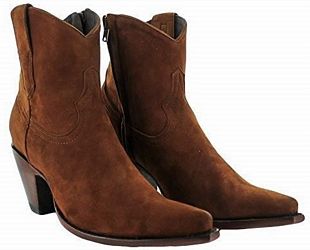 Feature a stunning soft suede leather with light embroidery.
Yippee Ki Yay Glamis Short Boot – Rustic Beige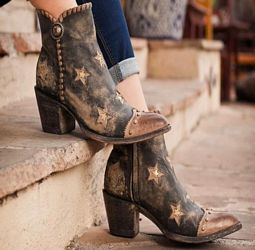 Hand crafted with 100% leather. No break-in required. Crackled finish on the leather.
Yippie Ki Yay Judith Short Boot – Crackled Red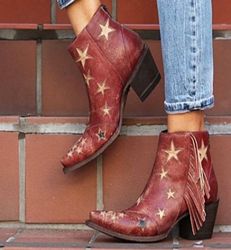 They feature patriotic stars and fringe. A back zipper for easy on and off.
Carla Short – Saddle/Beige
Whimsical floral patchwork with frayed finish and the stud detailing on the heels.
Carla Short Boot – Crackled Taupe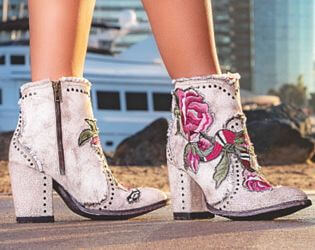 One of the best-sellers, the leather is as soft as butter. Whimsical florals and stud details on the outline.
Laguna Short Boots – Chocolate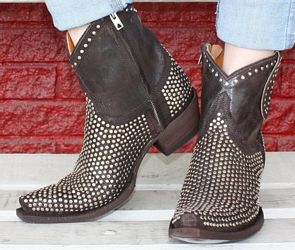 So cute short boot! The entire foot and heel as well as the top of the shaft and pull tabs are covered in silver studs.
Dion Short Stitch Shorty – Red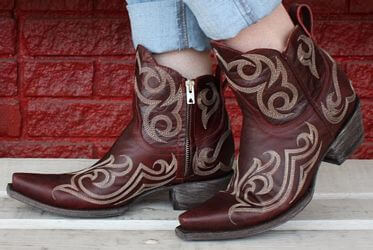 It has heavy contrasting stitching around the arch, the heel and toe box. The boot is a beautiful deep red.
Ursula Shorts – Custom Turquoise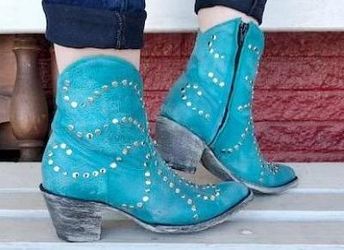 So fun and a unique color. With all the studs, there is a small skull stud to give it Punk Rocker look.
Ursula Shorts – Black Snow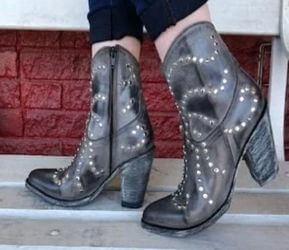 The black and gray ombre color with all the studs makes this a rocker boot.
Galena Shorts – Custom No Patch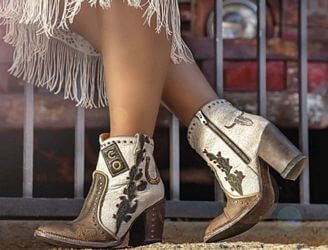 Each side has an element that is distinct from the other. The crackled finish on the leather gives the boot its unique character.
Bonnie Shorty's – Black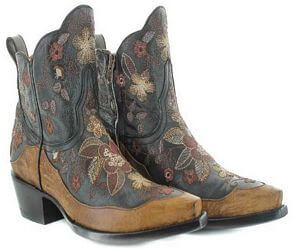 Styled in a vulcanized leather with gorgeous floral embroidery. The top has a scalped edge.
Kress Bootie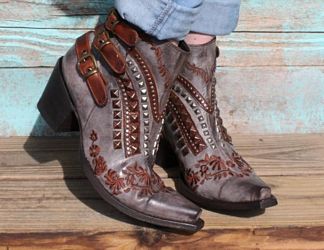 Loaded with studs and buckles. The Oxidized finish really enhances the edginess. They make you look like a rock star.
Wink Shorty – Stitch Blue Denim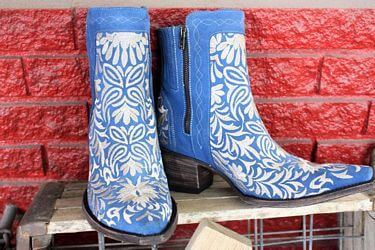 Embroidered with rich floral details, featuring hand placed studs. The suede leather adds a soft touch.
Roxy Boot – Rust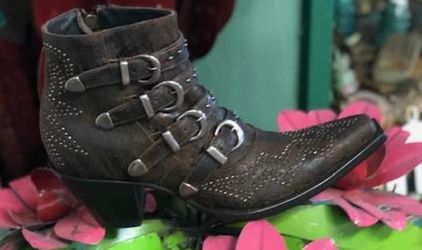 Hand crafted with Vulcan croste leather, giving the classic design a metallic twist.
Black Jack Tooled Sanded Brown Bootie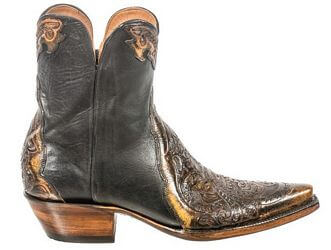 Simply gorgeous! Features a side zipper.

Ariat
Circuit Cruz Western Boot – Eye Dazzler Aztec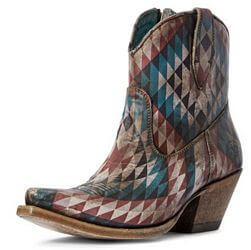 Supreme comfort in vintage-inspired style. simultaneously. 4LR technology for support and cushioning.
Women's Dixon Western Boot – Naturally Distressed Brown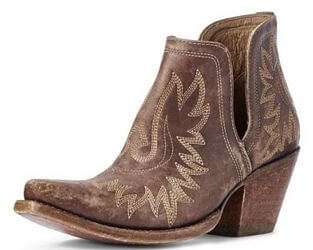 ATS technology provides stability and all-day exceptional comfort. All over four-row stitch pattern. Cut out side for easy slip-on entry.
Women's Dixon Western Boot – Brooklyn Black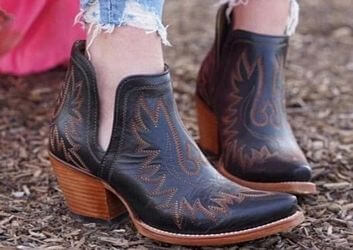 Women's Dixon Western Boot – Sangria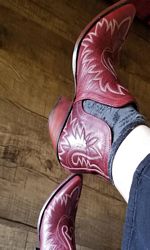 Women's Dixon Western Boot – Distressed Gold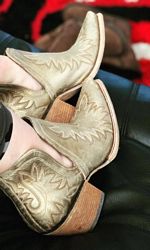 Miss Macie
Annie Boot – Snake Print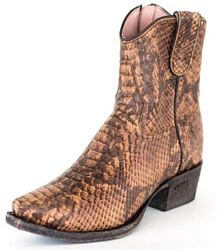 With perfect snake print, blush pink hung lining and cushion insole with arch support.
Cryin' Out Loud Boots – Distressed Metallic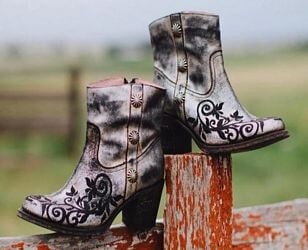 The heavily distressed metallic leather gives hues of silver, rust, and black accented by a bold black embroidered pattern. The finishing touches of conchos on the side.
Fine and Dandy Boot – Pink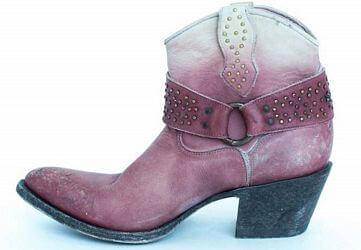 Blush pink defined shades in a beautiful ombre tone and with a collar detailed with brass studs.
Just Say Yes Boots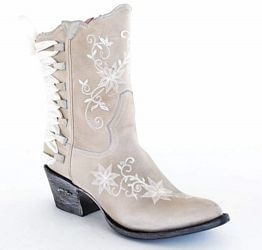 The contrasting bone stitched design perfectly placed and framed by a scalloped shaft with an interior zipper.
Tuckered Out Boot – Black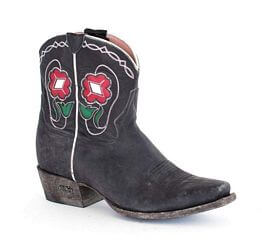 The heavily distressed black leather with a simple inlay flower.
Honey Hush Bootie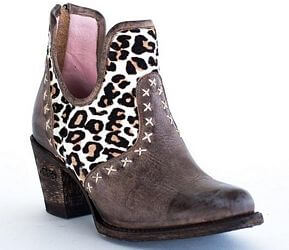 Hair on cheetah print balanced perfectly with a rich mocha leather. Accented edges with a cross stich pattern.
Hissy Fit Bootie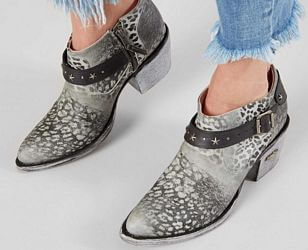 This distressed grey leopard print perfectly accompanies to the black star studded straps. The almond shaped toe and the side zipper.
Sedona Shorties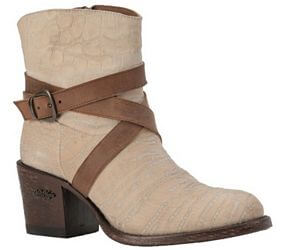 A truly unique look with embossed bone colored leather that has a matte finish. With a slightly higher heel and inside zipper.

Lane Boots
Saratoga Stud Bootie – Gunmetal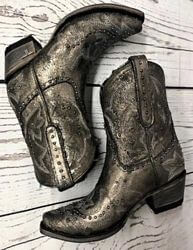 Handcrafted with supple leather, intricately stitched details, and finished off with signature Lane insole.
Saratoga Stud Leopard Shorties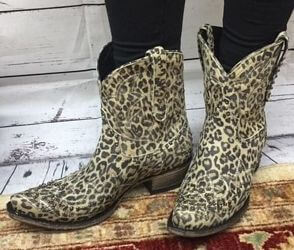 A light color tan with amazing leopard spots. There are brass studs all over. Super soft leather with a snip toe.
Women's Layten Bootie – Burnt Carmel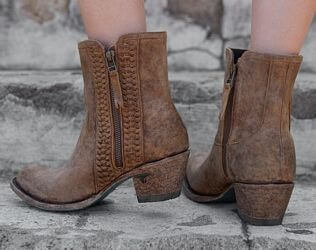 Braided accents, dual zipper ankle boots, and vintage feel leather. The stonewashed finish of the ankle-height.
Sparks Fly Ladies Ankle Bootie – Cognac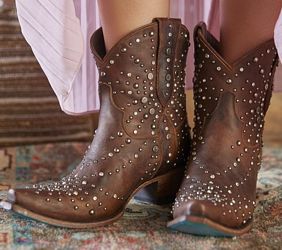 Elegance and sass with supple leather and a burst of studs.
Junk Gypsy by Lane Bramble Rose Boot – Red
Featuring a leather foot, pull tabs, floral stitching, cactus inlays and heavy stitching detail on the upper.

Liberty Black
Alice Fringe Short Boots – Vegas Turquesa
Featuring fringe tassels, and a chic high fashion heel. With zippers and stylish round pointed toe.
Lana Napa Cobre Short Boots – T-Moro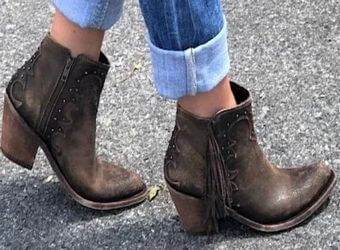 Featuring a distressed upper fringe trim, stud accents and rounded toe!
Alice Fringe Short Boots – Vegas Tinto
Feature fringe tassels, and a chic high fashion heel. With zippers and stylish round pointed toe.
Carolina Short Boots – Delano Camel Stonewashed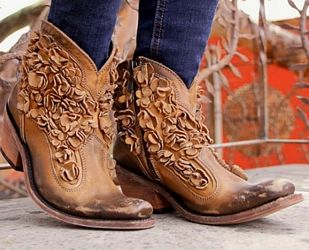 Feature raised floral design for dimension and character. They feature a inside zipper and a 3 inch fashion heel.
Janis Boot – Turquoise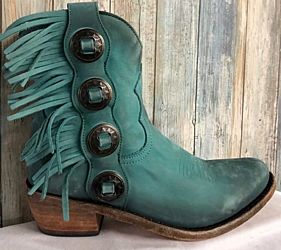 Features special leather treatments that make each boot one of a kind. The Turquoise is a deep ocean blue hue.
Cabra Buffed Metal Bootie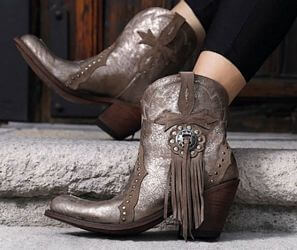 Featuring original fringes on one side, perfectly distressed leather and a perfect little concho.

Rockwell Tharp
Urban Safari Bootie
Hand crafted in Europe, made from authentic, quality Suzani fabric. Hand embroidered with one of a kind designs. Designs vary – no two women will ever have the exact same pair!
—
Overall these are excellent cowgirl boots to wear no matter your destination! They are perfect to stay cool and have fun while staying fabulous.
Great for a date night, the night outs and weekend getaways. They will do the trick and make a statement.
You can wear them with just about anything – blue jeans, graphic tees or your best dress.
An ideal choice for every fashionista!
Seriously, these boots will make heads turn!
How to Fit Cowgirl Boots
It's important to make sure your boots have the correct fit.
The first thing to decide is your toe shape. This depends on your occasion, your outfit and your personal style.
For a concert or music festival you might choose a round toe. Or maybe a snip toes are more your style with an X or D toe shape.
If you're going for a ride or to watch a rodeo, a square toe is a great choice. You can choose a narrow or wide square toe, depending on comfort and style.
When going dancing, I would recommend a snip toe or an R toe. Leather sole boots are popular also and they help you glide across the floor.
When you try on a new boot, use the pull tabs to help get your foot into the boot. You may experience slight resistance through the arch area but that's okay. It ensures that your boot fit is snug and you won't have excess heel lift. Heel lift is the space between your heel and the insole of your boot.
Once you're in the boot, you should feel comfortable with a little bit of space between the arch and the leather.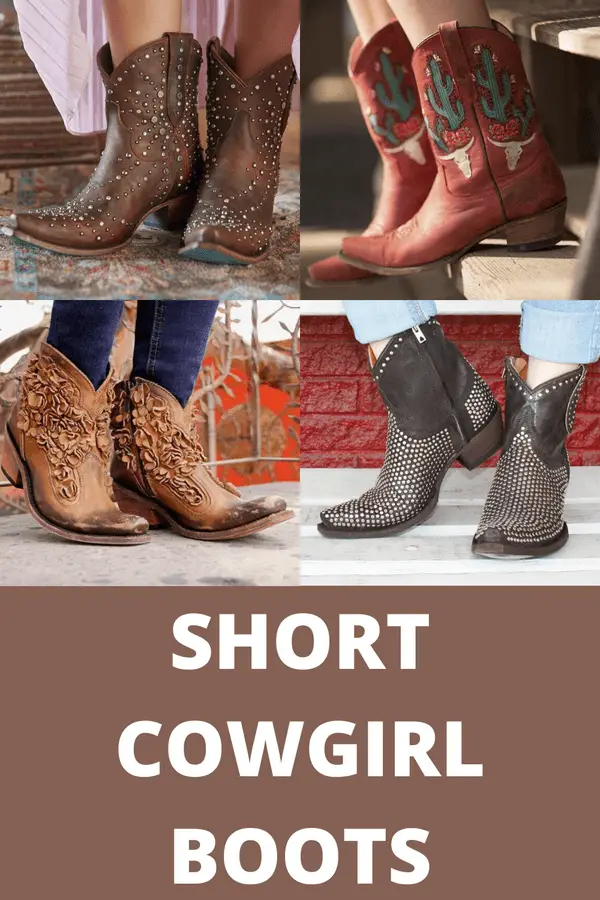 Best Short Cowgirl Boots For Sale (Cute & Comfortable)