SkinClinical Reverse Anti Aging Light Therapy device is going to target your wrinkles and fine lines. It's a device that uses red light therapy. It's cleared by the FDA for the entire face, not just confined to one specific area. That's a big deal!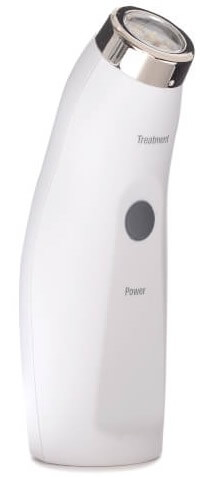 This LED light therapy is clinically proven to reduce fine lines and wrinkles. But not only that. It improves firmness, texture and elasticity to your skin by stimulating the production of collagen and elastin.
Collagen is the holy grail of good skincare and we start losing it in our mid 20s. It's called aging. The fundamental reason you see fine lines and wrinkles is the loss of collagen.
This device replenishes that collagen and bolsters it back into the skin. Use it minutes a day, 8 to 12 weeks and you should start seeing results.
You will be amazed at the before-and-afters.


It's really easy to use. You don't feel much of a sensation, a little bit of warming because of the lights (any light have a little warming) but it's a soothing, it's nothing uncomfortable.
You would not wear a full face of makeup when you do this. You want to do this on a clean, dry face. You use it three minutes per area per day.
So your eyes, for example, would be three minutes for one eye, three minutes for the next eye. After about eight to 12 weeks you will see results, bolstering that beautiful collagen back into your skin, increasing firmness, elasticity and texture in your skin and including reduction of fine lines and wrinkles.
Look at this before and after.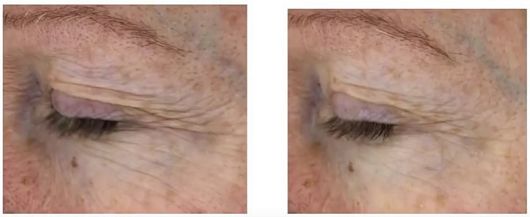 This is a lady who's 56 years of age. She has significant fine lines and wrinkles. They're pretty deep seated. She used the device three minutes per eye per day and after eight weeks you can see a significant reduction in the fine lines and wrinkles.
But she continued to use the device for four more weeks. This is after 12 weeks: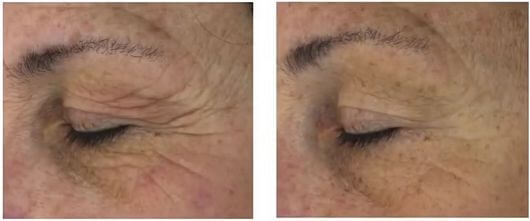 Look how amazing she looks. She looks incredible. Look at the crow's feet area, look at the upper eyelid and look at the lower eyelid, that entire area has been improved significantly with regards to the number of lines and the depth of the lines.
There are other options. There's the surgical option, there's the med spa option, there's the Botox, fillers, lasers. I'm not saying that this gadget does the same thing, but for somebody to use a device like this at home, this is about as good as it gets.
There are no any restrictions in terms of age, women, men, skin tone, anything like that. This machine is for all skin tones, all skin types.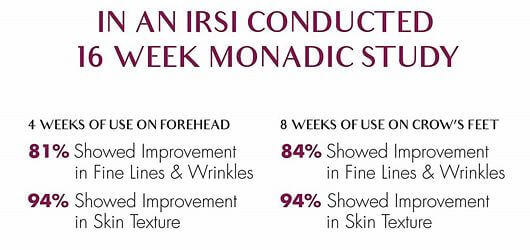 So if you're lighter skin that intents to age prematurely, it's for you. The darker skin tones too. It's for everyone. Even preventative. I wish I had this device in my 20s because it is a fabulous preventative.
Remember you're losing collagen at a rate of one and a half percent per year, starting in your mid 20s. So by the time you're middle-aged, you've lost a pretty good amount.
So don't think I'm not there yet. Start even in your twenties.
Although this is a bright light, you do not need a protection. It is FDA cleared and there is no no risk to your eyes.
Let's take a look at exactly how this technology works.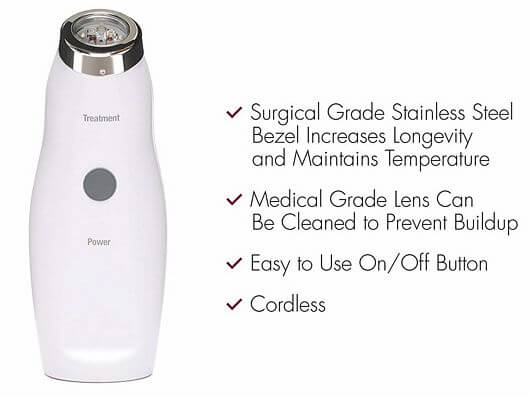 This is based on the same technology dr. Harry Glassman (the creator of SkinClinical Reverse Anti Aging Light Therapy device) uses in his own office. This is four wavelengths: three red, one infrared. It penetrates through the skin barrier into the dermal layer of the skin, stimulating the production of collagen and elastin.
NuBODY Review (Before and After Photos)
As a result, it smooths out fine lines and wrinkles, it increases firmness, elasticity and the texture of your skin.
Use it 8 to 12 weeks. It does take time. I mean, it took a lot of time to get these wrinkles. It needs 8 to 12 weeks to bolster that collagen back into your skin. It's all about the collagen.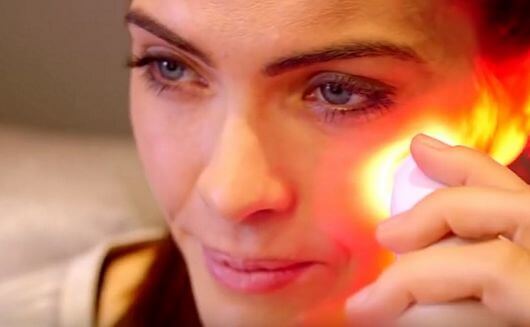 This works with any skincare routine. If you're using serums, moisturizers, it's fine.
Topical skincare could do so much. This goes where your topicals cannot go. It goes through the skin barrier. Topicals cannot claim to produce collagen, which is the holy grail of good skincare.
You should continue to use your topicals, they're necessary for a lot of reasons, but when you incorporate this machine into your skincare, you will watch your skincare go from great to phenomenal.
These are some suggested areas of treatment: the forehead, around and under your eyes, your mouth, nasal labial, all the way down to the marionette lines, cheek areas. They don't recommend using it on the neck because of the thyroid gland.
To do the whole face, it takes about 25 minutes. If you're doing just your eyes and around your mouth, it will take you 12 minutes.
You do not have to apply any pressure. That's what I want to emphasize. You could be barely touching your skin. Gently glide it over your face and move it up and down in the area. That light is penetrating through the the skin barrier into the dermal layer.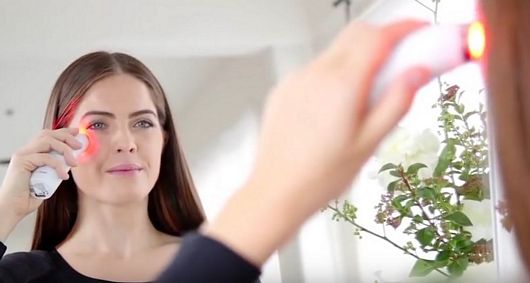 After three minutes you'll hear three beeps. That indicates to go to the next treatment area. After six minutes, the device automatically turns off. It's not malfunctioning. You just push it back on if you want to treat more areas.
It takes 8 to 12 weeks for this to work. So don't use it once a week, don't use it for a week and think anything's going to happen.
SkinClinical Reverse Anti Aging Light Therapy device really gives women hope that they don't have to go to more intrusive methods, like plastic surgery, fillers or injections.
You this in the comfort and ease of you own home, in the time of your choosing, not tethered to the wall because this is portable, rechargeable, the charge lasts about 75 minutes.
This is a one-time purchase. You don't have to worry about purchasing things over and over and over again.
Buy with free delivery: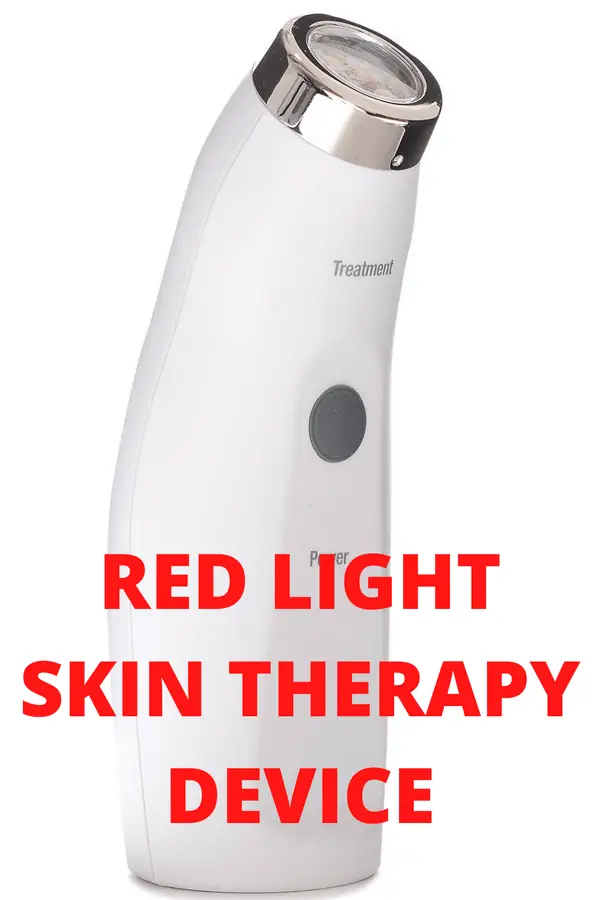 NuFACE FIX Line Smoothing Device Review
SkinClinical Reverse Light Therapy Device Review