Organic Bone Broth Protein – Vanilla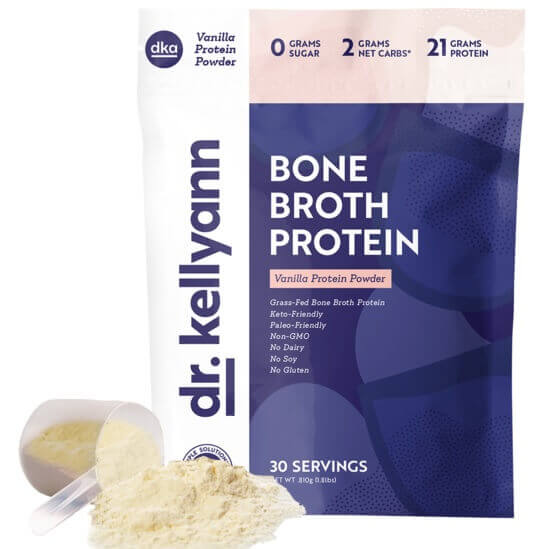 Not only is this vanilla bone broth protein powder delicious, it is also a great source of energy that lasts for hours. It is a perfect solution to feeling fuller for longer.
Made from grass-fed cows, the protein powder is easily digestible and a highly bioavailable.
Paleo and keto friendly, it contains:
21 grams of grass-fed protein
2 grams of net carbs
0 grams of sugar
No artificial sweeteners
It is a fine powder that dissolves like a dream. It is:
Dairy-free
Soy-free
Gluten-free
Grain-free
Non-GMO
Its thick, creamy, vanilla flavor will make any of your shakes into a terrific treat. You can add it to post-workout smoothies, cup of coffee, or any other recipes to boost flavor.
You can use this vanilla bone broth protein to replace a meal each day to achieve your weight loss goals. It will help reduce your calories and curb sugar cravings.
Another huge benefits is that it will increase your collagen, so that your skin, cells, and soft tissues can maintain their strength and elasticity.
More collagen means less wrinkles and a stronger body, making you look and feel younger!
Each container comes with 30 servings (1 oz. scoop).
Linda Smith from Miami said: "I have tried many protein powders and Dr. Kellyann's vanilla is by far my favorite. It blends well and tastes great. I have consistently been ordering it for close to two years and will continue to do so."
Another customer said that her hair was thinning due to medications and that she always had weak nails. Thanks to this protein powder, her hair is thicker now and her nails do not break any more.

Organic Bone Broth Protein – Chocolate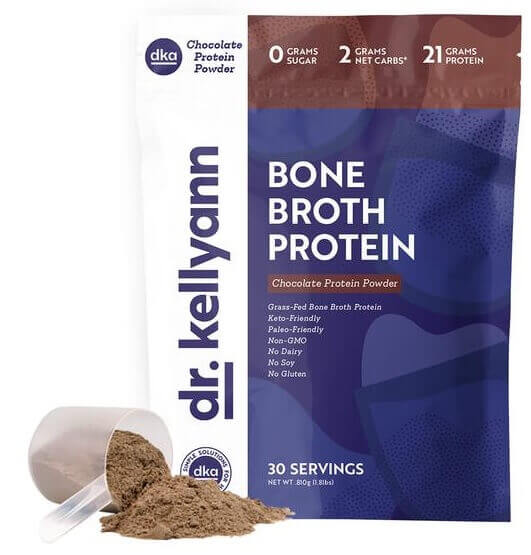 If you're not getting enough protein in your diet, this is another great option.
Everything that applies to the previous product, also applies to this one. The only difference is that it has magnificent chocolatey flavor.
One of the users of this bone broth protein have noticed a significant difference in her hair and nails. Especially her nails that were brittle and peeling. Once she added this product to her diet, within a days, her nails became stronger and healthier. She also has rheumatoid arthritis and taking the bone broth has improved her mobility and flexibility dramatically.
Another user said that the chocolate protein powder has reduced inflammation in her body and that she has lost a significant amount of weight since adding this product to her daily diet. It's a staple product at her house and she won't go without it.

How It's Made
Bone broth protein is made by cooking beef or chicken bones, ligaments, tendons under high pressure and sustained high heat.
This is very important because it allows the broth to be cooked quickly to help retain all its nutrients, which will be lost if cooking for hours.
Bone broth protein is simply concentrated bone broth, meaning that all the protein comes from the bone broth, it's not added in using eggs or whey.
Benefits of Bone Broth Protein Powder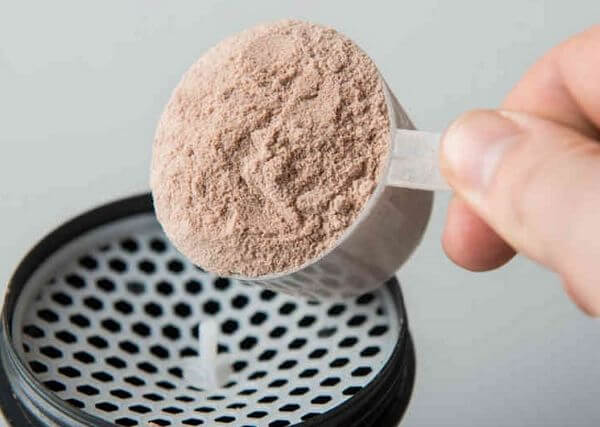 Bone broth protein is a cutting-edge, the first-ever real food protein supplement.
Many people know about the benefits of bone broth. Many doctors recommend it to their patients as the number one superfood.
It improves digestion and metabolism, supports healthy skin, hair and nails as well as lean muscle tissue.
The big problem with bone broth is that it takes many hours to make. And it can be really messy.
That's why a bone broth in powder form is such a great option. It's not just simple and easy to use, but you get all of the nutritional benefits of bone broth.
It contains highly absorbable protein. It is the healthiest protein powder on the planet.
But it's not just the best protein in the world. What makes it so different is it also contains some minerals that aren't found in any other protein, such as calcium, silica, selenium and magnesium.
There is also l-glutamine, which support healthy digestive function.
It's full of glycine that is great for supporting your body detoxification.
It also contains the amino acid proline, which is very important for healthy connective tissue, metabolism and lean muscle.
Bone broth protein powder contains hyaluronic acid, glycosaminoglycans, glucosamine and chondroitin.
All of those benefits in this single powder!
See: Best Collagen Powder Drinks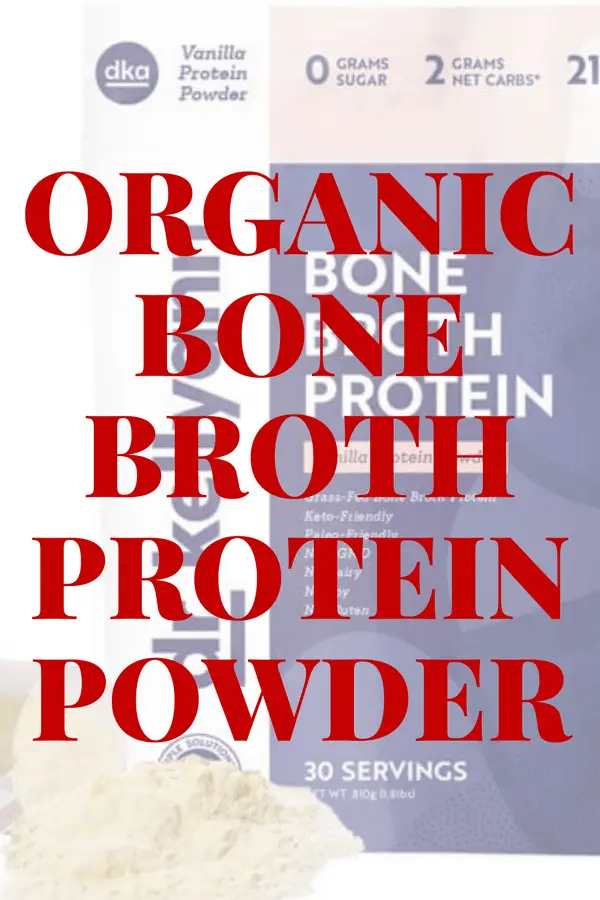 Organic Bone Broth Protein Powder (Vanilla, Chocolate)