In this review you will find out how you can instantly erase fine lines and wrinkles using NuFACE FIX Line Smoothing Device.
Of course, not completely erase them, but you will dramatically reduce their appearance in just 3 minutes, which I will prove to you later in this article with before and after photos.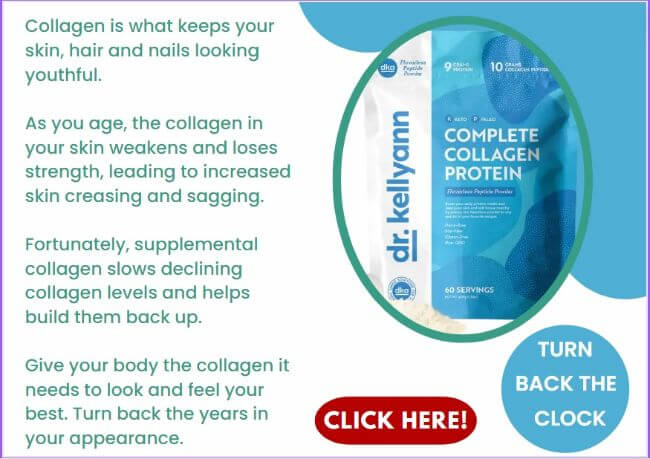 What is NuFACE FIX?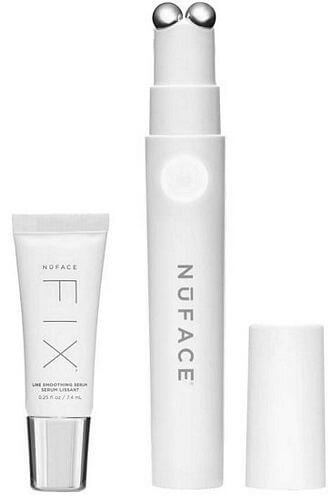 NuFACE FIX is the first-ever microcurrent skincare device that is fast, focused and will give you flawless looking skin.
This revolutionary beauty tool targets fine lines and wrinkles. In just minutes, microcurrent technology visibly plumps and tightens your skin, giving you a smooth, flawless finish.
It comes with a serum,which has some very powerful ingredients, but more on that later.
It can be used on all skin types: normal, dry, combination, and oily.
How It Works
It uses microcurrent, which is a clinically tested treatment used in spas and medical offices for toning and firming of aging skin as well as for facial contouring.
It is a low-level current that is very similar your body's natural current. It stimulates the production of ATP, which is necessary component for the creation of collagen and elastin.
In the same way as exercise improves the muscles of your body, this increased ATP improves the facial muscles.
Because the facial muscles are directly connected to the skin, when you improve these muscles, you improve, lift skin on your face.
How to Use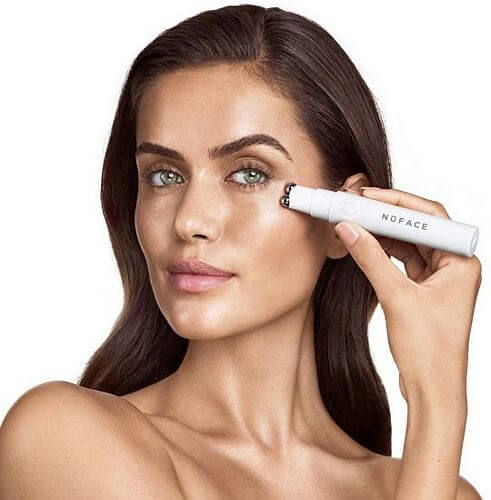 What I love about this device is that there is literally no learning curve.
There are just two easy steps.
You apply your serum first. It activates the microcurrent, so you're always going to use the serum with your device.
Once you have a thin layer of the serum on, you power on the tool, there's a light humming sensation so that you know it's on and working and then you just do circular motions, eraser like motions, as if you were erasing those fine lines.
That's how easy it is to use NuFACE FIX.
And you get crazy results! How long are they gonna last? One treatment lasts about 24 hours. You can do it twice a day. And you can do it anywhere, any time of day.
How to Use: NuFACE Fix Line Smoothing Device
This is fast treatment. Unlike other NuFACE treatments, this is going to be more of an instant gratification.
It feels so good. It is increasing circulation in treated areas so it instantly reduces fine lines and wrinkles.
The cool thing about NuFACE FIX device is that not only can you use it around the eye area, but you can use it around the lip area, the nasolabial fold and the forehead.
It is going to reduce fine lines and wrinkles instantly as well as plump and brighten the skin. So it's a perfect finishing touch to any facial.
Serum

Serum energizes skin and brightens up your look – even when wearing makeup.
3 key ingredients include:
Pure Energy Blend – magnesium enriched gemstone, snow mushroom extract, and hyaluronic acid.
Smart peptide system that targets expression lines, smoothing the look of skin.
Ionized formula interacts with your skin to help restore its firmness and suppleness.
The serum is very moisturizing and feels soothing under the eyes.
Before and After Photos
Look at the forehead. Do you see the fine lines in the forehead in the before? And how smooth, firm and tightened they are after just 3 minutes! Look closely how fine lines and wrinkles are almost gone around the eye and in upper lip.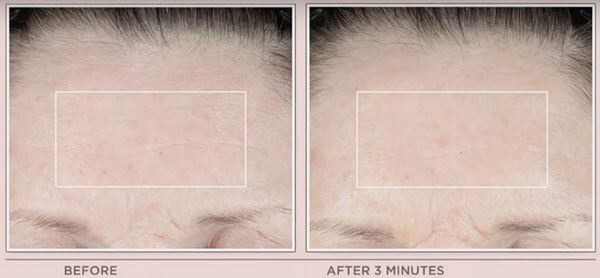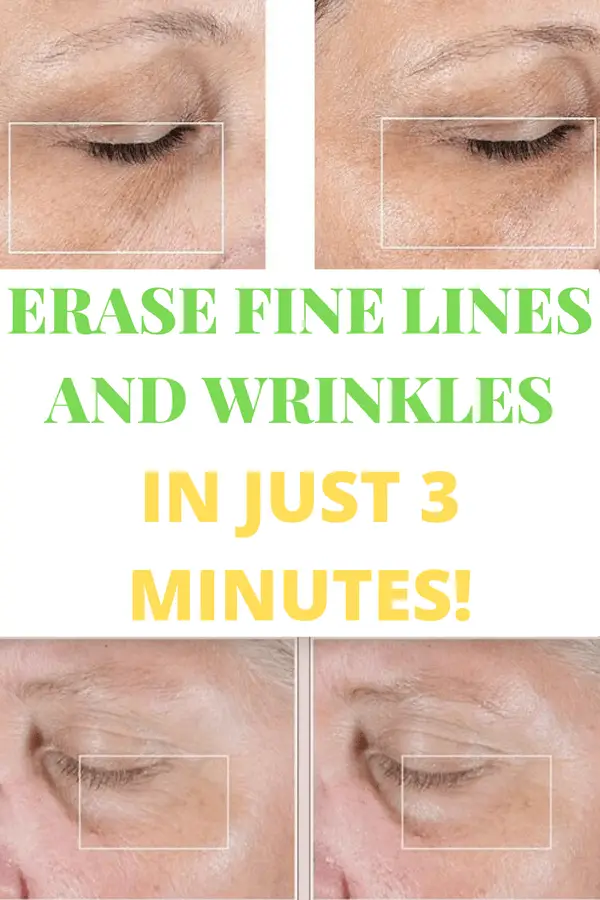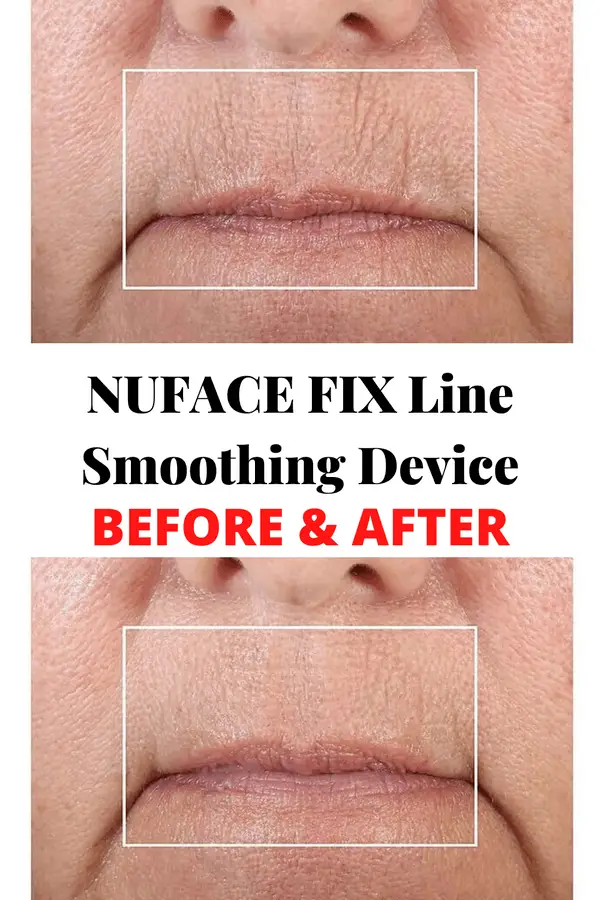 Clinical Results
Here is what women said after using NuFACE FIX:
100% said their skin felt instantly hydrated
97% said their skin felt instantly tighter around the eyes
95% said their eyes appeared less puffy
92% said their treatment area felt instantly firmer
Buy With Free Delivery:

Difference Between NuFACE Devices
What is the difference between the three main NuFACE devices: Trinity, Mini and FIX?
Trinity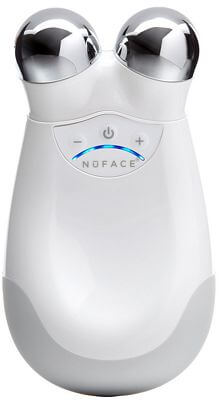 The NuFACE Trinity is the largest device that NuFACE do.
It uses microcurrent to stimulate the production of collagen and elastin, tightening and toning the muscles too.
It has a maximum power of 335 Micro Amps which is broken down into 5 settings.
You can use the NuFACE Trinity to treat the whole face. You can also use it to treat the neck, avoiding the center area where the thyroid is.
There are 3 different attachments for this device: you can benefit from using all of them or individually.
The attachment that comes with the NuFACE Trinity can be used for the majority of your microcurrent treatments.
I would recommend using it on clean, dry skin, making sure you haven't used any oil-based products before. Oil-based products deflect microcurrent so you won't see the same results if you use them with the device.
You need to use NuFACE Primer before using this attachment or before using the ELE head. It's the only formula which has been tried, tested and deemed effective for this device.
The treatment period is 5 times per week for the first 5 weeks. After this, it's 2-3 times per week. The clinical trials show results using it for just 5 minutes during that period.
You can use it for up to 20 minutes at a time and it's just as effective in terms of results.
NuBODY Review (Before and After Photos)
ELE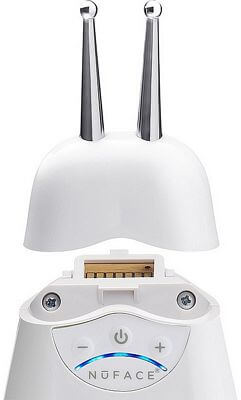 This is the ELE attachment, known as the Eyes and Lip Enhancer.
It targets hard-to-reach areas as well as areas that are more stubborn.
You can get really close around the eyes (up to the lower lashes) and also around the mouth. There are very few devices that you can get so close, as these are delicate areas.
If you get any stubborn wrinkles between your eyebrows or creases on the forehead that your make-up sits in, it's really good for treating things like that.
The ELE attachment changes the level of power to 208 Micro Amps, which means it's more gentle around the eye area.
Wrinkle Reducer
This is the NuFACE Wrinkle Reducer attachment.
Red light has been proven to help with many skincare conditions such as eczema and psoriasis. So it's providing additional benefits.
You can use it across the face, body and hands – the only place where you can't use it is on the eyes.
Treatment time with the wrinkle head is 21 minutes. You'd use this to treat before your microcurrent treatment.
Mini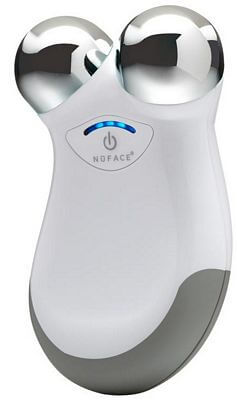 This is the NuFACE Mini and it doesn't come with a charging cradle like the Trinity, so it's a little bit more portable.
Treatment areas are exactly the same as the Trinity. You can treat the face and neck (just not the center)
One thing to bear in mind is that this device can't be used in conjunction with the ELE and Wrinkle Reducer attachments. You would need the Trinity for that.
FIX

This is the NuFACE FIX. It's the first pen-sized device designed to target fine lines and wrinkles.
It's designed for use around the eyes, lips and forehead, particularly on stubborn wrinkles or even if you want to swipe under the eyes before putting on make-up to help it go on so much easier.
It operates at a strength of 200 Micro Amps. It's comparable to the ELE head – the ELE is ever so slightly stronger.
It's perfect for using in conjunction with the Mini or as a travel alternative for both of them.
Treatment times are just 3 minutes twice daily and can be used 5 days a week.
The difference with this device is that it can be used with Serum rather than Primer.
The Serum that NuFACE have designed is perfect for using with a microcurrent device. This is what is recommended for best results.
The FIX also vibrates which aids the delivery of microcurrent into the skin.
What They Do?
All the devices have been approved by the FDA.
97% of women who used the FIX in clinical trials noticed a difference straight away.
The Trinity and Mini penetrate all the way down to the muscles. They touch on all of the layers in between on the way down. That's including the epidermis and the dermis.
The ELE attachment goes down to the dermis and just touches the muscles.
The FIX touches on the epidermis and touches on the dermis too.
If you're wondering which one to go for, and your concern is stubborn wrinkles, especially around the eyes, lips and forehead, my recommendation would be to go with the FIX.
Conclusion
When it comes to treating fine lines and wrinkles, we know that topical products, like retinol, could take weeks, even months, before you can see visible results.
Thanks to NuFACE FIX, we can now target the appearance of fine lines and wrinkles in 3 minutes!
Unlike the Trinity, the FIX is a thinner, sleeker and smaller device that allows you to maneuver in the smaller areas of your face: around the eyes, lips and forehead.
The device is very easy to use, and quite relaxing. It's quick and painless. I didn't experience any adverse side effects.
Due to its sleek and lightweight design, it's easy for me to pack it in my purse.
If you want instant results, than FIX is perfect choice for you. And let's be honest, who doesn't need a quick beauty improvement?
But if you are after long-term results, you would rather see something take a little longer and give you lasting results, than use NuFACE Trinity device.
Buy With Free Delivery:

SkinClinical Reverse Light Therapy Device Review
NuFACE FIX Line Smoothing Device Review