The older I get the more I'm noticing fine lines, wrinkles and even some crow's feet on my face. So I set out to find out how do I get rid of these wrinkles and I found a natural night cream that might just be better than Botox. I'm not kidding.
Organic Manuka Honey and Bee Venom Night Face Cream by Wedderspoon Review
Manuka Honey Face Night Cream
Wedderspoon night cream is made with rare organic Manuka honey as well as bee venom and rose hip oil.
You've probably heard of the Manuka honey because it's getting a whole lot of buzz right now. It's very rare, it is from beese in New Zealand and it's supposed to really bring out the moisture in your skin.
As for bee venom, it's supposed to stimulate your skin and really help with the appearance of fine lines and wrinkles. Rose hip oil is supposed to have antioxidants in it which is supposed to protect your skin.
So let's try Manuka honey face skin night cream.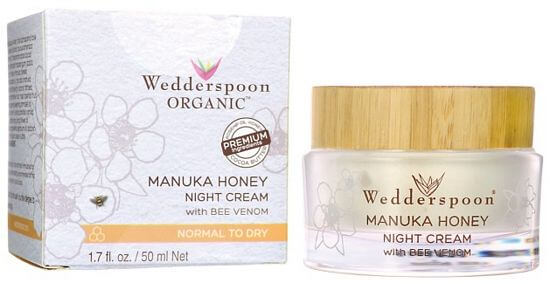 I'm going to start with a clean, dry face so that I can really feel the product on my skin and see how it's working.
First Impressions
It smells kind of lemony honey. It smells very good. It almost feels as if it has a little exfoliance in it. Put it everywhere and then I'm going to let it sit over night on face and neck. See what tomorrow brings.
I just woke up. I'm sure you can tell. It's the first morning after I tried on Manuka honey face skin night cream and my skin feels really soft and almost like a light oil on it. Not oily but I can say soft and smooth and just moisturized.
I've been using this Manuka honey night cream with bee venom for three nights now and I have to say last night I noticed something different. I was watching TV with my husband and I had just put on the cream and it felt like I was getting an instant face lift, it was like everything tightened on my skin and it actually felt really amazing and I think that was because of the bee venom that is in the cream, because the bee venom is supposed to really stimulate your skin and helps get rid of fine lines and wrinkles.
So I think it's working and if you check out my face, I know it's only been three days, but you might be able to see the lack of wrinkles.
Manuka honey is being used in quite a few skincare products right now and I have one of them right here.
This is Wedderspoon Manuka honey night cream with the bee venom and what it does is it holds moisture into your skin to increase elasticity and also give you a firmer, brighter and more youthful look.
Who doesn't want that right now?
Also this has bee venom in it. This stimulates your skin to reduce the appearance of fine lines and wrinkles and I can smell the rose hip oil in this right now. Rose hip oil is great for protecting your skin against environmental stressors, leaving you to feel rejuvenated and refreshed.
But what makes Manuka honey so special? We went to a bee expert to find out.
You are an urban beekeeper you run this apiary out of your backyard. And you've got quite a few bee hives.
Once word gets out that you're a beekeeper then you're the guy everyone calls and before you know it, I'm just rescuing all the bees in Santa Monica.
What Do You Know About Manuka Honey?
Well the Manuka honey is from the tea tree plant and it has these medicinal properties that really gives you more minerals. It's like maybe four times the normal honey.
The Manuka plant or a tea tree bush is native to New Zealand. While Manuka is good for digestion it's also great for your skin. It helps people get rid of acne and other skin infections.
Manuka is also a natural moisturizer. If you're interested in this product check it out right here:
Bee venom is the secret ingredient (really hot in beauty right now and is used by Great Britain's princess) and it works so great to really firm your skin and draw moisture into your skin so that the years just fade away. The Manuka honey helps you with your skin, your health, it's just magic, it really is magic in a bottle.
It really helps fill out any acne scarring that you may have. If you have been thinking about Botox, about fillers, you don't need to put those needles near your face. Your skin will look amazing with this cream.
You will not need to use as much makeup, which will shorten your beauty routine time in the morning. And that's awesome when you can save some time for yourself and you do not have to go anywhere to get microdermabrasion, micro needling, chemical peels, Botox, you name it.
Not only is it non-invasive, it is inexpensive! So it's pain-free and it's natural on top of all that. Amazing! I love it, you're gonna love it and you can find it here:
Manuka honey (a New Zealand beauty secret for a really long time) is also known for it's amazing antibacterial properties. Raw honey is also good for your skin but it's not going to have the antibacterial properties that Manuka honey is going to have. It is the only type of honey that has been cleared for medical use.
A lot of people use this on rashes, diabetic ulcers, it helps prevent infection, it is anti-inflammatory so it will help bring that redness down from any blemishes and help make them smaller.
It'll help balance the pH in your skin, it contains amino acids, it's going to help kind of break down those dead skin cells on your face and help lightly exfoliate. It's also a natural humectant which means that it's going to draw moisture out of the air and into your skin.
A lot of people with oily skin don't realize that they also have some dryness or the reason that their oily is because their skin is overcompensating for not being moisturized enough. This honey is going to draw the natural moisture in the air as opposed to oils and moisturizers and draw it and so your face skin is better hydrated.
Raw Manuka Honey Masks For Beautiful Skin
MANUKA HONEY MASKS FOR BEAUTIFUL SKIN!
I have been using Manuka honey for many years and I just hold it so close to my heart because it really helped me when I was healing my acne and my acne scars.
With these masks I'm going to show you, you can really use any type of raw honey. All raw honey can benefit the skin, however Manuka honey is just on a completely different level. It's way more powerful. It is antibacterial and anti-inflammatory, making it perfect for acne prone skin or really any other skin condition.
It exfoliates the skin, it helps to clean out the pores, it helps your skin retain moisture. When you're looking for Manuka honey, you'll probably notice different numbers on the honey container. So it might say UMF (Unique Manuka Factor) and then a number or active and then a number and basically the higher the number the more potent it will be.
I personally use this active 16 raw Manuka honey by Wedderspoon and I really, really like it. This is the one I've been using for many years.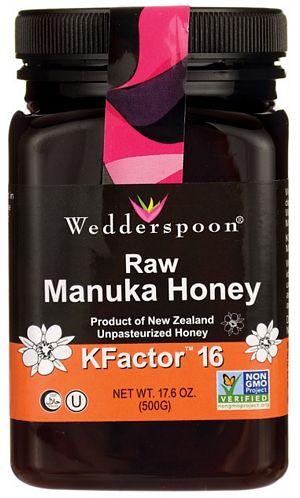 The first mask I'm going to show you is just a simple basic Manuka honey mask. All you're gonna do is mix a little bit of honey and a little bit of liquid together. So I usually use either rose water or fresh lemon juice for my honey masks. Rose water is very calming to the skin. It's great for reducing redness and balancing the pH.
Lemon juice is high in vitamin C, which will help brighten and even out your skin tone and it's a wonderful exfoliant to keep your skin looking radiant. You can also use other hydrosols or you can just skip the liquid altogether and just put the honey straight on your face. That's what I used to always do and I always got great results.
And let me tell you these will be the best-tasting masks you'll ever use!
Now for the second mask I'm going to show you how to make a cinnamon honey mask. So again you can just take some honey and then add a bit of cinnamon powder. I'm using Ceylon cinnamon and then you can just add your liquid.
So for acne scars I recommend using lemon juice but for all other skin types you can just use rose water because it's a bit more gentle. This mask is really great for acne prone skin or skin with acne scarring. Cinnamon is really great because it brings the blood flow to the skin. It has a lightening effect so it can help fade those acne scars and hyperpigmentation with ongoing use. I also find this mask to be very exfoliating. So this particular mask is definitely one of my favorites.
Next up we have a spirulina and honey face mask. So again just take a little bit of honey and add a little bit of the spirulina powder and a bit of the liquid of your choice. I'm using rose water and then just stir that up and it's ready to apply to your skin. This base mask is really good for all skin types. The spirulina contains chlorophyll and antioxidants to deeply nourish the skin and I just love the color of this face mask.
Last but not least we have an anti-inflammatory turmeric and honey mask. So just get your honey ready and then add a bit of turmeric powder and a bit of liquid. Again I like using rose water for this one.
Turmeric is very beautifying to the skin, it's highly anti-inflammatory, so it can help reduce redness in the skin and help treat breakouts, it has a brightening and rejuvenating effect so it helps even out skin tone, so it can be really beneficial for age spots, hyperpigmentation and scarring. It's just a wonder spice both internally and externally.
After you use this mask you'll probably notice a slight yellow tint to your face. To get rid of this, I usually just oil cleanse my face one or two times using an old washcloth and then I just take a cotton pad with some more rosewater and wipe my face down.
So that's pretty much how I make my honey masks.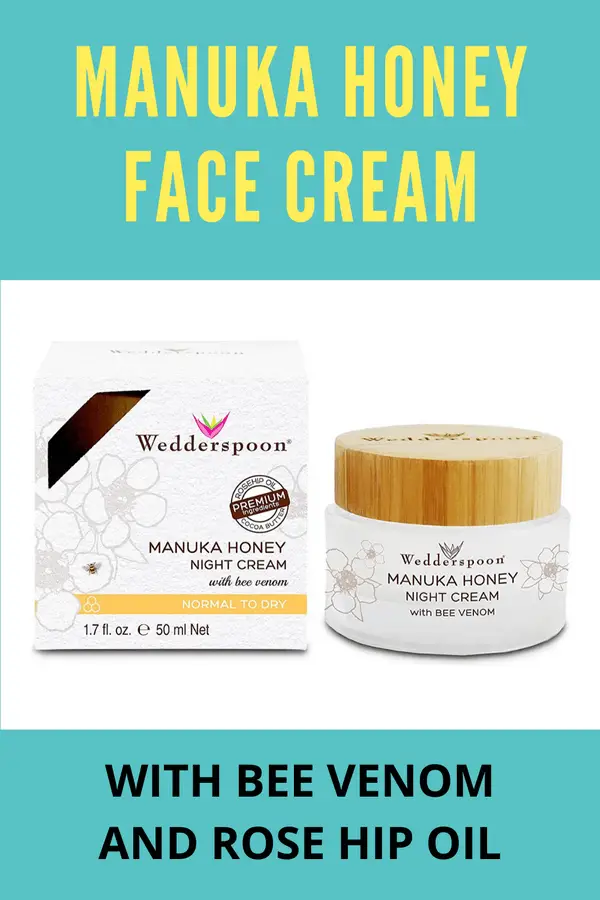 Best Rosehip Oil For Face Review
Manuka Honey Face Skin Night Cream